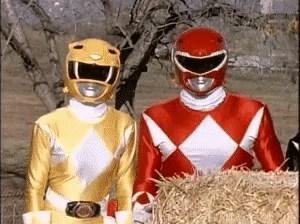 Last night the Rams and Bucs revealed their costumes for this season's final Color Rash game, which will take place next Thursday. As you can see above, they're pretty cool, although they seem to be violating the NFL's one-helmet rule.
Whoops — those aren't the real costumes. Here are the real costumes: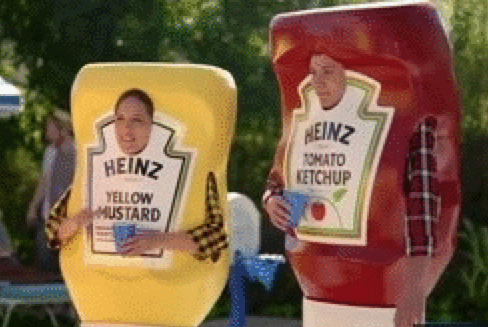 Not bad, although I wonder what the Steelers will have to say about Heinz's involvement.
Okay, okay — as some of you have probably figured out, those aren't the real costumes either. Here, finally, are the real costumes: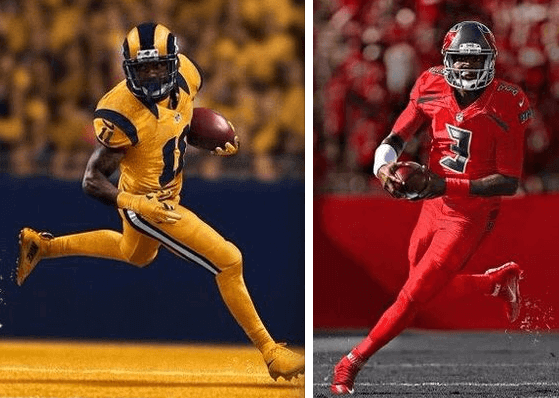 I think it's pretty clear that those are the worst of the three options.
I'm surprised by the striping on the Rams' pants, which doesn't feel very Color Rash-y — too old-school, not Nike-ish enough. Probably a cost-cutting move, so they can just wear their throwback pants instead of having to get new ones.
As an aside, it's worth noting that the Rams have gone mono-yellow before, according to the mighty Gridiron Uniform Database — in 1948 and '49.
One more week and then we won't have to talk about this bullshit again until next September, halle-freakin'-lujah.
(My thanks to @tweetkranich for the splash animation.)
• • • • •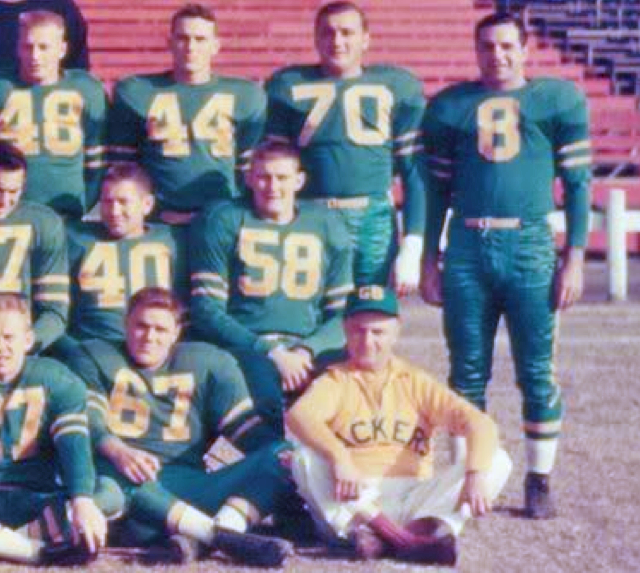 Friday Flashback: When the Packers opted not to participate in the Color Rash promotion this year, everyone said, "Well, that's the Packers — they're very traditional." But tradition is an elastic concept, as exemplified by the fact Packers history includes plenty of solid-green uniforms (and also solid-yellow, while we're at it). That's the subject of my latest Friday Flashback column on ESPN — check it out here.
• • • • •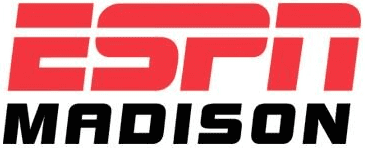 Raffle reminder: In case you missed it yesterday, on Tuesday morning I'll be at a hotel in Madison, Wisconsin, participating in a panel discussion about uniforms that's being organized by the local ESPN Radio affiliate.
The bad news is that it's not open to the public (the attendees will be representatives from some of the radio station's advertisers, some local businesspeople, folks like that). The good news is that I'm raffling off a spot on the guest list. The only catch is that it begins at 7:30am (I think it will be over by 9:15-ish), so you'd have to be either nuts or an insomniac to want to show up that early.
If that sounds like you, send an email to the raffle address by 7pm Eastern today. I'll choose a random winner and let him or her know tomorrow.
• • • • •
Another day, another grommet (or two): Surely you all saw this one coming — or at least you should have (for all photos, click to enlarge):
There's more where that came from. Stay tuned.
• • • • •
Some holiday cheer from Phil: The latest Sporting News article from Uni Watch deputy editor Phil Hecken takes a look at the ever-popular topic of the NFL's worst uniforms — see below:
What are the all time "ugliest" unis in the NFL? Here's my latest @sportingnews article -> https://t.co/6SmnoBTAMv pic.twitter.com/7jGOHlKwsx

— Phil Hecken (@PhilHecken) December 10, 2015
• • • • •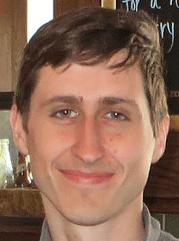 Mike's Question of the Week
By Mike Chamernik
Iowa State defeated Iowa last night, and even though the Cyclones were heavy favorites and the fourth-ranked team in the nation, the students still stormed the court after the buzzer sounded.
I missed out on my cheering section days. I went to a high school (Waukegan High in Illinois) that had a non-existent student section at basketball and football games. Then I went to a college (DePaul) that had a student fanbase as apathetic as the basketball team itself.
Did you take part in any organized student cheering sections or clubs when you were in high school or college? How did you dress? Did you paint your face or bring props or signs? What were some of your chants, and what other things did you do to cheer on your team and psych out the opponent? And, did you ever storm the field or the court?
• • • • •
The Ticker
By Mike Chamernik

Baseball News: The new Lafayette, Indiana Prospect League team will be known as the Aviators. … In 1978, Padres rookie 1B Broderick Perkins was missing his NOB during a game (from Retro Rob McGill). … Rickey Henderson was also missing a NOB during a game in his first season in 1979 (from @BaseballsPast). … Todd Radom has written a good piece about how the Braves' 1970s "feather" uniforms were designed with input from Hank Aaron and Eddie Mathews.

NFL News: Looks like Cardinals WR Larry Fitzgerald wore pink socks last night against the Vikings. … "NFL's Instagram page combined the Vikings' old jersey template with their new number font," says Alex Hider. … Cowboys OC Scott Linehan is still wearing a November camo Cowboys hat. … Bill Belichick wore a New Balance "Warrior"-branded hoodie at his postgame press conference last Sunday. New Balance is not an NFL partner (from Jim Considine). The other day we saw a graphic showing the Bears' uniform evolution. Fanatics has a new one for the Rams, and also graphics for the Steelers and Washington.

College Football News: A game-worn Ernie Davis jersey will be auctioned in January (from Phil). … Also regarding Davis, Brendan Pettit's father played for Maryland from 1961 to 1963, and after a game against Syracuse he took an orange No. 44 jersey from the locker room laundry. "Syracuse never wore orange in those days (at least I do not think or know for sure) but he thinks it was a practice jersey perhaps and could have belonged to Ernie Davis," says Brendan. … Memphis and Auburn showed what helmets they'll wear for the Birmingham Bowl. … Sam Houston State will wear all orange against Colgate on Saturday (from Chris Mycoskie). … Speaking of Colgate, the team is 3-0 this year when wearing maroon helmets, white jerseys, and grey pants (from Ryan Dowgin). … Based on what the Hokies are wearing in practice, it seems that Virginia Tech will wear their 1987 helmets in the Independence Bowl. The team also wore them in November (from Andrew Cosentino).

Hockey News: PK Subban has designed his own classic-looking skates for the Winter Classic. … For autograph signing sessions, the Devils have pucks with offset logos that allow for a larger blank space for the player's signature (from Steven Woj).

NBA News: During last night's game against the Clippers, Derrick Rose took off the clear mask he previously had worn all season. It wasn't a sign that he's feeling any better, though; Rose just forgot to put it back on. The Bulls PG suffered an orbital fracture before the season. … A sportswear company is selling a T-shirt of Michael Jordan's No. 12 jersey. … Oy vey: The Nets' Jewish Heritage Night shirts had a typo (from Jesse Zakshesky). … Time for your daily Bucks item: Kareem Abdul-Jabbar typically had both parts of his surname on his NOB with both the Bucks and Lakers. At one point, though, he just had "Jabbar."

College Hoops News: Penn State wore black with pink last night, in honor of the school's original color scheme (from Chris Flinn). … Iowa and Iowa State went black-vs.-red last night.

Soccer News: DC United will unveil a new home jersey in February (from John Muir). … Also, here's a thorough look at DC United's new logo (from Phil). … The new Miami FC club unveiled its inaugural uniforms (from Chris Maxwell). … Kanye West will design soccer boots for Adidas (from Tim Cross). "¦ Manchester United's new kit has apparently leaked.

Grab Bag: The unseasonably warm weather in the northeast and midwest has Under Armour worried about its cold weather apparel sales (from Phil). … NASCAR teams "paint" their cars with vinyl wraps. Chris Buescher's Bit'O'Honey car wrap is for sale (from David Firestone).