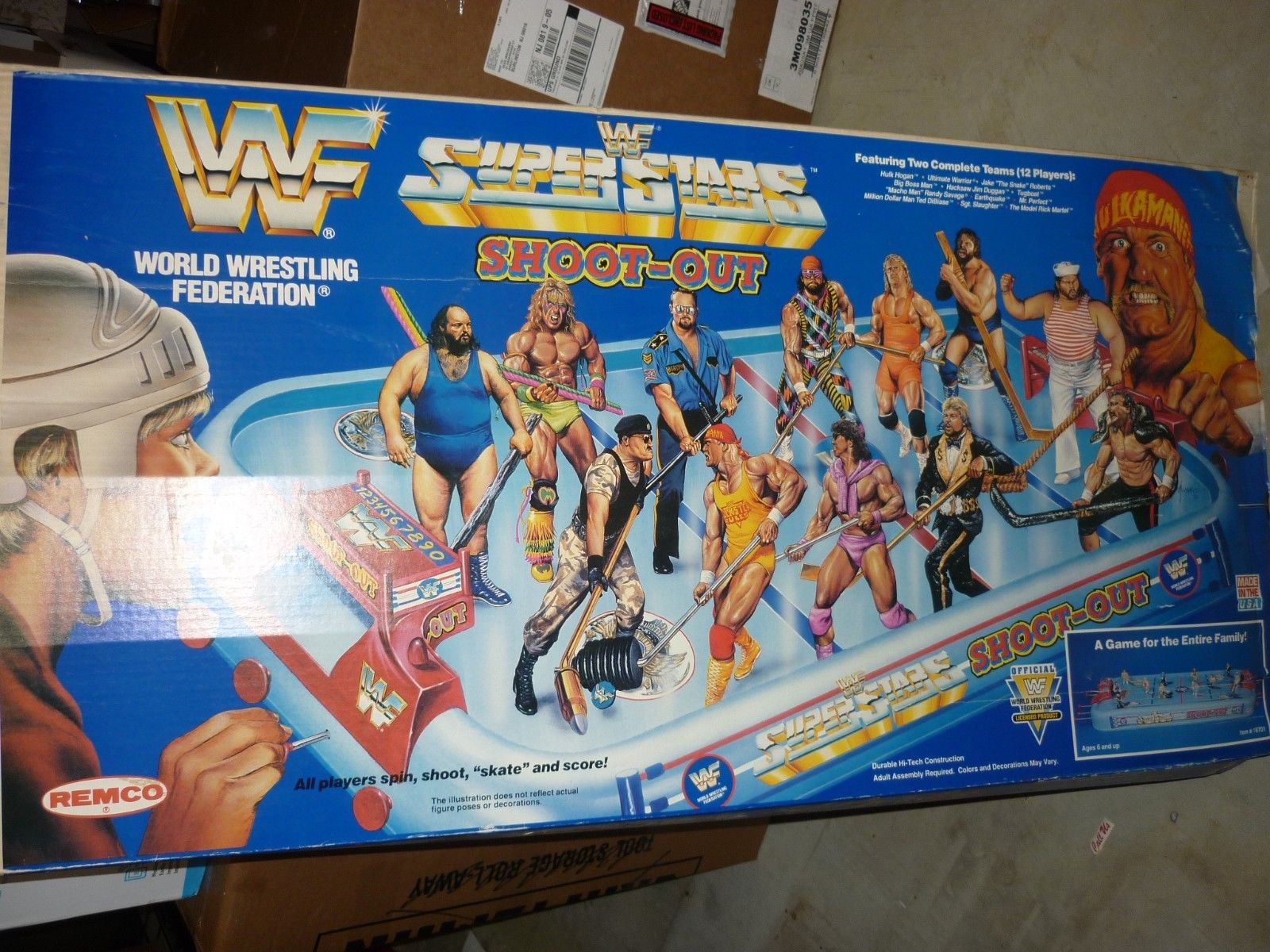 Click to enlarge
I don't care even a little bit about professional wrestling. Never have. But occasionally — or maybe just yesterday, because I don't think it's ever happened before — something comes across my field of vision that's (a) wrestling-related and (b) awesome.
That's the case with the tabletop wrestling/hockey game shown above. That photo was tweeted yesterday by @NHLhistorygirl and brought to my attention by reader Marc-Louis Paprzyca. A quick search reveals that the photo comes from this eBay listing, which means this item can be yours for a mere $225.90.
And what an item it is! First there's the brilliantly absurd concept, which is one for the ages. Seriously, what combination of brainstorming, alcohol, gambling debts, alcohol, dares, threats, and alcohol led someone to declare, "I know — we'll do a hockey game, but with professional wrestlers"?
Then there's the execution, which is loaded with great little details. I love that the box shows Hulk Hogan playing against a hockey-helmeted kid. I also love that Hogan is one of the players shown on the "ice" (and that he's lifting weights with his hockey stick) — very meta!
I also love that the players are packaged together in a way that essentially creates two teams: shirts (mostly) and skins (mostly).
I'm assuming there are also lots of WWF references and in-jokes that I'm too wrestling-clueless to get. But I'm not too clueless to appreciate this 1991 commercial for the game — my lone gripe is that it's only 15 seconds long:
This isn't the first time the game has gotten some renewed attention. Yahoo's Greg Wyshynski, aka Puck Daddy, has written about it at least twice (look here and here), at one point calling it "pretty much the greatest table-top hockey game in the history of hockey and/or tables." But it's the first time the game has come across my radar (or at least I think so — maybe I've put it in the Ticker before and just don't remember), and it's totally pushing my buttons.
Too bad they never convened a photo shoot with the real wrestlers wearing real skates on real ice. Is it too late for a reunion?
• • • • •
Click photos to enlarge
Magnificent magnifier: There's been a magnifying glass at the top of every Uni Watch page for many years, but there's never been an actual Uni Watch magnifying glass — until now. The one shown above was sent to me by longtime reader/pal Ben Traxel, who bought a conventional magnifier and hand-painted it. "I trust you will use it to solve vital uni mysteries for years to come," he says. How nice is that?! Ben, you rock — thanks so much.
•  •  •  •  •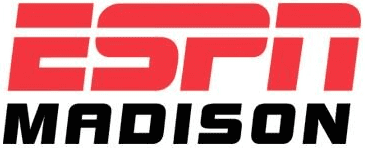 ITEM! Your chance to get up really early in the morning just to watch me talk: On Tuesday morning I'll be at a hotel in Madison, Wisconsin, participating in a panel discussion about uniforms that's being organized by the local ESPN Radio affiliate.
The bad news is that it's not open to the public (the attendees will be representatives from some of the radio station's advertisers, some local businesspeople, folks like that). The good news is that I'm raffling off a spot on the guest list. And the catch is that it begins at 7:30am (I think it will be over by 9:15-ish), so you'd have to be either nuts or an insomniac to want to show up that early.
If that sounds like you, send an email to the raffle address by 7pm Eastern tomorrow. I'll choose a random winner and let him or her know on Saturday.
•  •  •  •  •
Click to enlarge
Grommets, continued: Totally hooked on this project now. The possibilities seem limitless. When I have more time I'll create a Tumblr site for these photos (ditto for the key ring stories, which I haven't forgotten about — just been busy), but for now I'll post them here on Uni Watch.
•  •  •  •  •
The Ticker
By Paul

'Skins Watch (a day early this week): This is clever — someone has created a Twitter bot that replaces the 'Skins name with other ethnic slurs, so you end up with tweets like "Wetbacks, Giants, Eagles…..3 way tie for first, I'll take it!" and "Where does Monday's loss rank among the toughest in #Kikes history?"

Baseball News: Oooh, really like this 1964 Cardinals beer glass. "¦ You can get a better look at the sublimated snakeskin on the D-backs' new caps here and here. "¦ Speaking of new MLB headwear, it's nice to see that the Padres' brown cap will have the old-school eight-panel construction, instead of the standard six. Also interesting to see it won't have the All-Star Game logo like the team's regular caps will have.

NFL News: Giants WR Odell Beckham Jr. is pushing back against the notion that his gloves give him an unfair advantage. And he's right: His gloves are no better or worse than anyone else's, and what sets him apart is clearly his talent and athleticism, not his gloves. Or to put it another way, the gloves are a tool, and his natural gifts let him take full advantage of that tool, probably to a greater extent than most if not all other receivers. But it's also true that neither he nor anyone else could make those one-handed highlight-reel catches bare-handed, and it's silly of him to suggest otherwise. If everyone played bare-handed, Beckham might still be among the best in the game, but his catches (and everyone else's) would be more conventional. That's not an argument for or against gloves; it's simply a measure of the extent to which they've transformed the game.

College Football News: Here are the jersey patches for the Camping Supplies Bowl, the Car Insurance Bowl, the Chain Motel Bowl, and the Hawaii Bowl (from Andrew Cosentino, Chris Buttgen, Joe Farris, and Andrew Enright, respectively). "¦ The coach of the year award's corporate sponsor and the recipient's school have the same colors (thanks, Mike). "¦ Navy has been breaking in the new helmets for the game against Army. "¦ A UNLV recruit was shown a new helmet design last weekend (from John Nissan).

Hockey News: The Miami Herald is reporting that the Fla. Panthers will be getting a makeover for 2016-17. That will be the NHL's final season with Reebok, so I think it's fair to infer that the league won't be undergoing any major changes when Adidas takes over in 2017-18. If a major template change or something like that was in the works, the Panthers would presumably have waited one more year. "¦ Ace DIYer/genius Wafflebored's latest project is a goalie equipment necktie. Great stuff, as usual. "¦ Star Wars jerseys for the Syracuse Silver Stars (thanks, Phil). "¦ Ugly sweater jerseys for Wisconsin-Superior (from Thomas Lidholm). "¦ The Penguins added "9" helmet decals yesterday for Pascal Dupuis, whose career has been ended by a medical condition (from Jerry Wolper). "¦ "The Avs did a great job Monday with their 20th-anniversary team ceremony, except that they had all former players to wear Reebok Edge jerseys, regardless if they actually wore them during their playing career," says Evan Hassinger. "It really bothered me to see the likes of Ray Bourque, Rob Blake, Patrick Roy, et al. in uniprons. Back in 2010 they had a Stanley Cup reunion, and look at how good they looked in the original style jerseys." "¦ We've known for a long time that the Caps had a new red throwback alternate this season, but here's our first look at the full uniform (from Mike Engle).

NBA News: Looks like maybe Lebron James had roomier sleeves the other night, for obvious reasons. "¦ Color vs. color last night in Milwaukee, as the Bucks wore their black alts against the red-clad Clippers.

College and High School Hoops News: A little birdie tells me that the floor design at TCU's revamped arena, which is due to open later this month, will have "a unique reptile pattern." Between this and the Diamondbacks' snakeskin uniforms, the reptiles are taking over. "¦ St. John's had a red-out last night, so they wore red at home against Niagara, which wore white on the road (from Kenny Kaplan). "¦ Chicago Orr High School in Illinois has some seriously weird uniforms (from Erik Spoonmore).

Grab Bag: New helmet design for Dale Earnhardt Jr. (from @GKG_77). "¦ There's a new initiative in Boise to preserve the city's classic neon signs (from long-lost Vince Grzegorek). "¦ Some new arena football league that will probably be defunct by the time you read this has a new team in Spokane (from Brett Gleason).