As most of you are probably aware, on Saturday night the WHL's Seattle Thunderbirds commemorated the old Seattle Metropolitans' 1917 Stanley Cup championship by wearing Metropolitans throwbacks. Uni Watch reader Markus Kamp was at the game and reports that the Hockey Hall of Fame had several artifacts on hand, including Metropolitans goalie Hap Holmes's original 1917 jersey, which made for a nice side-by-side comparison with the Ebbets Field Flannels reproduction that Markus wore for the occasion (see above).
Here's a close-up of the Holmes jersey:
Markus got to repeat his thumbs-up pose with the Stanley Cup:
Another piece of hardware on hand was Frank Foyston's MVP trophy from the 1917 Cup-winning season:
In a nice touch, the arena's scoreboard listed the Thunderbirds as "Mets" (although Markus says "Metros" would've been more accurate):
"They also announced all goals and penalties as 'Metropolitans,'" says Markus. "I did get one solid 'Let's go, Metros!' chant going in the second period."
Very cool stuff — my thanks to Markus for sharing it.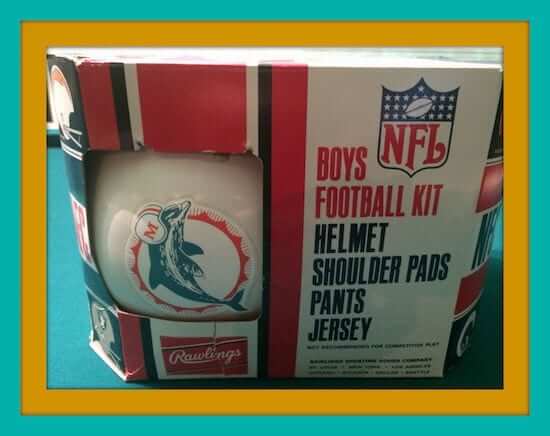 •  •  •  •  •
Click to enlarge
Collector's Corner
By Brinke Guthrie
Dolphins fans, put this one under the tree for your little Fins Fan: a 1970s Miami Dolphins uniform set from Sears. Helmet, jersey, pants, and pads, all made by Rawlings.
Now on to the rest of the week:
• Is it a coincidence that the "76" on this 1976 Dodgers Yearbook cover looks a lot like the Union 76 logo that long had exposure in Dodger Stadium?
Really nice art on this "Steve Sabol: Guts and Glory of Football" poster. The late Steve Sabol, along with his father Ed, was the co-creator of NFL Films.
• This 1970s San Francisco 49ers helmet plaque from Riddell is in good shape.
• Wear this pair of 1970s Golden State Warriors "Extra Absorbent" wristbands and you will shoot just like Steph Curry. Or not, probably. But it can't hurt!
• Cheer for your Detroit Lions with this 1960s "Go with the Lions" megaphone.
• Stillers fans will wake up on time with this 1970s alarm clock made by Lafayette.
• Join the Pittsburgh Penguins "K-Team" with this bumper sticker from KDKA Radio 1020.
• Not sure what a "Flexi-Mat" is for, but this 1960s version features the NFL Eastern and Western Conference team logos.
• How about this 1970s Indiana Pacers basketball bank, c/o your local Indiana National Bank!
• Could be Mike Curtis on this vintage Baltimore Colts poster. Always liked the fact that a linebacker wore No. 32. And here's Curtis and the famous photo of "How to unscrew Roman Gabriel's head!"
Follow Brinke on Twitter: @brinkeguthrie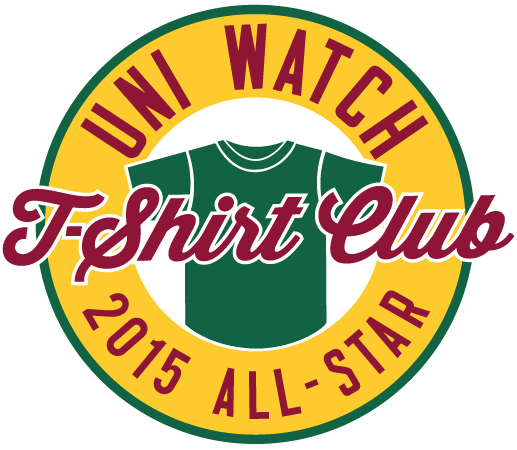 • • • • •
• • • • •
T-Shirt Club prize reminder: Remember, if you ordered all 12 T-Shirt Club designs, you need to send me proof in order to qualify for the "Collect 'Em All" prize, which is an embroidered patch of the logo shown at right. (I was notified yesterday that the patches are done and are now being shipped to me. I'll share a photo once I receive them.) Here's what you need to do:
1. Either (a) take a photo of all 12 shirts or (b) take screen shots of the 12 "Your order has been received" emails that you received from Teespring.
2. Send the photo or the screen shots to TshirtClubProof@gmail.com (not to the regular Uni Watch address, please).
3. Be sure to include your shipping address, so I know where to mail your patch.
• • • • •
LAST CALL for the holiday shirts:
Today is the last day to get these three shirt designs, each of which is available in three colors (black, grey, and white) and three styles (short-sleeved, long-sleeved, and sweatshirt). Here, click to enlarge: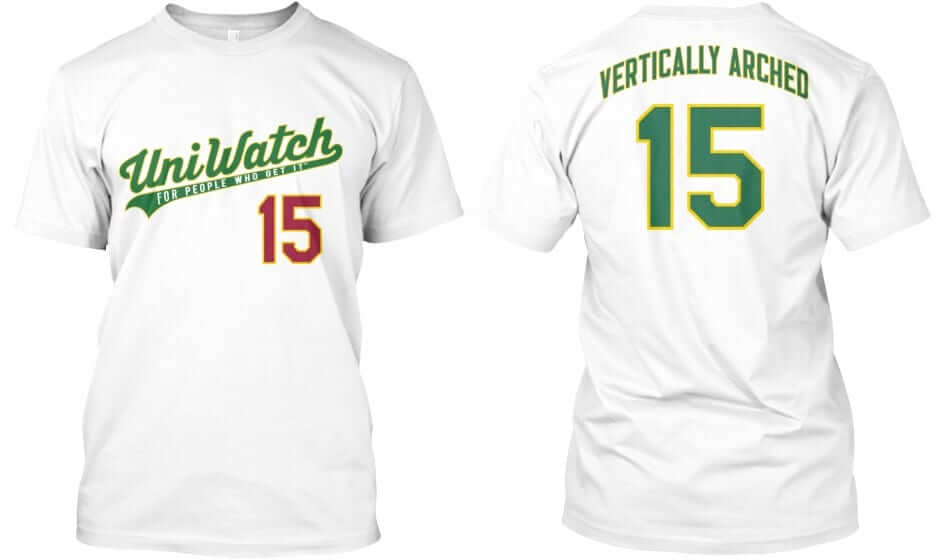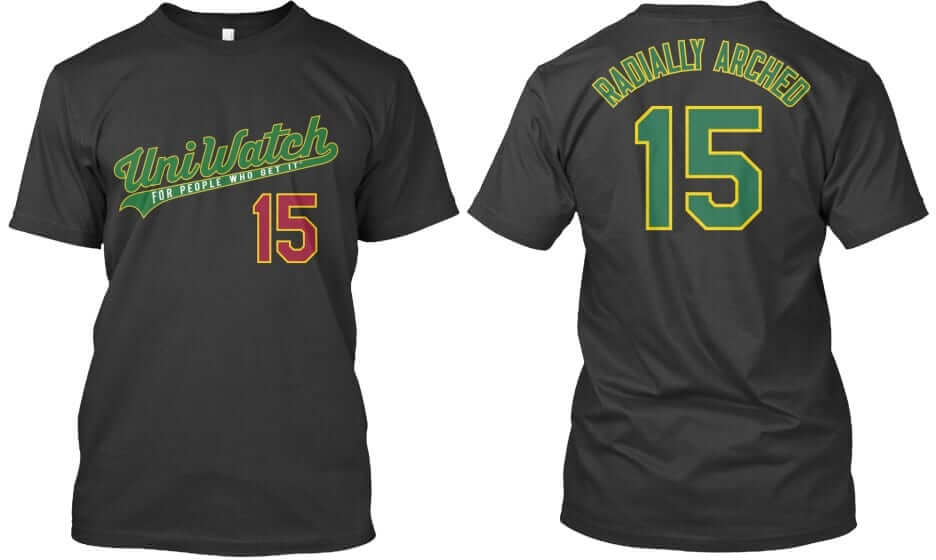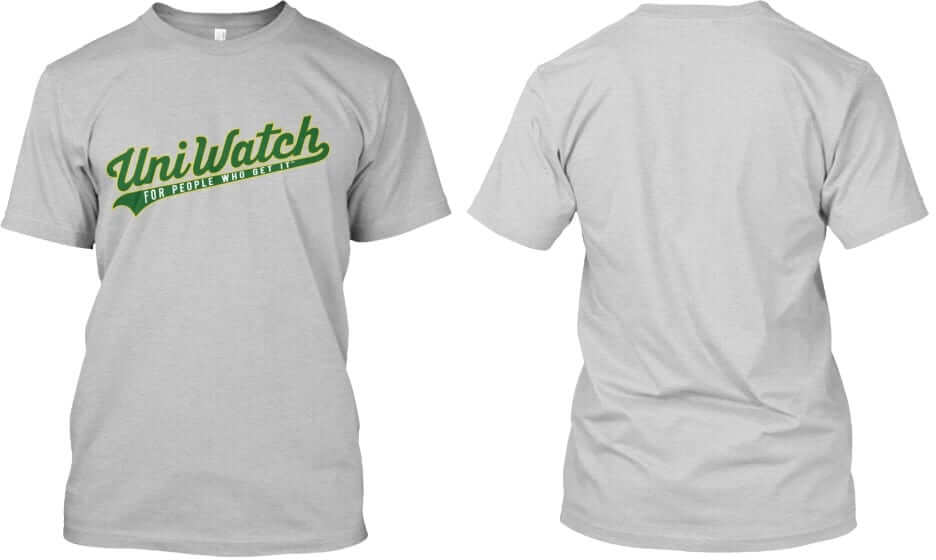 Again, each of these three designs "" "Vertically Arched," "Radially Arched," and the plain script with nothing on the back "" is available in all three colors shown (white, black, and grey). In addition, each design and color is available in three formats (short-sleeved, long-sleeved, and sweatshirt). Plus the plain script design is also available as a hoodie with pockets.
These shirts are available here and will deliver in time for Christmas.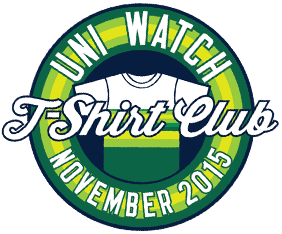 • • • • •
Tequila sunrise update: Last Friday I told you that emails with tracking numbers for the tequila sunrise reprints were about to go out. While those emails were never sent, I'm told that the shirts themselves shipped late last week and should therefore be arriving shortly.
If you're thinking, "If they can't even send a fucking email, why should I believe that they've shipped the shirts?," well, I don't blame you. If you're angry, I don't blame you for that either — I'm pretty pissed off myself. Just to clarify, Teespring has been very good about responding to my inquiries, answering my questions, etc. But the information they've been getting from the sublimation printer that made these shirts — information that they've been passing along to me — has been poor. This is the first sublimated shirt Teespring has ever done, and the vendor they chose for the job clearly has not been a good one. That's the problem here. I realize that doesn't really change anything from your end — you just want your shirt — but I want you to understand where the root of the problem is.
Obviously, we're hoping that the reprinted shirts are better than the first round. But if you have any issues with your reprint, you'll still be able to get a refund.
My apologies for the hassle, and my thanks for your patience.
• • • • •
The Ticker
By Paul

Baseball News: Reprinted from yesterday's comments: Good video on the New Jersey factory that makes most of the presidential campaign baseball caps (from R. Scott Rogers). "¦ Longtime Chicago punk band Naked Raygun — whose best album, 1985's Throb Throb, has aged pretty well — is selling this Chisox-style T-shirt (from Eriq Jaffe).

NFL News: A reader who prefers to remain nameless notes that the Steelers' sleeve striping looks a lot worse than Iowa's. "Looks like a certain corporate logo is getting in the way of the Steelers' stripe," he says. "I would almost rather see it right in the middle of the gold part of the stripe so that they could fit the entire uniform element in, like they used to do when Starter made the jerseys." "¦ NFL socks don't usually have makers' marks, but here's a shot from last night's Washington/Dallas game that shows two Cowboys players' hosiery — one with Nike logo creep and one with Under Armour (from Bartt Gevens and Phil). "¦ In that same game, ESPN misspelled Washington's team name (from Chris Flinn).

College Football News: Mississippi State is inviting fans to vote on which pants the team should wear for the Department Store Bowl. Here are the options and the ballot. Voting is open until 12:45 Eastern today (from Andrew Piper). "¦ The University of Mayland's president, Wallace D. Loh, is recommending that Byrd Stadium's name be changed to Maryland Stadium due to concerns over current stadium namesake Curley Byrd having been a racist and segregationist (from Andrew Cosentino). "¦ Check it out: Future MLB star Frank "The Big Hurt" Thomas in an Auburn football uni (from Eric Wright). "¦ Also from Eric: All four remaining teams in the D3 playoffs have purple as a team color.

Hockey News: Here's a rare sight: a goalie who wears the "A." That's Andy Iles, who's currently with the Atlanta Gladiators, although that photo is from his days with Cornell. While we're at it, Rangers G Henrik Lundqvist wore the "A" in an All-Star Game and at an exhibition game in Sweden (all this from Mike Engle). "¦ Of course, if you go way back, Canadiens G Bill Durnan wore the "C"!

NBA News: Lebron James is the latest athlete to have his own typeface (from Conrad Burry.) "¦ The Mavs wore their green throwbacks last night.

College Hoops News: Check out this 1977 shot of South Dakota and South Dakota State players competing against the Cuban national team in Havana. "Note the boxing mural, scoreboard format, bunting, small scorer's table(s), and the uniforms look pretty good too," says Pete Woychick. "¦ Pearl Harbor Day jerseys yesterday for Oklahoma (from Devon Kuckenbecker). "¦ Ditto for Villanova, which wore these jerseys and this patch.

Grab Bag: MLS's new match ball for 2016 has been released (from @wdw_ben). … With women now approved for all U.S. military combat roles, female soldiers will be getting custom combat gear (thanks, Brinke).