Click photos to enlarge
Good day for NFL throwbacks yesterday, as the Bears wore their Monsters of the Midway uniforms (my kingdom for more sock stripes) and the Rams wore their Greatest Show on Turf outfits (plus they had throwback cheerleaders). Both teams lost, but they looked great.
In other developments from around the league yesterday:
• The Saints went mono-black.
• In a move that's becoming a trend, the Chiefs once again went white over white with red-topped socks. Not a bad look, but it's a shame that they seem to have shelved their awesome red pants.
• Speaking of disappointing trends, the Titans once again went mono-blue. I've lost track of how many times they've done that this season, but it's way too many. (Of course, even once would be too many, but you get the idea.)
• The Seahawks wore white over grey. Wish they'd do that more often.
• The Browns and Bengals were almost mirror images. Mirror awful images, natch.
• Only one team wore white at home: the Dolphins.
• Maybe this has been going on for years, but it was new to me: Some Bills fans wore Buffalo chicken wing hats.
• Michigan coach Jim Harbaugh joined his brother John on the Ravens sideline and even wore Ravens sideline apparel.
•  Bengals cornerback Pacman Jones, who wears No. 24, wore No. 15 on his helmet. A memorial shout-out to former teammate Chris Henry, perhaps..?
• Pretty funny to contrast the stadium-arrival apparel worn by Panthers quarterback Cam Newton (note the footwear) and Titans tight end Delanie Walker.
(My thanks to all contributors, including Mike Chamernik, Brinke Guthrie, Dough Smith, and of course Phil.)
•  •  •  •  •
Uni Watch holiday tradition No. 1: As longtime readers are aware, one of the most highly anticipated days of the year here at Uni Watch HQ is the annual arrival of a package from reader Elena Elms, who always makes some uni-themed holiday cookies (you can see some of her previous efforts here). This year's package arrived on Friday, and I think it would be fair to say that Elena was trying to curry a bit of favor with me this time around (click to enlarge):
Not gonna lie — I love that she did a pair of cookies based on the Uni Watch T-Shirt Club's ugly sweater design. I like the Mets cookies too, of course, and I think it's hilarious that she tried her hand at a G.I. Joke cookie — a tricky endeavor!
I can't even begin to express how special and wonderful it is that Elena does this every year, and how much fun I have sharing her work with all of you. Please join me in thanking her for her creativity and, especially, her generosity. You're the best, Elena!
• • • • •
Uni Watch holiday tradition No. 2: I don't usually repeat recipes that have featured on the site, but each December I make an exception for my favorite holiday preparation, homemade Irish cream. In other words, homemade Bailey's. In other words, melted ice cream that gets you drunk. It's super-easy to make, it'll make you the hero of whatever party you bring it to, and lots of you have told me how much you like it. I made this year's batch last night (click to enlarge):
Want to make your own? (Hint: Answer rhymes with "yes.") Here's how to do it:
Start with some decent Irish whiskey "" Bushmills, Jameson, Tullamore Dew, something like that (but not super-high-end stuff, because the nuances will be lost in this preparation). Pour a pint of the whiskey into a large-ish container and mix it with a can of sweetened condensed milk; a pint of heavy whipping cream; a tablespoon of chocolate syrup; a teaspoon of vanilla extract; a teaspoon of instant espresso dissolved in two tablespoons of hot water; and a quarter-teaspoon of almond extract.
Mix well (if the container has a tight lid, you can just shake vigorously), refrigerate, serve over ice (add some hazelnuts if you like, as I did in the photo above), and get ready to become the most popular person in the room. No need to thank me afterward, but you'll want to do so anyway "" trust me.
• • • • •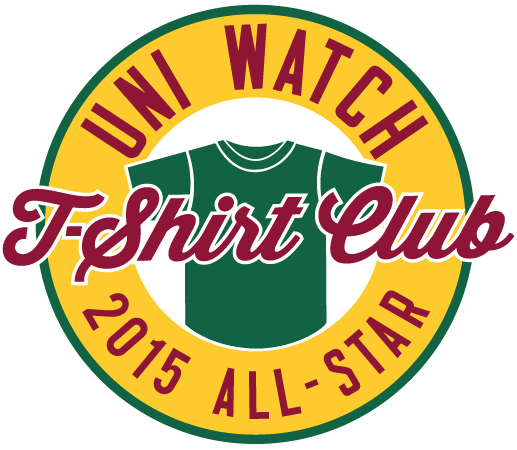 • • • • •
T-Shirt Club prize reminder: Remember, if you ordered all 12 T-Shirt Club designs, you need to send me proof in order to qualify for the "Collect 'Em All" prize, which is an embroidered patch of the logo shown at right. (I was notified yesterday that the patches are done and are now being shipped to me. I'll share a photo once I receive them.) Here's what you need to do:
1. Either (a) take a photo of all 12 shirts or (b) take screen shots of the 12 "Your order has been received" emails that you received from Teespring.
2. Send the photo or the screen shots to TshirtClubProof@gmail.com (not to the regular Uni Watch address, please).
3. Be sure to include your shipping address, so I know where to mail your patch.
• • • • •
TIME RUNNING OUT for holiday shirts: Today and tomorrow are the last days to order the three shirts that we've launched for the holidays. These are not technically part of the Uni Watch T-Shirt Club (no sleeve patch, no month designation) but are very much in keeping with the spirit of that project. There are three base designs, each of which is available in three colors (black, grey, and white) and three styles (short-sleeved, long-sleeved, and sweatshirt). Here, click to enlarge: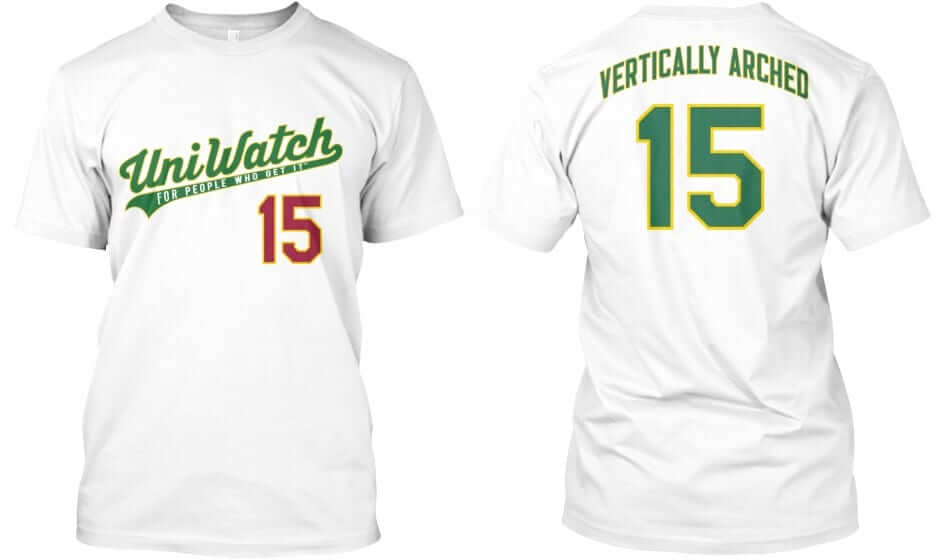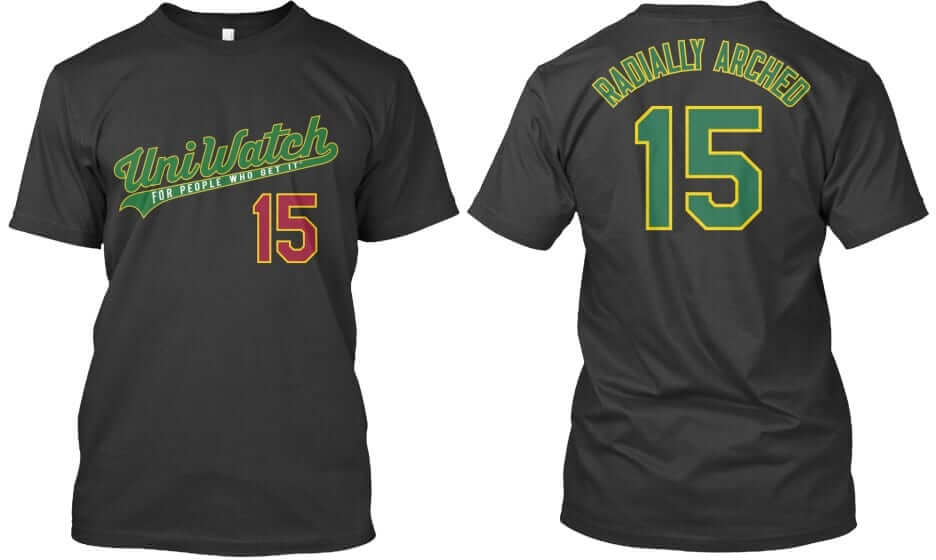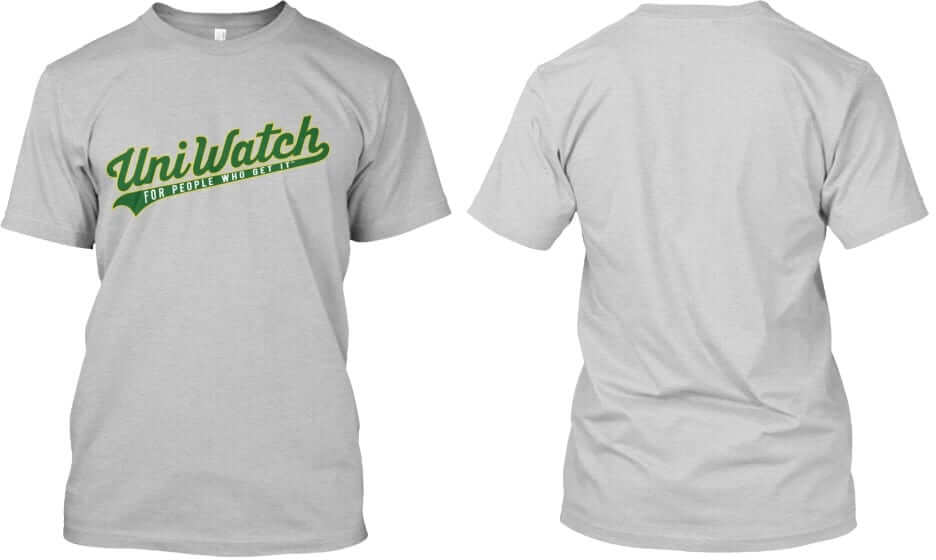 Again, each of these three designs "" "Vertically Arched," "Radially Arched," and the plain script with nothing on the back "" is available in all three colors shown (white, black, and grey). In addition, each design and color is available in three formats (short-sleeved, long-sleeved, and sweatshirt). Plus the plain script design is also available as a hoodie with pockets.
These shirts are available here, and they'll deliver in time for Christmas.
• • • • •
The Ticker
By Paul

Baseball News: Unusual NOB for Phillies reliever Jim Kern in 1984. "Oddly, that was Kern's third home game for the Phils on June 25, 1984, and the first two had been June 10 and 12," says Jerry Wolper. "So I don't know why they wouldn't have given him a proper nameplate by then." "¦ New 80th-anniversary patch for the Chunichi Dragons (from John Fitzgerald).

NFL News: Here's an old shot of Chiefs QB Len Dawson wearing what appears to be an upside-down M, instead of a W, on his NOB (from William Schaeffer). "¦ Electric football maven Gene Sanny has hand-painted some amazing Chargers player figurines. Click on those thumbnails to see larger versions that showcase Gene's fantastic attention to detail! "¦ Here's a look at old game programs from Steelers/Browns games (from Joe Hredzak).

College Football News: In a welcome and surprising development, the four College Football Playoff teams — all of which are outfitted by Nike — will wear their regular uniforms, at least for the semifinals.

Hockey News: Very nice War on Christmas "Happy Hanukkah" display on the ice last night by the Devils (thanks, Mike). "¦ Whoa, look at this completely amazing 1929 Bruins championship sweater (awesome find by Will Scheibler). "¦ The Ducks wore their orange Wild Wing alts last night. "¦ Xmas sweater unis last night for the Albany Devils.

Basketball News: Here's something I'd forgotten about the 1999 film American Beauty: It includes a basketball scene with a center-court logo showing a Celtic-turned-Spartan (from the pseudonymous Justice C). "¦ "I went to watch the Brooklyn Skyrockets take on the New York Court Kings [who play in the new ABA] at St. Joseph's College on Sunday," says David Dyte. "New York had a player out of uniform — he wore a generic No. 15 jersey. Also, one of the refs wore a UBC jersey instead of the proper ABA jersey." "¦ Bucks PG Michael Carter-Williams has a signature dress shoe (from our own Mike Chamernik). "¦ San Diego and San Diego State played at Petco Park yesterday, and both teams wore throwbacks. Lots of additional photos here (from Andrew Enright). "¦ Pistons F Ersan Ilyasova didn't have the little gold championship tab on his jersey last night.

Soccer News: "The MLS Cup was played Sunday, and Columbus and Portland both had metallic gold letters to mark the occasion," says Saurel Jean Jr.. "Portland's were affixed above their crest while Columbus's were placed in the middle because the star for their previous championship was above the crest. It was really hard to see the Columbus markings unless the light hit them just right."

Grab Bag: My friends Chris Buccafusco and Penelope Bartlett attended a bar mitzvah over the weekend for a kid named Eric. The yarmulkes for the event were custom-printed with Eric's name in an ESPN-ish type treatment. "¦ "At the conclusion of the ill-tempered 1966 World Cup quarterfinal match between England and Argentina, England manager Sir Alf Ramsay tried to stop George Cohen from swapping shirts with Alberto Gonzalez," says Graham Clayton. "¦ "I came across these Budweiser-esque singlets at a youth wrestling tournament this weekend and felt the need for the Uni Watch community to see the irony here," says Taylor Workman. "¦ Latest classic style guide to be reissued: the British rail graphic standards manual. It even includes guidelines for uniforms! (From Gordon Blau). "¦ The five New Zealand Super Rugby teams released their 2016 home jerseys last night. "¦ Happy Hanukkah to all who are observing. Those of you who live in NYC, or are at least familiar with the NYC subway system, will appreciate this stylized menorah (from Joe Werner and Otto Vondrak).
•  •  •  •  •

What Paul did last night two nights ago: Spike Lee is what I like to call a "his best since" artist, by which I mean that his cultural relevance (and, for the most part, his ongoing career viability) is rooted almost entirely in what he did a long time ago, not what he's doing now. Whenever he comes up with a halfway-decent movie these days, it's inevitably described as "his best since Malcolm X or "his best since Do the Right Thing," or just "his best in years," all of which are polite ways of saying, "Dude peaked a few decades ago and has been cranking out mediocre crap since then." (He's hardly alone in this category, of course: Bob Dylan, Paul McCartney, Woody Allen, Elvis Costello, Eddie Murphy, lots of novelists, etc. — all are classic "his best since" artists.)
I hadn't seen one of Lee's movies in more than 15 years, but I was intrigued by his latest one, Chi-Raq, which examines Chicago gang violence through the lens of the ancient Greek play Lysistrata (and is therefore scripted entirely in verse, some rhyming and some not), so I went to check it out on Saturday night.
It's a big, sprawling mess of a movie. Much of it is very good, a lot of it is very funny, major chunks of it are fairly silly, and I found one extended scene embarrassingly cringe-inducing. But what comes through the entire time is that this is an artist who is desperate — desperate — to help heal the violence in black America. I found that impulse, and the obvious pain that drives it, to be super-duper-powerful.
I suspect Lee will continue to be a very uneven creative force ("big, sprawling mess" is an apt description of his career, not just this latest movie), but Chi-Raq is good enough to reset the bar. The next time he comes out with a halfway-decent movie, there's a good chance it will be described as "his best since Chi-Raq," instead of being measured against his 1980s and '90s glory days.