Click to enlarge
Happy post-Thanksgiving, everyone. I was traveling all of last week (more on that later) and am just settling back in. Please join me in thanking Phil for keeping the site running while I was away. You're the best, buddy — I'm grateful beyond words. Big thanks also to longtime reader/neighbor/pal Marty Buccafusco, who fed Uni Watch mascots Tucker and Caitlin for several days — including Thanksgiving — while I was away.
Now then: Brutal game in Santa Clara yesterday, as the 49ers wore their BFBS alts while hosting the always-ugly Cardinals. The Niners even had black-clad cheerleaders. Additional photos here and here, if you dare. The one silver lining is that this is the last we'll see of the Niners' alts until next year.
• The Texans went mono-navy.
• I've said it before and I'll keep saying it: I really like the Vikings in white over purple. If only they'd get some contrasting socks, that would be one of the league's better looks.
• Giants wideout Odell Beckham Jr. wore Charlie Brown- and Snoopy-themed cleats for pregame warm-ups. Here's a close-up.
• With Rams wideout Steadman Bailey hospitalized following a shooting, teammate Kenny Britt wore Bailey's initials on numbers on his waistband towel.
• Man, that's one doozy of a knee brace on Bills quarterback Tyrod Taylor.
• The chaotic state of NFL socks is nicely shown by this trio of Jets — high whites, low whites, and mid-leg whites.
• Now that the weather is getting cold, we'll be seeing more fractured helmet decals. That's Patriots defensive lineman Chandler Jones. His teammate
Malcolm Brown had a different kind of decal malfunction in that same game.
• I realize this is nothing new, but it's still funny to see Colts running back Frank Gore's "knee" pads.
• I'm sure this isn't new either, but it's interesting to see how the Riddell SpeedFlex helmet wreaks havoc with the Steelers' helmet numbers.
• Bengals linebacker Vontaze Burfict arrived at the stadium wearing a Chicago Bulls jacket.
• Speaking of pregame attire, I don't think you have to hate purple as much as I do to think that Saints quarterback Drew Brees might want to think twice about his sartorial choices.
• In this increasingly digital world, it's interesting to see that the guy handling the down marker still charts the game with a pencil.
• Damn, it's so nice to watch a game in the snow. That photo doesn't really capture how pretty that game was — or at least it was at first. But as the snow accumulated, NBC began digitally changing the yard markers and hashmarks from white to black. Not a good look.
Finally, let's give thanks for G.I. Joevember being over and teams being able to wear their regular uniforms — no pink, no camouflage — for the rest of the season.
(My thanks to all contributors, including Jeffrey Bovitz, Kyle Clauss, Curtis Galvin, Mike King, Jeff Moulden, Jeffrey Sak, and of course Phil.)
•  •  •  •  •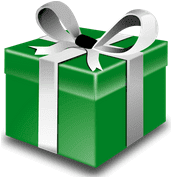 ITEM! Holiday Gift Guide: My annual Uni Watch Holiday Gift Guide will be up today on ESPN — check it out here. My thanks to everyone who provided suggestions for items to include.
•  •  •  •  •
Holiday T-shirt reminder: In case you missed it in the lead-up to Thanksgiving, we've launched three new shirt designs for the holidays. These are not technically part of the Uni Watch T-Shirt Club (no sleeve patch, no month designation) but are very much in keeping with the spirit of that project. There are three base designs, each of which is available in three colors (black, grey, and white) and three styles (short-sleeved, long-sleeved, and sweatshirt). Here, click to enlarge: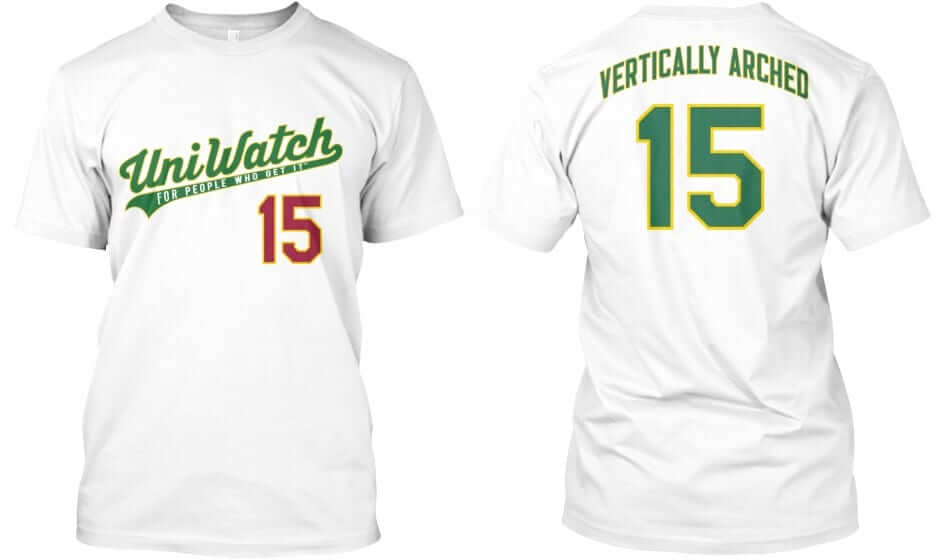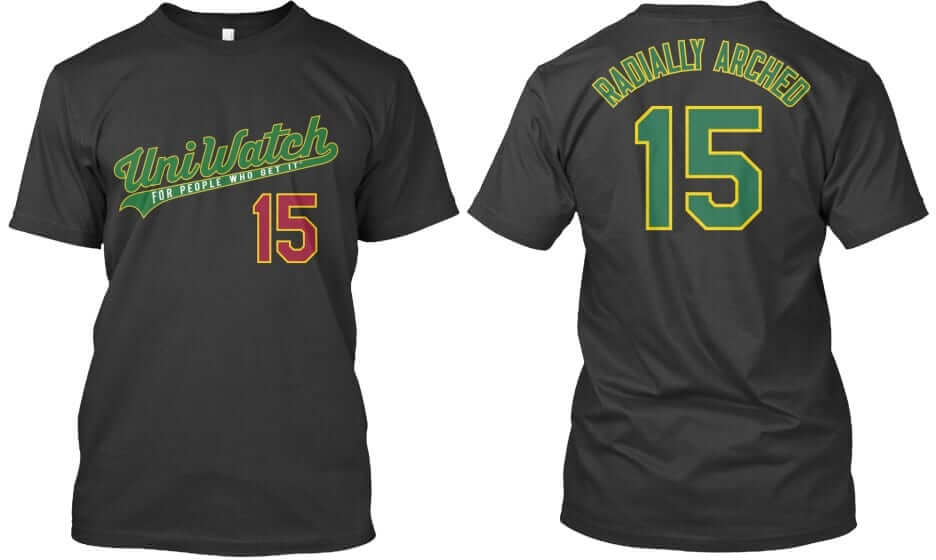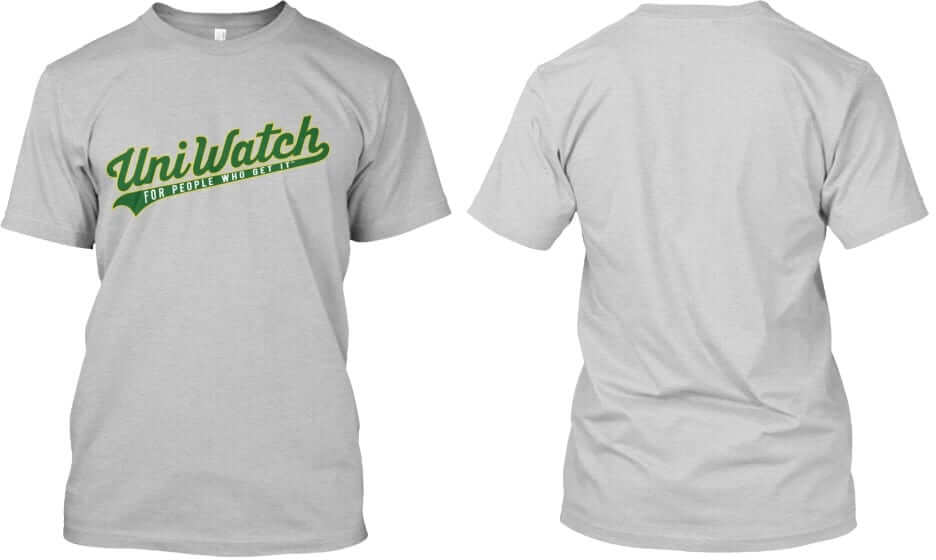 Again, each of these three designs — "Vertically Arched," "Radially Arched," and the plain script with nothing on the back — is available in all three colors shown (white, black, and grey). In addition, each design and color is available in three formats (short-sleeved, long-sleeved, and sweatshirt). Plus the plain script design is also available as a hoodie with pockets.
These shirts are available here up through next Tuesday, Dec. 9, and they'll deliver in time for Christmas.
•  •  •  •  •
The Ticker
By Paul

Baseball News: The Padres will unveil new uniforms tomorrow — not sure what time of day or night. Chris Creamer reported on the details over the weekend (scroll down a bit). I've seen the designs and can confirm that everything he reported is mostly accurate, although his description of "bowtie" wordmarks is a mischaracterization, and he's leaving out a navy road alternate jsersey that will also be part of the set. In addition, a team source tells me that "CEO Mike Dee recently revealed at an staff meeting that our new uniforms for the 2016 season will include a specific 'All-Star jersey,' instead of just the patch that host teams historically wear." That's news to me, and I've been unable to confirm it. We'll find out for sure tomorrow. "¦ Meanwhile, the Diamondbacks will unveil their own new set on Thursday evening. That one's gonna provoke a lot of reaction — trust me.

NFL News: Lions CB Darius Slay is pissed off because he won't get to wear a Color Rash uni this Thursday night. Well, he'll get his chance next year (thanks, Phil). "¦ "I made a helmet tree back in 1995," says Marty Hick. "The tree has undergone a hiatus here and there, and also a makeover or two. I grew tired of teams changing their designs, thus wrecking my tree. So this year? I've pulled out helmets from years past. Some might call it hodgepodge; I call it smorgasbord. The NFL shield/angel/star was drawn in '95."

College Football News: Kansas's blood-clot look was not a hit with at least one observer (thanks, Phil). "¦ Nike is pushing a new cold-weather glove — neon, of course. "¦ Here's the jersey patch for this weekend's ACC championship game. Too bad about the corporate douchebaggery.

Hockey News: Here's an article on snapback caps for defunct NHL teams. "¦ G.I. Joke uniforms for the Boston Pride, which is one of the teams in that new women's league. Disappointing to see that they're hopping on the same trend as the men's teams.

NBA News: Lots of chatter yesterday about Kobe Bryant's retirement, but the real Lakers news — at least from a Uni Watch standpoint — is that they hosted the Pacers, who wore their Hoosiers-based Hickory throwbacks. Hickory shooting shirts, too. Odd that they chose to debut this design on the road, no? Check that, they debuted them at home earlier this month. Still, interesting that they're wearing them on the road as well as at home. Lots of additional photos here.

College Hoops News: Several people tweeted at me last night to say that Michigan State's jerseys "looked like practice shirts" and that the green tones of the jerseys didn't match the green of the shorts. You can kinda/sorta seen the color mismatch in this photo, but it doesn't look so bad to me. Ditto for this video clip. Am I missing something?

Grab Bag: Yesterday marked six weeks since I broke my arm (again) in a(nother) bike accident. My busted flipper isn't quite 100% yet, but it's getting there, and yesterday I felt like it was in good enough shape for me to get back on the bike. (I had joined a gym for a month and then was on the road for a week.) So I rode up to Prospect Park and did my usual three laps around the park loop. If you've never injured your arm, you might be surprised — as I was three years ago — by how much strain is put on your arms by cycling. There's a lot of torque involved, especially when you're going uphill. After yesterday's ride, my arm was a little sore, but it was nothing I couldn't handle. I'll now be resuming my daily cycling routine, which makes me very happy. "¦ What kind of idiot would get his little kid a Marlboro F1 jacket? (From David Firestone, who also awarded his third annual NASCAR paint scheme awards.) "¦ I was in a bar the other day and noticed that Miller High Life now comes in a variety of retro package designs. This has apparently been going on for more than a year, but it was news to me. "¦ Faaaascinating article about an intellectual property dispute in Utah over "dirty" sodas. "¦ Interesting look at the design process for the poster for the new David Mamet/Al Pacino play on Broadway.
• • • • •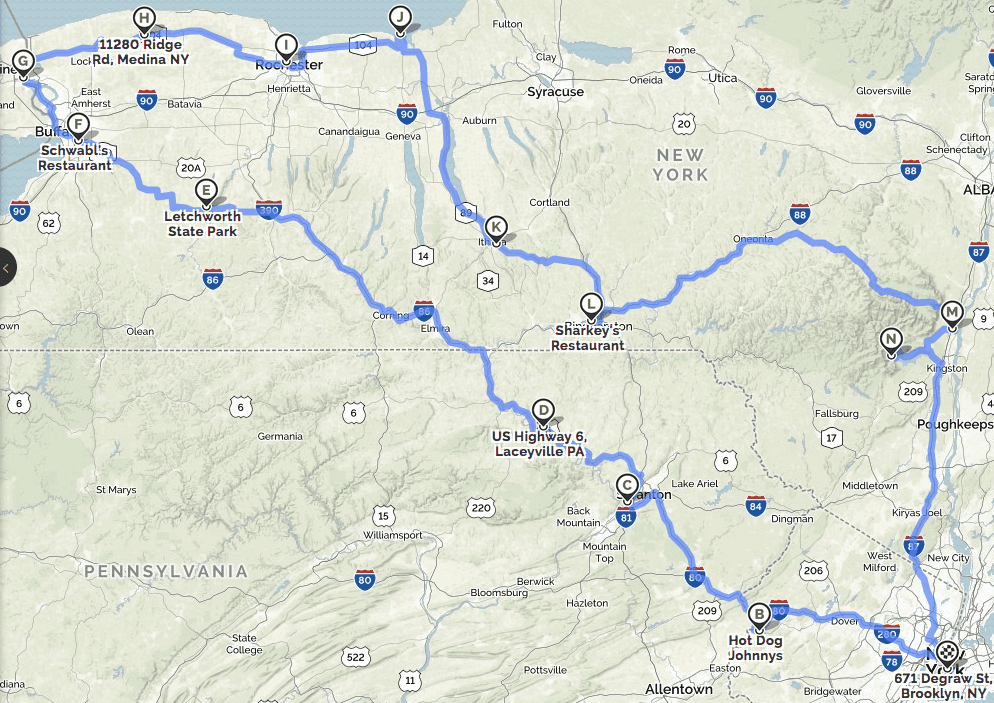 Click to enlarge

What Paul did last night week: The Tugboat Captain and I just got back from eight days on the road — from the Saturday before Thanksgiving to the Saturday after. As you can see from the map above (which shows an approximation of our journey, although there were lots of details and side trips, and the northernmost parts of the trip were actually right against the lakeshore), we traced a clockwise, vaguely amoeboid 1150-mile route that began through northern New Jersey and eastern Pennsylvania and then kicked into high gear in western New York, including a stop at Niagara Falls (which the Captain had never visited and I hadn't seen since I was nine).
There was lots of fun along the way, including lots of waterfalls aside from the ones at Niagara; the odd pizza scene in Old Forge, Pa.; grumpy border-crossing agents; an overpriced Niagara hotel room with a somewhat unsatisfying view of the falls; lots of purloined fruit; a wonderful old-school bowling alley where we enjoyed drinking and chatting with the owner even though only one of us was able to bowl (hint: not the one who recently broke his arm); meeting the Captain's brother and sister-in-law; a lovely Thanksgiving featuring a very delicious spatchcocked turkey that was cooked in a smoker; a visit to an amazing slate sculpture site that was so great I didn't even mind that it was raining; lots of barroom encounters with entertaining characters; some odd meals, including a breakfast featuring two kinds of hot dogs and a dessert consisting of ice cream and onion rings (the latter at a place with the best slogan ever: "Where Quality Predominates"); a surprising number of photographs of bagged ice; an even more surprising amount of pounds gained in a very short time; and the rechristening of Lake Ontario as Lake Inferior.
I hope to be able to tell you more about all of this (or at least a good chunk of it) tomorrow. For now, here's a panoramic shot of Niagara Falls, taken last Tuesday morning from the Canadian side. Those are the American falls on the left and the Canadian falls — also known as Horseshoe Falls — on the right (click to enlarge):