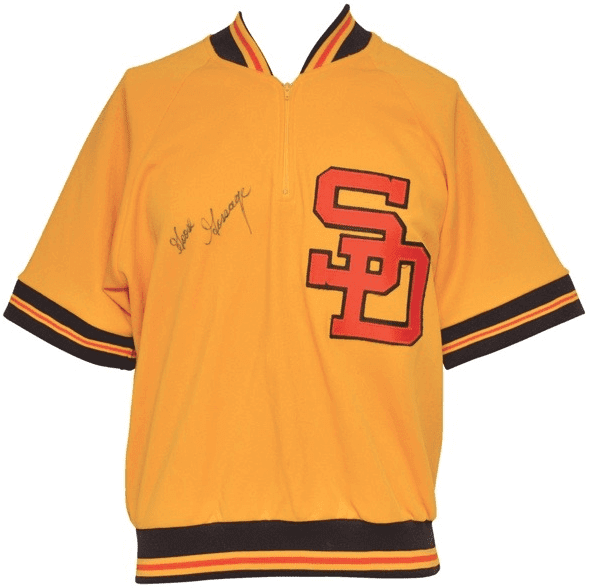 [Editor's Note: Paul is on vacation this week, but he prepared this entry for today. Enjoy.]
As you've probably noticed in the left-hand sidebar, our friends at Grey Flannel Auctions are currently running their annual holiday auction, which features a dizzying 2057 items. Fortunately, I've already sifted through the catalog to bring you the most uni-notable entries. Here they are:
• Whoa-whoa-whoa, look at this amazing 1984 Padres BP top — it's more like a basketball warm-up! Couldn't recall ever seeing this before, but sure enough, it's in Bill Henderson's guide.
• So many interesting things about this old Reds jersey. First, I wish they'd go back to using navy instead of black. Second, always so weird to see that modified wishbone-C without the point on the left side. And third, note the black piping on the armhole. The Reds' vests originally had no armhole piping. Then they added the black piping to the left armhole in 1961, as a memorial to owner Powel Crosley. They decided they liked the look so much that they added piping the right armhole the following year.
• Cesar Cedeño went through most of his career without a tilde on his NOB. But he got to wear one in the early 1980s with the Reds.
• It's funny to see how many teams' jerseys in this auction used the old McAuliffe number font, including the Yankees, A's, and, of course, the Red Sox.
• Here's something that'd be cool to have in your house: an old Yankee Stadium turnstile.
• I'm always blown away by how those 1960s Phillies jerseys had chain-stitched numerals, which must have taken forever to embroider. That's from this listing.
• Here's something you don't often see: a dugout jacket with FNOB. Looks more like a the lettering on the back of a boxing robe.
• This is very cool: The 1969 Mets were sponsored by Rheingold beer, which produced these keg-themed cufflinks to mark the team's miracle championships. Love the little red mark on the calendar, denoting the date when the Amazin's became world champs.
• Did you know that the official scorer at the MLB All-Star Game gets a ring? I didn't, until I saw this one from 1988.
• This 1961 Browns jersey once worn by Lou "The Toe" Groza is notable for three reasons: First, note the crotch extension panel. Second, that panel has a cool little label for a Cleveland sporting goods shop I hadn't heard of before. Third, there's no denying that this jersey is miles better than what the Browns currently wear. And finally, it's always fun to say, "Lou 'The Toe' Groza."
• Here's something you don't often see: a 1968 AFL all-star jersey. I like the simple distribution of the stars — nice.
• And as long as we're talking AFL All-Star Games, check out this helmet! What's up with that ghosted Houston Oilers logo on the shell? According to the listing, "This is an old Riddell suspension Houston Oilers helmet that was fitted and worn by Jack Kemp in the last AFL All-Star Game in the Houston Astrodome. This Oilers helmet was stripped by the Houston & All-Star equipment manager and then he added the AFL logos for the game."
• Shifting over to the NBA, I love this 1952 all-star uni, complete with belted satin shorts and Northwestern-striped stirrups!
• You guys know by now that I can never get enough of old basketball warm-up pullovers, and this one is particularly sharp-looking.
• Here's a similar warm-up top, but this one is even better, because it's from the Harlem Globetrotters.
• One more beautiful warm-up pullover, this time from the Knicks. Love that this one came from Max "Slats" Zaslofsky (which is almost as much fun to say as Lou "The Toe" Groza).
• I'm usually not as much of a fan of snap-front basketball warm-ups, but I might make an exception for this 1963 Phillips 66ers beauty.
• Oh baby, check out this amazing All-American Redheads uni. Jackpot!
• This is interesting — a Pistons warm-up jacket with the Tigers' "D" logo on the front (jersey version, not cap version) and a cool logo on the back. Love that the car's wheels are little basketballs.
Want to see more? You can look through all 2057 items here.
+ + + + + + + + + + +
The Ticker
By Mike Chamernik

Baseball News: Lots of people sent this in: new color scheme, logos and uniforms for the Louisville Bats. The team is ditching a dated purple and black look. … In addition to a Notre Dame football game, Fenway Park hosted a hurling match this weekend. … Readers can vote for on-field fashion awards from this year, including the best minor league novelty uniform and the player with the best socks.

NFL News: Oh jeez: Texans cheerleaders wore altered military uniforms to support the troops on Sunday (from Phil). … In this week's MMQB column, Peter King shared his thoughts on how the NFL has bastardized its uniforms, and how the league is hypocritical when it comes to fining players for small uniform infractions. I enjoyed his take. … The Panthers started breaking in their Color Rash pants in practice (from Phil). … A reporter wore a Vikings cap to Sunday's Ottawa-Hamilton CFL playoff game. It's not the same league, but I'm fairly certain that journalists wearing team logos is frowned upon (from Colin MacIntyre).

College Football News: The Washington Post published a piece on big time college athletics, stating that even though schools are pulling in more money than ever, many schools are operating at a loss (from Phil). … Oregon will wear this uniform when the Ducks play Oregon State for the Civil War on Friday. … Here's a good look at the Battle Line trophy for the game between Arkansas and Missouri. As you can see, the border bar's color will be changed to the winning team's primary color (from Phil). … "Georgia Tech QB Matthew Jordan took quite a beating at Miami on Saturday," says Michael Rich. "First, he chipped his helmet decal, and then three tears opened up in the back of his jersey." His jersey was repaired at halftime.

Hockey News: The Red Wings unveiled their Stadium Series jerseys. The will play the Avalanche at Coors Field on February 27 (from Phil). … The Blackhawks will unveil their Stadium Series jerseys today. The Hawks will play the Wild at Minneapolis's TCF Bank Stadium on February 21.

NBA News: The Pistons will retire the jerseys of both Ben Wallace and Chauncey Billups a little later this season. … Tyus Jones lost a bet to fellow Timberwolves rookie Karl-Anthony Towns, so he had to wear a Kentucky jersey to practice. Towns was a Wildcat last year, while Jones went to Duke. … John Wall is now a sneaker free agent after his shoe deal with Adidas expired. … The Clippers are planning a Hello Kitty scarf giveaway. … Marc Burgess found a photo of what looks to be an NBA pajama shirt that has NHL tags and NHL logos on the left sleeve. Odd.

Soccer News: Paris Saint-Germain will wear "Je Suis Paris" shirts and patches for two matches. More info here (from Phil). … "Rather than wearing plain black armbands to honor the victims of the attacks in Paris, Chelsea players wore black armbands with small French flags on them," says Chris Cruz. "One problem with this was that the flags often weren't visible, the armbands fell off (Matic at the right is missing one), and the subs (or at least some of them) didn't have armbands."

Grab Bag: At the University of Maryland, students have painted Under Armour logos and slogans onto the dumpsters (from Zach Spencer).