Really fun game last night in Memphis, as the Grizzlies debuted their Memphis Sounds throwbacks. I love it when the old ABA designs get resurrected, and I also like it when teams wear throwbacks from other franchises that played in their city. As a bonus the Grizzlies opted to go with the road version of this design (not sure why, since they'll obviously be wearing the throwback at home, not on the road), which had the result of creating a very good-looking color-on-color game against the Thunder: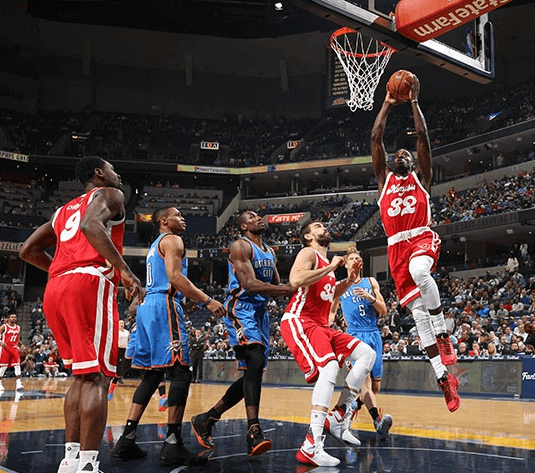 If you look at old Sounds photos, you'll see that Adidas appears to have done a pretty good job of re-creating the design, at least on the front. Looks like the original NOB script was thicker than the version they used last night, though (click color photo to enlarge):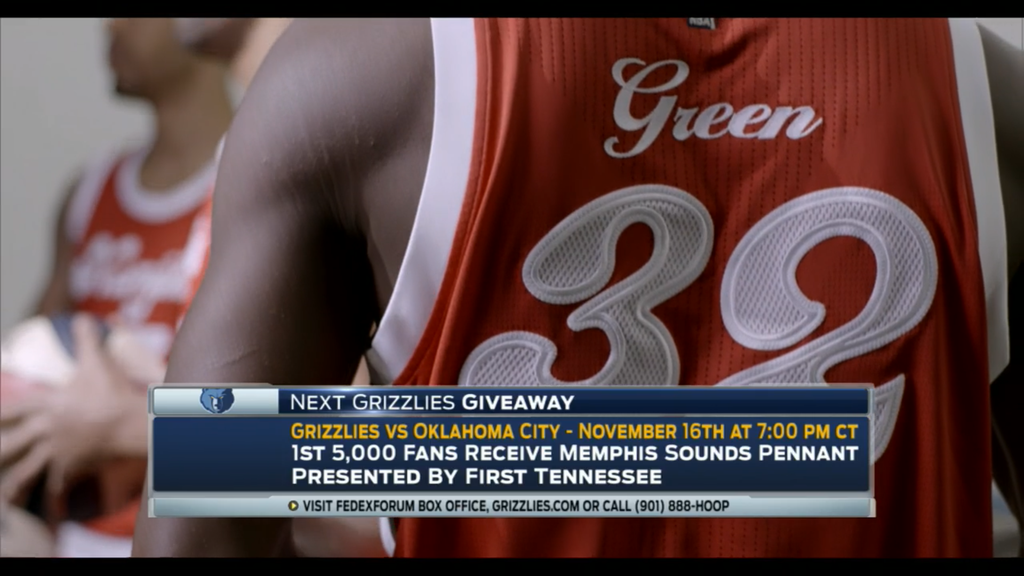 As you can see, it was kinda funny to have the uni numbers rendered in Adidas's mesh format, which looks very odd on the 1970s font.
One disappointment: They didn't go the extra mile with throwback warm-up tops. Too bad, because the originals looked great: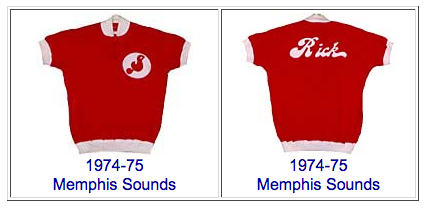 Overall, though, you'd have to call this a big success. You can see additional game photos here. The Grizzlies will be wearing these throwbacks four more times this season, and you can find a schedule of those games here.
And there's more retro fun tonight, as the Warriors will be wearing "The City" throwbacks (the subject of my most recent Friday Flashback piece), and will also be debuting their new throwback court.
Meanwhile, the NBA had another color-on-color game last night, but it was a stinker, as the Bulls debuted their miserable new sleeved grey alts against the Pacers (click second photo to enlarge):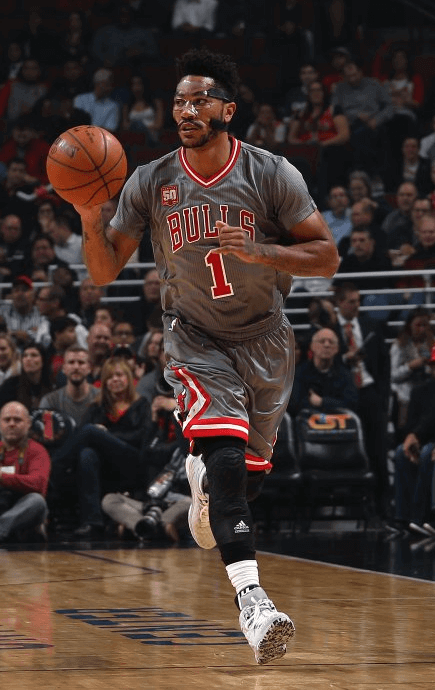 • • • • •
T-Shirt Club reminder "" LAST CALL: Today is the FINAL DAY to order the Uni Watch T-Shirt Club's design for the December — the ugly sweater design — which is available here. We're offering it in three formats: a standard short-sleeve tee (American Apparel or Teespring Premium), a long-sleeve tee, or a sweatshirt. It's a doozy of a design — dig (click to enlarge):
Again, this is the final day to order this shirt. Get it here. Thanks.
• • • • •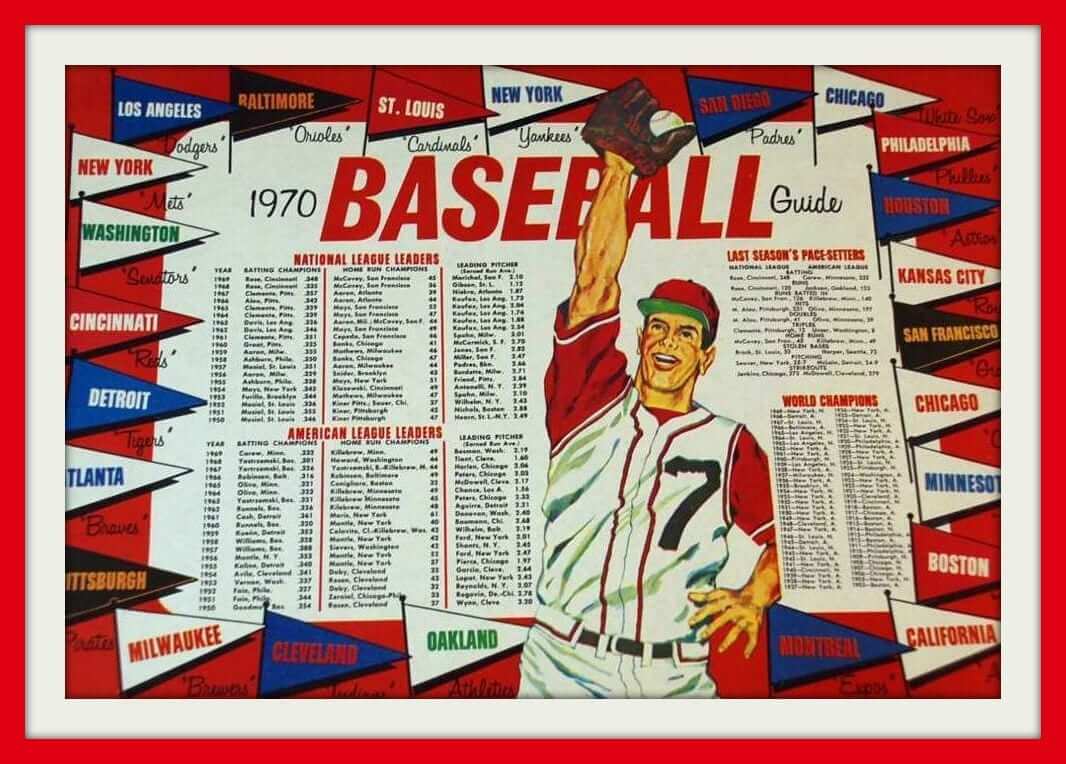 Click to enlarge
Collector's Corner
By Brinke Guthrie
How about this restaurant placemat! It's a 1970 edition — restaurant unknown, but it shows "AL" and "NL" Leaders, last season's Pace-Setters, and a list of World Champions. And check out the jersey — not just a vest, but a zippered vest! Probably meant to evoke what the Indians had worn the previous year.
Now here are the rest of our finds for the week:
• Excellent cover art on this 1969 Atlanta Braves scorecard — just 30 cents!
• There's no Brownies logo anywhere on this pullover made by Colosseum, but I love the script.
• Here's a 1970s Eagles sweater by Cliff Engle. Can you imagine Buddy Ryan wearing one of these? Yes, you can.
• Never seen anything like the jersey number theme on the cover of this 1970 World Series program. Very cool design!
• Really like the look of this Phillies varsity-style jacket. This one is a little busy-looking, but I like the blue.
• Here's an "Official" Baseball Card Game by Milton Bradley from 1970. Endorsed by the MLBPA, but as you can see, all the players have blank uniforms except for Reggie, whose cap shows some type A's-ish logo but not the real A's logo.
• Loved the 1990s Apex designs. Here's a clean-looking jacket for the New York Football Giants.
• This 1970s Fran Tarkenton T-shirt also shows (I think) Carl Eller (No. 81), Dave Osborn (No. 41), and Ed Marinaro (No. 49). Not sure about No. 33, though.
• Go Pack Go! Check out the artwork on this 1960s Packers promo piece, from Pabst Blue Ribbon.
• Great cover art on this 1960s NFL electric football game by Gotham.
Follow Brinke on Twitter: @brinkeguthrie
• • • • •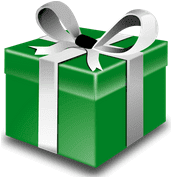 Gift guide signal flare: I'm currently working on my annual Uni Watch Holiday Gift Guide for ESPN. If you know of any cool uni- or logo-related gifts (aside from the obvious team merch like jerseys and caps), do tell. Thanks.
• • • • •
The Ticker
By Mike Chamernik

Baseball News: Hats and jerseys for the Royals' kids club, which is called the Blue Crew, have yellow brims and sleeves (from Zach Brady). … New uniforms for the Omaha Storm Chasers. Here's another look (from Seth Kincaid and Mike Vamosi). … A political spin on things from New Hampshire Fisher Cats, who are letting fans vote on whether the team will wear blue donkey or red elephant hats on Opening Day next year.

NFL News: Bengals WR Mohamed Sanu has customized Joker cleats (from Bob Wilzbach). … With his team playing the Packers this weekend, Vikings coach Mike Zimmer set his team up with "Beat Green Bay" T-shirts. … What are these numbers on the ball? According to this article (scroll down to the middle), they are the markings of officials who inspected the ball prior to the game (from reader M. Skuz). … Based on some of the Color Rash promo photos, there had been speculation that the Jaguars might be ditching the two-tone helmets for this Thursday night's game. But here's some conclusive evidence that they'll still have the two-tone helmets. … The No. 10 item in this piece mentions that the Patriots wore mono-blue in 2002 (from David Chisholm). … Virginia's Park View High School uses the Patriots' current Flying Elvis logo, but the school throws back to Pat Patriot, too (from Paul Rizzo). … The Steelers held a reunion for their 2005 championship team. Everyone wore a jersey with the Super Bowl XL patch, except for the two current Steelers, Ben Roethlisberger and LS Greg Warren (from Christopher Taylor). … A nameless reader ranked his/her favorite numeral fonts. I only include it because I'm certain it's just a ploy to get Paul, Phil and the Uni Watch readers upset. … Here's a cool collection of Steelers/Browns programs (from @redbuppy).

College Football News: Virginia Tech will wear all-black for its final regular season game. … Michigan is an Adidas school, but KR Jourdan Lewis wore Nike socks against Indiana this past weekend (from Scott Lerman). … Rutgers's helmet logos were all over the place this weekend (from Patrick Karasek). … Dan BonAnno got an email from Notre Dame with a Miami logo at the bottom of it.

Hockey News: A decade-old Islanders prototype jersey turned up on eBay (from Phil). … Cheesecake image aside, neither Ken Purdy nor I have seen this powder blue Blues jersey before. … "Homestar Runner had its Halloween cartoon 'The House That Gave Sucky Tricks' and Strong Sad dressed up as Cameron Fyre from Ferris Beuller's Day Off, complete with Frye's crooked logo jersey, minus sleeve numbers," says David Firestone.

Pro Basketball News: The Sixers played the French national anthem before tipoff last night. … Lots of fans and players dislike sleeved jerseys but a Fansided writer thinks they are here to stay (from Phil). … Refs in a Dutch league will wear "Respect" patches on their sleeves. … The jersey Michael Jordan wore during his last regular season Bulls game in 1998 just sold for $173,000.

College Hoops News: Northwestern's women's basketball team modified their warmups to show support for Mizzou (from Brinke). … George Washington wore fight song-themed uniforms last night. … Discontinued in 1998, the WuShock logo is back on Wichita State's shorts (from Phil). "¦ Last night's Baylor/Oregon game featured neatly inverted highlighter-themed color schemes.

Grab Bag: A couple racing notes from David Firestone. He examined the STP logo and Brian Vickers' steering wheel. … New logo for the town of Berkley, Mich. "¦ The Toledo police department is looking to make some uniform modifications (from Tom Konecny).
• • • • •

What Paul did last night on Saturday: On Saturday afternoon the Tugboat Captain and I headed up to the Bronx, where there were some eateries and watering holes we wanted to explore. One of those spots was an excellent tavern called Glacken's Bar & Grill, which we liked so much that we ended up settling in for almost the entire afternoon.
At some point the Captain, who's very good at sneaky photography, pretended to be checking her email on her phone but instead took this absolute stunner of a photo (click to enlarge):
How awesome is that?! Damn.
We also had dinner at a local soul food joint, but Glacken's was the highlight of our day, and that photo really captures the experience.