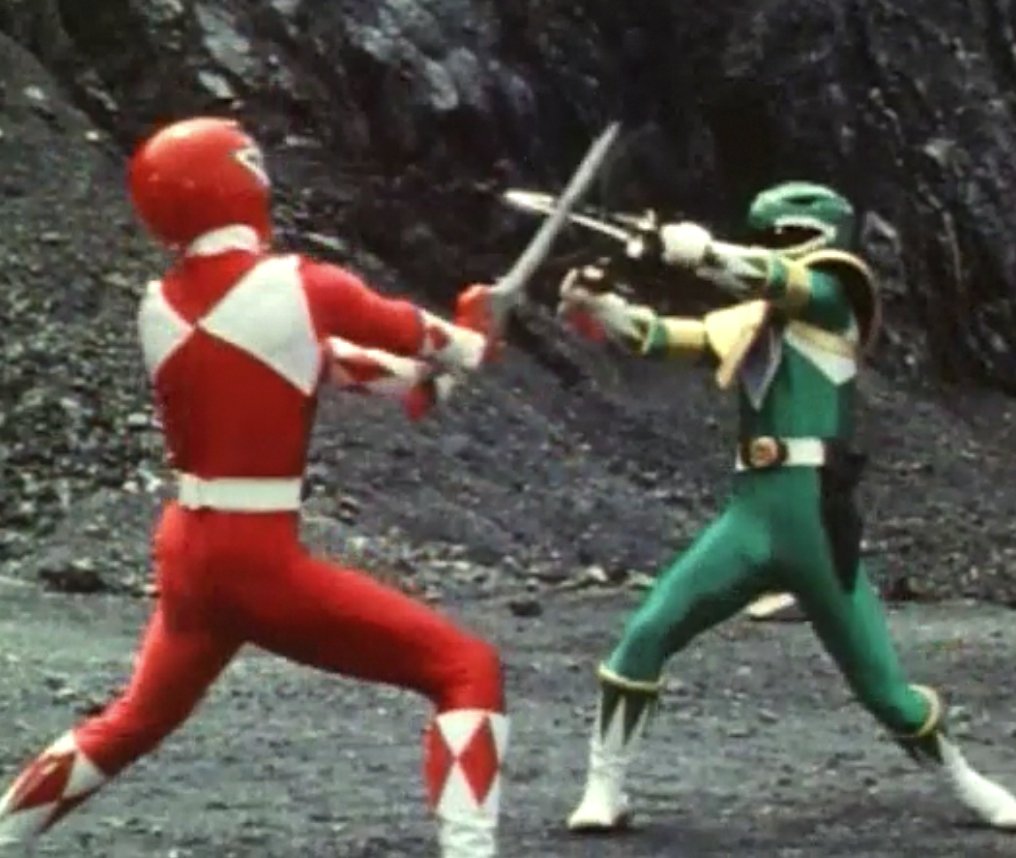 Full disclosure: I didn't see the Color Rash game last night. Had made plans weeks ago to have dinner at a friend's house and wasn't going to break those plans for some silly Nike nonsense that I can't even bring myself to take seriously. (That turned out to be a good call, as my friend Aimee's Indian cooking was sensational.)
But I watched some highlights and looked at lots of photos, and it was all exactly like the photo you see above pretty straightforward: If you want football players to look like they're wearing bodysuit costumes on Playstation, this was the game for you; if you prefer football uniforms with some contrast, you should have made other plans like I did. (Also: When the Bills had the ball, for some reason the field didn't magically turn red like it did in the promo photos. Go figure.)
In an interesting subplot that emerged during the game, people with red-green colorblindness — estimated to be about six percent of the population — complained that they couldn't tell the teams apart. Several such fans emailed me during the game. To them, the game apparently looked something like this: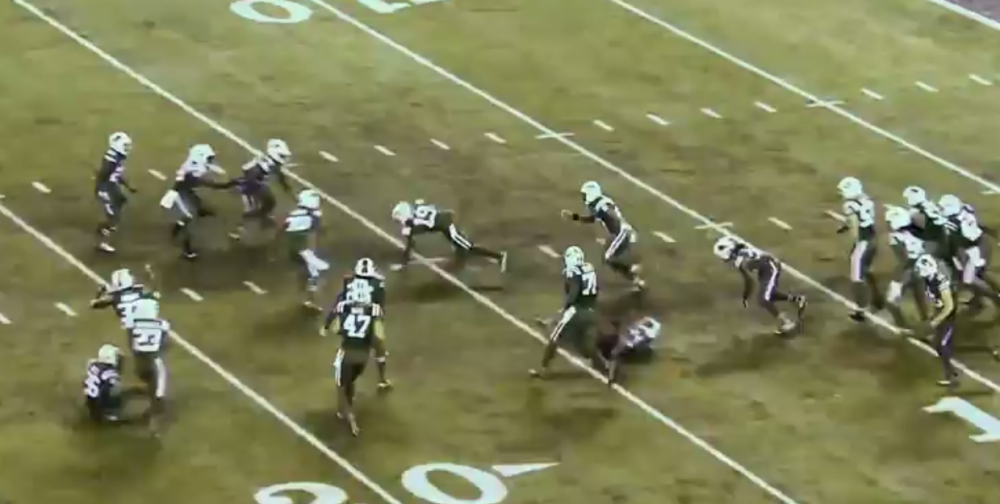 That's a screen shot taken from a video that Deadspin created in an attempt to simulate how the game looked for colorblind fans. I was impressed by how many other media outlets picked up on this angle, including NJ.com, Yahoo Sports, and ESPN.
A few other notes from the game:
•  If you had a hard time adjusting to the Bills wearing red, you weren't the only one. Buffalo coach Rex Ryan offered this quote after the game: "Hell, I look out there and my team's in red. Blue, I might have had a chance. But I'm like, 'Who are they? Oh shoot, that's us.'" Nice job, NFL.
• Jets running back Stephen Ridley wore a green visor for at least part of the game.
• Nice to see that not even Color Rash jerseys are immune to the sweatbox.
• The Jets wore an odd American flag decal. The white stripes were apparently supposed to appear silver but just looked grey. Interestingly, the team's NFL logo decal appeared in the standard colors. I guess some things, unlike the flag, are too sacred to be messed with.
Meanwhile, next Thursday's game will feature the Jags and Titans, and their Color Rash unis were officially revealed: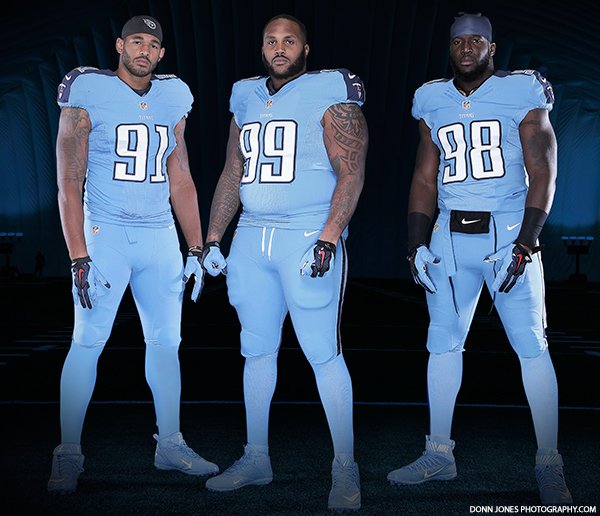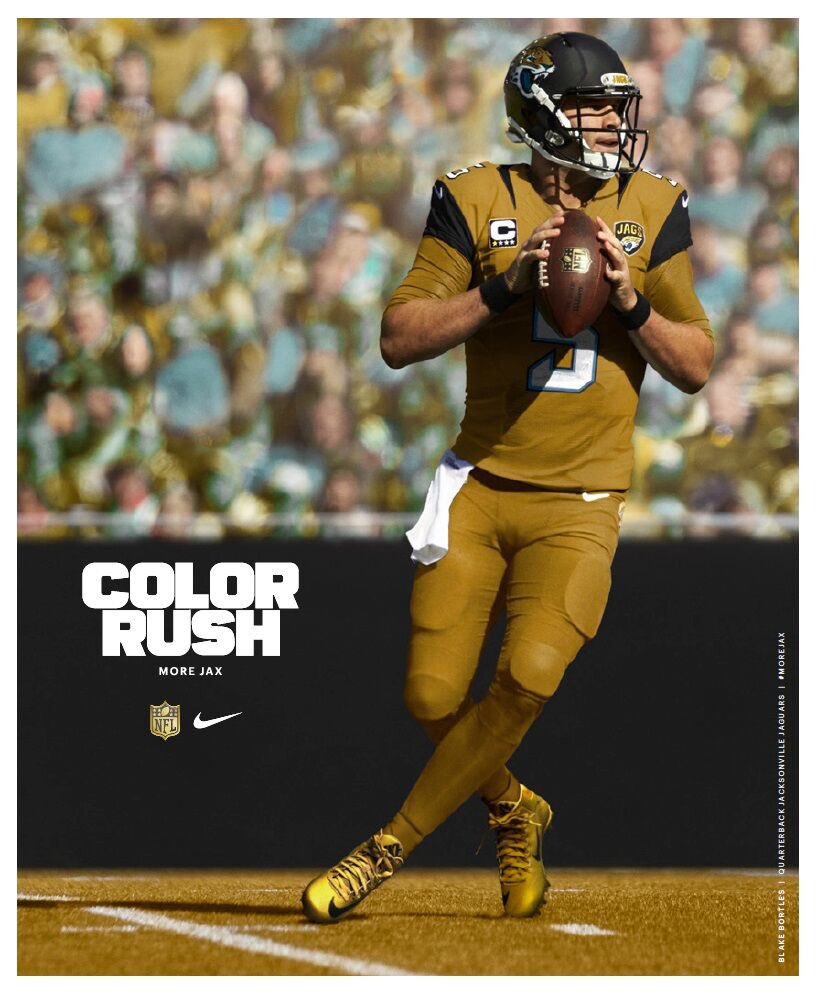 Pretty much what we'd been led to expect. No, I don't know if the Jags are actually ditching the two-tone helmet, as that image sort of suggests. Might just be Photoshopping. Trying to find out.
Additional photos of both uniforms are available here. Just remember, the field won't really be blue or gold during the game.
Jay Busbee of Yahoo Sports had the funniest take on all of this, as he juxtaposed the following two images: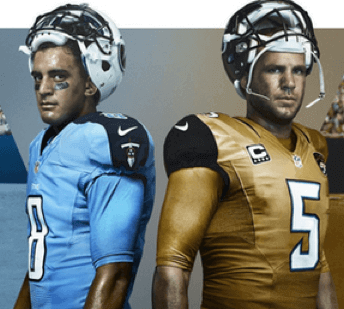 That seems like a good place to stop. Have a great weekend and I'll see you next week.
(Major thanks to David Paling and Phil for their contributions.)
• • • • •
And now for something that doesn't suck: My Friday Flashback on ESPN today takes a look at the Warriors' classic "The City" design, which is considered by many, including myself, to be the best uniform in basketball history (and is once again being revived this season as a throwback). Check it out here.
• • • • •
T-Shirt Club reminder: In case you missed it earlier this week, the Uni Watch T-Shirt Club's design for the December — the ugly sweater design — is now available. We're offering it in three formats: a standard short-sleeve tee (American Apparel or Teespring Premium), a long-sleeve tee, or a sweatshirt. I love how it turned out and can't thank my Teespring partner, Bryan Molloy, enough for the sensational design (click to enlarge):
This shirt will be available through next Tuesday, Nov. 17. Again, you can order it here. Thanks.
• • • • •
The Ticker
By Paul

'Skins Watch: Lots of chatter about how an Apache leader named Terry Rambler, who's been critical of the 'Skins team name, appeared in blackface for Halloween. That's a bad move by Rambler, but it really has no bearing on the larger 'Skins debate. Rambler may be a hypocrite or worse, and he may have squandered whatever moral authority he had regarding this issue, but that doesn't mean the issue itself suddenly goes away or that his position on the issue was wrong. By way of comparison, if it turned out that I had a bunch of camouflage jerseys in my closet, that doesn't suddenly mean the G.I. Joke phenomenon would be okay. It would just mean I was a hypocrite. As always, focus on the message, not the messenger. "¦ Adidas's recent offer to create new logos and help finance new uniforms for high schools wanting to move away from their Native American-based team names was contemptuously declined by a school superintendent in Texas, who said, "Changing [the school's team name from Indians] would be tapering down to political correctness of leftist extremists and we're not going to do that here." He then added, "They [Adidas] are all about making a dollar and selling a brand. That's what's driving them to do it." Charming bloke (from Jacob Lipp). "¦ Daniel Cortez, a Virginia Tea Party activist who's also a Native American and a veteran, will be singing the national anthem for the 'Skins military appreciation game this Sunday, and he says the team's name is a positive thing. He has some odd notions about this, though — at one point he writes, "Tragically, divisive politicians out of touch with Native American sentiment besmirch the respected Redskins moniker which courageously identifies my people." Whatever one thinks about the 'Skins name, does anyone honestly think it's courageous? (From Tommy Turner.) "¦ "In the Netflix series Master of None, a journalist advocating for a 'Skins name change had a helmet made for the Washington Breadsticks," says Coleman Mullins. "In an odd twist, the helmet has baguettes and mozzarella sticks."

Baseball News: Reprinted from yesterday's comments: Here's something I hadn't seen before — a jersey-themed wristband (from R. Scott Rogers). "¦ New logo set for the Bowling Green Hot Rods (from Josh Claywell).


Pro and College Football News: Panthers CB Josh Norman has been fined $5K for wearing "patriotic" cleats last weekend. "¦ Here's a retrospective of Bills uniform history (from @TenThrizzle). … The NFL wasn't the only place to find color vs. color last night. Georgia Tech and Virginia Tech also did it, but without the mono. "¦ New billboards up at Fenway Park for the Shamrock Series game. "¦ Back in 2011 I posted an interview with Will Johnson, leader of the great indie-rock band Centro-Matic who had also created a series of sensational baseball paintings. Now he's turned his attention to college football with a series of Tennessee Vols paintings. Additional info here (from KC). "¦ Here's an interesting discussion thread about Notre Dame's equipment operation in the 1980s (from @FinallySock). "¦ Cedar Rapids Gazette readers have submitted a bunch of Iowa football uni concepts. "¦ Here's a video tour of Baylor's locker room and equipment facility (from Luke Schaffner). "¦ U! S! A! end zone design for UNC (from James Gilbert). "¦ Just when you thought you'd seen everything: UCLA has a Navy SEAL tribute helmet. Sure, why not, wheee! "¦ Alabama coach Nick Saban says nobody should mess with the team's look (from Nolan Jones). "¦ Here are this weekend's uni combos for Washington State, Iowa, UNC, and Arizona State. "¦ Given the events on the Missouri campus this week, it's ironic that they'll be wearing mono-white tomorrow.

Hockey News: Pretty cool Victoria Cougars throwbacks for the Victoria Royals (from Steve May). "¦ G.I. Joke jerseys this Sunday for the Hershey Bears (from Matthew Scher). "¦ Blackhawks paired their G.I. Joke warm-up tops with American flag helmet decals (from Jason Wyrick).

College Hoops News: Wow — FIOB, JrOB, and vertical arching, all on one jersey! "¦ Here's a good look at Oakland's black-stained floor. "¦ New "Don't Tread on Me" uniforms for Navy. "¦ New uniforms for Central Missouri.

Soccer News: More national kits: Sweden away, Bosnia away, Wales away, Spain, and Belgium. "¦ Here's the Euro 2016 match ball. Further info here. "¦ New jersey for FC Dallas (thanks, Phil).

Grab Bag: As you may be aware, Twitter recently changed its "like" or "favorite" icon from a star to a heart. I don't really care one way or the other, except for this: If you click on the heart icon, it briefly turns purple and then explodes in a puff of purple sparks before turning red. Grrrrr. "¦ Men are increasingly swapping out dress shoes for designer sneakers (from Tommy Turner). "¦ Here's more on that Georgia high school cross country runner who was DQ'd for wearing a headband with a Bible verse written on it (thanks, Phil). "¦ New Aussie football team logo for the Melbourne Demons (from Leo Strawn Jr.).