For all posters, click to enlarge
I mentioned in yesterday's Ticker that I loved the gameday posters that the Blue Jackets have been putting out. The one shown above is my favorite so far — the overhead perspective, the slightly bleached-out colors, the brilliant conceit of mowing a field of Maple Leafs logos.
Here's another really good one, with a Blue Jacket defeating Johnny Canuck in a log roll:
As you all know, I'm not a big fan of military metaphors in sports. But when you're playing a team called the Jets, it's not out of line to envision the game as a battle of air squadrons:
This next one is particularly clever, because it doesn't include any representation of the Blue Jackets at all. It just shows the Islanders facing rough waters and stormy weather — a good way of suggesting that the visiting team is entering hostile territory while simultaneously poking fun at the Isles' old fisherman identity:
In yesterday's comments, someone asked if these posters were strictly digital or if printed versions were available. I put that question to Blue Jackets communications VP Todd Sharrock, and also asked him a few other things about the posters. Here's how he responded:
The idea for the posters came from our digital media and marketing group and the artwork has been created by one of our in-house graphic designers, Anthony Zych. It started as something he was doing in his spare time for fun. Right now they are digital only and distributed via our social platforms, but I think there has been some discussion about adding a print element, as there have been requests for them.
I'd like to know more, so I asked if I could interview Zych, who appears to be a pretty talented guy. Sharrock said he'd get back to me on that — stay tuned.
Meanwhile, kudos to Zych for coming up with these tremendous designs, and to the Blue Jackets for recognizing his talent and showcasing his work. Let's hope they keep putting out more of these.
As long as we're talking about gameday posters, reader Aaron Husul alerted us to the work of Arsenio Garate, an illustrator in Mexico, whose created an extensive gallery of NFL gameday designs, many of them featuring the 49ers. I don't love these as much as the Blue Jackets designs (in part for stylistic reasons and in part because a bunch of them have a Transformers vibe that isn't my bag), but some of them are very clever, like this one for the Packers/Broncos game that took place on Halloween weekend:
Gameday posters are a genre of sports design that I hadn't really thought about until now. Could be a whole new rabbit hole for us to explore. I like.
• • • • •
T-Shirt Club reminder: In case you missed it yesterday, the Uni Watch T-Shirt Club's design for the December — the ugly sweater design — is now available. We're offering it in three formats: a standard short-sleeve tee (American Apparel or Teespring Premium), a long-sleeve tee, or a sweatshirt. I love how it turned out and can't thank my Teespring partner, Bryan Molloy, enough for the sensational design (click to enlarge):
This shirt will be available through next Tuesday, Nov. 17. Again, you can order it here. Thanks.
• • • • •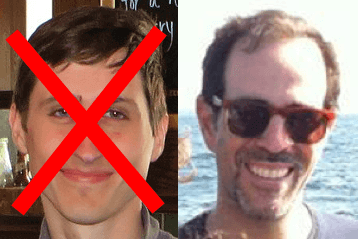 Mike's Paul's Question of the Week: Mike couldn't come up with a question this week, so here's one from me: As longtime readers are well aware, I occasionally show old ticket stubs from games I attended as a kid. I saved all of my stubs in those days, up until I finished college. Did you save your ticket stubs when you were a kid? Do you still have them? What about nowadays — with tickets often taking the form of PDF printouts or even smart phone bar codes, do you still save the "stubs"? If you're younger and grew up in the non-stub era, do you feel like you missed out on anything?
Just to be clear: I am not pining for the "good old days" here. The convenience of PDFs is tremendous. But as is so often case when something is gained, something has also been lost. I do miss a good stub.
•  •  •  •  •
The Ticker
By Mike Chamernik

NFL News: To drum up the excitement for tonight's Color Rash game, the Bills splashed red all over Buffalo. The campaign is called "Seeing Red." Also, here are the Bills' socks for tonight's game. … We also got a peek at what the Jaguars and Titans will be wearing for next week's Color Rash game. … Players use a number of tricks and modifications to gain an edge with their uniforms. I like the LB who soaks his jersey in water before games (from Phil). … A man in Milford, Ohio, painted his house in Bengals stripes (from Jonathan Daniel). … Here's a good oral history on "I'm going to Disneyland!" Between that phrase, the Gatorade Dunk, and the Ickey Shuffle, the late 1980s were the best era for football celebrations (from Brinke). … Josh Claywell's local youth football league wears NFL team uniforms. The jersey logos are insanely big (think of the MLB's "Turn Ahead the Clock" game for football), and the Bengals team wears striped helmets and striped pants. The Steelers team wears a helmet logo on only the right side, as well "" no good photo of that, unfortunately. … On last night's episode of The Goldbergs, which takes place in the Philadelphia area in the 1980s, the family dog wore a customized Ron "Paworski" jersey. The show has had its share of Philly uniform-related jokes in prior episodes. (from Chris Flinn).

College Football News: Western Michigan wore white at home with flag-patterned feathers on its helmets last night (from Ted Chastain). … Syracuse will wear all-navy uniforms with a jersey patch this weekend against Clemson. … More and more fans are buying and wearing counterfeit Ohio State jerseys (from Phil). … South Carolina will wear black jerseys and pants this weekend against Florida (from @willchitty4). … Virginia Tech coach Frank Beamer announced he will retire at the end of the season, so the Hokies will wear this helmet decal for him. … Temple has two players named Nate Smith starting on its defense, so they go by their MIOB in real life. Coaches and teammates call them "Nate D." and "Nate L." (from Andrew Hoenig). … Albany players will wear soldiers' names as their NOBs this Saturday (from Dick Holbrook). … "Before becoming a regular reader of Uni Watch eight odd years ago, I wouldn't have given this shot a second thought," says Jason Hillyer. "Now I wonder if someone made sure that the left side of the BG coach's jacket collar was strategically turned under for this halftime interview." "¦ UIW, an FCS school, has managed to cram several awful design tropes into this weekend's uniform.

Hockey News: The Penguins wore camo warm-ups last night, and the Blackhawks will wear their own version tonight (from Phil). … The San Diego Gulls wore camo last night. … Oh boy. The Indy Fuel will honor cops and firefighters with "Guns-n-Hoses" jerseys this Saturday (from Jacob Wilson). … Looks like the Iowa Wild will wear flag jerseys this weekend (from @elichtenberg). … Will Scheibler sent in some footage of soldiers playing hockey during the Korean War. "¦ Camouflage jerseys last night for the AHL's Ontario Reign (from @Lloydguy82). "¦ Some Canadian hockey teams wore small poppies on their jerseys yesterday, and then there were the Brantford 99ers, whose poppies were juuuust a wee bit larger.

NBA News: The Mavericks finally debuted their fan-designed skyline navy alternates last night, creating a color-vs.-color game against the Clippers. The Mavs' Twitter account was delighted by that. … The Bulls are letting fans name their new D-League team. The contest has a few stipulations, but everyone who submits a name will get a "buy one, get one" voucher for a Bulls D-League game in 2016-17. … There isn't a ton of ABA footage out there so I don't know how common this was, but Nassau Coliseum's court sure had a lot of paint inside the 3-point line. That's from Game 6 of the 1976 ABA Finals, the league's final game. … On Tuesday, Celtics G Evan Turner said that, if he had the power, he'd make himself the NBA logo. A fan whipped up a concept for him. It was even shown during the Celtics telecast.

Soccer News: In addition to Veterans Day, yesterday was also Remembrance Day in the UK and Canada. Teams from those countries wore poppies in recent days. … New uniforms for Japan.

Grab Bag: PTI's Tony Kornheiser a wore a poppy on the set yesterday (from Alex Hider). … New logo for the Appalachian League (from @MyPintOfView). … A company called Rhone Apparel sees opportunity in serving the men's athleisure market, like what Lululemon did for the women's sector (from Tommy Turner). … A Georgia high school cross country runner was disqualified for wearing a headband while running at a meet.