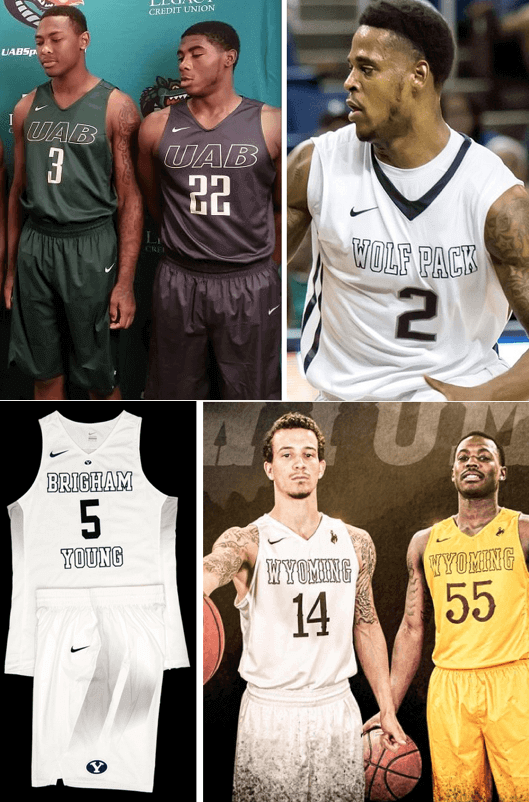 The college basketball season tips off this Friday, which means it's time for my annual college hoops season preview, which is a bit of a monster — so many conferences and teams! Check it out here.
No major trends this year, although it's worth noting that several Nike-outfitted teams are using outlined lettering (see above), which is bound to create some legibility problems. Seems like everyone would've learned that lesson by now, but apparently not. Interesting.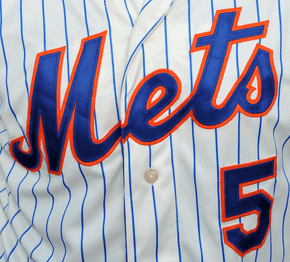 •  •  •  •  •
Rut-roh: A reader who prefers to remain anonymous sent me the following note last night:
I was at the Mets store on 42nd St. on Sunday, and one of the sales guys told me they are likely to have new uniforms in "two or three years" since the pinstripes haven't really taken off and sold well. Not sure if that lines up with anything you've heard, but just passing it along.
A few quick takes:
1. This is all news to me. I know what that Mets' uniform plans are for 2016, but I'm not privy to anything beyond that, nor have I heard anything through the grapevine. That doesn't mean the store clerk was wrong, of course. Just means I can't corroborate what he said.
2. Have I mentioned how one of the many problems with making jerseys available for sale is that the retail program ends up driving the on-field program, which is total fucking idiocy?
3. In two or three years, the Mets' young starting rotation should just be hitting its prime, plus hopefully they'll have traded Matt Fratboy for a big bopper by then. In other words, it will be exactly the wrong time to change from their gorgeous pinstripes (not that there could ever be a good time, but still"¦).
Let's hope the sales clerk was wrong. Meanwhile, if anyone else has any info on this, please let me know. I'll protect your identity, of course.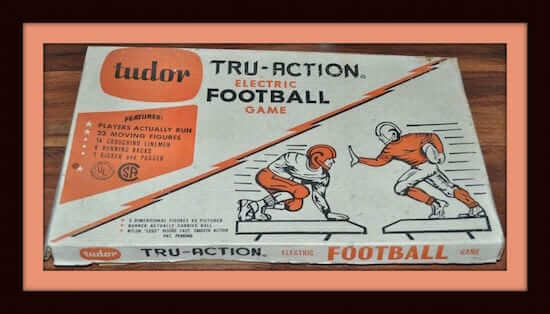 •  •  •  •  •
Click to enlarge
Collector's Corner
By Brinke Guthrie
Ever seen a Tudor NFL game this old? Not me. This Tru-Action game dates back to the 1950s. Features include: "Runner actually carries ball" and "Nylon 'legs' insure fast, smooth action." Who are they kidding? We all know that the players always ended up in the corner of one end zone in a massive pile of helmeted humanity (and humility). Still, great packaging!
On to the rest of this week's finds:
• Maybe guys will show you more respect if you show up for your next pickup hoops game wearing these 1970s Pistol Pete Maravich socks with purple/yellow striping.
• Here's a nice set of 26 (out of 28) 1970s NFL helmet push pins.
• You're always an L.A. Rams fan with this Arco bumper sticker (with the Big A scoreboard done in blue and yellow).
• I had these, believe it or not: NFL shield decals, "c/o NFL Properties, Inc."
• This 1970s Cleveland Barons NHL puck bank is still in the package!
• Felco was the maker for this 1970s Cleveland Indians jacket.
• Learned something today: The artist behind a well-known 1960s NFL poster look was Don Salmela. Here's his handiwork on display for the Boston Patriots. Never knew his name until now.
• More of a generic look — no team or league branding — on this pair of 1970s 49ers socks. (That auction concludes tonight, so move fast if you want these.)
• Nice graphics on this 1973-1974 World Football League poster.
Follow Brinke on Twitter: @brinkeguthrie
• • • • •
T-Shirt Club update: Okay, we've made a few more adjustments to the front of the December shirt, and I'm also able to show you the back of the shirt for the first time. The design is now final.
I know I keep saying this, but my Teespring partner, Bryan Molloy, has really kicked some serious ass on this one. Check it out (click to enlarge):
I love it.
Love
it! Hope you folks do, too. We plan to make it available in three formats: short-sleeved tee, long-sleeved tee, and sweatshirt. It'll officially launch tomorrow, although I may tweet the link as a "soft launch" later today if we get all of ducks in a row in time for that. Either way, it'll be available through next Tuesday, Nov. 17.
Meanwhile, in case you missed it yesterday, I made a bunch of other Club-related announcements. Here they are again (with apologies for the redundancy for those of you who already saw all of this yesterday):
1. As a result of all the problems with the November tequila sunrise shirts, the entire run is going to be reprinted. If you were told by Teespring's customer service people that a replacement shirt wasn't possible, forget that — it's possible, and it's happening. Everyone will get a new shirt. If you were sent the wrong size, you'll get the right one. If you weren't happy with your shirt's print quality, you'll get a new one. And if you loved your shirt and had no complaints, well, now you'll have two of them. Congrats!
If you requested and received a refund, I'm pretty sure you'll still get a new shirt anyway (I'm trying to confirm that). If you were thinking of asking for a refund but hadn't yet done so, please wait and let's see how the new print run turns out. If you're still not satisfied with the replacement shirt, you'll still be able to request a refund.
To everyone who's had a complaint: Please accept my apologies. I know how frustrating it is to order something you're excited about and then have it turn out to be a letdown. As the creative force behind this project, I've shared in both the excitement and the letdown — it's a drag. We're doing our best to make it right. Thanks for your patience.
2. We're going to offer some additional Uni Watch shirts for the holidays. Strictly speaking, these will not be part of the T-Shirt Club — there will be no sleeve patches, and you won't have to buy any of these to qualify for the "Collect 'Em All" bonus prize. Still, these shirts will be very much in keeping with the spirit of the Club, and I think you'll like them. More details later this week, I hope.
3. Many of you have asked if the 2015 T-Shirt Club shirts, all of which have been limited-edition, would be offered for sale again. After thinking about it, I've decided to go ahead and make all of the 2015 designs available, but with some provisos: (a) The 2015 designs will not be revived until 2016, probably around February or so. Only the people who bought the designs this year will get to enjoy them this year. (b) When the 2015 designs are revived, they will not have the T-Shirt Club sleeve patch. Only the people who bought the shirts the first time around will get to wear the patches. (c) The revived versions of the designs will not count toward the "Collect 'Em All" bonus prize. The only way to earn that prize is to have ordered all 12 of the 2015 designs when they were first offered.
4. Speaking of the prize, it's finally time to announce what it is. Everyone who's ordered all 12 shirts (and who can prove it, either by sending a photo of the 12 shirts or by sending copies of "Your order has been received" emails from Teespring) will receive an embroidered patch with this design: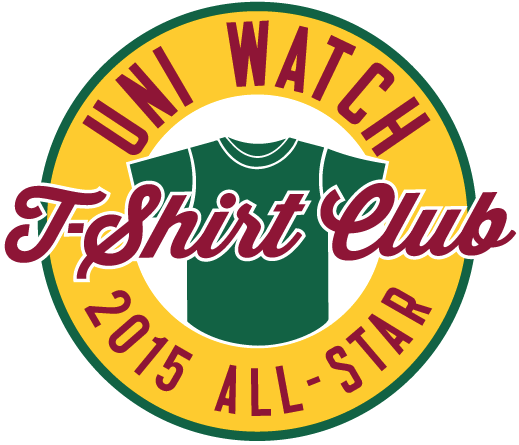 After having a representation of a patch on each shirt, I thought it would be cool to have a
real
patch as the bonus prize. The patch will be four inches across, just like
the Uni Watch anniversary patches
that I was selling last year. This patch will not be available for sale — the only way to get it is to purchase all 12 of this year's designs.
5. Finally, many of you have asked if the T-Shirt Club will continue in 2016. Answer: Probably, but not necessarily in the same format we used this year. I'm fairly certain we'll have some new shirt designs, but I'm not sure we'll come up with a new one every month, or on any specific schedule. Right now, I have several ideas that are still in flux. More details soon.
• • • • •
Just say cheese(cake):
Been quite a while since we've featured any work by longtime Uni Watch reader/pal Rob Ullman. For the uninitiated: Rob is a cartoonist who specializes in, among other things, classic pin-up-style portraits of women wearing sports jerseys. Here are some recent commissions he's done featuring women who hired him — or whose partners hired him — to capture their jersey-clad likenesses (if you can't see the slideshow below,
click here
):
• • • • •
The Ticker
By Mike Chamernik

Baseball News: A bunch of people sent this in: A 2016 calendar misidentifies a photo of Fenway Park as Nationals Park. … New hats for UNC. … Marc Aune found a clip of an acoustic guitarist wearing a Twins cap during a church service. … Mexican pro wrestler Pentagon Junior wears MLB logo batting gloves. The logo forms when he puts his palms together (from Jared Patz). "¦ Looks like Majestic's "new" logo, which isn't all that new anymore, may finally be appearing on MLB jerseys.

NFL News: Fascinating 1975 Chicago Tribune article on NFL uniform fashion, including a tidbit discussing the early-1960s Broncos vertically striped socks. I was also just as interested in the old newspaper ads and box score agate (thanks, Bob Gassel). … Chargers QB Philip Rivers apparently wears very old gloves.

College Football News: Boise State's equipment manager oversees 600 sets of uniforms, 500 helmets and 2,000 gloves (from Phil). … Speaking of Boise State, the woman who helped select the school's blue and orange color scheme just turned 100. The colors were chosen to differentiate from Boise High School's red and white, and "Broncos" was picked in reference to the wild horses of nearby Owyhee County (from Brad Iverson-Long). … Keith Joseph Jr., a Mississippi State LB, and his father, a Bulldog from 1989-92, died in a car accident over the weekend. The team will wear this helmet decal as a memorial. … Unclear what team this is, but this is a pretty ugly football uniform. … A Thundering Herd message board kicked around Marshall's new black jerseys (from Jay Abbott). "¦ Bowling Green's equipment truck shows a player wearing an Adidas jacket — you can tell from the triple-striped zipper pull tab — but the Adidas logo on the chest has been changed to a Nike logo. "¦ David Sikula was watching Hold 'Em Jail, a 1932 movie that features, among other things, a football game between two prison teams. "I think you'll like the uniforms," says David. "In addition to the stripes, note that the jerseys include uniform numbers and — instead of NOBs — PNOBs, or prison numbers on back.

Hockey News: This is great: nothing says late-1960s hockey like Tijuana Brass (from Nick Maibroda). … Kenn Tomasch wants to know when, and why, a season ticket holder became a season ticket "member," as exemplified in this Arizona Coyotes pin. Paul got some really good responses when he put the question to Twitter. … The Saskatoon Blades will wear Star Wars jerseys on November 28 (from Phil).

NBA News: The Heat are wearing their olive military alternates this week. … The Grizzlies are teasing their Memphis Sounds throwbacks. … The Nuggets are listing all of their season ticket holders' members' names on an on-court decal. … Former NBA G-F (and 2001 Slam Dunk Contest winner) Desmond Mason is now an artist.

Soccer News: Several national teams unveiled their kits yesterday, including Austria, Belgium, Northern Ireland, Slovakia, Germany, Italy, Bolivia, and the Czech Republic and Switzerland (all from Patrick Thomas). … And, Bosnia and Herzegovina revealed its new jersey, too. … A Dortmund player got a yellow card for revealing his Batman undershirt when celebrating a goal (from @holycalamity). … Northern Ireland fans are campaigning to get the country's Euro 2016 kits changed (from Andrew Shannon). "¦ "Last week I spent four days at Disney theme parks and kept track of every English Premier League jersey I saw," says David Brand. In the end, I spotted 15 out of 20 clubs. No surprise: Manchester United won, followed by Arsenal. But I did see more Leicester City supporters than Manchester City. I created a table and article here."

Grab Bag: Racing enthusiast David Firestone has broken down the Mopar logo.