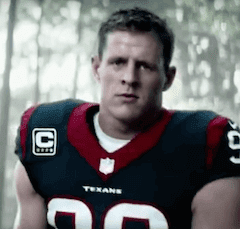 As we all know, Uni Watch readers like to "go deep" on certain uni-related topics. But some readers go deeper than others. A good example of that is this missive I recently received from reader Ryan Poulx:
Verizon is currently running a commercial with J.J. Watt chopping wood in the forest [shown at right, click to enlarge], and if you look closely, you can see the captain's patch on his jersey is fake.

Meanwhile, Xbox also has a commercial with players in a classroom. In that one, Drew Brees is wearing a fake captain's patch.

How do I know this? I've owned real captaincy patches used on both Reebok and Nike jerseys. I've measured and studied them, posting pictures online. Among my findings:

• Captain's patches on Reebok jerseys measured 2.50″ high and 2.34″ across [click to enlarge]: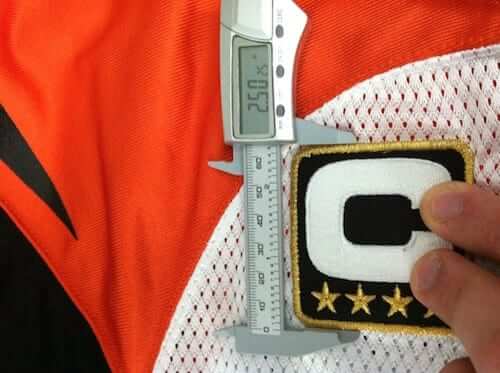 • Captain's patches on Nike jerseys measure 2.43″ high and 2.47″ across [click to enlarge]: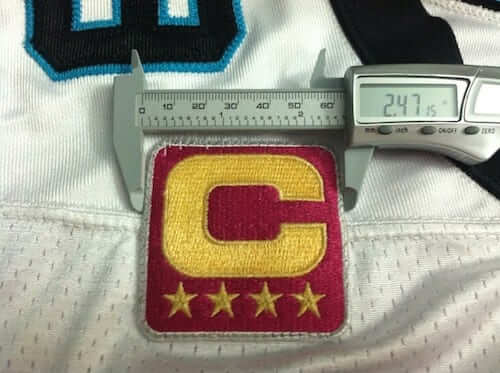 • As you can see in those two previous photos, the stitching on the "C" in captain's patches is all vertical with a clear border around the letter, and the background stitching all all horizontal. Fakes usually have stitching in the "C" that angles around as the letter turns.

The thing that makes the patches in these commercials stand out as fakes is that the border is way too thick. They have the same look as all of the fakes on eBay. The Brees patch is also a totally different color when compared side-by-side to a real one (that's a game shot on the left, Xbox commercial on the right).

Granted, the coloring can sometimes change. The Panthers, for example, have used metallic gold and plain gold in the past. Still, it's the borders that really shows that the patches being used in these commercials these aren't genuine or authentic.
Okay, so there are possible holes in this argument (especially the different lighting conditions for the two Brees images). Still, I love that a Uni Watch reader has taken such a deep dive on something as specific as NFL captaincy patches. And the bit about the direction of the stitching is such a great little detail! Nice job, Ryan — don't ever stop obsessing.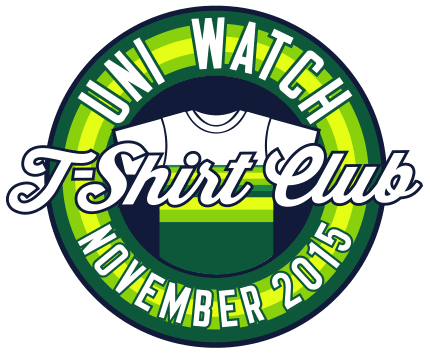 •  •  •  •  •
Tequila sunrise update: The tequila sunrise T-shirts are arriving this week, and it looks like Teespring didn't do such a great job for some of you. The biggest problem — and this one is a real head-scratcher — is that several people who ordered 2XL instead received a Medium, which makes no sense. I've heard other complaints about sizing (the tagged size doesn't match up with the measurements on the sizing chart) and the quality of the printing.
Obviously, this is disappointing — not just for you, but for me. We're going to do our best to make all of these right (and if we can't make it right, obviously, you'll get a refund, but our goal is to make that a last resort). If you have a problem with your shirt, (a) please accept my apologies, and (b) contact me. Thanks for your patience.
• • • • •
Party reminder:
Uni Watch party this Saturday, 2pm, at
Sheep Station in Brooklyn
. Hope to see lots of you there.
• • • • •
The Ticker
By Paul

Baseball News: Latest completely awesome DIY project from Wafflebored: this completely awesome Brooklyn Dodgers satin-uni necktie. "¦ What's the point of having matching FIOBs on the same team? That's Tanner Vavra and Trey Vavra of the Melbourne Aces, an Australian team. "¦ The Cardinals Museum has published a book called Redbird Relics, which looks like it has some great uni-related imagery. "¦ Interesting article on the end of organ music at Dodger Stadium (from Kenny Ocker). "¦ With the entire city of KC wearing blue yesterday to celebrate the Royals' championship, Brady Graham wore his powder blue Uni Watch T-shirt.

NFL/CFL News: The Lions' helmets were delayed on their return trip from London, so the players had to practice in blank shells yesterday (thanks, Phil). "¦ A Hamilton Tiger Cats helmet, which went missing more than 40 years ago, is being reunited with the player who wore it (from Aaron Husul). "¦ Joe Montana was on The Late Late Show last week wearing a 49ers jersey with full sleeve stripes (from Seth Shaw).

College Football News: The eight-lateral play that gave Miami a win over Duke has already been turned into a T-shirt (from Douglas Ford). "¦ As had been rumored, Toledo went mono-gold last night. "¦ Tulsa will wear purple socks and towels this weekend to support the fight against Alzheimer's Disease (thanks, Phil). "¦ SMU is going with a patriotic pony pandering pony helmet logo on Friday, and AppState is also desecrating the flag on Thursday (both from Phil).

Hockey News: G.I. Joke warm-up jeseys next Tuesday for the Blue Jackets. I'll say this much for the NHL: At least they restrict this nonsense to pregame activities (from Phil). "¦ G.I. Joke warm-ups for the AHL's Rochester Amerks, too. "¦ New mask for Bruins backup goalie Jonas Gustavsson (from Steve in Florida). "¦ The Sharks wore their new throwbacks last night. "¦ Something that might or might not be the Wild's new Stadium Series has shown up on eBay. "¦ Purple anti-cancer warm-up tops last night for the Blackhawks. "¦ Gorgeous Seattle Metropolitans throwbacks upcoming next month for he Seattle Thunderbirds (from Markus Kamp). "¦ The Islanders wore their black alts last night.

NBA News: Department of "Anything worth doing is worth overdoing, and anything that wasn't worth doing in the first place is worth overdoing even more": I had previously reported that NBA teams would be wearing these godawful "wave the bloody flag" socks for Veterans Day. Now it turns out that they may be worn all week long, and they've already started appearing in games. To all you veterans out there: I'm sorry that this is the NBA's way of "honoring" you. You deserve better.

College and Foreign Hoops News: New court for Georgetown. "¦ New uniforms for Grand Canyon (from Travis McGuire). "¦ Oregon and Northwest Christian went white vs. grey for an exhibition game last night. Additional photos here. "¦ Here's a look at the uniform history of GlobalPort Batang Pier, a pro team in the Philippine Basketball Association.

Soccer News: New home jersey for Belgium. "¦ New away kit for Spain. "¦ New home kit for Denmark. … And now I'm gonna just add a sentence here so the soccer section is long enough to stand by itself. Done!

Grab Bag: Packaging quirk: A roll of Smarties depicts a roll of Smarties (although it does so inaccurately, because it should really have an infinite regression). Very meta. How many other packages include a depiction of the package? I posed that question on Facebook the other day and got some interesting responses. "¦ Kids who participate in the PGA Junior League National Championships wear uniforms. "¦ The University of Missouri has told the campaign of a GOP gubernatorial candidate in the state to stop using the school's logo. "¦ Here's more about the debate over curling helmets. "¦ Someone riding the NYC subway yesterday had a Nike logo tattoo, which brings to mind the third post ever to appear on this website. Or maybe she's just an Ekin. "¦ Will Scheibler found some very cool late-1940s photos of old curling sweaters — look here and here. "¦ Mexican Formula 1 driver Sergio Perez has a personal logo that's a hybrid of part of the ESPN logo and the colors of the Mexican flag (from David Firestone). "¦ More controversy about teams and leagues charging the American military for "heartfelt" tributes (from David Sonny).

• • • • •
What Paul did last night: It was unusually warm here in NYC yesterday, with temperatures peaking in the lower 70s, so the Tugboat Captain and I decided it'd be fun to fire up the grill one more time. We got some provisions, invited a few friends, and bingo — my first-ever November cookout.
I got a big ol' slab of top slirloin, and the captain brought a bunch of vegetables from her CSA, including cauliflower that had been soaking in a chipotle-lime marinade (for all of these, you can click to enlarge):
When the beef came off the grill, we added some sausages and oil/herb-rubbed potato slices:
All very delicious. But the best part was that my upstairs neighbor, Sam, and his girlfriend, Jess, had recently whipped up a batch of homemade Pop-Tarts (the filling was made with dried apples, dried pears, and dried blueberries), which they contributed to the proceedings (there were more of them, but we'd already eaten a bunch of them before I took this shot):
We were enjoying the Pop-Tarts but lamenting the fact that we didn't have a toaster to toast them in. And that's when I realized that we should have been putting them on the grill all along. So we tried that:
What happened next was a blur of excitement, eating, "That's SOOOO good!," more Pop-Tart grilling, "No, really, that's SOOO good!," and so on. Sorry, no photos. But take my word for it: Grilled homemade Pop-Tarts are the bomb.