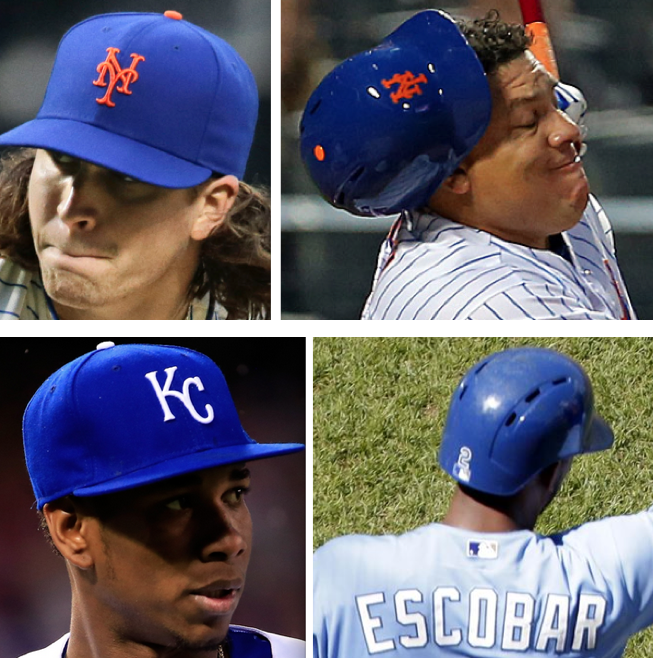 As you can see above, there's a sizable squatchee gap in this year's World Series. The Mets' orange cap squatchee is mirrored by a matching squatchee on their batting helmet, while the Royals' white cap squatchee does not have a counterpart on the team's helmet. Advantage: Mets.
That's one of 10 uni-related items regarding the Mets and/or Royals that I've compiled for my Uni Watch World Series Preview, which is up now on ESPN — check it out here. (Meanwhile, in case you missed it yesterday, I came up with a rather unique World Series storyline that I'm pretty sure you won't find anywhere else.)
As for tonight's game: Matt Fratboy is pitching for the Mets, and most observers have assumed that means they'll probably be wearing their blue alts (sigh). That seemed to be confirmed when the players wore the blue alts for yesterday's Media Day activities. There was some hope that they might wear grey when this tweet was posted late last night, but then a source confirmed for me that the staff in the visiting clubhouse has laid out the Mets' blue alts, so expect those to be worn tonight.
It's much simpler for the Royals, who will obviously wear white.
On a personal note: The Mets' last World Series game before tonight — Game 5 against the Yanks in 2000 — was exactly 15 years ago yesterday. I was there at Shea that night. I still haven't seen the final out settle into Bernie Williams's glove, because I looked away before he caught it and have never watched a replay. Been waiting 15 years and a day for my team to make it back to the big stage, and here they finally are. I'm all giddy like a kid, which is exactly how the World Series is supposed to make us feel.
Phil will be joining me to watch the game tonight. He's predicting Mets in five, I say they'll get it done in six. Can't wait for the first pitch — let's go Mets!
• • • • •
G.I. Joke, continued: The NBA season tips off tonight, and the Heat waited until midnight last night to officially unveil all the alternates that we'd already seen via various leaks. There's the inaugural-season throwback, the "Legacy" design (basically an alt with a bourgeois name), and the "El Team-o" design.
And then there's the real treat: the military tribute uni, which they're calling "Home Strong," We've known for months that it would look something like this, and the final product did not disappoint. Design-wise, it's basically a bulletin board with lots of "patriotic" flair pinned to it, because hey, why not? Full details on this page, which helpfully explains that this uni is "a total homage to our military heroes" (as opposed to, you know, a partial homage). And yeah, you can tell it's a total homage by the way its accompanying merch line is being sold with images like these. If that doesn't say generic millenial lifestyle marketing "dignified salute to the military," I don't know what does. (No, really, I don't know what does, because I've yet to see a uniform that fits that description.) Remember, kids, not all soldiers are heroes and not all heroes are soldiers, but pretty much all G.I. Joke uniforms are an embarrassment.
Further info on all of the Heat's unis, and the dates when they'll be worn, can be found here. It's actually a pretty cool interactive page, but try not to laugh too hard at the hype-speak, which is comic relief without the relief.
•  •  •  •  •
Collector's Corner
By Brinke Guthrie
The World Series begins tonight (it's an odd-numbered year, so my SF Giants are sitting this one out), and in honor of that event, and specifically for Paul and Phil, we present this Mets jacket from the 1970s. While we're at it, here's another rather cheap-looking uncomfortable Mets giveway jacket in all-white; looks like something a HazMat team would wear. [As you can imagine, Phil and I are very, uh, honored by this. "" PL]
Good luck to both teams, and now on with our Fall Classic edition of Collector's corner:
• Didn't know IHOP ever did baseball, but here's a 1970s KC Royals milk glass.
• We also have a 1980s Royals Goooo for the Action thermal cup. Notice how the "Kansas City Royals" script along the bottom is styled without any spaces.
• Here's a very nice 1970s Mets school lunch bag/duffel bag.
• This is a vaguely creepy-looking 1970s George Brett bobblehead lamp. Or something.
• Let's flash back to the 1969 Fall Classic with this Amazin' game program, complete with great Willard Mullin cover art.
• Speaking of great cover artwork, gotta like this1970s Royals publication called "Grand Slam." Look at all those stirrups! Plus they got the A's white shoes and Chisox's non-stirrup socks right.
Take a look at this "Extremely Rare" 1960s Lady Met pin! [In all my years of Mets fandom, I've never seen this one, so it must truly be rare! "" PL]
• Here's a 1960s "Courtesy is Contagious" Mets pin. I think ushers and vendors wore this.
• Hmmm, why do I think Jerry Seinfeld would love this? Here's a vintage 1980s Mets pinstriped sweater. Would look great paired with orange and blue Nikes.
Follow Brinke on Twitter: @brinkeguthrie
•  •  •  •  •
'47 Brand discount: Longtime Uni Watch pal Jared Wheeler, who works as a researcher and historian for '47 Brand, has hooked us up with a special deal: From now through Sunday, Uni Watch readers can shop at the company's online store and get the 40% friends/family discount by using the code JWCUP40 at checkout. Thanks, Jared!
•  •  •  •  •
Friendly reminder: Uni Watch party next Saturday, Nov. 7, at Sheep Station in Brooklyn. Hope to see lots of you there.
Birthday boy: Big birthday wishes to our own Scott M.X. Turner, who designed most of the Uni Watch graphics and also does the designs for each and every Uni Watch membership card. Have a great day, Scott — hope you get everything you wish for when you blow out the candles.
• • • • •
Some thoughts about Boar's Head: In yesterday's "What Paul did last night yesterday" section, I described a field trip my friends and I had taken to a deli in the Bronx and mentioned, "Most of the provisions were just Boar's Head (pfeh), but they were piled on an excellent semolina-style seeded bread." That prompted several people to post assorted variations of (I'm paraphrasing here), "What's wrong with Boar's Head?"
So: Boar's Head isn't bad for what it is. But what it is is a mass-produced and -processed factory product. Mass-produced and -processed factory products are excellent solutions to certain problems (most of what's sold in hardware stores, much of what's sold in drug stores, etc.), but they're not so great when we're dealing with food, and they're especially poor when we're dealing with meat.
A real delicatessen roasts its own beef, turkey, and ham, smokes and steams its own pastrami, corns its own corned beef, brines its own tongue, and so on. If it doesn't have the facilities to do all of that, it gets its provisions from a local supplier that does. It also gets its cheese from a local cheesemonger, and so on.
If you're just taking delivery of the same shrinkwrapped factory meats that every other "deli" in America is selling, then you're not actually a deli (and neither are all those other "delis"). You're just another sandwich shop. What's the point of selling the exact same thing everyone else sells? Defeats the whole point of delicatessen culture, which is supposed to be about the intersection of the local culture and the proprietor's sensibility.
Now, as factory meats go, Boar's Head isn't so awful, plus they have really nice-looking delivery trucks and at one time they had pretty funny commercials. The excellent writer Bryan Curtis (who was briefly my editor during Uni Watch's short stopover at Slate in 2003 and '04) has written a good piece that nicely captures Boar's Head's appeal and its limitations.
So no, I don't hate Boar's Head. But yeah, I expect a little better than that when I schlep all the way to the Bronx to check out a highly touted deli and find out that's what they're serving. I mean, I could've walked to my corner bodega for that.
•  •  •  •  •
The Ticker
By Mike Chamernik

Baseball News: Despite Mets 2B Daniel Murphy's postseason heroics, fans are not buying Murphy jerseys and T-shirts. Murphy is a free agent at the end of the year and is considered unlikely to return to the team, so merch-purchasers are hedging their bets (from Phil). … A Kansas City-area teacher draws World Series preview art on his whiteboard. … Reader Chuck spotted a house that had Mets fever in Westchester County, NY. … A strained calf muscle will keep Mets reliever Carlos Torres, and Vinci Pro gloves, out of the World Series (from Tommy Turner). … Todd Radom designed the Southern League's new logo. … This piece examines why managers wear uniforms and why baseball games start five minutes after the hour or half-hour (from Phil). "¦ Matthew Prigge was at an antique sale and found someone's renderings for new Brewers logos — look here and here. "Perhaps these were intended for the 1977 logo design contest that resulted in the glove/ball 'mb' logo," he says.

NFL News: The Rams will wear throwbacks this Sunday, and again in December (from Mike Dean). … Throwbacks also on tap this weekend for the Steelers (thanks, Phil). "¦ NBC has a rotating graphic of the teams' uniform combos and logo sets during studio shows "" look to the far left of this screen shot (from Yancy Yeater). "¦ Colts RB Joe Washington had just a bit of a jersey malfunction in a 1978 game (from Matt Barnett).

College Football News: Oklahoma will wear all cream at Kansas on Saturday (from Phil). … Utah DB Tevin Carter said that college football uniforms are a recruiting tool. "That's why schools every year have different uniforms," he said. "They use it for recruiting. Kids are coming out of high school and want to look nice, flashy. It's not about how you play any more, it's more about how you look" (from Phil). … Texas State wore new jerseys this weekend. "Notice the nameplate is sitting extremely low due to the patch of the state of Texas there," says Zach Williams. … Adidas is continuing the BFBS trend in college football (from Phil). … A fan at a recent Georgia game turned his business casual Dockers into a pair of Silver Britches. Very nice! (Thanks, @BrettSBaker.) "¦ Yahoo columnist Pat Forde's latest "Forde Yard Dash" column including the following: "[Maryland's 1961 throwbacks, worn last weekend, were] an even worse idea than the Terps' awful normal uniforms. Because in 1961, Maryland was an all-white team that would not recruit African-Americans. The first black Terrapin on scholarship did not arrive until 1962, when Darryl Hill came in as a transfer from Navy. He first took the field in '63. The Dash was informed that several black former Terps were upset by the decision to wear a uniform celebrating the school's segregated past. Maryland might want to keep its history books handy the next time it gets a throwback idea" (from David Cline).

Hockey News: The Maple Leafs had purple boards and helmet decals for cancer awareness last night. … Can't tell the players without a scorecard — or a set of NOBs: The Blue Jackets now have names on their practice uniforms so head coach John Tortorella, who was hired last week, can identify the players. … A Mighty Ducks podcast interviewed the costume designer for the D3 film (from Anthony Nuccio). … The Islanders' new black third jersey is a hit. … Rick Cuzzetto found a few NHL items on Imgur. A Habs fan really dislikes the Maple Leafs; someone thinks Oilers rookie Connor McDavid is the second coming; and someone found a Sabres jersey with a star-spangled number and NOB. … New jerseys for the Dartmouth women's team (from Tris Wykes). "¦ The Sharks' mascot wore the team's throwback uni for a meet/greet event (from @poser47).

Soccer News: Marine Harvest, a British Columbia commercial fish farm that is allegedly harming the region's wild salmon population, sponsors a Vancouver-area U-15 girls soccer league. Not surprisingly, players are prohibited from speaking out against the sponsor (from Mike Styczen). … Kyle Burkholder tracked what every MLS team wore this year. "¦ Cristiano Ronaldo's crazy new shoes are supposedly inspired by his volcanic homeland of Madeira (from Trevor Williams).

Basketball News: The Utah Jazz's arena has a new name (from Marc Mayntz). … Coaches will wear lapel pins in memory of Flip Saunders, the T-Wolves coach and GM who died this weekend. … Russell Westbrook dressed up as teammate Steven Adams for Halloween. Also, Mavs coach Rick Carlisle went as Jim Carrey for the holiday. … The Suns have at least a portion of their uniform schedule laid out (from Griffin Smith). … Stance socks have added a little more life to NBA uniforms (from Phil). … A Nike exec hinted to NBA owners that "Back to the Future"-style self-lacing shoes, along with body monitors and sensors that control body temperature, are on the horizon (from Phil). … Fordham has this pattern on the back of its jerseys (from Pat Costello). "¦ New uniforms for Fresno State.

Grab Bag: "NASCAR has roof cameras for television purposes in race cars," says David Firestone. "To keep things fair, and help make installation easier, those drivers who don't have cameras have camera pucks." … Will Scheibler poked around the Explore Chicago Collections site and found some old photos of a Spalding women's basketball team and a Spalding indoor baseball team. He also found pictures of a baseball player in a great script jersey and a ballplayer in a nice button-down coat. "¦ Rugby note from Graham Clayton, who writes: "Here is a photo of the scoreboard at Henson Park, the home ground of the Newtown Jets of the National Rugby League competition. It was taken on the March 28, 1982, when Newtown and the Canterbury-Bankstown Bulldogs became the first and still the only teams to play a 0-0 scoreless draw in the 117-year history of the competition."