Click to enlarge
By Phil Hecken
The wait is finally over, kids. THE Ohio State University, your defending National Champions, your number one ranked team in the nation, your winners of eight total national titles, with a beautiful stadium that seats 104,944 crazed fans — went Black For Black Sake yesterday. Clearly, this is a team that needs to impress recruits and move merchandise. Because no one would ever want to attend, commit to or watch a game played by OSU without the benefit of another alternate uniform.
Last weekend, Oregon jumped the shark. This week, it was the venerable Ohio State University.
I was busy watching the Mets/Cubs game for most of last evening, but I caught the final quarter or so of the OSU/Penn State game. Even though I knew OSU was going BFBS, I was still shocked when I flipped over to the game — and I didn't recognize Ohio State. Black helmets, black jerseys and black pants. Just…not them.
It's one thing for Oregon (who invented it) or any of the myriad of other NCAAFB teams who don't have the cachet of OSU to engage in the uniform chicanery. I get it (I don't like it but I get it). Who's next? Alabama? Penn State? Michigan? These teams don't need gimmicks (especially not to attract fans and recruits). OSU doesn't either. But they have succumbed to the lure of Nike and a few extra buck(eye)s from alternate jersey sales. But I guess we shouldn't be surprised. Nike has turned half of their other teams into walking swooshie billboards and imposed their uniform machinations on teams of lesser standing. But not OSU. Until yesterday.
That being said — taking the uniform for what it was — it was not a bad looking game nor was it even a bad looking uniform. As far as a pure uniform goes, the stripes all matched, the numbers were big (if not the most legible, but not bad) — in short, it looked like a uniform should. But not for Ohio State. The Scarlet and Gray are just that. Not Scarlet & Gray & Black.
We've reached a dark and scary place in uniform watching when the men from Columbus go BFBS. And it wasn't even Hallowe'en.
Here's my SMUW comrade Terry Duroncelet with the rest of the SMUW:
. . . . . . . . . . .
Sunday Morning Uni Watch
By Terry Duroncelet
From Friday:
• Someone needs to tell Nike to fix the 1's in their Dade font. How have they gone this long without issuing a new spec for the numeral? I can't imagine that even the high-rollers at Swoosh looked at the 1's side-by-side with the rest of the numbers and thought "Yeah, that's good enough. No need for any fine-tuning". But there it is! In all of its thick glory! Guess it fits their status quo of being thick-headed. Credit to John Furstenthal for those pics.
From Saturday:
• Does Nebraska just not want to wear the red pants anymore? Also note the Air Force decal on the back of Jalen Myrick's (#5) helmet. Minnesota wore decals of a the 5 U.S. military branches on their helmets against Nebraska. Here's what the other decals looked like.
• Miami wore mono-green against Virginia Tech. Eh, not my favorite look (at least not without green helmets).
• Curtis Galvin spotted Jameis Winston in the yet-to-be-worn black jersey during the Florida State/Louisville game.
• North Carolina added pink accents to their field over the weekend. They also painted their 22-yard marker Carolina Blue in memory of Charlie Justice, who passed away 12 years ago to the date on Saturday.
• Christian Berumen notes that K-State coach Bill Snyder is wearing a jacket or windbreaker with the Alamo Bowl logo on it.
• The Spartans/Wolverines tilt looked very traditional. How the game ended wasn't.
• Baylor wore black jerseys with grey helmets and pants. It's not a bad look in a vacuum, but it by no means says "Baylor football".
• Ole Miss wore their light-blue helmets once again against Memphis. Well, they're definitely feelin' blue, that's for sure.
• Colorado wore all-silver for Homecoming (couldn't find an actual gameday photo).
• Bowling Green got a head-start on G.I. Joevember by wearing these decals. Geez, digital camo and flag desecration? They're batting 1000.
• As you may have seen, South Carolina wore black this past Saturday, but if you look closer, they also had some garnet chrome(ish) decals on the helmets.
• Gross non-color vs. non-color matchup between Florida International (white) and Middle Tennessee State (grey). Here's a closer look. Credit to Wayne Koehler for these pics.
• Washington… in school colors?? Oregon… in school colors????? WHAT?????? ?????????????????????????????????? Also, is it just me, or does that shade of green look like a color sample for The Hulk's costume?
• And we can't neglect to mention the… outfit — to say the least — that Ohio State wore against Penn State over the weekend. Rather than tear asunder the powers that-be for thinking this was a good idea, I want to take a moment to reflect. Reflect on how I felt when the Lakers graced our optics with the first iteration of their BFBS togs (pre-sleeves) two years ago. Those were dark times indeed. Quite literally, I may add. I think a good chunk of us see what the "Joneses" of the uni-verse are doing, and say "no, not my team. They would never do something as gratuitous as that. My team knows better." … and yet, time and time again, we see the symbols of a city's pride that a great deal of us bleed for become "Just another team". And you sit there, hoping that this is all part of some elaborate hoax, along the lines of Kony2012, but then they take the field, court, pitch, or what have you, and your worst fears are realized. The marring of the proud uniform traditions of UCLA, the San Francisco 49ers, and now The Ohio State Buckeyes, is more than anything, a metaphor for life. A constant reminder, that nothing in this world is guaranteed. Ironic, as so many of us delve into the world of sports as our escape from our usual outside distractions. But isn't that part of our reality? The very fact that we can never really escape our problems? Sometimes, our only real option is to confront them head-on. You can either stand up for what you believe in and come out on top, or you could crash and burn. In the case of tOSU, the latter happened. That will happen sometimes. And when that happens, all you can do is learn from this experience, pick up the pieces, and move on. Just like every team that has faced defeat over the weekend. Whether Ohio State learns what they've done to their visual legacy is an unwarranted act that should never be committed again is up to them. And that's part of life, too. People learn at different rates. One person doesn't learn the same way as the other. Maybe Ohio State won't wear the all-black again. Maybe they'll make it the permanent home uniform. Whatever happens, the lesson we can all take from last night, is that nothing in life is guaranteed. Nothing is invincible. Or to sum it up in less words, Ohio State looked dumb as hell last night. They didn't even bother to make the BFBS leaves green! And we won't even get into the name blunder.
That does it for Week 7. Have a good day, everyone.
. . . . . . . . .
Thanks, TJ. OK, now on to the rest of your SMUW…
NCAA Uni Tracking
Back again today with our new feature: NCAA Uniform Tracking.
Once again, I'm pleased to welcome our 4 NCAA trackers, tallying the uniforms worn by the Power 5 conferences.
We've go Rex Henry (tracking the ACC & SEC), Dennis Bolt (tracking the PAC-12), Kyle Acker (tracking the Big XII) and Joey Artigue (tracking the B1G).
+ + + + + + + + + +
We'll start with Joey & the B1G today:
B1G

Joey will be establishing a separate website for B1G tracking, but for now, you can
follow him on Twitter
.
Rex is up next today:
. . .
ACC

More Here
.
. . .
SEC

. . .
And now, here's Dennis with the PAC-12:
PAC-12

More here
.
Here is your link to the 2015-16 Duck Tracker.
. . .
And finally, here is Kyle with the Big XII:
Big XII

. . .
And that's all for today — thanks Joey, Rex, Dennis and Kyle!
Joe Ringham's 5 & 1
We're on to week 7 in the NCAA, and we had a bunch of good (and bad) games to choose from for our new 5 & 1 decider Joe Ringham. Joe's a good guy, but he's rooting for the wrong baseball team…just sayin' ;-).
Here's Joe:
. . .
Good Sunday, everyone! What a weekend this was. Lots of good looking conference match-ups, some teams busting out new costumes, and even some tightly contested games. So, who made the list? Let's get to it.
5) Bucknell at Army — A little off radar with this, but the simplicity of both looks are what get this one here. The Black Knights always look sharp in their gold/black/gold, and it looks quite nice against the black/white/orange of Bucknell
4) Oregon State at Washington State — This game just popped to me. I love how the orange/white/orange of the Beavers looked against the crimson/crimson/silver of Wazzu. Both teams may not be among the leaders in the Pac-12 North, but it was a game that didn't look too bad.
3) Iowa at Northwestern — Iowa always looks good, but the 'Cats looked equally as good here, throwing back to their 1996 Rose Bowl team. A nice, clean, simple look.
2) Michigan State at Michigan — This has always been one of my favorite match-ups. Love how the green/white/white of the Spartans always look against the maize and blue of Michigan and it always makes for great visuals. And then there was that amazing ending…
1) Southern Cal at Notre Dame — Two traditional uniforms, on center stage in prime-time. A worthy number one this week.
And, finally…
+1) Penn State at Ohio State — Some may not like this… but I thought the Buckeyes looked atrocious in the black costume. If they stick with their simple and classic look, this one would be worthy of the good side of the list. Instead, it's here on this side.
Enjoy the week… and Go Cubs!
__________
Thanks, Joe! Remember, the tip-line email (UW5and1@gmail.com) is back for any games you want Joe take a look at. Pictures of the game/games you want are very much suggested.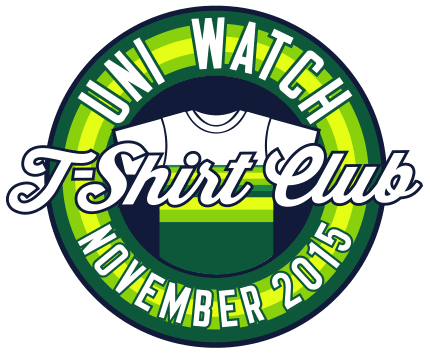 T-Shirt Club reminder: In case you missed it earlier this week, the Uni Watch T-Shirt Club's latest offering — the amazing tequila sunrise design — is available for ordering for a few more days. The design and production issues on this one were fairly complex, so we decided to have some samples made — so much better than just having a mock-up. Check it out (click to enlarge):
Not bad, right? Additional details here, or you can just order it here.
DESIGN CONTEST REMINDER!
Last Saturday, in combination with Uni Watcher Daniel Secord, I announced a new design contest — one that really is probably the craziest design contests ever — an ambulance. It's actually pretty simple (although the execution may be tricky), and there are prizes!
If you missed it, please read the entry here for all the rules, downloads, graphics, deadlines, etc.
I've only received THREE total entries so far — a ridiculously low number — so it's time for you designers to step it up! I know you can do this one some justice (and there are prizes!). There is still about a week and a half until the deadline, so you've still got some time.
Hope we can get our designers (and non-designers alike) to really give this one a shot.
Uni Watch News Ticker:

Baseball News: Not unsurprisingly, the Toronto Blue Jays again wore their blue softball tops in yesterday's game against the Royals (who were in their home whites again). Oh, and — the Blue Jays lost again in their softball tops. … Last night, there was a Henry Rowengartner jersey sighting at Citi Field (h/t Tom). … Also at Citi, as expected, the New York Matt Harveys Mets wore their blue alternates, thereby "forcing" the Cubs to wear their road grays for the first time this post-season. Unlike the Blue Jays, the Mets won in their alternate tops. … It was pretty freakin' cold in NY last night too. … So cold, some fans needed to wear gloves (h/t RFV). … Interesting set of MLB logo concepts here (from Erick Mock).

NFL News: Today, the Minnesota Vikings will honor the 15 men that had a role in all 4 Super Bowls. To my knowledge, there haven't been any announcements of throwback uniforms, although that would most certainly be a pleasant surprise.

College/High School/Other Football News: "Was at Wiley Hollingswoth Stadium — home of the Hubbertville (Ala.) High School Lions," writes Dustin Semore. "Their field had something I've never seen before. Where most hash marks are: they had their numbers. Where the numbers are supposed to be — they put 'hash' marks there. Was an interesting look." … They no longer play football at Hofstra (my one-day alma mater), but there was an old Hofstra helmet on eBay (via Jeff Israel). … "They're 8! And they have NOB! I'm 50, I've never had NOB!" exclaims Kenn Tomasch. … Because THE Ohio State University wore new black helmets last night, that meant the equipment staff had to apply all new merit stickers — 1,998 of them, to be precise. … And former Buckeye players are jealous the current crop got to wear the BFBS unis. … Check out this beautiful 1956 Air Force vs. Western State program found in Idaho Springs (from Bobby GINdal). … This is kinda interesting: the College Game Day graphic has a font similar to that used by Michigan State (good spot by GenerationInk).

Hockey News: On Friday night, the Anaheim Ducks broke out their new unis (which I'm kind of digging — anyone else?). Here's a bit more on that. … Looks like Hershey Bears goalie Justin Peters is wearing his Capitals pants (h/t MachO Man).

College Hoops News: On Friday, Auburn revealed their new basketball uniforms for the 2015-16 season. Clint Richardson wrote about it. … "Because uniforms are fashion and fashion invites discussion," here is a critique of Duke's hoops uniforms. … Here's a look at all the Notre Dame hoops unis for 2015-16 (via Warren Junium). … Here's a look at Purdue's 2015-16 unis, with sweatback treatment (h/t Cole Guingrich). … New uniforms for Alabama-Huntsville (from Clint Richardson). … Duke has changed their ACC underline from black to white (from Daron Vaught).

Grab Bag: There is a new sport out there called fowling. No, it's not basketball-related. It combines football and bowling (from Chris Flinn). … During the Rugby World Cup, multiple Springboks wearing different colored boots during QF. (RSA v. WAL) Screengrab by C.B. Schmelter. … The V.League in Japan started the Women's league this weekend. Here are the teams' uniforms on one page (thanks to Pacific Rim Correspondent Jeremy Brahm).
And that's all for today folks! Thanks, as always, to TJ, Joe, Rex, Dennis, Joey & Kyle, and anyone who submitted for the ticker. Everyone have a great Sunday — enjoy the league where they play for pay, and the Mets/Cubs game tonight. #LGM! You guys have a great week and I'll catch you next Saturday.
Follow me on Twitter @PhilHecken.
Peace.
.. … ..
"Mets in pins are iconic, these blue tops and hats with the orange brim are awful!"
— Charles Ryals