Click to enlarge
By Phil Hecken
As you are all (hopefully) now aware, the four teams in their respective League Championship Series' (LCS) have as their main color royal blue. It's the first time in MLB history this has happened. And not only do all four teams (the Royals & Blue Jays in the American League and Mets & Cubs in the National) have royal blue caps, all four have royal blue alternate tops. The Blue Jays wear theirs both at home and on the road, while the Cubs and Royals restrict their royal top to just road games (although the Royals do have a powder blue top they wear at home). The Mets have both a home and a road royal jersey, plus two alternate caps (one with an orange brim and white-outlined "NY" for the home top, and one with a silver/gray "NY" for the road top).
That's a LOT of royal blue. And if all holds true to form, we'll be seeing plenty of royal tops in both LCS's. Last night, in the first game of the ALCS, the Royals wore their white home uniforms, while the Blue Jays wore their blue alternates. The Blue Jays rarely wore their gray tops after August, so the blue tops were no surprise. In their ALDS versus the Rangers, they started by wearing their home whites for their first game, but immediately switched to blue alts for game 2. For road games 3 & 4, they wore blue tops in both games, and then closed things out in game 5 by wearing…blue tops. If they continue to wear their blue tops at home in this series, we likely won't see the Royals in their royal blue alternates (more on that in a sec).
The Cubs only sported the blue tops on the road for their NLDS, wearing them in both games in St. Louis. They wore their home pinstripes in both games in Chicago (both of which they won), sticking with their 2015 uni-usage pattern.
The Mets, on the other hand, wore their blue alternates only once (a home victory over the Dodgers) — this was in a game started by Matt Harvey, who loves the blue alternates. They wore gray for all three road games and home pinstripes for their other home game.
The Royals, both in this post season as well as all of last year (when they reached Game 7 of the World Series), did not wear an alternate top at all. Unless something drastic happens (like say, a three-game losing streak in their "regular" uniforms), we're likely to see the Royals in white and gray tops only.
We may have an interesting situation tonight, because something's (most likely) gotta give. Matt Harvey (who loves the royal top) starts against the Cubs, who've worn their blue tops for both of their road games this post season. Will Harvey (and the Mets) wear their regular home pins? It's possible, but not likely. Will the Cubs therefore have to wear their gray road tops? You'd think so, but when Paul and I were discussing the uniform situation yesterday, he reminded me there is no "rule" that one team must wear either white or gray. So we could see both teams in alternate royal tops.
Is this likely? Of course not — but it is (theoretically) possible. Wouldn't that be lovely? (As an aside, the Cubs also wore their road blues in their Wild Card victory over the black-topped Bucs.)
What are the teams' records while wearing their alternates?
Well, the Cubs went 1-1 against St. Louis (and also won their wild card game in them). So in the post season, the Cubs are 2-1 in their alts. The Mets won their only game in the blue alternates (1-0), and the Blue Jays went 3-1 in their ALDS against the Rangers). Taken collectively, before last night's game, the blue alternates had a record of 6-2. With the Blue Jays losing, blue-topped teams are still an impressive 6-3 (.667) winning percentage.
One thing that's interesting about the four remaining teams in the post season: Although each team wears a royal cap, all four have a different color squatchee! The Blue Jays have a blue one (except for this guy), the Royals have a white one, the Cubs have a red one, and the Mets…well they have an orange one (and another orange one, and a third orange one).
So — what do you guys think about all this royal? I once complained about all the red alternates in the game — but having four teams sporting (basically) the same color caps & alternate jerseys in both LCS's? That's unprecedented. Is it too much royal? And as you're probably also aware, two of the teams who were eliminated from the playoffs — the Dodgers and Rangers also have royal as a main color (though the Rangers also sport red in almost equal amounts).
Additionally, the Seattle Mariners have a royal blue cap for their Sunday alternate, as do the Milwaukee Brewers with their throwback. And while not royal, other teams sporting blue caps include the Tampa Bay Rays, Boston Red Sox, Minnesota Twins, Cleveland Indians, Houston Astros, St. Louis Cardinals (sometimes on the road), Milwaukee Brewers, Seattle Mariners, San Diego Padres, Atlanta Braves, and Philadelphia Phillies (sometimes). Also wearing midnight blue caps are the New York Yankees and Detroit Tigers.
That's a lot of blue.
I don't know who's going to advance to the World Series, or who's going to win it — but I can say with certainty — the team that does will be wearing a royal blue cap.
It sure is a very royal postseason.
Classic Ballpark Scoreboards
I'm pleased to continue with a favorite weekend feature here at Uni Watch, "Classic Ballpark Scoreboards," which are created by Gary Chanko. You probably know Gary best for his wonderful colorizations, but he has been a solid contributor for many years, and this is his new project. This segment will appear every Saturday on Uni Watch.
Here's Gary (click on image to enlarge):
. . . . . . . . . .
Classic Ballpark Scoreboards – Series II
by Gary Chanko
Classic Football Scoreboards revisits the Orange Bowl for a look at its earlier scoreboard history.
Orange Bowl (1947-63)

Home of: Orange Bowl Game (1938-95), University of Miami Hurricanes (1937-2007), Miami Seahawks, AAFC (1946), Miami Dolphins (1966-86), FIU (2007), Minor League baseball Marlins (various games 1956-60)
Opened: First football game December 1937; Demolished: 2008
A previous edition of Classic Scoreboards featured the Orange Bowl scoreboard as it appeared during Super Bowl III. During its six decade history the Orange Bowl featured a number of scoreboard installations. The one installed in the late 1940s was a colorful classic.
The scoreboard graphic depicts this classic configuration at end of the 29th Orange Bowl game played on January 1, 1964. Alabama shutout the Oklahoma Sooners 17-0.
The 1963 version of the Orange Bowl scoreboard was originally installed for the 1947 football season. The game clock on the right hand side was a large analog timepiece. By the 1957 Orange Bowl game the analog time clock was replaced with a digital version. A large graphic of an orange filled the spot vacated by the clock. It's visible at the 34 second mark in the video.
The original Orange Bowl scoreboard (or very close to it) can be viewed in this video clip of the 1946 Orange Bowl. (scroll to the 13:50 minute mark).
A Few Things to Know
• This particular Orange Bowl (an epic defensive game) is remembered for many notable players, coaches, TV announcers, and a US President:
• ABC TV Announcers: Curt Gowdy, Paul Christman, Jim McKay
• Coaches: Paul Bear Bryant (Alabama) and Bud Wilkinson (Oklahoma)
• Players: Joe Namath, Lee Roy Jordan, who Jordan, who recorded 31 tackles in the game.
• Presidents: John F. Kennedy and wife Jackie
~ ~ ~ ~ ~ ~ ~ ~ ~ ~
If anyone is interested in purchasing a digital copy of these posters, Gary is working on an online purchase option. In the interim you can contact him directly at Classicscoreboards@gmail.com.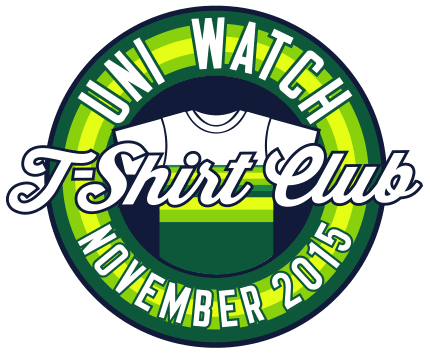 T-Shirt Club reminder: In case you missed it earlier this week, the Uni Watch T-Shirt Club's latest offering — the amazing tequila sunrise design — is available for ordering for a few more days. The design and production issues on this one were fairly complex, so we decided to have some samples made — so much better than just having a mock-up. Check it out (click to enlarge):
Not bad, right? Additional details here, or you can just order it here.
DESIGN CONTEST REMINDER!
Last Saturday, in combination with Uni Watcher Daniel Secord, I announced a new design contest — one that really is probably the craziest design contests ever — an ambulance. It's actually pretty simple (although the execution may be tricky), and there are prizes!
If you missed it, please read the entry here for all the rules, downloads, graphics, deadlines, etc.
I've only received THREE total entries so far — a ridiculously low number — so it's time for you designers to step it up! I know you can do this one some justice (and there are prizes!). There is still about a week and a half until the deadline, so you've still got some time.
Hope we can get our designers (and non-designers alike) to really give this one a shot.
Uni Watch News Ticker:

Baseball News: With both LCS' now set, Conrad Burry has made his playoff circle, which of course shows a very blue set of teams. … "Mets catcher Travis d'Arnaud wears an old Coolflo helmet with good mask," notes Michael Siegumnd. "He still wears the regular helmet to bat, though." … "So a fan got a tattoo of Jose Bautista's bat flip," writes Kary Klismet. "That wasn't rash or anything." … Good observation from Richard Paloma who writes, "I've been following this fact since the Mets were the first "expansion era" team to make the series in 1969. IF the Mets win the NLCS, this will be the first World Series that neither team was one of the original 16, in essence, both would be deemed 'expansion' teams." … Oops — yesterday, MLB Network was showing 1985 ALCS highlights but were using outdated logos (nice grab by Correa Harden Watt). … The Houston Cougars are selling a hat with their logo and the Houston Astros logo on the same hat (via Corey Buck). … The Rangers and Astros also did the cross-branding thing (via Robert Behrens). … "Why is there an ad for an insurance company in the dugout?" asks Mark Weber. "Are MLB players short on coverage?" … The Mets just weren't getting any respect last night. First DirecTV confused the Mets with UEFA (thanks to Balsley), and then one of the networks noted that Matt Harvey has a great ERA against…the Mets (nice grab by Ryan Brown). Sigh.

NFL News: Do the Eagles win when they wear their black jerseys? A game-by-game history. … Echoing the sentiments Paul expressed earlier this week, this article says "Roger Goodell and the NFL got DeAngelo Williams' uniform right." … This "Packers display carries Halloween fun down to the ghoul line." … Good lord — Fanatics is now selling sweatshirts/hoodies with logos in the armpits (from Yancy Yeater). … Good news Browns fans, your team is going Brown/White/Brown against the Broncos this Sunday. … For years, soccer players have exchanged jerseys after games, but this tradition is now becoming a thing in the NFL (from Dave Rakowski). … Because WalMart: here's the perfect hat for all Kansas City Viking/Minnesota Chief fans (from Robert Hayes).

College/High School Football News: Unless you've been living under a rock, you know tonight THE Ohio State University Buckeyes will be going BFBS, because Nike. But really, Nike has been pushing new looks for THE since 2009. … The Miami Hurricanes will be looking very green today against Virginia Tech (h/t Adam Apatoff). … Pinktober will be in full swing for UNC today (h/t James Gilbert). … "It's (Paul's) worst nightmare:" Northwestern State is wearing all purple today for homecoming (from Josh McDaniel). … Pretty cool: Texas A&M is planning to wear special helmets for Hallowe'en that appear blank until a light is shone on them, revealing the aTm decal. Here's a bit more on that. … Ole Miss will again bust out their gorgeous powder blue hats against Memphis. … Bowling Green will be going all GIJokeTober (wait, what?) with their uniforms today against Akron (h/t Matthew Daley). … Here's what Ohio State's BFBS helmets for tonight will look like (h/t George Reinke). … "Looks like (the) Panthers of Pioneer Valley High School in Santa Maria, CA are using the logo of the NFL namesake," says Greg Riffenburgh). … Here's a look at the helmets the Utah Utes will wear today (via Cody). … Military decals going on the back of the Minnesota Gopher helmets this weekend (via Paul). … Utah State did the Pinktober helmet thingy last night (h/t Ben Froehle). Apparently it was a hard game to watch, since the hard camera is on the opposite sideline from the facing of the logo. Submitter Preston Feiler adds, "So on tv, during (last) night's game vs. Boise St., the logo appears upside down." … Virginia Tech will go monochromatic white against Miami today (via Andrew Cosentino). … It's not too often you see a "Registered Trademark ®" on a mascot helmet decal (from Missouri Locker Room).

NBA News: The Denver Nuggets have revealed their new locker room (thanks to Mike Chamernik). Feel free to make all the jokes you want. … That early mockup of the Clippers black alternate has now been confirmed. Just as bad as we feared.

Hockey News: While the NHL has never had any of its teams do the "pink in the rink" thing for actual game play, lots of lower-level teams do wear pink sweaters for the tatas. … Here's more pink in the rink. And still more pink in the rink (h/t Nick Wittenrood). … As you guys likely know, the Nashville Preds have added a gold helmet this year, and not everyone is a fan, but there are definitely some out there who love them. … The Florida Everblades goal posts are now blue due to the ECHL's new partnership with GEICO (from Jeff Bryniarski).

College Hoops News: Here is a look at the Syracuse Orange jerseys and new shorts (from Patrick Thomas). Here's a bit more on that. … Also from Patrick, a look at the new Wyoming Cowboys uniforms for 2015-16. … New uniforms for the Cincinnati Bearcats (via Aesthetic SB), who seem to have a "Hawks-like" sweatback pattern. Here's another look. … The Cincy Bearcats ladies got new unis too. … New basketball unis for the Auburn Tigers (h/t Clint Richardson). Here's more (from Andrew McCain). … Here's a look at Purdue's 2015-16 unis (h/t Carson Bowers). … Portland State has new road uniforms (via Vikings MBB). … Northwestern has introduced some new alternate gray unis (from NU Men's Basketball). … Beautiful red unis for the Utah Utes (via Utah Basketball).

Grab Bag: A place called Taylor's Bakery is selling broken cell phone cookies and Brady sketch cookies (from Jonathan Daniel). … Here are the oar insignia of all 15 Mass. colleges participating in Head of the Charles (bit more here). Tweeted to me by Brian Mazmanian. … Top curling teams say they won't use new broom technology that threatens to alter the sport dramatically by slowing down and changing the direction of a rock in motion (thanks to Mike Styczen). Fuck that — I gotta get me one of them brooms. … Hmmm — Six Premier League stars ruled out with cruciate injuries all wore Nike boots–but experts claim it is an 'unhappy coincidence' (from Trevor).
And that's all for today, kids. Thanks to Gary for the scoreboards and everyone who submitted for the ticker. Don't forget to get your Uni-Guts tee shirt and Design an Ambulance, ok? OK! Enjoy two very royal playoff games today, plus all the NCAA football action (some good games on the docket today — and hopefully some interesting uni matchups as well). I'll be back tomorrow with the full SMUW crew. Till then…
Follow me on Twitter @PhilHecken.
Peace.
.. … ..
"As a fairly religious Christian, I have at times had to cringe when I hear some of the arrogant, cocky, misguided statements from Christian athletes, that unfortunately get lumped together with the truly genuine, humble, heartfelt statements of others."
— Special K