Photo by some guy sitting two rows behind us; click to enlarge
Great time last night at Shea, as I was fortunate enough to be part of a stalwart quartet of my favorite Mets fans and writers. From left to right, that's Mets Police blogger and Queens Baseball Convention poobah Shannon Shark, wearing a Mets jersey (which, although you can't see it in that photo, had "Murphy 28" on the back); Mets numerology expert and Mets by the Numbers honcho Jon Springer, wearing a replica of the "Wonderful Woody" T-shirt that former Mets second baseman Doug Flynn used to wear in tribute to his dog back in the late 1970s; Uni Watch weekend editor Phil Hecken, wearing the always-fashionable stylings of "I'm Calling It Shea"; and yours truly, wearing a long-sleeved tee based on this old Mets pennant (as you can see, Lady Met was so much woman that it took two Mr. Mets — or would that be Messrs. Met? — to satisfy her).
Although the company was great and the home team coasted to a lopsided victory, the game was unsatisfying from a uniform standpoint. Matt FratBro was starting for the Mets, which meant they wore their blue alternate jerseys and, even worse, their orange-billed alternate caps. Pfeh.
Meanwhile, I know what you're thinking. You're thinking, "Paul, enough about the uniforms and your friends and all the rest. Did you bring capers to the ballpark to put on your hot dog?" I hear your cry, my friend. Here's the deal: There had been talk about some yobbos bringing batteries to throw at Dodgers infielder Chase Utley after he broke Ruben Tejada's leg in Game 2, so I thought security might be extra-tight and that it therefore might not be a good idea to bring a small glass jar of capers in my bag. So instead I brought some capers in a little Tupperware-style plastic container, which worked fine. And I don't mind saying that a capers-laden hot dog tastes every bit as good at the ballpark as it does at home (first two photos by Phil, third one by me; click to enlarge):
Big thanks to Shannon, Jon, and Phil for a great night, and doubleplusthanks to Mike Zulla for making it all possible. Now let's go wrap up the series tonight.
•  •  •  •  •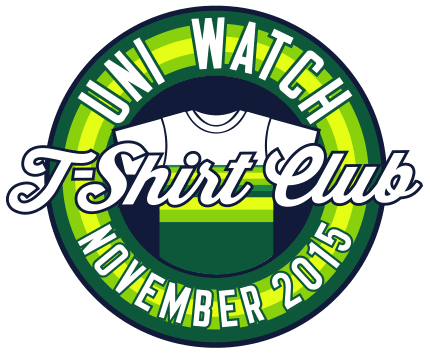 November T-Shirt Club launch: A few weeks ago I showed you the amazing tequila sunrise design that we were planning as November's offering from the Uni Watch T-Shirt Club. I'm happy to report that the shirt is now available for ordering.
As I explained a few weeks back, the design and production issues on this one were fairly complex, so we decided to have some samples made. Check it out (click to enlarge):
Not bad, right? This shirt is completely unlike any of the others we've done, and there are also several aspects of the design that I want to share with you and some issues I want to address. Please bear with me while I explain:
1. All our other shirts have been screen-printed, but this one is sublimated. Why? Two reasons: First, traditional screen-printing wouldn't have allowed us to print all the way to the sides and the bottom of the shirt. Second, even if we had stayed within the traditional screen-print boundaries, the stripe coverage would have used so much ink that the shirt would have been extremely stiff and heavy. Using sublimated dyes avoids this problem — the shirt is light and flexible. Sublimation has its drawbacks (it's not quite as crisp or vibrant), but it was the best approach for this design.
2. Once we decided to go with sublimation, we had no choice but to go with a 100%-polyester shirt. It definitely doesn't feel as nice as our usual cotton. On the plus side, however, the poly fabric feels a lot more like a real jersey, so there's that.
3. In the photo of the front of the shirt, you can see the NOB "bleeding" through on the back side. Similarly, if you look at the back photo, you can see the "Uni Watch" chest lettering showing through from the front side. This is NOT due to the shirt fabric being thin or flimsy. It's because of the way sublimation works — the pigment is in the fabric instead of on the fabric, so it tends to show through to the reverse side. The fabric is high-quality, promise.
4. If you look closely, you'll see that the back numerals and some of the NOB letters have a faint shadow. That was basically sloppy work on the sample. Won't happen with the real shirts. Also, the "1" is sitting slightly higher than the "5"; again, that has been corrected.
5. We usually have the sleeve patch graphic centered on the side of the sleeve, so it's partially visible both from the front and the back. But as you can see in the photos above, the sleeve patch on this shirt is truly on the front of the sleeve and will not be visible from the back — that's due to a production limitation. I've tried on the sample and can honestly say the front/back issue doesn't seem like a problem when the shirt is being worn. (The patch on the sample is also too close to the sleeve hem, but that's been fixed that for our production run.)
6. Contrary to what I said a few weeks ago, this shirt is available in 3XL after all.
7. Because of the design and production issues involved, this will be our most expensive shirt, with a price tag of $28.99. Given how awesome it looks, I do think it's worth it, and I hope you agree. But if you think that's too much to spend on a T-shirt, I completely understand.
8. The design, obviously, is based on the Astros' tequila sunrise jerseys from the 1970s. One difference is that we weren't able to duplicate the rainbow stripes on the sleeves (production limitations), but I don't think that's a dealbreaker.
I think that's everything. Again, the shirt is available here.
(Special shout-out to my Teespring partner Bryan Molloy, who put in a lot of work on this one. You da man, Bry!)
•  •  •  •  •
Click to enlarge
Collector's Corner
By Brinke Guthrie
"Hormel makes real Chili — the official choice of the National Football League"! That's what this ad says — guess they were just starting to dip their Riddells into league-wide sponsorships at that point. "Selected Training Table Meats," too! And hey, as long as we're talking Hormel, here's a nice-looking set of those 1960s Hormel NFL serving trays.
Here are the rest of this week's vintage sports picks:
• Here's a 1970s L.A. Dodgers clock, made by Westclox. (The ad says 1960s — that's wrong.) I had one of these for the Reds and had forgotten about it 'til this very moment! Can't find an image of that online anywhere.
• Dave Boss alert! The Eagles should use this 1960s poster art as a template and ditch the BFBS look, what do you say? This poster is in great shape considering its age, too — just a couple of tiny tears.
• Here's a 1970s Mets puzzle featuring Shea Stadium, Dave Kingman, Tom Seaver, Ed Kranepool, Jerry Koosman, and Jon Matlack. [Interesting that they show Matlack wearing white shoes. "" PL]
• Staying with the Mets, check out this dynamite DeLong pullover. Got that great quilting in there, too.
• One more from New York: a vintage 1960s look to this New York Nets gold-trimmed stein.
• Note the simplicity of the 1960s version of the Bruins B logo on this patch.
• Show your St. Louis Blues pride with this 1960s bumper sticker (though it's not horizontal like most bumper stickers) from KPLR TV 11.
• A Boston Red Sox beret from the 1960s/1970s? Sure, why not! (Did they wear a lot of berets in Boston back then, I guess? Was that a thing?)
• This 1970s Buffalo Sabres youth jersey by Champion looks to be in great shape.
Finally, an official Collector's Corner shout-out to Uni Watch fan Casey, who my wife and I met Saturday at the Giants Dugout Store in Walnut Creek (I was perusing the "Fade To Black" jerseys — birthday in one month, don'tcha know. ) I spoke to him and said, "I love uniforms, I do a little something every week with them online." He goes, "Sports Logos.net?" I say, "Uni Watch." He responds, "Uni Watch? I love that site!" Keep reading, Casey!
Follow Brinke on Twitter: @brinkeguthrie
•  •  •  •  •
The Ticker
By Mike Chamernik

Baseball News: Odd sight in last night's Cubs/Cardinals NLDS game, as Cubs reliever Trevor Cahill pulled up his pant leg at one point, revealing that he wears Dodgers socks. Cahill was in Los Angeles's minor league system for a bit this summer before signing with the Cubs down the stretch. He wears the socks because they are thicker and help prevent blisters (thanks to Dave Garabedian and Adam Steinberg, respectively). … A 101-year-old Cubs fan has a triple-digit jersey number. Her nickname must be hectogram. … Speaking of the Cubs, here's more info on the players eating breakfast on the field at Wrigley on Sunday, as mentioned in yesterday's Ticker (from Douglas Ford). … Here's a gallery of Chicago NBAers wearing Cubs and Sox jerseys. … The Rangers painted a logo at Founders' Plaza at DFW. The Blue Jays decided to one-up their ALDS foes with a large public logo display of their own. … The aptly-named Stan Capp saw this hybrid Jays/Cubs hat at a 13U Little League game. "¦ Royals speed demon Terrance Gore got his spikes impaled on Astros 3B Luis Valbuena's pant leg during a disputed stolen base attempt yesterday. "¦ Here's an article on the Royals' stitcher (from Josh Carson).

NFL News: PGA golfer and Indiana native Patrick Rodgers uses a Colts golf bag (from Douglas Ford). … Raiders superfan Dr. Death is celebrating Pinktober. That comes from his Twitter account (from Mike Davie). … Also, Facebook's Monday Night Football scoreboard went full Pinktober (from P.K. Richardson). "¦ ESPN's E:60 piece on Cam Newton made interesting use of an NFL captaincy patch.

College & High School Football News: Here's a bit of the backstory behind Ohio State's black uniforms, with additional info here (from Jason Hillyer). … Maine will wear throwbacks against Yale this Saturday. The jerseys honor the school's 150th year (from John Diamond). … Last week, West Virginia's Parkersburg High School wore these digi-camo jerseys with barely-visible uni numbers (from @TheEricLittle via Coleman Mullins). … Jeff Flynn found a great photo of the 1966 All-America Team on eBay.

Hockey News: Ducks draft pick Nick Ritchie wears No. 20 for the AHL San Diego Gulls, a team that was relocated from Norfolk this summer. The Gulls take their name from the WHL's San Diego team from the 1960s and 70s. That team, however, retired No. 20 in honor of Willie O'Ree, the NHL's first black player. The current Gulls will raise O'Ree's jersey to the rafters on Friday; unclear if Ritchie will switch uniform numbers (from Charles Eldridge).

Soccer News: The Japanese soccer team Yokohama F. Marinos have manhole covers with their mascot and an arrow that directs visitors toward their stadium. More info towards the bottom of this piece. Also with the covers, "When visitors who have downloaded a free app point their smartphones at one of the manhole covers, their phones automatically play an entertaining video about the sponsor. The project attracted 11 private sponsors, including a bookstore, a restaurant, a food manufacturer and even the local kindergarten" (Thanks, Will Scheibler). "¦ New away kits for Sweden and Belgium.

Pro Basketball News: The 76ers refuse to call their arena by its official corporate-sponsored name. After getting a new court this offseason, the Sixers did put Wells Fargo's name on their court, but they made the name as hard to read as possible. Here's another look at the court (from Kristopher Kolob). … Yesterday we said that Brazilian hoops team Paschoalotto Bauru influenced the Hawks new design. Not so, says Brazilian Rafael Placce, who reports that Bauru started wearing their design in September for the World Championship against Real Madrid and in NBA preseason games (i.e., after the Hawks had already unveild their new design). The team's uniforms normally look like this. … Spike Lee had a hand in creating the single-player campaign mode in NBA 2K16. Not only is he a playable character in the game, he apparently can take the court wearing a Kangol cap and sunglasses. "¦ A new Vegas-based developmental league, called the AmeriLeague, has unveiled its new logo, new uniforms, and more uniforms.

College Hoops News: A few Under Armour schools, including Auburn and Cincinnati, will unveil new uniforms on Friday. "¦ New road uniforms for San Diego State (from Drew McClintock). "¦ Tennessee has a player wearing JrOB — or do they?

Grab Bag: The Holy Tunic of Argenteuil, a garment purported to be worn by Jesus Christ at Calvary, will be available for public display for a few weeks in spring 2016. It is displayed every 50 years (from reader ChrisH). … David Firestone wrote about the boot stylings of NHRA racers Cruz and Tony Pedregon. … Two 11-year-olds in Texas broke their school's dress code by wearing Air Force logo jackets (from Brinke). … While dining at a Philadelphia Shake Shack a few weeks ago, Tom Konecny sat at a table made out of wood from a bowling lane. I have to say, a Shake Shack opened in Chicago last winter, and I found the place to be overrated. The burgers, fries and shakes were good, but exceptionally small and expensive. [As a NYCer, I agree that Shake Shack is overrated. "" PL].