Yesterday was NBA Media Day, with lots of teams doing photo shoots and showcasing players in full uniform. That included five teams with new uniforms. Let's see how those new duds looked on living, breathing basketball players, instead just as mock-ups or stand-alone jersey photos, shall we? One team at a time (for some of these, you can click to enlarge):
1. Raptors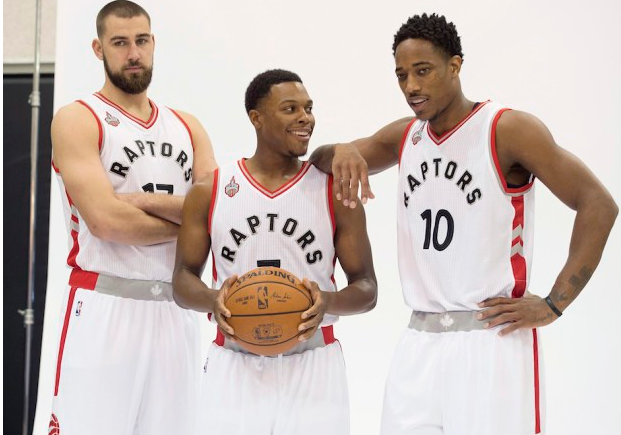 Not bad. The arched lettering doesn't hug the numbers like we had initially been led to believe, which is a major plus. The "T" on the shorts is still silly, and the grey waistband panel leaves me cold, but this is a perfectly acceptable uniform — no more, no less.
2. Bucks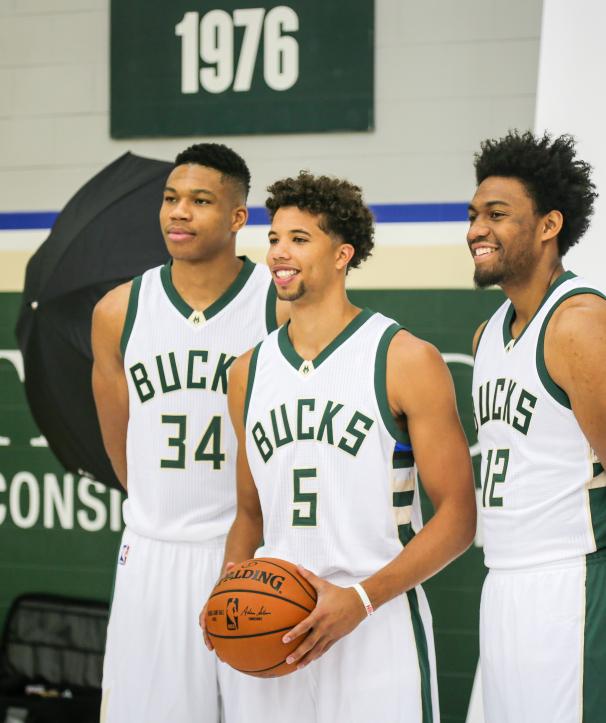 Liked it when I first saw it last winter, liked it when I wrote about the design process in April, still like it now. Is it perfect? No: The blue and black stripes at the top of the side panel feel forced and contrived (would've been better to stick with green, cream, and white), and I worry that the type font may not have staying power. But this is still an upper-echelon NBA uniform — definitely top 10, and maybe a bit higher. Major upgrade over what they had. (Lots of additional phtoso here.)
3. Hawks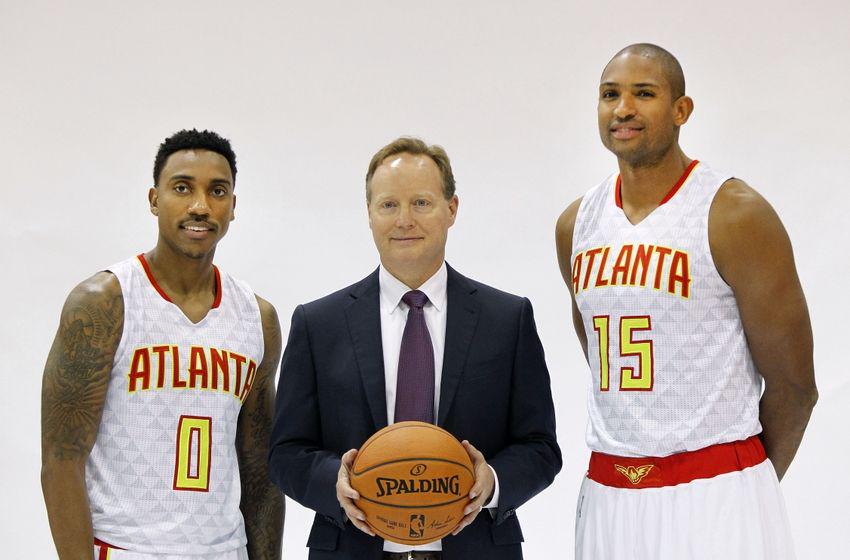 These look worse every time I see them. Yes, they're "different," as apologists keep telling me, but different is not necessarily good, nor is it necessarily bad — it's just different, which is ultimately a red herring. As I mentioned in my recent ESPN piece on the spread of neon colors, one of the big problems with these fluorescent tones is that they look completely synthetic, while most of the game's surrounding tones feel more organic. That creates a major color clash, and I don't see how this uniform is ever going to transcend that. Prediction: In five years this design will have been scrapped, and in another dozen years or so it will be revived as a throwback, by which time we'll be able to treat it as an amusing novelty ("Oh, right, ha-ha, remember when they wore that?"), just like we do with so many other misbegotten designs that end up as throwbacks. When that happens, I'll probably say something like, "It's nice that we live in a world where mistakes as bad as this one can be made," which is what I usually say about such designs 20 years after the fact. Until then, though, this is a total dog of a uniform.
4. Clippers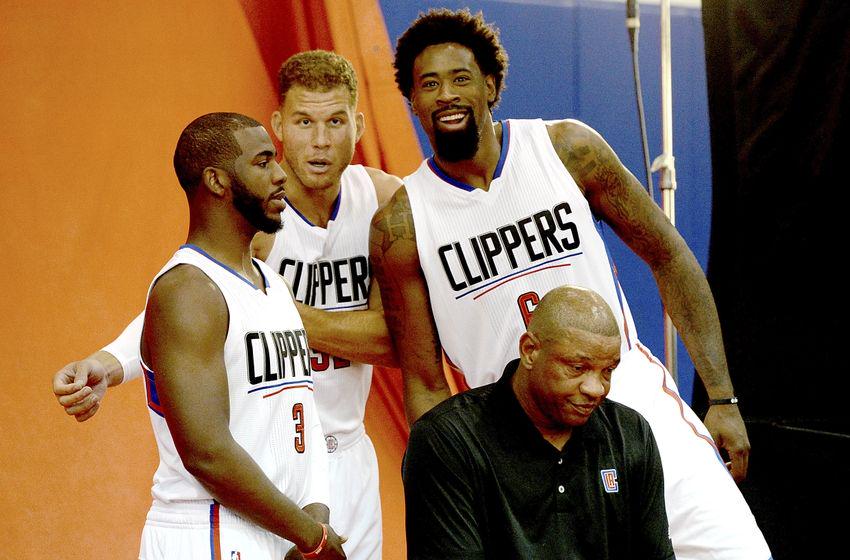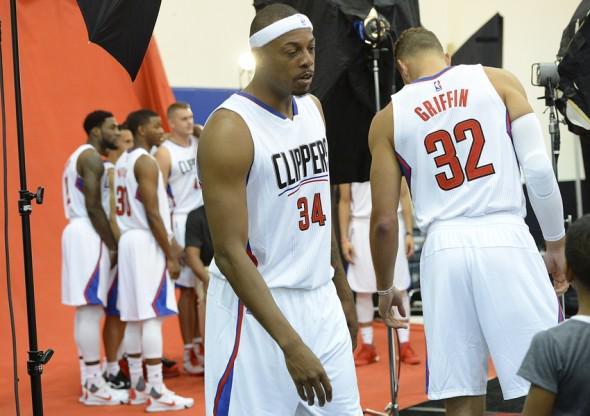 Man, Doc Rivers's face says it all, doesn't it? This one is awful in a completely different way than Atlanta's. It's not painful to look at, at least not in strictly aesthetic terms. But it's so poorly conceived, so characterless, that it's hard not to hate it just on principle. This one won't last long either, but it won't be revived as a throwback and everyone will just try to forget it ever happened. (Lots of additional pics here.)
5. 76ers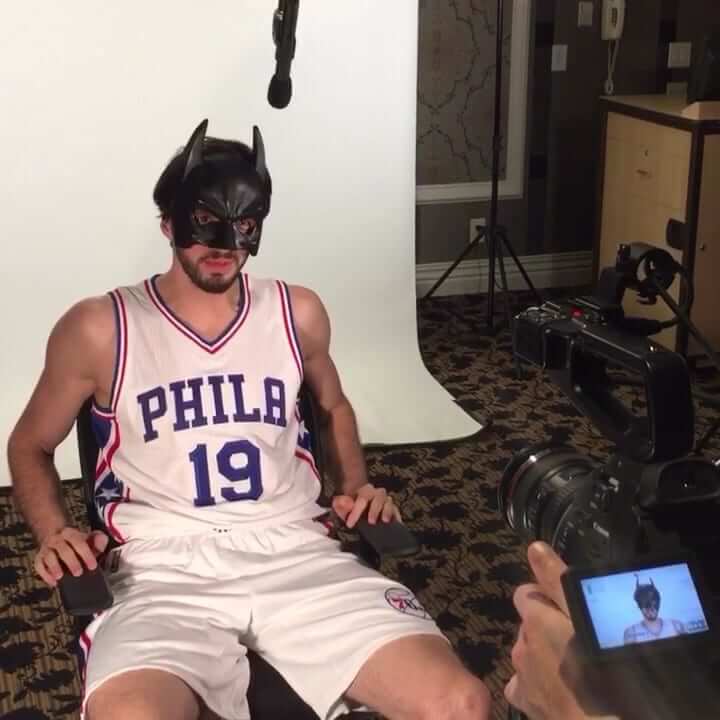 Not an ideal photo, obviously (there are lots of better ones, albeit Getty-watermarked, here), but it's enough to confirm what we pretty much knew, which is that this is a pretty solid design. Simple, straightforward, and a good example of less-is-more functionality. Most likely nobody will notice until they start playing better, but this is going to be a good-looking team.
6. Bulls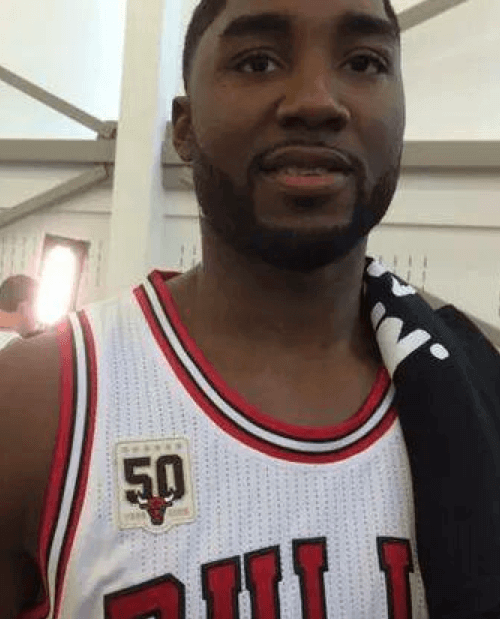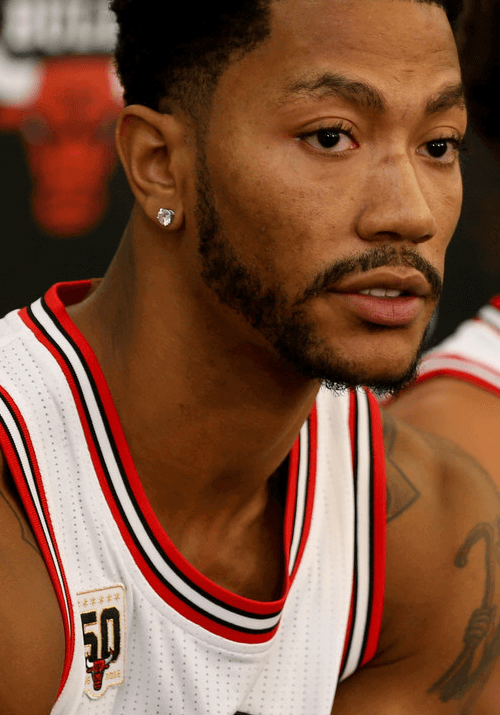 Sort of a ringer, because they don't have a new uniform, but I'm including them because these are the best shots we (or at least I) have seen of their new 50th-anniversary patch. The weird thing is that the patch looks like it might be beige, not white. But maybe it's just a trick of the light — or maybe not!
(Special thanks to Phil, who provided many of the photos shown above.)
• • • • •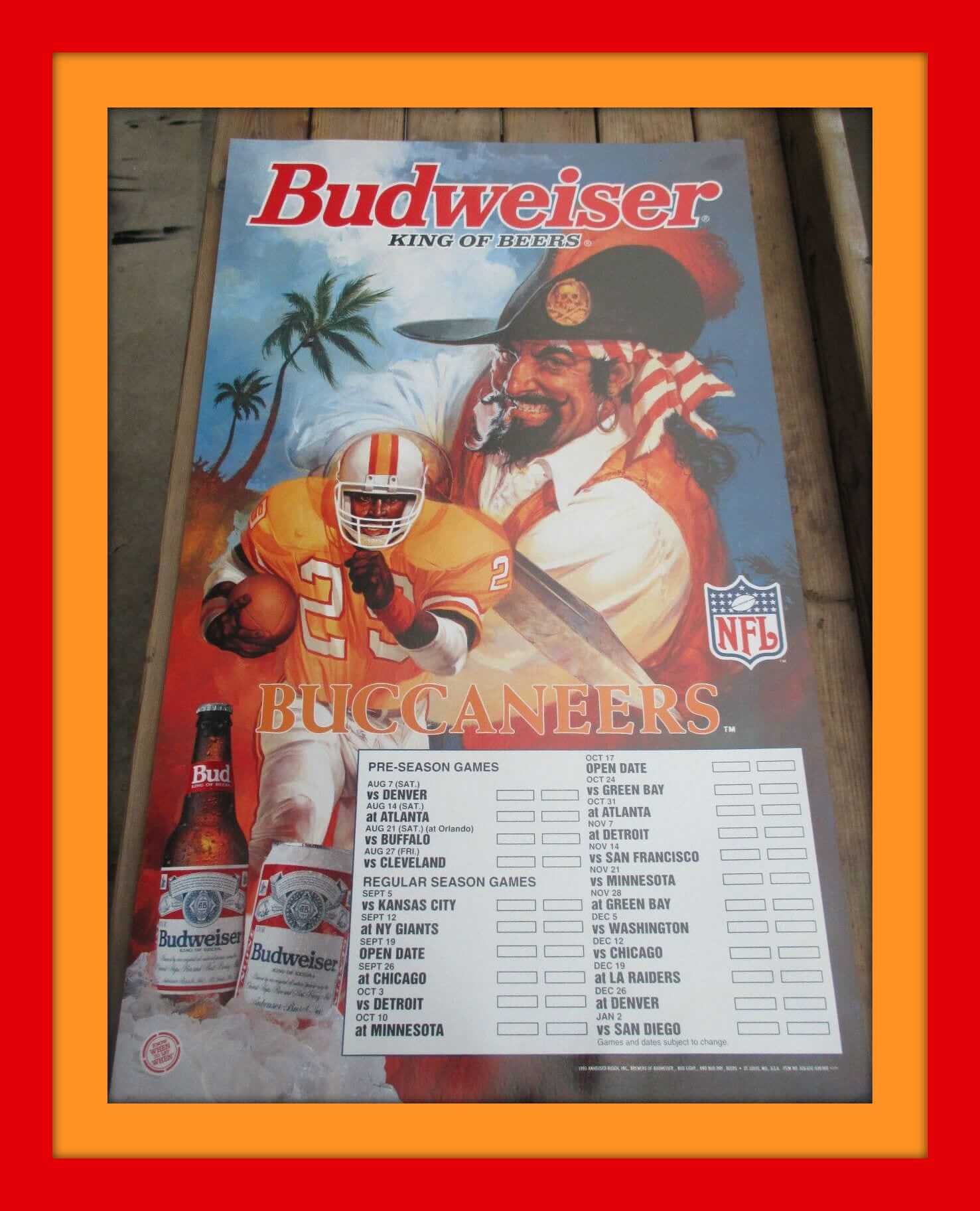 Click to enlarge
Collector's Corner
By Brinke Guthrie
We've often mentioned Bucco Bruce, and now we get to see him — or someone very much like him — up close and personal on this 1993 Budweiser/Bucs schedule poster board. Looks like maybe Anheuser-Busch didn't have permission to use the team's logo and got around it with that Captain Morgan-like character. Everyone who'd like to see TB ditch the awful current look and return to these, raise your hands!
Now let's look at the rest of our Collector's Corner lineup for the week:
• Check out the groovy graphics on this cocktail lounge Atari football game!
• Great old Cincinnati Royals logos on this pair of cufflinks from Welling's Jewelers in Cincinnati (two locations, Lockland and Mason). [This is one of my favorite Collector's Corner items ever! Too bad it's so pricey. Still, really fun to look at. Also love the term "presentational" in the listing title. "" PL]
• Here's a classic-looking LeRoy Neiman poster of Cowboys Hall of Famer Roger Staubach from 1983.
• The stores are already starting to roll out — gasp — some Christmas stuff. So now is the perfect time for this DIY Dick Butkus Christmas ornament, no?
• Reader Justin Barrett wrote in to say, "Some homework was done to determine the year of this NFL-AFC glass.
• Show everyone in school you're a Packer Backer with this 1970s spiral notebook. Could that have been John Brockington on the cover?
• Nice old NHL California Golden Seals logo on this vintage Zippo lighter.
• Think Happy Vikes with this 1970s Vikings fan club button!
• Falcons fans, keep your extra change in this vintage helmet bank!
Take a look at this 1978 Padres ASG promo jacket, brought to you by English Leather. I'd be willing to bet those were made of cheap vinyl, but it's still a cool-looking design.
Follow Brinke on Twitter: @brinkeguthrie
• • • • •
Blast from the past: NFL Superhero Project revisited: Remember Thomas Correia's NFL Superhero Underoos Project, which was featured here on Uni Watch throughout the 2014 football season? At the time, many of you said he should turn those designs into real T-shirts, and now he's gone ahead and done it. Check out his tees here.
• • • • •
The Ticker
By Mike Chamernik

Baseball News: As a final indignity to disgraced Nats reliever Jonathan Papelbon, his jerseys were removed from the Nationals team store yesterday. Maybe this shirt will fill the void. … A Detroit auto sales shop uses the Twins' logo (from Tony Wilson). … Astros rookies had to wear costumes this weekend. Third baseman Matt Duffy dressed up as the Giants third baseman of the same name. … Over the summer, Justine DeCotis — who was Paul's T-shirt assistant at the Boston Beefsteak a few months ago — made cornhole boards with a Red Sox stirrup motif. Here are some photos that show how the boards were created. … The White Sox weren't the only team to wear leisure suit jerseys. One of their minor league affiliates, the 1980 and '81 Glen Falls White Sox, had a similar look (from Marc Viquez. … Last week's episode of the futuristic show Minority Report had a character wearing a Nats hat with a 2054 World Series logo patch (from "@ItsTheBigFish). "¦ Mets C Travis d'Arnaud and his brother, Phillies INF Chase d'Arnaud (a September call-up) will face each other for the first time in tonight's Mets/Phils game. Should make for a good NOB photo-op if they end up standing side by side. "¦ The Astros tried a slump-buster move by wearing their orange alt jerseys, which are normally worn at home, for last night's game in Seattle. And they won! (From Baldemar Mejia.) "¦ Bit of a NOB glitch in the movie Rookie of the Year. "¦ Serious throwbacks — like, back to the 19th century — for Yale.

NFL News: Cam Newton wore a blue camo blazer at a press conference this weekend, and GQ magazine was not impressed (from Ethan Hagen and Andrew Cosentino, respectively). … Drew C was in Playa del Carmen, Mexico, and spotted these excellent NFL-themed masks and Day of the Dead skulls. … Chiefs CB Marcus Peters started off last night's game against the Packers wearing red-topped socks, but he later changed to white (from @Jarferama).

College & High School Football News: Arizona State unveiled its grey alternates. … Marshall will wear U.S. flag-trimmed helmets this Saturday. … Thanks in part to the athleticwear companies creating all these uniform concepts that appeal to teenagers, jersey numbers are getting harder to read (from Phil). "¦ With injury concerns mounting, fewer kids are opting to play football, which is leading a small but growing number of high schools to disband their football teams. "¦ Maryland will wear mono-black this Saturday (from Matt Shevin). "¦ William & Mary has "1693" on its nose bumpers — a reference to when the school was chartered by King William III and Queen Mary II (from Tommy Turner).

Hockey News: The Canadian province of Quebec has instituted a new series of safety rules for outdoor hockey nets (from Aaron Fusul). "¦ Flyers G Steve Mason's new mask depicts past Flyers greats as zombies (from Patrick Thomas).

Basketball News: Paul Pierce isn't letting his Clipper teammates wear LeBron James's shoes. … The Wizards have a championship belt. I have no idea what the context behind it is (from John Muir). … New home uniforms for Marshall.

Grab Bag: Odd uniform matchup in college soccer earlier this month: checkerboard (Brown) vs. purple stripes (Holy Cross) (from Bud Brooks). … GQ counted down the best 10 sneakers of 2015 (from Andrew Cosentino). … In Portland, Under Armour and Nike are fighting to see who gets to sponsor two city parks. Key passage: "Although the original agreement allowed for Under Armour 'signs and logos' in Lents and Duniway parks, [a local official] now says Under Armour's $5.5 million donation will be made 'without recognition'" (from Phil). … This past weekend, friend of Uni Watch Gary Chanko wrote that the scoreboard from Braves Field in Boston was relocated to Kansas City Municipal Stadium. Similarly, North Dakota State's stadium, Dacotah Field, used Fenway Park's bleachers from when the Patriots played there (from John Thompsen). … Here's a video about the design and meaning of the helmets the Iroquois Nationals wore in the World Indoor Lacrosse Championships (from Kevin Mueller). … New logo for the AT&T Pebble Beach Pro Am golf tournament.