Click to enlarge
The Browns appear to be trying to outdo themselves with each successive week. And hey, let's give them credit: They're succeeding! Their latest uni combo was a shit show in a near-literal sense of the term, as they turned the unitard look into the uniturd look. Didn't exactly help that they were playing the Raiders, whose timelessly classic look just threw the Browns' silliness into higher relief. At this point I'd say they've probably bottomed out — nowhere to go from here but up.
In most other respects it was a very quiet day around the league, at least from a uni perspective. Here are the few items that came across my radar:
• In Miami, billionaire investor Warren Buffet wore an aqua Ndamukong Suh jersey with pads, even though the Dolphins were wearing white at home.
• Other teams wearing white at home: the Jets (who, as you can see there, accentuated the effect by wearing white shoes, instead of their usual black), Panthers, Titans, and of course the Cowboys.
• The Bengals continue to have problems with their nameplate positioning.
• Have to agree with this sentiment:
These helmets look better when the cut the decal @UniWatch pic.twitter.com/9ifWzGeIsk

— Fantasy Icon (@thefantasyicon) September 27, 2015
• It was Hispanic Heritage Week around the league, with lots of Spanish signage and Hispanic presentations (including this one in Dallas).
• Cowboys, Eagles — eh, what's the diff:
Cowboys logo instead of Eagles logo. C'mon man @UniWatch @PhilHecken @CSNPhilly @Eagles @ESPNNFL pic.twitter.com/LOUiuScJtJ

— Bernie Perlman (@phils0923) September 27, 2015
(My thanks to all contributors, including Chris Flinn, Seth Shaw, and of course Phil.)
•  •  •  •  •  •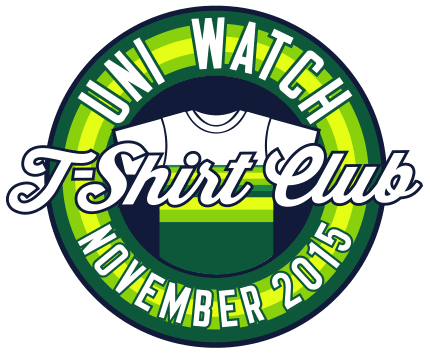 T-Shirt Club update: For months now I've been dropping hints about a very special Uni Watch T-Shirt Club offering that's been in the works. It took a long time to get the design and production issues settled, and then we decided to have some samples made, just to be sure we had a finished product that we felt good about. Now that we've seen the samples, I can finally show you what we've been up to. I think you'll agree that it was worth the wait:
Not bad, right? This shirt, which will be our November design and will be available for ordering in two weeks, is completely unlike any of the others we've done, and there are also several aspects of the design that I want to share with you and some issues I want to address. Please bear with me while I explain:
1. All our other shirts have been screen-printed, but this one is sublimated. Why? Two reasons: First, traditional screen-printing wouldn't have allowed us to print all the way to the sides and the bottom of the shirt. Second, even if we had stayed within the traditional screen-print boundaries, the stripe coverage would have used so much ink that the shirt would have been extremely stiff and heavy. Using sublimated dyes avoids this problem — the shirt is light and flexible. Sublimation has its drawbacks (it's not quite as crisp or vibrant), but it was the best approach for this design.
2. Once we decided to go with sublimation, we had no choice but to go with a 100%-polyester shirt, which definitely doesn't feel as nice as our usual cotton. On the plus side, however, the poly fabric feels a lot more like a real jersey, so there's that.
3. If you look closely, you'll see that the back numerals and some of the NOB letters have a faint shadow. That was basically sloppy work on the sample. Shouldn't happen with the real shirts. Also, the "1" is sitting slightly higher than the "5"; again, that will be corrected.
4. We usually have the sleeve patch graphic centered on the side of the sleeve, so it's partially visible both from the front and the back. But as you can see in the photos above, the sleeve patch on this shirt is truly on the front of the sleeve and will not be visible from the back — that's due to a production limitation. I've tried on the sample and can honestly say the front/back issue doesn't seem like a problem when the shirt is being worn. (The patch on the sample is also too close to the sleeve hem, but we'll fix that for the main production run.)
5. One problem with the sample shirts is that the front and back stripes don't align. We'll give more explicit instrux to our supplier to avoid this problem when the actual T-Shirt Club shirts are being made, but it's possible that the stripe alignment may be slightly imperfect (although it'll definitely be a lot better than in that photo I just linked to). Just to allay your fears, anyone who orders a shirt and is unhappy with the stripe alignment will be able to get a refund.
6. For now, it's looking like the size offerings for this shirt will go from S to 2XL. I know some of you (including some "Collect 'Em All"-ers) prefer 3X, and we're checking to see if there's any way to make that possible for this shirt. Stay tuned.
7. Because of the design and production issues involved, this will be our most expensive shirt, with a price tag that will probably be around $28 or $29. (You can make all your jokes about this being an "overpriced polyester shirt" now.) Given how awesome it looks, I do think it's worth it, and I hope you agree, but I understand if you think that's too much to spend on a T-shirt.
8. The design, obviously, is based on the Astros' tequila sunrise jerseys from the 1970s. One difference is that we weren't able to duplicate the rainbow stripes on the sleeves (production limitations), but I don't think that's a dealbraker.
9. We tinkered with using the Uni Watch script on the chest, but that didn't look right. Then we tried using the wordmark shown at the top of this website, but that didn't look right either. So we ultimately went with a font very similar to what the Astros used, which I think looks great. We went through a similar range of options on the back before ultimately settling on the circus font that the 'Stros used in 1975.
10. The stripes are in Uni Watch colors (duh), but the typography is rendered in the same midnight navy that the Astros used. We tried doing the type in maroon (a Uni Watch color), but it didn't look right, so we tried the navy, almost as a lark, and were surprised by how good it looked. I'm really happy with that choice.
11. Some of you might be thinking, "The magnifying glass symbol is in dark green, but it should be navy, like the star on the Astros' jerseys." We tried it in navy and decided we liked it better in green. So that's one place where we decided not to be faithful to Houston's design.
I think that's everything. Feedback welcome. Special shout-out to my Teespring partner Bryan Molloy, who's put in a lot of work on this one. In addition to creating the design (and dealing with all my nitpicks regarding same), he also had to find a supplier that was willing to do sublimation (Teespring has never done a sublimated shirt before), arrange to have the samples made, and deal with a lot of other behind-the-scenes hassles. He's also going to have to create separate front and back sublimation patterns for each size of shirt we offer, which I gather is going to be a shitload of work. Thanks, Bry — I know you've put a lot of time and effort into this one, and I'm super-duper-grateful. You da man and all that.
•  •  •  •  •
Click to enlarge
PermaRec birthday: It was 19 years ago today — Sept. 28, 1996 — that I attended my friend Gina's birthday party in the old Stuyvesant High School gymnasium, where I stumbled upon the old Manhattan Trade School report cards that would form the basis of my Permanent Record project and, ultimately, change my life. (If you don't know the story, it's spelled out in considerable detail here.)
So happy birthday to Gina, and happy birthday to Permanent Record, both of which are very dear to me.
• • • • •
The Ticker
By Paul

Baseball News: Good uni-centric Q&A with the Yankees' equipment manager. "¦ Looked like the Astros and UVA's football team wear wearing the same uniform on Friday night. "¦ Mets OF Yoenis Cespedes wasn't in the lineup yesterday, so utility man Kelly Johnson wore Cespedes's neon compression sleeve and his neon necklace! (Screen shot by John Ford.) "¦ Rookie hazing for two teams that will meet in the NLDS: Mets rookies were forced to roam around Cincinnati in superhero Underoos yesterday (here's another photo), while Dodgers rookies had to dress up like pro wrestlers (from Mark Coale). "¦ Pirates OF Andrew McCutchen says he has no plans to re-grow his dreadlocks. "¦ "My brother-in-law works for a park district here in Illinois and came across some old Little League helmets based on MLB team designs," says Ryan Lindemann. "He knew they'd be right up my alley, and Uni Watch's too!" "¦ Here are some photos of Crosley Field in Cincinnati just before it was demolished in 1972.

Pro Football News: New white helmets yesterday for the Toronto Argonauts (from Wade Heidt). "¦ Some Giants players wore blank helmets during a 1975 preseason game. "¦ Pepsi is using a promotional can design that features an outdated Panthers logo. "¦ Electric football maven Gene Sanny has come out with with latest set of custom-designed player figurines, this time for the USFL's Arizona Wranglers. "I kicked it up a notch as far as detail goes with these guys, beginning with a more detailed type of figure," he says. "I molded all the sleeves, horse collar, and wrist and elbow pads myself to replicate that '80s feel. This is my favorite uniform of all time — not enough copper and flames used today!" "¦ Chiefs WR De'Anthony Thomas has been channeling former Hank Stram's old "KC" logo blazer. "¦ Here's something I've never seen before: an NFL strategy briefcase board game. Hey, Brinke, ever come across this one? (From David Keel.) "¦ Interesting note from Michael Greenwald, who writes: "Check out this banner ad, which shows the gold NFL shield and the slogan, 'Not Just For Gameday,' next to a fan wearing a Raiders jersey. I kind of got a vibe like the league was rubbing it in Oakland's face with this ad after the Raiders backtracked on their plan not to use gold 50 yard line markers." "¦ Here's a licensed product I can totally get behind: NFL paper drinking straws. They have NCAA versions, too.

College and Youth League Football News: "An interesting development in Saturday's Virginia Tech/ECU game," says Andrew Cosentino. "Early on, while the weather was good, the Hokies receivers and tight ends were wearing gloves. But as the game wore on and the rain picked up, almost everyone decided to take them off, as seen here, here, here, and here." "¦ The U. of Maine's live mascot, Bananas the Bear, has received a makeover. "¦ Navy's kicker was taking the biker shorts look to new extremes the other day, and a CMU player was missing his NOB. "¦ Arizona currently has two players surnamed Jackson on the roster, which gives LB Sir Thomas Jackson the excuse to wear this. "¦ Arkansas LB Josh Williams has FNOB. That's presumably because the roster also includes RB Jonathan Williams (from Zach McKenzie). "¦ A youth league team in Michigan has added a memorial decal for a fallen local firefighter (from Chet Miller). "¦ Here's a possible leak of Ohio State's BFBS alternates (from Kyle Shaner).

Soccer News: Puppy-themed kits the Japanese club JEF United (from Matt Solly). "¦ Check it out: Michael Jackson — yes, that Michael Jackson — wearing a 1979-80 OSG Nice Ligue 1 jersey for a magazine photo shoot (from Graham Clayton). "¦ Parents in my Brooklyn neighborhood are upset because their kids' AYSO soccer jerseys now carry corporate advertising for Fox Sports 1 (thanks, Brinke).

Grab Bag: Calgary Flames goalie Jonas Heller may be taking symmetry too far. … Beyoncé and her dancers wore basketball-themed stage outfits for a recent concert appearance (from Robert Hay). … Good look at the design of some old lottery tickets from the 1850s! "¦ Spectacular early-1970s photos from a Florida roller rink — not to be missed (big thanks to Ben Traxel). "¦ We may have seen this before, can't remember, but just in case; Here's a guy who's created 50 football helmets based on the 50 state flags (from David Staples).
•  •  •  •  •

What Paul did last night: As you're probably aware, the moon was on the rag last night, or something like that. That seemed more interesting than watching the Lions and Broncos, so a special person and I grabbed some beers, made some popcorn, fished the binoculars out of that cluttered drawer where they live, and headed up to my roof. My upstairs neighbor and his girlfriend soon joined us, making for a festive little scene. None of us had cameras good enough to do justice to what was unfolding in the sky above us, so here's a shot taken by one of my fellow Brooklynites:
Brooklyn bedroom Blood Moon Eclipse pic.twitter.com/HALqXySaNG

— invibe (@invibe) September 28, 2015
Looking at the moon for a long stretch got me thinking. I was five years old when Neil Armstrong et al. landed on the moon's surface in 1969. I don't remember that event, but I definitely remember several of the subsequent Apollo lunar landings from the early 1970s. At the time it almost seemed routine — like, "Yeah, that moon thing, we do it every few months."
Now, of course, it's been decades since humans walked on the moon. I understand the reasons for this (it costs a shit-ton of money, it risks people's lives, we're no longer obsessed with proving that our dicks are bigger than the Russians' dicks, and we can learn just as much these from unmanned probes, or even earth-bound observation, as we can from walking around on a dead rock), but part of me really wishes we'd start doing it again, just because it seems so cool. On the other hand, maybe one reason it seems so cool is that we no longer do it — our retreat from space travel has restored the sense of wonder and amazement that moon landings initially provided before they became fairly common. Like, "Wow, did we really go there? That's amazing!" That's what I was thinking about as I watched the blood moon last night.