Click to enlarge
That's me and my friend Aimee last Friday afternoon, aboard the Lake Champlain car ferry from Plattsburgh, New York, to Grand Isle, Vermont, part of a six-day, 900-mile New England road trip that we just wrapped up on Tuesday.
We began last Thursday by driving north from Manhattan to Lake George. The next day we drove up to Plattsburgh and ferried across Lake Champlain, and then spent the next several days rambling around Vermont, New Hampshire, Massachusetts, and Connecticut before heading back home (click to enlarge):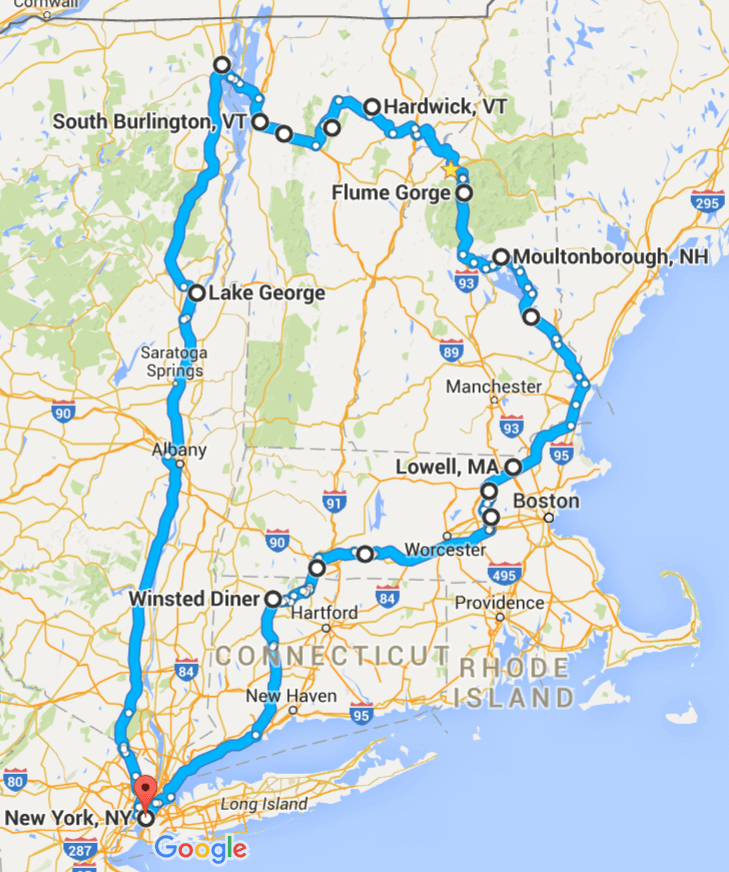 The route shown above is approximate "" we went on tiny local roads whenever possible "" but it should give you a rough idea of the territory we covered.
The trip featured everything from trained bears to a VFW Hall dance party, with plenty of hiking and other outdoorsy stuff in between. I'll get to the details in a sec, but first I want to say this: I don't know about you, but I think by far the most important component to a successful trip is not the place you're traveling through, or the weather, or the food, or the people, or the level of service, or any of that stuff. The most important thing, I've found, is the person you're traveling with, and I was incredibly fortunate in that regard for this getaway. I've known Aimee for less than a year, and we hadn't actually spent that much time together prior to this trip, so the whole thing was a bit of a leap of faith for both of us. But we got along incredibly well on the road — never got annoyed with each other (no mean feat when you're locked in a car together all day long), never felt the need for any "alone time" (ditto), never ran out of fun stuff to talk about, always in sync regarding what to do next, always had each other's backs. Can't believe how well it all worked out, and now lucky I am to have had such a great road buddy. Thanks, Aimster — you're the best.
I documented most of our activities via a series of Facebook posts. So instead of rehashing those posts, I'm just going to embed them here. Here we go, beginning at, well, the very beginning (you can click on the photos to see larger versions, even if you're not a Facebook member):
Day One
Day Two
Day Three
This morning, a bit west of Richmond, Vermont, we came upon a nice little dairy farm and decided to say hello to the cows, one of which became oddly obsessed with licking Aimee's hand.

Posted by Paul Lukas on Saturday, September 19, 2015
A very nice stop today: the Old Round Church in Richmond, Vermont, a 16-sided beauty that dates back to 1813. A member of the local historical society — a real peach of a guy — gave us a tour.

Posted by Paul Lukas on Saturday, September 19, 2015
While driving thru Vermont's Northeast Kingdom region in near-perfect late-afternoon light, we came upon a lake with a small dam, which seemed like a good spot to stop for a drink.

Posted by Paul Lukas on Saturday, September 19, 2015
Day Four
Day Five
Day Six
———
That's it — thanks for listening. We'll go back to standard Uni Watch content tomorrow.
•  •  •  •  •
The Ticker
By Mike Chamernik

Baseball News: A bunch of Yogi Berra notes: The Yankees wore a No. 8 memorial sleeve patch. The Yanks also put an image of Yogi on their official lineup card (and included the outdated Blue Jays logo, too). Also: Yesterday we found that Berra's "8" monument at Yankee Stadium is upside-down. MLB changed its Instagram avatar to the inadvertently flipped 8, and the Blue Jays, who the Yankees were playing in Toronto, even put the upside-down 8 on their scoreboard (Thanks to all of you who sent items in, including Mike O'Connor, who attended that Yanks/Jays game, for the scoreboard pic). … Speaking of the Yanks/Jays game, the telecast (not sure which station) had some green screen issues (from Will Leslie). … As for the Mets, they had a moment of silence for Yogi but will apparently not wear a patch or armband — surprising, given that Berra was a Mets player, coach, and pennant-winning manager. … I normally wouldn't include this, but I received a press release that was a tad interesting: Sporting goods company 3N2 is selling the world's first patented fastpitch softball pants called NuFit Knickers. According to the CEO of the company quoted in the release, "When 3N2 first entered the market, manufacturers were simply 'shrinking and pinking' men's gear." Is that true?

NFL News: Pilots flying in and out of San Jose Mineta International Airport are complaining about the bright lights at Levi Stadium (from Phil). … White-over-black this weekend for the Bengals and white-over-pewter for the Bucs. … NESN ranked the six best NFL uniforms. Phil was surprised that the Cardinals made the cut. I was perturbed that the Raiders didn't make it. "¦ Speaking of the Raiders: Contrary to a story linked in yesterday's Ticker, they'll add the gold 50-yard markers after the baseball season is over.

College Football News: Miami will switch its NOBs to block letters. Before, the Canes used a semi-illegible font (from Juan F). … Michigan TE coach Jay Harbaugh Instagrammed a mockup of new Wolverines uniforms (from Phil). … Arizona State will reveal new alternates on Sunday (from Phil). … Nevada removed NOBs this season. I found the rationale refreshing. Instead of the rah-rah "play for the front of the jersey, not the back" coachspeak nonsense, Wolfpack coach Brian Polian said: "I hate to disappoint our fans but the reason we did it is because we only have one set of blues, one set of whites and one set of grays. "When guys change numbers and you take the nameplates off, you start to tear the jerseys apart. I'd like to have a new set of jerseys every year. We don't have that kind of budget. It was honestly a budget concern. We just don't have that kind of money." Polian said that Nevada uses the same set of uniforms for three or four years, and that new unis can cost the school $100,000 (thanks, Phil). … New color pattern this week for the argyle sideline border on UNC's field (from James Gilbert). … Here's a piece on the history of Notre Dame's green jerseys (from Phil).

Hockey News: Wayne Gretzky received a misspelled jersey from Tottenham Hotspur. Not the first time the Great One had a NOB with a typo. Also, how awful must it be to have to pose for photos while smiling and holding a misspelled jersey? I'd feel like such a schmuck. … The Blackhawks' Stanley Cup banner is nearly finished. … Here's a look at the Islanders' Al Arbour patch in action (from Phil). … Rangers prospect Brady Skjei wore the old RBK logo on his jersey Monday night (from Ryan Feuerstein). … Avalanche players are wearing protective guards on their feet (from John Muir). … "ŽRed Wings LW Tomas Tatar has what seems to be some sort of latch on the back of his helmet. Jeff Sak and I wonder what it's for. … New classic-looking logo for the Peoria Rivermen.

Basketball News: The Bulls confirmed that they will have a new court design. I'm going to miss the basketball under the logo at center court. It was a mainstay from the Jordan era. … New court design for the Nuggets, too. It follows the trend that the Pelicans and Cavs set last year. … Villanova might have leaked its new uniforms.

Grab Bag: Reader Kevin Mueller sends in a two items from the World Indoor Lacrosse Championship: The Iroquois wore BFBS unis and England has inconsistencies with jersey sponsors. Players have different sponsors, and some don't have any sponsors at all. … Here's the logo for Pope Francis's trip to America (from Jim Vilk). … The logo for the 2016 Breeders' Cup has been released.