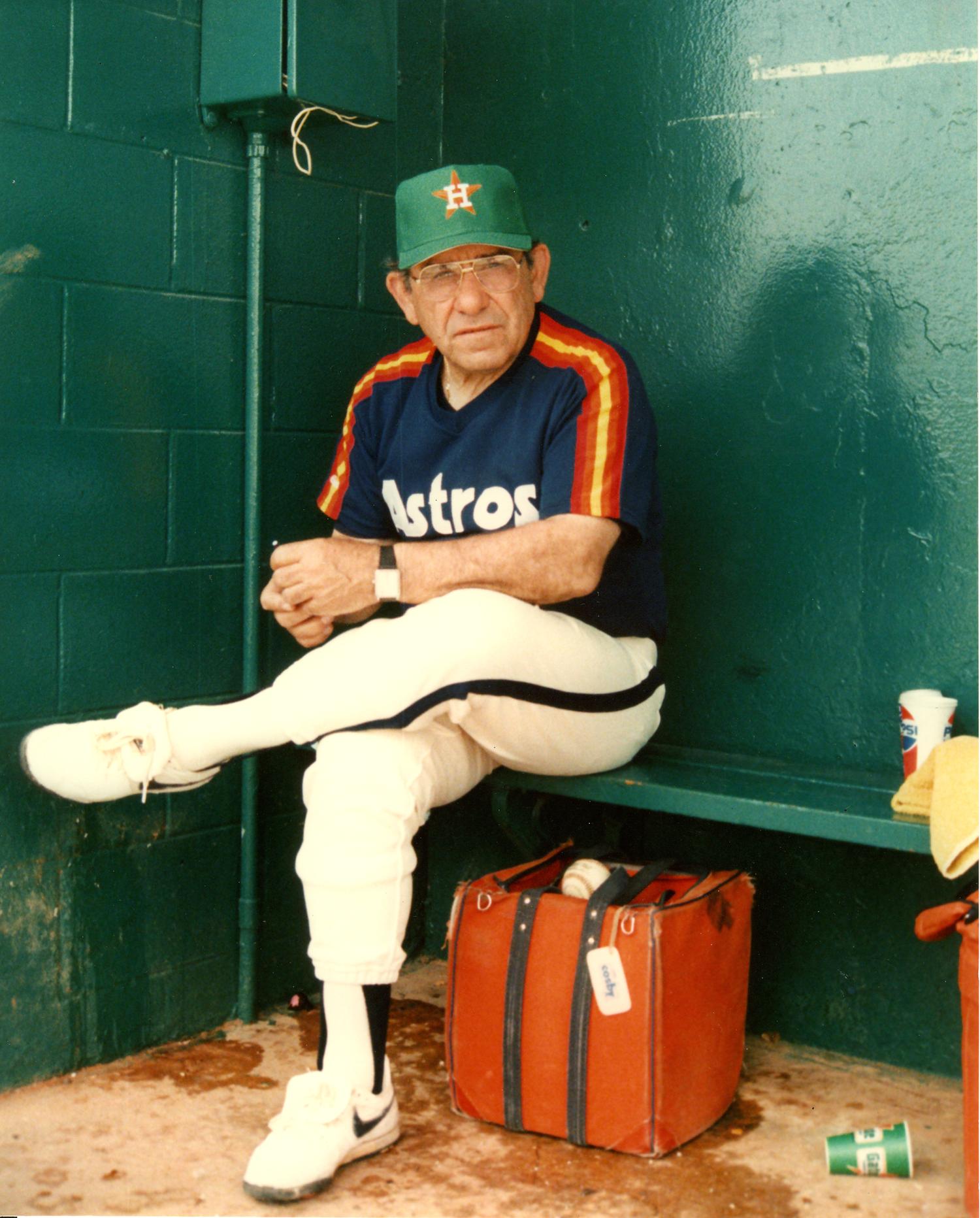 Click to enlarge
Hey there. I'm back after a six-day road trip (more on that soon, maybe tomorrow). That trip wouldn't have been possible, or at least would have been a lot more stressful, if I didn't have talented and trusted lieutenants to mind the store while I was away. Phil, Mike — can't thank you enough. Hope you're both planning well-earned vacations of your own!
Now then: Woke up this morning to the news that Yogi Berra has passed away at the age of 90. My road trip buddy Aimee and I were talking about him just a few days ago because of his famous quip shown in today's headline, which seemed to embody the spirit of our travels.
Berra was a bench coach for the Astros from 1985 through 1989. I chose the photo of him shown above because I always wondered what he thought about having to wear Houston's rainbow stripes and white shoes (and, on St. Paddy's Day, a green cap). Did he find the whole thing undignified after a lifetime spent wearing the much more traditional uniforms of the Yankees and the Mets?
Speaking of the Yankees, here's something interesting — check out the tweet they issued overnight:
We have lost an icon: https://t.co/bqLwILR1bb pic.twitter.com/h0SDSvUzkw

— New York Yankees (@Yankees) September 23, 2015
Notice anything there? As several eagle-eyed Uni Watch readers have already pointed out, the 8 is upside-down!
And wait, it gets better. As you probably know, the Yankees retired No. 8 for Berra and also for Bill Dickey. Their numbers are side-by-side in Monument Park. And it turns out that while Berra's numeral is upside-down, Dickey's is correctly oriented (click to enlarge):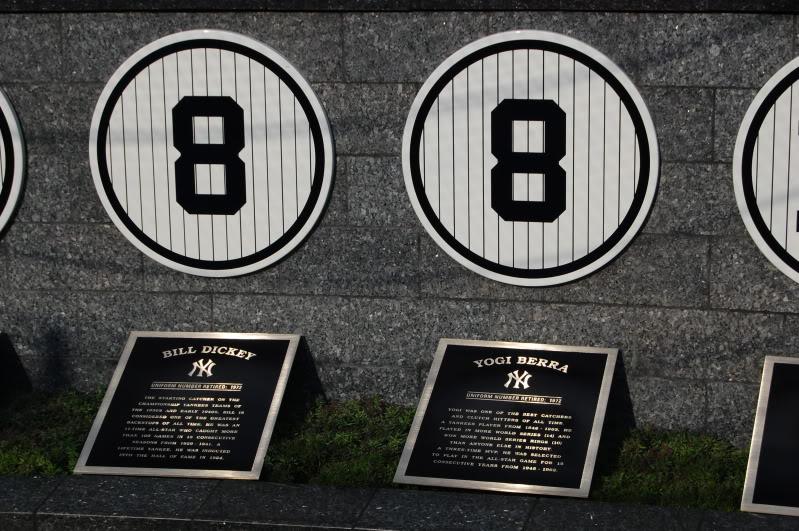 And it gets even better! At the old Yankee Stadium, both 8s were correctly oriented (click to enlarge):
So it appears that the Yanks botched Berra's retired number when moving from the old stadium to the new one, and nobody noticed until now.
Berra was a fairly big figure in my youth. He became the Mets' manager after Gil Hodges died from a sudden heart attack during spring training in 1972. That was the first year that I really followed the Mets (I attended two games in '71 but hadn't yet begun looking at box scores or collecting baseball cards or anything like that), so Berra was the first — and, for several more years, the only — Mets skipper I ever knew. I always liked how he wore his stirrups in those days. He was fired on Aug. 5, 1975, after the team dropped both ends of doubleheader to the Expos by scores of 7-0. I happened to be at that doubleheader (still have the stub!), but a day at the ballpark still seemed so magical in those days that I enjoyed all of it, even if my team was getting shut out in both games.
I'm pretty sure Berra appeared in a Mets uniform at a few old-timers games after he was fired. But his final appearance in a Mets jersey came on Sept. 28, 2008, when he was part of the on-field ceremonies to commemorate Shea Stadium's final game, leading to this instant-classic photo of the team's two most famous No. 8s (click to enlarge):
Among all of Berra's famous Yogi-isms, the one we'll probably hear most in the coming days is, "Always go to other people's funerals, otherwise they won't come to yours." But I bet nobody goes to Berra's funeral — it'll be way too crowded. R.I.P.
•  •  •  •  •
The Ticker
By Phil

Baseball News: Reader Chris Shockey saw this cap in the Rockies store at Coors Field Monday evening, and thinks "someone could make a killer Rockies alternate based off of this beauty." … Nice historical photo of the Atlanta Black Crackers taken at the Civil and Human Rights Museum in Atlanta (from Michael Blake Raymer). … The Phillies may be experiencing a lost season, but that doesn't mean their fans can't still get this sweet burgundy Oktoberfest hat/fedora — details here (from J. Walker).

NFL News: Check out this photo of Archie Manning and Oliver Luck, circa 1983-ish. Says submitter Eric Wright, "Stumbled across this photo from the early '80s — amazing how they played together on the Oilers, and their sons have been a thorn in the Titans side for almost 20 years." … Julian Edelman removed the Nike sign from his cleats due to Puma sponsorship (from Dirt McGirt). … Whoa — the Raiders aren't refusing to do the "gold 50" at the O-dot-co because of baseball still being played there (as we had originally speculated) — they're refusing to EVER put on-field gold marks at the 50-yard line (from Eric Wright, who adds "It would make Al Davis proud"). … Whoops — TV Guide has a hard time telling the Pittsburgh football teams apart (nice spot by Dane Drutis). … "Ragnar" is no longer the Vikings mascot after a contract dispute. Says submitter Jon Solomonson, "Wanted HUGE raise from $1500 to $20,000 per game. Greedy. Greedy."

College/High School Football News: Here's a ranking of the 25 ugliest college football alternate uniforms of all time. … UTSA will have new navy uni this week with custom socks (h/t Doug Hazard). … New uniform combo for the University of West Georgia (h/t Bo Childers). … Fairly big news out of Miami yesterday notes the Canes will change the nameplate font on all football jerseys to a traditional block letter font (from Jeff C. and Klay Kuban). More here. … In a somewhat related note, this article notes that "new (high school) unis may look cool, but difficult-to-read jerseys are on their way out." (That noise you just heard was Jim Vilk, er, Jakob Wolf, screaming for joy.) … Utah will be doing the "white out" thing against the Ducks this Saturday in Autzen (h/t Real D-dawg 2020).

NBA News: The Warriors are the latest team to put ads on their practice jerseys. They're not the first: The Pacers had practice jerseys with ads, as well as the (former) Hornets. And the Utah Jazz too (h/t Taylor). Several NFL teams do this, too.

Hockey News: From Mike Engle comes this: "Jack Eichel of the Buffalo Sabres has dibs on #15 when he (inevitably?) makes the team, but until then, he's wearing #41 that was assigned to him at development camp. The Sabres themselves confirmed this to me." He adds, "Other examples of "preseason only" numbers include Pavel Datsyuk's #24 for Ruslan Sanei after the plane crash and Doc Gooden going back to #64 to feel like a rookie again." … It is the 50th year of the Western Hockey League. The Moose Jaw Warriors will be wearing a one-time commemorative jersey on opening night of their season which recognized Moose Jaw's rich hockey history (h/t Wade Heidt). … Add puck to the latest (excluding the ASG unis, sorta) sport in which fluorescent highlights are making their presence felt. Those are Aaron Dell's new pads, blocker & glove (h/t J. Walker). … Michigan State wanted to replace their hockey blue lines with green, but the NCAA said "No" (thanks to David Ribar). … Check out the jerseys of this Swedish hockey team, who are "standing up against homophobia in sport." To quote Jim Vilk, "I'd wear that." … The Milwaukee Admirals will wear Star Wars themed sweaters. … This comes up every year, and every year we give the same reply: The Red Wings straight NOB will be arched come regular season, and it's straight in the pre-season.

Soccer News: Here's a pretty cool graphic of the evolution of Barcelona's football badge (graphic by 90s Football, sent in by Tim Cross). … This is awesome: DC United gave Pontifex his own jersey (and he's an XL, in case you're wondering), via Holy Calamity, who points out he's not the first Pope to get a United jersey.

College Hoops News: Powerhouse Duquesne has unveiled six new uniforms for the 2015-16 season, including an incredibly awesome 1970s throwback and an equally nice 1950s throwback (h/t David Ribar). … New white uniforms for the Charlotte 49ers (h/t Jonathan Bradshaw). … New white uniforms for the Kansas State Wildcats (h/t James Westling). Here's a look at the sweatback.

Grab Bag: Readers of this site may know that aside from being an occasional contributor, Brady Phelps does some AMAZING pancake art. Here's just one example of how he does it (and that's for a charitable cause!). Check out the stuff he's done for the Padres Chicken, the San Diego Chargers, the New York Mets, and well… you name it. Amazing! … The Force India F1 team is running a competition to design part of Sergio Perez's race suit for the upcoming Mexican Grand Prix (from Matthew Walthert). … NASCAR's Kyle Larson "Goes Mad for Plaid this Fall," (From Davis Shaefer)…. New logo for Circle K (from Kurt Esposito).