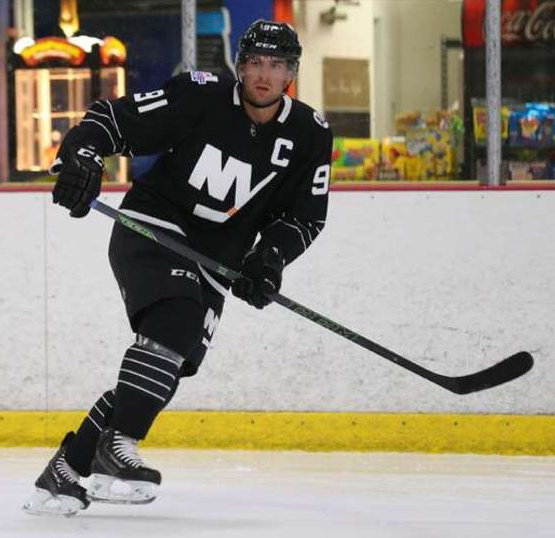 The Islanders unveiled their BFBS alts yesterday (further info and the alt uni schedule here). It pretty much conforms to the jersey leaks we'd seen earlier. A few notes:
1. As you can see above, the sleeve striping, which we had seen in the leaks, is matched by corresponding sock striping.
2. This uniform provides our first look at the team's Al Arbour memorial patch. The jersey also carries the Isles' "first season in Brooklyn" patch. Both patches will presumably appear on the team's home and road jerseys as well:
The Arbour patch is interesting for several reasons. First, it's really big — probably too big. Second, the black jersey really accentuates the patch's white background. Obviously, lots of memorial patches have white backgrounds (like the Giants' new Ann Mara patch, for example), but the black jersey really makes this feel like a white patch, which is odd for a memorial. And third, they went with Arbour's first name. It's understandable that they didn't want to use his initials ("AA" wouldn't look so great), but here's something intriguing: There are at least two other current uniform memorials — both perma-memorials, now that I think of it — that consist of the first name "Al": the Raiders' Al Davis decal and the Marquette basketball team's collar-borne tribute to Al McGuire. The name "Al" sure is well-represented on uniforms!
3. As we had heard a week or two ago, the helmet features a new secondary logo, which will probably be used elsewhere in the team's visual program:
4. There's another secondary (or maybe tertiary) logo on the shirttail. Much like little slogans printed on the inner collar, this is just a bullshit element that has no on-ice implications (it's too small to be visible on TV, much less from the cheap seats) and is all about appealing to people who buy overpriced polyester shirts:
5. The pants feature a disconcertingly large logo on the left thigh:
There are two ways to look at this uniform: strictly in terms of aesthetics, or broadly in terms of a larger context. One thing at a time:
Aesthetically, I'm surprised by how much I like it. For starters, I love the sleeve and sock stripes. Also, the four orange stripes on the "Y" (which, of course, represent the team's four Stanley Cup championships) are small and simple, but they nonetheless do a lot to warm up the design — a small element with a big visual impact, at least for me. I like how the orange stripes work on the helmet logo, too. The pant leg logo seems way too big, but let's see how it looks in a game before deciding how much to hate it.
In the bigger picture, though, it's a problematic uniform. For one thing, it's totally BFBS. More importantly, the Isles chose black/white in order to match up with their new arena-mates, the Nets, and I don't like that at all. It makes it seem like Brooklyn has a black/white dress code (trust me, it doesn't), and also makes the Isles and Nets feel like interchangeable subsidiaries of a larger umbrella corporation, which isn't even close to being true (different ownership, different histories, etc.). Yes, they now play in the same building, but so what? These same two teams shared a different building 40 years ago (I saw both of them play there during that period), and they didn't have matching color schemes back then, so why should they suddenly do so now? It would be one thing if the color scheme had some basis in Brooklyn's civic culture or history (like the black/gold colors worn by the Pittsburgh teams, which are taken from the city's flag design), but that's not the case here.
I'm not an Islanders fan (grew up rooting for the Rangers and Habs), but I live just a few blocks from the arena and look forward to seeing some games there this season. I think I'll pick games when they're not wearing this uniform, though. I don't mind how it looks, but I don't want to support its role in the bigger picture.
•  •  •  •  •
ESPN reminder: In case you missed it yesterday, my latest ESPN column looks at the increasing use of neon colors in the uni-verse. Check it out here.
• • • • •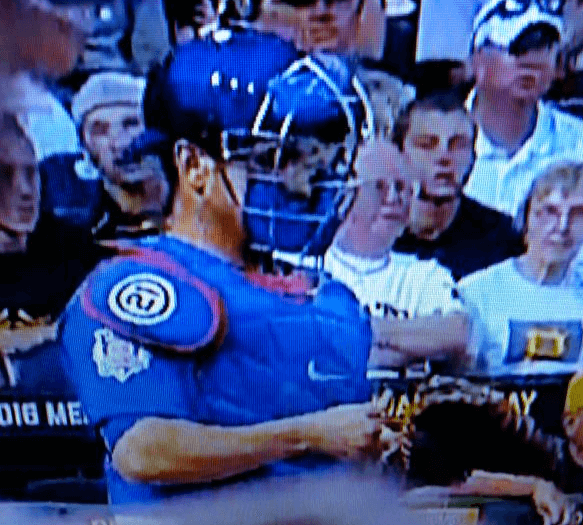 Shouldering the load: Yesterday was Roberto Clemente Day in Pittsburgh, so there was a logo on the field and the Pirates wore their Sunday throwbacks. Bit of an odd choice, since Clemente only wore that uni at the very end of his career, but I guess using an existing throwback was easier than making a new one.
Anyway, the visiting team was the Cubs, whose catcher, Miguel Montero, played along by wearing a "21" patch — or maybe it was a decal, kinda hard to tell — on the right shoulder of his chest protector (see above). I don't think I've ever seen a patch, or any other kind of graphic, in that spot.
When I saw that screen shot (which came courtesy of @JohnnyMaz7, incidentally), I thought to myself, "Oh, Montero must be from Puerto Rico, same as Clemente." But I was wrong: Montero is from Venezuela. Guess he's just a big Clemente fan — cool.
•  •  •  •  •
Click to enlarge
Membership update, non-Uni Watch division: I'm proud to be a card-carrying ACLU member, but for years their membership cards have really sucked. They used this cheap, flimsy cardstock, and you had to tear out your card from a larger sheet, which left a profoundly unsatisfying sawtooth edge where the perforations had been. Pfeh. I actually took the step of laminating my card (above left), just to make it look and feel more official.
So I was very happy to see my new card, which recently arrived in the mail (above right). This one is made of plastic, has rounded corners, and didn't have to be torn out along a perforated edge. Much better "" I won't be laminating this one.
Of course, they're still using the same miserable graphic design, but one thing at a time.
•  •  •  •  •
The Ticker
By Phil Hecken

Baseball News: Red Sox rookie reliever went very high-cuffed with very low-cut stirrups last night (from Andy Chalifour). … According to Mets Police contributor Dan Twohig, Mike Piazza apparently did not like the Mercury Mets Jersey (joining the rest of the civilized world in that assessment). … Absurd-looking two-in-ones last night for Marlins infielder Dee Gordon. "¦ Have you ever wondered, "Hmmm, I wonder what Elsa from Frozen would look like jerseys and other team gear from all 30 MLB clubs"? Okay, probably not, but here it is anyway.

NFL News: We've discussed this before with regard to the Jets, but here's an ESPN video preview graphic with close-up evidence of Nike's inability to sew a jersey with one color of green. Submitter Troy Griggsby notes, "I see three different hues — the main panel, the mesh and the shoulder stripe." … This is what the fall's GI Joevember sideline caps will look like (h/t Klay Kuban). … "After running in the Saints Kickoff 5K that ends in the Superdome I just had to get a picture of the gold 50, but what's up with the NFL Shield at the 25?" asks Christopher Fox. "It's apparently painted on the turf not part of it, so is the Saints wordmark in the endzone…interesting, no?"

College Football News: The Ohio Bobcats will be wearing white hats this weekend (via OhioBobcatsFBEQ). … The Coast Guard will wear these helmets with the 225 Logo in Washington, D.C. this weekend vs. Catholic (from Double Coverage). … Here's a good look at the extended UCLA stripes on Iowa State's uni (from CyclONE Nation). … The Georgia Bulldogs are wearing helmet decals this weekend for Prostate Cancer/Pediatric Cancer Awareness Month (via Josh Sánchez). … Looks like Miami's defense is sporting new green practice jerseys with some sort of design on them (h/t Joe Wingard). … New football jerseys for the University of Montana. … Here's a look at the black chrome uniform the U. of L. will be wearing this weekend (via Cardinal Authentic). Here's another view. … These concept helmets for LSU combine everything Paul loves into one tidy package. … New blue helmets for UC Davis (from Gregory Olsen).

NBA/Basketball News: Wow, check out this shot of the late, great Moses Malone with the ABA's Utah Stars (h/t Sports Paper). … A "Local cafe has NBA decals in vending machines" (from WK). … Here is a look at some of the new on-court socks for the Warriors, Pistons & Pelicans. And here's the Knicks. And contained within this article is the Hawks plus many more. … The great Conrad Burry has this slight update to the ball illustration in the NBA D-League Draft '15 logo. … Not that we needed it, but here is confirmation of the new Duke jerseys. … Are these possibly new unis for Purdue (h/t Tyler Amato). … UnderArmour and Steph Curry have extended their partnership through 2024 (thanks to Andrew Rader). … The Indiana Pacers are helping out a local high school to get uniforms, since they have none due to the school athletics' programs relaunching this year (sent in by Derek Linn).

Hockey News: The Islanders unveiled their new thirds yesterday (as seen above), but almost immediately, Twitter users came up with a new logo (h/t Mike Tremblay). It didn't end there. … More Isles: NYC Mayor Bill de Blasio was given a custom jersey with the "de" in his surname rendered in small caps. Hmmm, does that portend changes for Isles defenseman Calvin de Haan, whose current NOB features a lower-case "de"? (H/t to pach zearce.) … The jerseys for the All-American Prospects game have been unveiled. … New goalie pads for Tuukka Rask this season (h/t Nick Griffin). … Star Wars-themed jerseys aren't limited to minor league baseball, as evidenced by the Huntsville Havoc's "Emperor's Theme" sweaters (from Huntsville Havoc Hockey).

Soccer News: According to this article, Bundesliga teams will wear "Welcome Refugees" patches in support of Syrian (and other) refugees: "All football players across the Bundesliga first and second divisions are to show their solidarity for people fleeing war and poverty by wearing patches for this weekend's round." (Thanks to Aaron Husul for the submission).

Grab Bag: A recent news article considered complaints that school uniforms in public schools were somehow racially discriminatory. Are they? This article argues they're not. … Here are the new Notre Dame volleyball home uniforms. The Fr. Ted patch appearance continues (from Warren Junium). … If you're a fan of '90s uniforms (or even if you're not), TSN has a list of 12 "iconic" uniforms that represented the decade. … Sixteen-time NHRA champion John Force will pay tribute to NASCAR driver Jeff Gordon this weekend with a special paint scheme honoring the four-time NASCAR Sprint Cup Series champion (from David Firestone). … What if the Blue Jays logo was like the Raptors logo, & vice versa? That & more hybrid logos here (h/t John Obarski). … For any of you (which means, hopefully, all of you) who hate Comic Sans, this comic is for you (nice find from Paul Lee). … Did the TBS Network get a new logo? (from Matt Harris). … New Jersey governor and presidential candidate Chris Christie wore a New Jersey-shaped stars/stripes pin, instead of the more common American flag pin, for last night's GOP candidates' debate (screen shot by Alan Kreit).
•  •  •  •  •
Over and outta here: I'm leaving on a short vacation this morning, returning late Tuesday night. Phil will have the conn while I'm away. See you back here on Wednesday, okay? Okay!