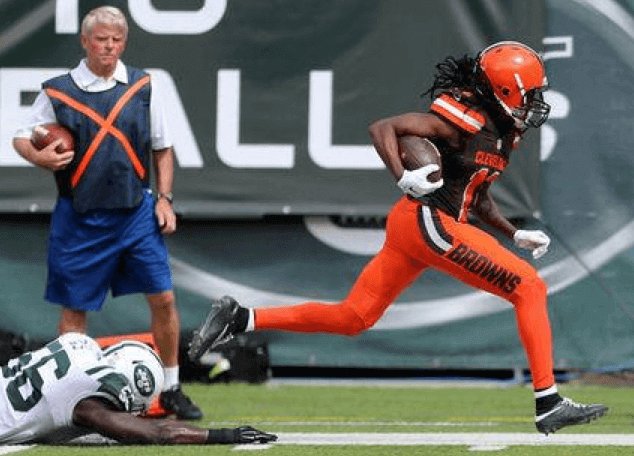 Rumors that that the Jets player in this photo was yelling, "No, wait, you should wear the brown socks if you're gonna go with the orange pants!" are exaggerated, but only slightly. Man, what a mess. And even if you inexplicably like the big, honking wordmark on the pants, can you (or anyone) explain why they bothered with those few inches of striping at to the top of the pant leg? The lettering has been a bad joke all along, but I'm starting to think the partial stripe is even worse. Additional photos here, if you dare.
Meanwhile, in that same game, Nike demonstrated once again that they're incapable of giving the Jets a consistent shade of green: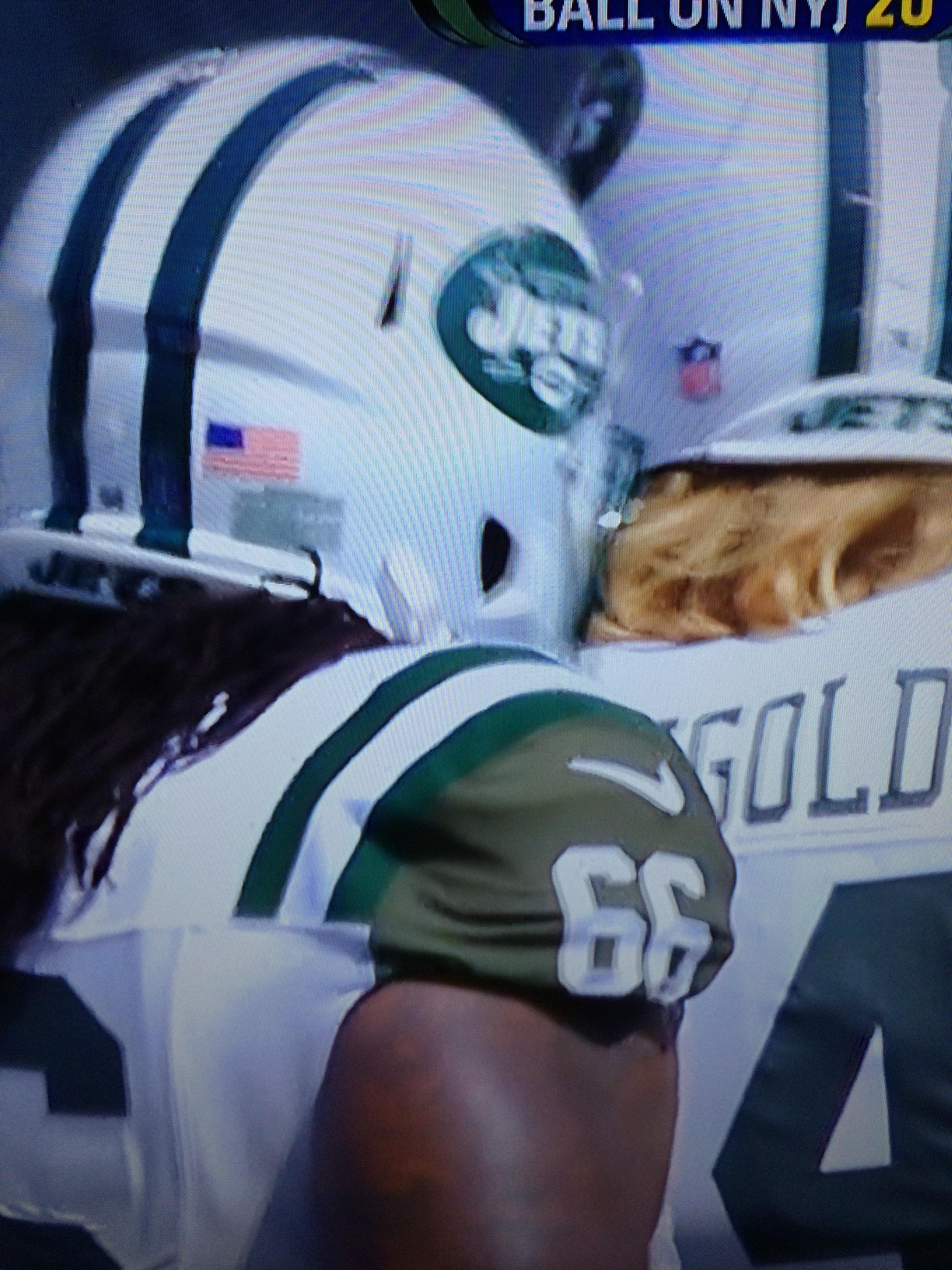 This seems pretty much like the definition of a vendor failing its client. (Too bad this vendor can't be fired.) I got more tweets and emails about that yesterday than about any other issue, so people are definitely noticing. And as several of them pointed out, the best/worst part is Jets are currently running an ad campaign whose slogan is "Bigger, Better, Greener." Well, two out of three, right?
But aside from those two things — the Browns and the Jets — it was a great-looking game.
In other developments from the NFL's opening weekend:
• The Giants unveiled/debuted their Ann Mara memorial patch. (Let's skip the cash machine jokes, thanks.) Coach Tom Coughlin wore the Mara patch and also wore a "16" pin for Frank Gifford.
• Also debuting yesterday: the Lions' Charlie Sanders memorial decal.
• In that Lions game, the Chargers went mono-white at home. This is the third consecutive season that they've worn white for their home opener.
• The Bills also wore white at home, but with a twist: They went with their standing buffalo throwbacks.
• Odd game in Jacksonville, where the Jags wore white at home and the Panthers took the unusual step of wearing their blue alts on the road.
• Other teams wearing white at home: the Texans, Bucs, Jets, and, of course, the Cowboys.
• The Bears opened the season by wearing their Monsters of the Midway throwbacks.
• So disappointing to see the Rams in mono-blue. Never a good look for them.
• Bengals running back Jeremy Hill's nameplate was sitting a bit low.
• Lots of players wear necklaces under their pads, but it's rare to actually see one of them. That's Browns running back Duke Johnson.
• Just like in the preseason, some players wore waistband towels with gold NFL logos and others had a conventional logo. Surprising that this hasn't been standardized.
• In Oakland, the 50 yard line markers were white, not gold.
• Speaking of yard line markers, a "3" at FedEx Field was upside-down.
• And one last yard marker item: The Jags are now using their jersey number font on the field.
(Big thanks to all contributors, including Douglas Ford, @NYYDJ2, Clint Richardson, Alex Sinclair, Tyler Smith, @_ynnhoJ, and of course Phil.)
• • • • •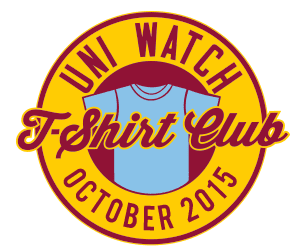 T-Shirt Club LAST CALL: Today is the last day to order the the Uni Watch T-Shirt Club's latest design, which is available for purchase here. In case you missed it last week, it's the powder blue shirt (click to enlarge):
An important note: If you go to the ordering page, you'll see that we're offering three different T-shirt brands, each of which has its own shade of powder blue. American Apparel is the lightest shade and Teespring Premium is the darkest, with Gildan in between. Here's a photo of the AmApp and Teespring fabrics (click to enlarge):
So compare the color shades, and also use the sizing chart for each brand, to choose the shirt that's best for you.
And as long as we're talking about the T-Shirt Club, check this out:
.@UniWatch 9 months pic.twitter.com/WSIaVvuSn8

— Michelson (@hmich176) September 11, 2015
• • • • •
The Ticker
By Paul

Baseball News: Reader Tim Dunn points out that the Mariners' Los Marineros jerseys, which were worn on Saturday, used last season's lettering style (compare to this season's). "¦ Here's a quiz on MLB teams' historical logos (from Anthony Nuccio).

NFL/CFL News: The Winnipeg Blue Bombers broke out royal blue and gold throwbacks for the Labour Day rematch game, the Banjo Bowl, against
Saskatchewan (from Wade Heidt). "¦ Interesting sight yesterday outside a brownstone fairly close to where I live: a female mannequin wearing a skirt and a Bills jersey (from my pal Carrie Klein). "¦ The Bengals normally post their jersey schedule on their website each season, but they didn't do it this year until a day or two ago — here it is (from Dave Fiora). "¦ Dell Michaels was flipping through some old comic books and found great old NFL-theme ads for gumball helmets and Converse.

College Football News: Ooooh, check out the scoreboard at the U. of Idaho's Neale Stadium at its first game in 1936 (from Will Scheibler). "¦ Also from Will: a pretty cool architectural rendering of an early scoreboard. "¦ Nebraska players had inconsistent number typography in the 1996 Fiesta Bowl. "¦ "Southeastern Louisiana debuted new green jerseys Saturday night in their victory over Florida Tech," says Chris Mycoskie. "The old jerseys had white numbers with yellow-gold trim and 'Southeastern' above them, while the new jerseys have 'gold gold' numbers with no trim and 'Lions' above them, plus the addition of a Louisiana outline and the removal of the TV numbers."

Soccer News: I'll be honest: When this item came in late last night, I was too tired to follow or comprehend all the details, but it has to do with some sort of fuck-up by Adidas and Ipswich Town (from Geoff Holm).

Grab Bag: Looks like the AHL's Iowa Wild may have a new jersey in the works. … Very entertaining piece by a journalist who wore one of Donald Trump's "Make America Great Again" caps for a week solid. Recommended, no matter what you think of Trump (big thanks to Eric Trager). "¦ Want to be dressed and outfitted like Roger Federer or Novak Djokvic? Here's what it'll cost you (thanks, Brinke). "¦ Love the emerald gloves that Floyd Mayweather Jr. wore for Saturday night's fight against Andre Berto. "¦ Happy Rosh Hashanah to all who are observing.
•  •  •  •  •

What Paul did last night over the weekend: Way out in a far corner of Brooklyn is this little cove called Dead Horse Bay (the name stems from all the horse carcasses that were dumped into the water after being used to product glue and fertilizer at nearby rendering plants), although many people refer to it by its nickname, Bottle Beach (which refers to all the old bottles that appear on the shoreline at low tide, remnants from a time when the water was used as a dump site for municipal garbage). I've been meaning to check it out for more than 20 years — seriously! — and on Saturday, with a sidekick in tow, I finally got around to doing it.
Sure enough, there were oodles of bottles, along with some old China, ceramics, and so on. Apparently all the other trash biodegraded, but the glass and ceramics remain. And scattered amidst all the bottles were some random horse bones. These two forms of detritus — bottles and bones — made for a slightly surreal afternoon, especially given the spooky cloud cover (first photo by Mary Bakija, the rest by me; for all of these, you can click to enlarge):
Afterward, we repaired to the venerable Brennan and Carr, which has been serving roast beef sandwiches and pitchers of beer since 1938. I didn't take any pics, but you can get the idea here.
The following day (i.e., yesterday), I biked over to Green-Wood Cemetery to check out a presentation about pencils. (The connection is that onetime pencil magnate Eberhard Faber is buried at Green-Wood.) It was a very cool geek-fest, including some excellent pencil-centric displays (sorry about the photo quality; click to enlarge):
As a nice bonus, the woman giving the presentation had a tattoo of a pencil on one arm and wore a charm bracelet with a pencil charm on the other:
After that I biked over to Union Hall to make my debut on longtime Uni Watch reader/pal Marty Buccafusco's bocce team. Unfortunately, the team we were supposed to play never showed up, so we won by forfeit (that's no fun) and just played an intra-squad scrimmage. I'd only played bocce a handful of times before, but it has lots of similarities to curling (at least in terms of the strategy and the drinking), so I did fine. No photos — maybe next time.
All in all, a swell weekend — certainly better than sitting on my ass watching football. There'll be time for that when the weather gets colder.