Click to enlarge
By Phil Hecken
Mono-Orange is the new BFBS. Or something.
Welcome to the first Sunday Morning Uni Watch of the 2015 NCAA football season! Yesterday we got a taste of what's to come this year with a look-back at week one of the season, and today we take a look back (via Terry Duroncelet's SMUW) at this week's action, get a feel for the "best 5 and worst 1" of the week's uni-matchups (in Joe Ringham's 5 & 1), and a tracking of the ACC, SEC and PAC-12 (from Rex & Dennis).
There was a LOT going on, uni-wise yesterday, so let's get right to it with TJ's…
. . .
Sunday Morning Uni Watch
By Terry Duroncelet
Second verse, same as the first.
From Thursday:
• Louisiana Tech wore flag decals in recognition of the September 11th attacks. I personally don't approve of using such a loud gesture for a day of remembrance (a black ribbon and a moment of silence would be far more efficient), but if you have to delve into flag desecration, it helps that your colors complement the flag.
From Friday:
• (Kinda) color-vs-color matchup between Utah (who wore "Never Forget" decals on the back of their helmets) and Utah State, who tweaked their jersey tops to reflect contrast sleeve caps, as well as moving to Nike's new Mach Speed template. Also, Utah apparently wore a "Dirty Bird" inspired uniform combination that same day (black helmets, red jerseys, and white pants).
From Saturday:
• So apparently, Illinois didn't wear their old blue tops from last year's redesign at all in 2014, and they've already tweaked them to reflect an orange outline compared to last year's navy "outline" (because the outline is the same color as the jersey). And yes, they actually wore them for once as of yesterday. Nice!
• Iowa wore '9' decals on one side of their helmets in memory of Tyler Sash (who's recent professional venture was with the Giants), who died on Sep. 8th at the age of 27. He played his college ball at Iowa.
• Durong the Florida St./USF game, a play card surfaced that featured a Heat-clad LeBron James. I thought it was bad to hold on to the past??
• SMU also wore flag decals in their game against North Texas. See: Louisiana Tech.
• Northwestern, Purdue, and probably a myriad of others that I'm most likely missing wore flag decals in recognition of 9/11.
• TCU wore… uhh… yeah. Well, at least they look the part.
• Virginia Tech wore these helmets with a mono-white combo on Saturday.
• Tennessee is definitely proud of their UTSI program (from WK).
• R.I.P. in peace Cavaliers fans.
• Well, at least nobody can accuse Syracuse of not having any team spirit (I think it's in everyone's best interest if I don't use a large image here). This is the first time since 2007 that they've worn all-orange.
• Florida also took the field on Saturday in full-orange for the first time since 1989. Looking at the game, it reminded me of something out of the 1990s.
• Louisiana-Monroe. That's all.
• Though the following image may not be from yesterday's game (it's from last week's game against Southern Miss.), something that I noticed when watching the LSU/Miss. St. game was that Adidas's newest uniform actually gives the sleeve stripes some structure. Like, they actually have some decent length to them, not those little nubs from before. I guess in between the shiny screenprinted numbers, Trademark Treadmarks that are only appropriate if your team calls themselves the Leopards, slit-heavy graphics, billboard of a logo on the pants, and uniforms that are virtually two sizes too small deliberately, Adidas actually can do something right on occasion.
• Ohio State's black T.V. numbers looked alright, but shoutout to Hawai'i, who wore some really rad throwbacks against the Buckeyes.
• ♫It don't matter if you're black or white♫… unless black isn't one of your school colors. Damn it, Boise State.
And just like that, Week 2 is in the books. It's good to be back. Tune in next Sunday for Week 3!
. . .
Thanks, TJ! OK, now on to the rest of yesterday's uni stuff.
NCAA Uni Tracking
Back again today with our new feature: NCAA Uniform Tracking.
As I mentioned yesterday, we have trackers for the SEC, ACC and PAC-12 conferences, and I hope to add the B1G and Big XII as well. I was also contacted by another reader who was hoping to go beyond the Power 5 conferences, so we'll see how that plays out. For today, however, it's Rex Henry (ACC & SEC) and Dennis Bolt (PAC-12) back again with the tracking of those conferences. You can click on the images to enlarge and (where appropriate) click the link for additional information/resources.
Rex is up first today:
. . .
ACC

More Here
.
. . .
SEC

. . .
And now, here's Dennis with the PAC-12:
PAC-12

More here
.
. . .
And that's all for today — depending on how things shake out this week, there will be at the very least these three trackers next weekend, and possibly a whole lot more! Thanks Rex & Dennis!
Joe Ringham's 5 & 1
It's a NEW NCAA Football Season, and this year we have a NEW 5 & 1 decider — Joe Ringham — who has some big shoes to fill (for Catherine Ryan, who did the 5 & 1 for the past three years, and Jim Vilk before that) but I'm sure he'll do just fine.
Here's Joe:
. . .
Good Sunday everyone! Hope everyone enjoyed their football Saturday yesterday! A huge thanks to Phil for the words of welcome yesterday. I know I have huge shoes to fill, but I think we got off to a great start yesterday.
Now, on to the list for Week 2…
5) San Jose State at Air Force — Really liked Air Force's 1985 throwbacks, which really don't look too dissimilar to their actual home jerseys. Throw in the Spartans blue/white/gold look, and you had yourself a sharp looking game over in Colorado Springs.
4) Oklahoma at Tennessee — Another week where we have two damn-near iconic uniforms going head to head. Not much else to say about it.
3) Presbyterian at Charlotte — Going off the radar here, but I found this game while channel surfing and absolutely LOVED it. The white/green/white of the 49ers matches up damn near flawlessly with the white/white/blue of the Blue Hose, which also happens to be one of my favorite nicknames in all of D-I.
2) Oregon at Michigan State — Primetime was the perfect time for Sparty to break out the new alts. Loved how they matched them up with black socks and shoes. Pair that against the Ducks sparkly white/white/gray get-up and you have yourselves a beauty of a game under the lights in East Lansing.
1) Minnesota at Colorado State — Absolutely loved the Gophers going gold/white/gold for their trip to Fort Collins. It matched up so well, and so brightly in the Colorado sunshine, with the Rams green/green/gold home look.
Special mentions going out to our "Salute to Road Construction" Games of the Week (aka games featuring someone wearing mono-orange): Wake Forest at Syracuse, UTEP at Texas Tech, Kansas State at UT-San Antonio, and East Carolina at Florida. Kudos to you guys!
And, finally…
+1) Monmouth at Central Michigan — Would it be wrong for me to say that I was waiting for CMU to bring this out, just so I could put them here?? Not the most flattering look out there.
See you all next week!
__________
Thanks, Joe! And welcome aboard. Looking forward to your 5 & 1's for the rest of the season — readers, please welcome Joe to the SMUW family.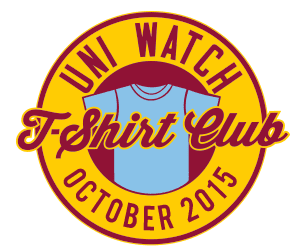 T-Shirt Club reminder: In case you missed Paul's earlier notices on this, the Uni Watch T-Shirt Club's latest design is available for purchase from now through Monday. It's the powder blue design (click to enlarge):
An important note: If you go to the ordering page, you'll see that three different T-shirt brands are available, each with its own shade of powder blue. American Apparel is the lightest shade and Teespring Premium is the darkest, with Gildan in between. So compare the color shades, and also use the sizing chart for each brand, to choose the shirt that's best for you.
.@UniWatch 9 months pic.twitter.com/WSIaVvuSn8

— Michelson (@hmich176) September 11, 2015
Uni Watch News Ticker:

Baseball News: The Blue Jays, as reported in yesterday's ticker, wore both American and Canadian flag patches, and it looks as if they just peeled them off for last night's game against the Yankees (screen grab by Ben Dougson). … Speaking of American flag patches, last night Wade Davis of the Royals was still sporting his — he must really love 'murica (via Jared Hinton). … Couple cool items from Will Scheibler: (1) Interesting stadium poster at the Smithsonian site; (2) From same place – 1968 mlb lunchbox with game to be used on back, and this site with additional photos. Also, Salt Lake City Tribune with scoreboard "Old Ironsides" and another view. … The Seattle Mariners announced their Latin heritage night with last year's jersey style — note the silver outlining on the outside of the wordmark (great spot by Wes Walton).

NFL News: "Maybe you are aware of this but I just noticed this's tonight," writes Rick DiRubbo. "While watching a show on Don Shula, I realized some players had stripes on their sleeves while other players had no stripes. See Bob Griese had no stripes, but number 62 wore them. Same with number 81 and 42 in the second picture. I then did a search and found a picture of Larry Csonka in Super Bowl 7. He didn't have stripes on his sleeves but his blocking lineman did. Thanks, Rick — yes, we've covered this before (good article on inconsistent jersey typography here, which also talks about the 1972 Dolphins). According to one of the comments there, "The only year the Dolphins wore 2 styles of jerseys was 1972. 1971 was stripeless, and 1973 was with stripes. In 1972 they introduced a new striped jersey, but many players chose to wear their 1971 shirts," and "A quick uni-history of the Dolphins (60s and 70s): 1966-1969: Wilson uniforms, stripes on sleeves; 1970-1971: Wilson uniforms, no stripes on sleeves; 1972: A "mish-mash" of Wilson with stripes (Vern den Herder); Wilson without stripes (Bob Griese); Sand Knit with stripes (Nick Buoniconti). And that's just the white uniforms, which they wore, home and away. The aqua uniforms, which they rarely wore, were all Wilson without stripes; 1973: Russell uniforms, stripes on sleeves (thru 1986)." … Jeff Wilk was at an Old Navy store yesterday. "They carry some NFL t-shirts and all have the tagless print with the new logo. However, the NFL branded shirt has the old logo on the front." He adds, "I thought it was because all the shirts were retro, but if you look at the collection, it is nothing but the current team logos."

College/other Football News: Nike just unveiled a new film, "Shout," celebrating the longstanding relationship between the University of Oregon, its fans and the seminal 1978 film "Animal House," in which Otis Day and the Knights originally performed the song "Shout," (thanks to Heter Myers). … Since the Charlotte 49ers football program started in 2013, here's the program's record corresponding to the uniform worn (nice find by Josh Edney). … This is rather disconcerting (and a good spot by Susan Freeman) — Aggie Football has a sponsored tweet — how do I get in on that action??? … "I've mentioned previously about the #FreeUAB movement about the reinstatement of the football team at UAB," writes Dustin Semore. "Many schools are sending along their support — and many people were surprised to see a coach/assistant on the Jacksonville State sideline in their overtime loss to Auburn sporting the #FreeUAB shirt." … Here's another September 11 pandering uniform, this time from Saint Augusts prep in New Jersey (h/t Lionuscp).

Basketball News: Here's a fairly in-depth (and pretty good) article entitled "Panic over Patience: A Logo Story," which details the the rush job of a logo the Clippers undertook this past year or so. Funny line: "Purportedly, in late 2014, Gillian Zucker addressed the Clippers in-house design team and stated that she wanted a rebrand." Which is exactly what Paul would not call a rebrand. Thanks to Noah Patterson.

Hockey News: As we reported a while back, adidas is getting ready to take over the rights to outfit Nationwide Hockey League. Here's more on that. … Here's a shot of Sidney Crosby wearing all CCM gear instead of RBK. Says tweeter Dave Dunn, "Same company, but big for CCM brand." I'm pretty sure all RBK-sponsored athletes will now be branded by CCM though. … The San Jose Sharks have officially revealed their Heritage Jersey, which they will wear three times (thanks, Brinke). … "The Canucks, Flames, Jets and Oilers are playing a tournament of their young talent," writes Craig Snyder. "The Flames-Jets game was colour on colour."

Grab Bag: "Gallery here for the arrival of teams to the Rugby World Cup," writes Caleb Borchers. "Coolest thing is each team has their own bus wrapped with team colors and logo." … Here's a look at the evolution of Stormtrooper helmets (No — not the football kind, the Star Wars kind — with thanks to Bob Kile). … Reader Roch Smith saw "this uni-watch coloured sweater in a shop in Toronto (yesterday) morning and had to send it along — pretty nice. The patch was amazing." He adds, "I would have picked it up for you but Jim Bullis was an xxl sized curler." … JMU is doing a tribute to Alison Parker on their 83 car (h/t Andrew Rader).
And that's all for today — thanks (again) to Terry, Joe, Rex, Dennis and anyone who submitted for the ticker. The NFL (technically) kicks off today with the first full slate of games for 2015…and I know you are ready for some football in the league where they play for pay. Everyone have a great Sunday, a better week, and I'll be back before you know it.
Follow me on Twitter @PhilHecken.
Peace.
.. … ..
"I'm a traditionalist but I thought UCLA looked great this week. Does that mean I have to turn in my Uni Watch membership card?"
–Vee63