Click to enlarge
By Phil Hecken
Hey everyone — it's good to be back on weekends, and, after a one-week *vacation,* (thanks, Paul), it's time to start up the Sunday Saturday Morning Uni Watch train again — this year SMUW will be bigger and better than ever (my good buddy, Terry Duroncelet is back and we have a new 5 & 1 decider [Joe Ringham]).
There is also a BRAND NEW feature today (definitely a re-brand, versus a re-design), which follows the lede, featuring Dennis Bolt and Rex Henry, that you won't want to miss.
There's a lot to get to today, beginning with TJ Duroncelet's SMUW for last weekend, our new feature, new 5 & 1 Decider Joe, scoreboards, t-shirts and more. Enjoy.
Are you ready for some football?
. . . . .
SundaySaturday Morning Uni Watch
By Terry Duroncelet
Hello there. Another year means another season, which means another season of me jabbering on about how much I love college football, even if the uniforms these days are often hit-or-miss. After months of sweltering humidity and overheated laptops, I'm sure the lot of you are excited for the action this fall has to offer. With this being Week 1, we'll skip the intro's semantics and jump right into it.
From Thursday (Sep. 3rd, 2015):
• Right off the bat, we get not only a well-seized opportunity with both Carolinas going color-vs-color, but we also get a glimpse of the new UNC uniforms. North Carolina reminds me of a caterpillar's evolution process, with these uniforms being the cute wormy state, these things acting as the gross ooze inside the chrysalis (caterpillars actually liquefy their bodies in this state), and then the 2015 team dressed in the Tar Heels equivalent to your average butterfly.
• The Michigan/Utah game looked plenty tasty, especially with Michigan in (basically) their '74 throwbacks. Ironically, the one time that Michigan has looked on-point on the road as well as home also happens to be their last year with Adidas, since they'll be switching (back) to Nike next year. Of course, since they lost to the Utes, people will be quick to say "Oh, it's because of those dumb white pants". Right, because critiquing the gameplay and understanding that defeat is kind of a thing that inevitably happens in any sport would make too much sense.
From Friday (Sep. 4th, 2015):
• If it weren't for things like HD and 4K, I wouldn't be able to see that I was looking at the numbers 70 and 68. GG, Charlotte. Way to go.
• SMU looked pretty good in their game against Baylor (and if they were as deep as the 2014-2015 Golden State Warriors, they might've pulled off the upset), but they seriously need to sort out their number inconsistencies (#63 is among others not pictured that use a different block font than the others on the team).
From Saturday (Sep. 5th, 2015):
• Glad to see Stanford jazz up their look with the addition of the tree decal and (and now a matching collar logo) from their most recent bowl game.
• Also equally glad to see that the script 'Pitt' is now a full-time deal.
• And even Air Force is looking fantastic this season! Huge upgrade in the number font department.
• Louisville on the other hand… oof. I think I converted my dad to our world, because he texted me about how abysmally-small and scrawny the names on the back of Louisville's jerseys were. And the numbers are so narrow, they might as well be Hank Hill's urethra. And don't even get me started on the "realistic" bird that's apparently a member of the Green Lantern Corps in disguise. Having said that, at least it's not gritting its nonexistent teeth.
• UCLA has had some issues in the uniform department since the introduction of Techfit to the team in 2010. Issues that I have voiced more than once. But they seemed to have hit a good stride last year with the reintroduction of the Clarendon numbers. Surely this is a sign of positive things to come, right? Surely the Bruins would never take a monumental step back after fans young and old voiced their approval of the pleasant change to last year's uniforms and relentlessly bastardize the uniform that is not only partly-associated with spirit of college football, but is chock-full of memories of some of the greatest seasons in college football history… right? What. The. Ass. Where do I begin? The new and "improved" Trademark Treadmarks? The extra-shiny numbers that make it difficult to discern if they're screenprint or just really-reflective lightweight stretch twill? Oh, I know: how about those UCLA "swords" on the shoulders? O.K., in a vacuum, they are definitely an upgrade over the previous method, but one look on the field, and you (or at least I) can't help but to think of those replaceable blades you'd use for –ironically– a Husky knife. Please UCLA, for the love of Hanayo Koizumi, Vishnu, or whatever deity you pray to, SWITCH TO NIKE ALREADY. They can facilitate a proper stripe. It's been proven over and over again. And what's the deal with the slits? Are they meant to alleviate stress on the stripes when stretched over the pads? Is that really their solution to the demand for tighter-fitting uniforms? It baffles me that we live in 2015, the year of the self-lacing Nike hi-top and the hoverboard, but stripe ³ can't figure out how to create a proper shoulder stripe. This company couldn't get any more beta if they were being tested by the populous. Meanwhile, Virginia wore some interesting helmets. Not bad.
• I'm not sure how to feel about Temple's new duds.
• Bowling Green and Tennessee have switched to Nike from Adidas. I'm almost torn on the latter, because I like the checkerboard idea, and I like how Nike's uniforms blouse over players much more than Adidas, and is definitely the better fit for them, but it almost feels like I'm not even watching Tennessee. Kind of like how when Matt Greiner (drummer for August Burns Red) switched from Evans to Remo a few years back, I was kind of happy, but it felt weird to me seeing him play anything other than Evans (both are great companies, BTW). But I quickly got over that after a bit of time passed, and I'm assuming that the same will happen with Tennessee's new Nike unis.
• I guess Miami doesn't look horrendous in Adidas. Oh, wait. Who thought those names were a good idea?
• I actually didn't hate how Arizona State looked in Adidas. But a quick word of advice: next time you come up with a uniform named "Desert Ice", you might want to schedule your game in Antarctica.
• Can we get a round of applause for how great San Diego State looked last weekend?
From Monday (Sep. 7th, 2015):
• Ohio State has apparently made their CFB Playoff uniforms the full-time fare. Good, because I like those sleeve stripes. Virginia Tech could've made this a perfect-looking game if they had worn their orange pants (which they didn't), but look at it this way: they can still wear maroon jerseys with orange pants for the first (official) Autumn game of the season. Also, let's hope that J.C. Coleman is never responsible for a delay of game. That would be embarrassing.
And that about wraps it up for this first week. Tune in tomorrow for Week 2!
. . . . .
Thanks, TJ, and welcome back! OK everyone, are you ready for some NCAA Football???
NCAA Uni Tracking
After last weekend's call for a new "Duck Tracker," I was contacted by close to a dozen readers who offered their services. However, based on comments that day as well as a willingness by several of those who contacted me to track "more" than just the Ducks, I'm pleased to introduce a new feature today:
NCAA Uniform Tracking.
Right now, I want to introduce you to two of the trackers: Dennis Bolt, who will be tracking the entire PAC-12 (which includes the Ducks), and Rex Henry, who will be tracking the ACC and the SEC. I've also been in touch with a few readers, and my hope is to include the B1G and Big XII, so that we'll have tracking for each of the "Power 5" conferences each weekend. If this proves doable and popular, we may expand it. For now, though, it's just these three.
What I will do is have each of the trackers do a graphic showing the uniform combinations worn by each of the conferences that week (Thursday-Saturday games), and then include a link (if applicable) to their websites, where you can see expanded writeups and the like.
Today, I'm going to run the three tracking graphics from last weekends games, and tomorrow will be the games played from Thursday through today. Click on any image to enlarge
First up today is Dennis.
. . .
PAC-12

More here
. . .
Next up is Rex with the ACC and SEC.
ACC

More here
. . .
SEC

. . .
And that's all for today — like I said, I hope to expand this in the future to include all Power 5 conferences (and possibly more), but for now (and tomorrow) it's just these three.
Hope you guys like this, and let me know if you'd like it to be expanded. Please welcome Dennis and Rex aboard, and give them some feedback in the comments below!
Classic Ballpark Scoreboards
I'm pleased to continue with a favorite weekend feature here at Uni Watch, "Classic Ballpark Scoreboards," which are created by Gary Chanko. You probably know Gary best for his wonderful colorizations, but he has been a solid contributor for many years, and this is his new project. This segment will appear every Saturday on Uni Watch.
Here's Gary (click on image to enlarge):
. . . . . . . . . .
Classic Ballpark Scoreboards – Series II
by Gary Chanko
Now that football season is officially underway, it's an opportune time to begin a new series of classic football scoreboards. I still have a couple of ballpark venues in the works that will complete over the next several weeks.
So to begin Series II of Classic Football Scoreboards we travel to Upstate South Carolina and the campus of Clemson University.
Clemson Memorial Stadium

Home of: Clemson Tigers (1942 to present). Carolina Panthers (1995)
Opened: September 19, 1942; 32-13 victory over Presbyterian College
If you follow college football, Frank Howard Field at Clemson Memorial Stadium, better known as Death Valley, needs little introduction. Search any of the college football stadium power rankings and you'll always find Memorial Stadium near the top.
The Clemson team entrance scene involving the touching Howard's Rock and Running Down the Hill are among the great traditions events in college football. Watch it happen here.
During the stadium's early years, a large white scoreboard was located in the west end zone. In 1960 the west end zone received additional seating and the stadium main scoreboard moved to the east end zone where it shadows Howard's Rock and provides the gateway for the Clemson team Run Down the Hill.
The Tiger mascot and his tail is a scoreboard heritage since the 1960s. After a Clemson score, the Tiger's eyes flashed and the tail wagged. Today the scoreboard features a state-of-the art video display and the Tiger mascot remains perched at the top.
The scoreboard graphic recreates the Tigers season ending 41-23 defeat of instate rival Gamecocks on November 21, 1978.
A Few Things to Know
• The population of Clemson, South Carolina (about 14,000) can be seated easily in one section of Memorial Stadium.
• In 2007 the stadium crowd of 80,000 plus came close to setting the record for the loudest stadium in college football at 132.8 decibels.
• The Tigers have made the "run down the hill" entrance for every home game since 1942, except for home games in 1970 and 1971 and the first four of 1972. The new coach that succeeded Frank Howard prior to the 1970 season decided that the team would enter the field out directly from the dressing room located in the west end zone.
~ ~ ~ ~ ~ ~ ~ ~ ~ ~
If anyone is interested in purchasing a digital copy of these posters, Gary is working on an online purchase option. In the interim you can contact him directly at Classicscoreboards@gmail.com.
Joe Ringham's 5 & 1
It's a NEW NCAA Football Season, and this year we have a NEW 5 & 1 decider (as you know, the original Mr. 5 & 1, Jim Vilk, retired after a few seasons, although he still provides us with 5 & 1's throughout the year for other sports, and the previous 5 & 1 lady, Catherine Ryan, has finally hung up her pencil after three great seasons).
So we have a new Mr. 5 & 1 now — Mr. Joe Ringham, who has some big shoes to fill, but I'm sure he'll do just fine.
We have a special 5 & 1 for today — covering all of last weekend's games. The regularly scheduled 5 & 1 will appear tomorrow and every Sunday after that through the end of the season (and possibly a for some Bowls as well). So, here's Joe:
. . .
Hello, everybody! Hope everyone enjoyed the extended opening weekend of the college football season. Starting today, and just like the last two years or so when Catherine was in charge of this space, the tip-line email (UW5and1@gmail.com) is back for any games you want me to take a look at. Pictures of the game/games you want me to take a look at are very much suggested.
Surprisingly enough (well, to me at least), there were quite a bit of games that looked rather visually appealing during the opening weekend, despite some of the scores. But, only five made the list on the good side. So, enough chit-chat. Let's get to the games, shall we?
5) Purdue vs Marshall — The Herd pull off the green tops/pants look oh so well, and it showed on Sunday. Combine that with Purdue's gold/white/gold look and you had yourself a very nice looking opener.
4) Texas vs Notre Dame — Two of the most iconic uniforms in all of college football, in my opinion. Slight deduction for the Irish going with gold shoes, but it didn't make the game look any less appealing.
3) UNLV vs Northern Illinois — Really liked the Rebels' red/white/red look, and they get bonus points for the silver numbers and the stars on the sides of the pants (similar to the yard numbers on their home field). Absolutely LOVED the NIU 1965 throwbacks, especially the striped socks most of the team wore.
2) BYU vs Nebraska — Much like #4 on the list, two of the most iconic looks in all of college football. Great contrasting between the white/blue of BYU and the red/white of the Huskers. Not to mention the ridiculous ending too.
1) North Carolina vs South Carolina — Color vs color, to open a season, in prime-time, on a Thursday night = a no-doubt #1. Great contrast between the garnet and the Carolina blue. An absolute beauty of a game to look at.
And finally…
+1) Bethune Cookman vs Miami (FL) — Please, Miami, never go mono-orange ever again. That is just a hot mess of awfulness. The font on the used on the names just adds to the mess.
Alright, let's do this again tomorrow.
__________
Thanks, Joe! And welcome aboard. Looking forward to your 5 & 1's for the rest of the season — readers, please welcome Joe to the SMUW family.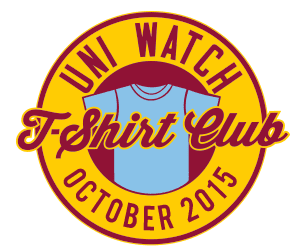 T-Shirt Club reminder: In case you missed Paul's earlier notices on this, the Uni Watch T-Shirt Club's latest design is available for purchase from now through Monday. It's the powder blue design (click to enlarge):
An important note: If you go to the ordering page, you'll see that three different T-shirt brands are available, each with its own shade of powder blue. American Apparel is the lightest shade and Teespring Premium is the darkest, with Gildan in between. So compare the color shades, and also use the sizing chart for each brand, to choose the shirt that's best for you.
.@UniWatch 9 months pic.twitter.com/WSIaVvuSn8

— Michelson (@hmich176) September 11, 2015
Uni Watch News Ticker:

Baseball News: Check out these baseball cards — says Mike Chamernik, "I think we've seen some of these before, but not all in one place: Someone has taken old school baseball card designs and updated them with current teams and players." … Mike Trout's new cleats have (wait for it) a trout on them. … "Find it odd that my Apple desktop ESPN scoreboard still calls them the 'Devil Rays' and also leaves out the 'Marlins'," writes Matthew Wilemski. "They are the only team just listed by the city." … In recognition of 9/11, the Toronto Blue Jays wore caps with both Canadian and American flags on opposing sides (grab by Patrick Lahaie). Interestingly, David Price, famous for going squatchee-less, started off the game with one, but it was gone by the second inning. … The USA-based teams all wore American flag patches on their caps.

NFL News: Per Dirt McGirt: "NFL using Nike jersey template for their 'Have a day' pics. Used color, name and # last year." … The Detroit Lions will be honoring Charlie Sanders with this helmet decal this season (from Justin Barsotta). … Here's our first look at the Falcons' 50th-season patch (not worn during the preseason, being added for Week 1), with thanks to Jamie Cartledge. … The guys at DICK'S Sporting Goods Jersey Report found that fans in 28 states have a new top-selling jersey since the end of last season. You can see the GIF at dicks.com/jerseyreport for the reflected changes. … Check out this ESPN Monday Night Football graphic. Jamie Cartledge asks, "How did they make the Falcon look THAT bad?!" … Here's an NY Daily News article providing the identity and location for bars in NYC in which fans of every NFL team can watch their favorites with other like-minded people. Says submitter Patrick O'Neill, "Only in New York." … Here's a great article from Gothamist entitled, "Look At This Insane Crap You Can Now Eat At Jets Games," (thanks to Mary Bakija).

College/HS Football News: Arlington Martin did the stars & stripes thing yesterday (h/t Jason Bentley). More pandering here (from Braden Dwyer) and here (h/t Spencer Holbrook) and here (The Helmet Guy) and here (Jeff Voris) and here (Matt Coss) and here (Mark Lindsay) and here (Chris Zadorozny) and here (Chris Howell). … ULM has introduced "Military Day" uniforms and the results are interesting. Michael Cossey explains, the uniforms "were inspired by the Curtiss P-40 Warhawk — one of the most popular fighter plans of World War II and the inspiration behind ULM's nickname. (The mascot rides a miniature version of the plane through the tailgating area & onto the field.)" Here is a link to the reveal video. … Here's USF's combo for FSU. … According to Andrew Cosentino, Virginia Tech fixed some jerseys for this weekend's game. … From Doug Samuels, "Popular new helmet trend: D-III program gets new lid, integrates Viking sword into the stripe," which you can read more about here. … Here's Mizzou's uni combo for today (h/t Christian Condray). Their opponents, Arkansas State, will wear this (from Tice Singleton). … Here's some Tiger paw shaped biscuits at the Chick-fil-a of Clemson (via James Gilbert). … Illinois will sport this combo today (h/t Illinois Football) — they're breaking out the new blue jerseys too. … Here's a pretty good look at the 1941 Texas Tech football jersey (great find by Jared Wheeler). … Northwestern has released their "Heroes Day" uniforms. … The McNeese Cowboys will be wearing special white camouflage jerseys for today's opener. … Utah wore "Dirty Bird" themed unis inspired by the Falcons and alum Jamal Anderson (h/t Josh Sánchez). … Here's New Mexico's full combo (including pandering decals for tonight's game against Tulsa (h/t Rob Montoya). … Here's South Meck HS in Charlotte's Patriotism Bowl unis, and those of their opponents, Myers Park (thanks to Jack Loonam for both shots). … Taylorsville HS in Utah has a "Polynesian influence" on their uniforms (according to submitter Dom Lewis). … North Greenville University has new gray uniforms (h/t Andrew Tranum). … Looks like Florida Atlantic had new unis and helmets last evening. I'd say those are "throwback" helmets, but FAU didn't begin play until 2001 and I don't think they've ever worn that style before. Anyone know more? Here's a closeup of the helmet (h/t TJL Sports). … Utah State had new Aggie Blue shoulders on their Pewter unis at Utah last night (thanks to Ben Froehle). Their opponents were supposed to wear black helmets with this 9/11 or 9.11 (but 9-11) tribute (first pic courtesy of RN's Funhouse), but it looks like they went with player numbers instead of the "9.11" sticker (that pic from RN as well). … Susan Freeman feels "for the record, those TSU uniforms are a hot mess. Traditional pants, modern tops." … Boise State will be wearing all-black unis today vs. BYU in Provo (BYU going all white). … "Adidas really missed the mark with (these new Miami uniforms) by using the font from the teams word mark for the names on the back of the jerseys," says Preston Feiler. "Certain letters don't translate well which makes certain players names impossible to read. Especially with letters like k, a and y. Even worse the R and L look like J's that were either reversed or flipped upside down." … Waxahachie's (TX) new head coach is former NFL quarterback Jon Kitna. Submitter Scott Hansen notes, "Pretty sure I have never seen a design like this before."

NBA/Basketball News: According to this article on Fansided, Your favorite NBA logo is locked away in the NBA Logo Vault. Not only that, "The NBA has a key to the greatest treasure trove of marks, logos, jerseys and merchandise that you can imagine. And they will not let their teams open it without their permission." … This short Jo Jo White film notes many spots of both teams not having a NOB of jersey (nice find by Phil Lawson). … The Philadelphia 76ers are redesigning their court for the 2015-16 season. Here's a part that's new (h/t Dirt McGirt). … Virginia Tech will wear this helmet today vs. Furman (via TJL Sports).

Hockey News: Here's a first look at Blackhawks' netminder Scott Darling's new mask (thanks to Michael Bochum). … Here's a neat Mental Floss article on the origins of all 30 NHL team names (great find by J. Walker).

Grab Bag: I think we had this earlier, but here's an expanded bit: Submitter Harvey Lee notes from Inverse.com "Earlier this week, NASA quietly released a PDF version of its 1976 style guide, created in 1974 by designers Richard Danne and Bruce Blackburn. This is the guide that birthed the curvy red worm logo, which replaced the once and future NASA meatball for 17 years." Here's the link. … Tweeter Michael Bochum writes, "My friend started a football t-shirt company. The description is great." … A submitter who requests anonymity sent in the following: Last weekend Georgetown football player Ty Williams broke his neck and was possibly paralyzed in his team's season opener. This weekend, NASCAR driver Brendan Gaughan, himself a former Georgetown football and basketball player, will have a special message of support for Ty painted on his car.
And THAT, dear readers, is a WRAP for today. Whew!
Big (HUGE) thanks to TJ, Joe, Gary, Rex, Dennis, and everyone who tweeted or e-mailed for the ticker. Hope you enjoyed today's post. It's good to be back on the weekends — and it should be a GREAT fall season. I'll be back tomorrow with TJ, Joe, Rex & Dennis and much more, as we get you caught up on all the NCAA football and more. Till then…
Follow me on Twitter @PhilHecken.
Peace.
.. … ..
"When a certain industry happens to glorify the military over and over and over and over again, to the near-exclusion of all other sectors of society, some of us think that's unhealthy, both for the industry in question and for our larger society "" not because we're 'anti-military,' but because we think a well-rounded society needs balance, and that it's always dangerous to conflate militarism with patriotism (among other reasons)."
— Paul Lukas