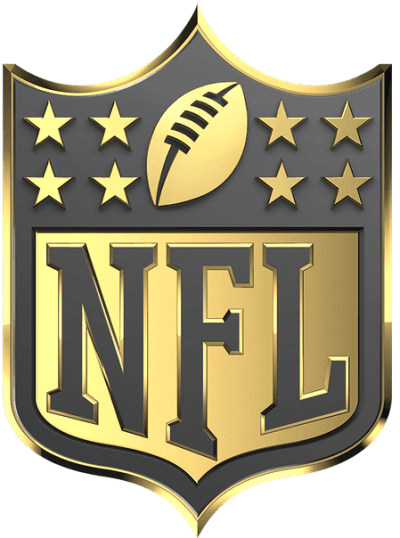 The NFL season kicked off last night, as the Steelers and Patriots faced off in Foxboro. I missed the first quarter or so because I was attending the reception for the Todd Radom-curated sports design show in Manhattan (great time, big thanks to everyone who said hello, bigger thanks to all the people I was introduced to who had nice things to say about Uni Watch), and then I toggled between the NFL game and the Mets once I got home.
Here are some notes from the Pats/Steelers game:
• As had been expected (but not officially announced until shortly before the game), the Pats wore a championship patch (click to enlarge):
This is the third time that the Pats have followed up a Super Bowl win by wearing a championship patch in the following season's opening game. They previously did so in 2004 and 2005. (They did not wear a patch, however, in 2002, following up on their first championship in Super Bowl XXVI.) Only one other team has worn a season-opening championship patch: the 2010 Saints.
• If you look at again at that last photo, you can see that the Pats have a new nose bumper logo. Here's a closer look (click to enlarge):

They had used Flying Elvis last season and in this year's preseason. The folks at 3D Bumpers say the Pats will be changing it up throughout the season.
• Not sure how Pats wideout Julian Edelman ended up with this big red splotch on his helmet, but it was pretty hard to miss:
• One of the Elvis decals on Pats tight end Michael Williams's helmet was peeling off: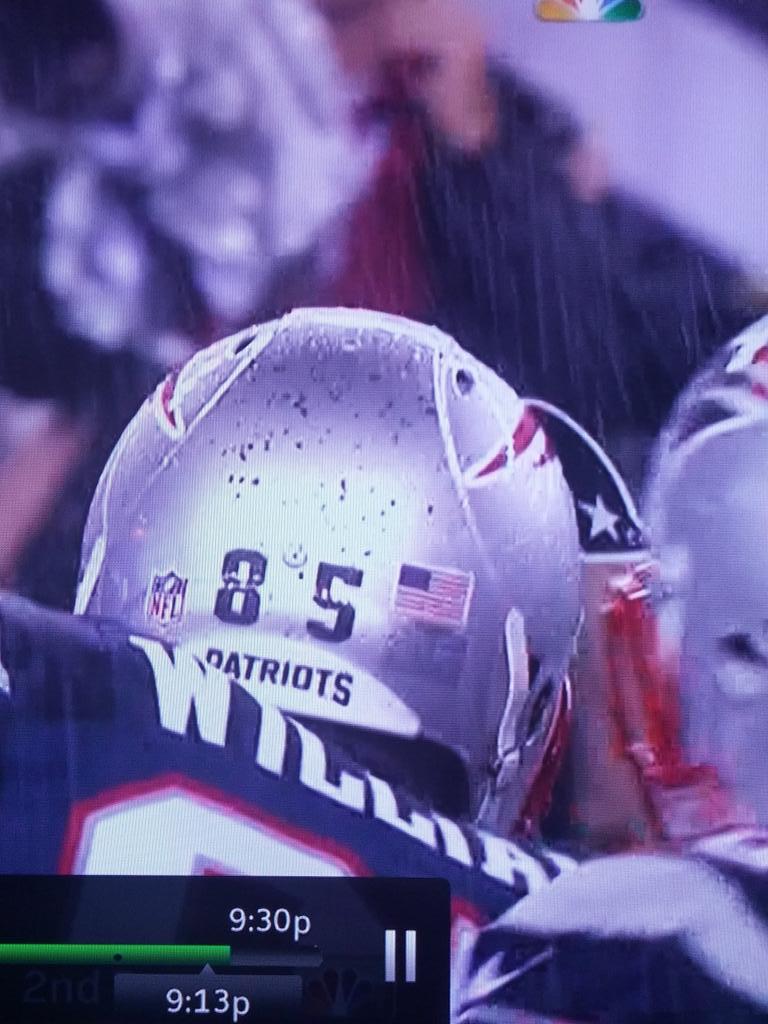 • If Tom Brady's suspension hadn't been overturned, the Pats were going to hang this banner for him: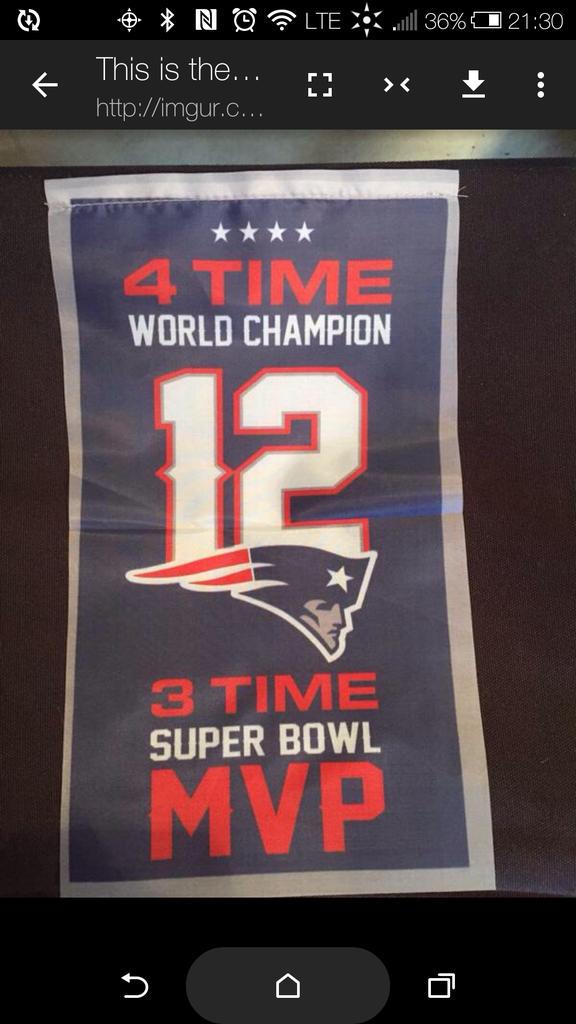 Interesting that the number font matches their wordmark instead of their jersey numbers. A harbinger of things to come, perhaps?
• Remember how running back DeAngelo Williams dyed his hair pink last year when he was with the Panthers, as a tribute to his mother, who died from breast cancer? He's with the Steelers now and has kept the pink dreads, which really clash with Pittsburgh's black/gold color scheme: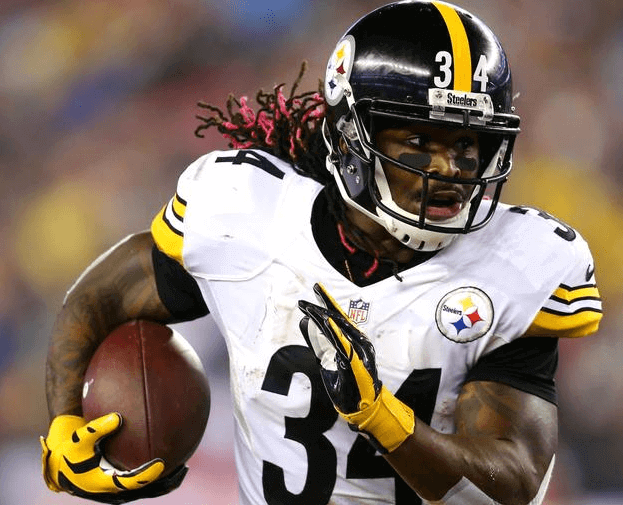 •  Following the game, Pats coach Bill Belichick broke out a new look for his postgrame presser: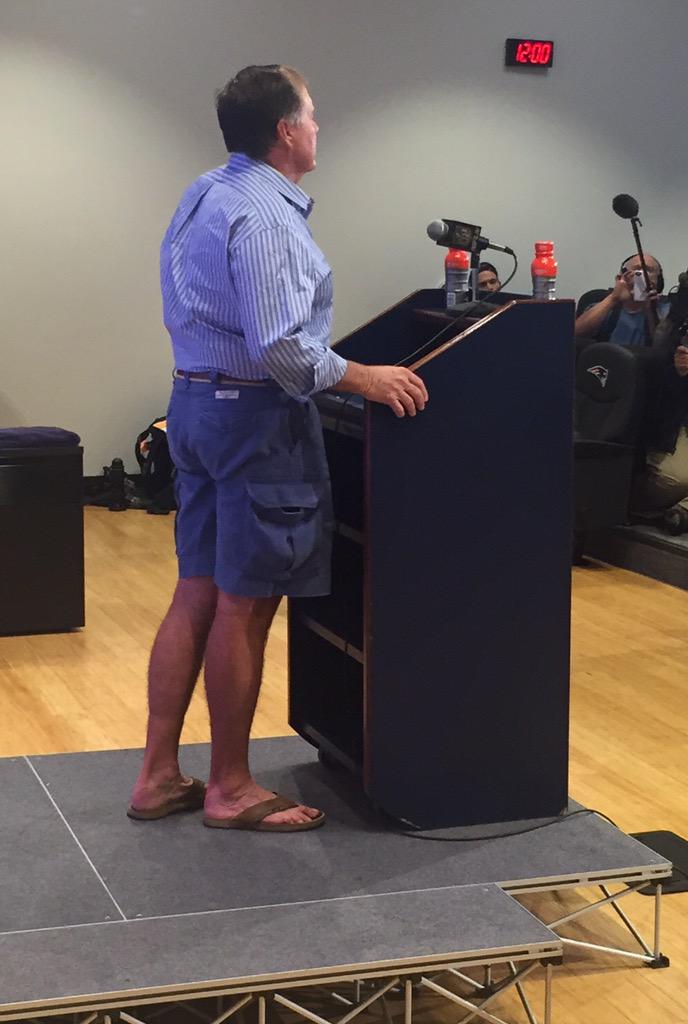 (My thanks to @nwandler, @markheggen, and Phil for their contributions.)
•  •  •  •  •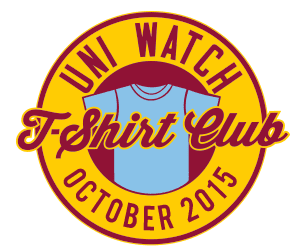 T-Shirt Club reminder: In case you missed it earlier this week, the the Uni Watch T-Shirt Club's latest design is now available for purchase from now through next Monday. As we discussed last week, it's the powder blue design, which looks really good now that we've added the gold outlining (click to enlarge):
An important note: If you go to the ordering page, you'll see that we're offering three different T-shirt brands, each of which has its own shade of powder blue. American Apparel is the lightest shade and Teespring Premium is the darkest, with Gildan in between. Here's a photo of the AmApp and Teespring fabrics (click to enlarge):
So compare the color shades, and also use the sizing chart for each brand, to choose the shirt that's best for you.
• • • • •
The Ticker
By Paul

Baseball News: Today is Sept. 11, which as you know is a national holiday. No, wait, it's a day when something really patriotic happened. No, wait, it's a day when we can exploit and fetishize a tragedy in order to sell stuff — right. So MLB teams will be wearing these caps for tonight's games. "¦ Was Big Papi going without an undershirt the other day? Sure looks like it. "¦ I don't fully understand what's going on here, but maybe one of you can explain it more fully (from @valleyshook). "¦ Looks like the Diamondbacks will be wearing gold BP jerseys for Saturday's game (from Robert Hayes).

NFL News: Whoa, check out the Packers wearing mono-gold in 1930! "¦ For the third consecutive season, the Chargers will wear solid-white for their home opener. "¦ Buried within this page is the news that JetBlue passengers wearing Patriots jerseys on game days will be offered early boarding when flying out of JetBlue's nine New England cities (Boston, Burlington, Hartford, Martha's Vineyard, Nantucket, Portland, Providence, and Worcester). "¦ Yesterday's Ticker included a note about the Browns' coaches having trouble reading the orange numerals on the team's brown jerseys. "That shouldn't be a surprise," says Frank Mercogliano. "According to this article on the team's own website, 'Brown jerseys with orange numbers are worn for the [1984] preseason before being scrapped because the numbers proved to be too difficult for spotters to recognize during the game.' I remember this issue from back then, by the way — I was 14 at the time." Be that as it may, the Browns are nonetheless wearing that jersey for Week 1. "¦ Meanwhile, Cleveland legend Jim Brown appeared last night on Stephen Colbert's show and wore last year's Browns jersey. Draw your own conclusions. "¦ The Cowboys will wear their blue jerseys four times this season — but not on Thanksgiving. "¦ Packers QB Aaron Rodgers has signed a deal with Adidas (from Jerry Nitzh). "¦ You've probably heard about how NFL teams received tax dollars to hold military tributes. Now there's a change.org petition to get them to stop (from Kurt Esposito). "¦ Custom cleats for Bengals WR Mohamed Sanu (from Eric Wright). "¦ Up until now, the fewest points a team could score in a game (well, aside from zero) was two. But thanks to one of this season's rule changes, it's now possible for a team to finish a game with one point!

College and High School Football News: Louisiana Tech couldn't wait until Sept. 11 — they pandered with stars/stripes helmets for last night's game. "¦ SMU is doing likewise tomorrow. "¦ And Utah's version of pandering manages to style "9 11" in two different ways — once with a slash and once with a period. Never forget to be consistent, guys. "¦ Meanwhile, some high school I'd rather not name managed to pack nearly every conceivable bad uniform trope into this embarrassing Sept. 11 costume (from Everett Corder). "¦ Getting back to Louisiana Tech, they had some inconsistent NOB lettering last night (from Ted Chastain). "¦ I often say (usually while being interviewed), "A lot of college football uniforms these days are designed to appeal to 17-year-olds, and 17-year-olds like shiny objects." Now The New York Times Magazine has posted an entire essay on the concept of shiny objects. "¦ Michigan coach Jim Harbaugh touched upon many topics in a radio interview, including merit decals: "I've always felt you should try to get the best grades, win the most awards and excel at sports. It's an award, so try to win the most awards." "¦ The Nicholls State team portrait has the players arranged in uni-numerical order (from Chris Mycoskie). "¦ Pretty cool argyle border on UNC's field (from James Gilbert). "¦ USF is adding an Elkino Watson memorial decal (from Kristofer Strong). "¦ Awesome rainbow throwbacks on tap this weekend for Hawaii. "¦ Good food for thought from Matthew Scoles, who writes: "I watched Monday's Ohio State/Virginia Tech game with a buddy of mine. ESPN showed a close-up of the decal worn by both teams for the two journalists who were killed in Virginia a few weeks ago, and my buddy, who is a very casual sports fan, said he thought it was pretty gross to turn a memorial into a branding opportunity, because the bulk of the decal was the number 7 — the channel for the affiliate where the victims worked. From the field the most (and only) visible aspect of the decal was the 7. Obviously, these decals are a nice gesture but my buddy really made me think about the efficacy of this particular decal, as opposed to the Giants' Frank Gifford decal." I hadn't thought about that, but it does seem a little odd that the 7 is larger than the initials or the ribbons — or, really, that the 7 is there at all. "¦ UNLV's new black uniform will debut tomorrow (from @ryblat13). "¦ Iowa will wear "9" on one side of the helmet this weekend to honor former player Tyler Sash, who passed away this week (from Jack Coyier).

College Hoops News: This will be Adidas's final season as Michigan's basketball uniform supplier, and it would be fair to say that they're going out with a bang. Like, are they wearing grass skirts or what? The worst part is that this is probably some godawful template that lots of other Adidas-outfitted schools will be wearing.

Grab Bag: New alternate hockey uniform for the Providence Bruins (from Tim Medeiros). … New Sheriff's uniforms for Chesterfield County, Virginia. "¦ Abilene Christian has inked a new five-year deal with Nike (from Chris Mycoskie). "¦ Nike might be releasing self-tying Back to the Future sneakers next month (from Kurt Esposito).