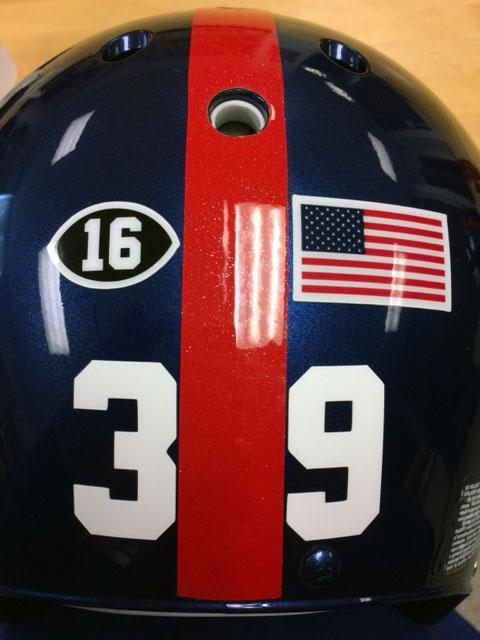 The NFL regular season kicks off on Thursday night, and that means it's time for the annual Uni Watch NFL season preview, which breaks down all the uniform changes for the coming season — including the Giants' Frank Gifford memorial decal, shown above, which was just revealed yesterday. (They'll also have a memorial patch for Ann Mara, but that hasn't been made public yet.) Check it out here. "" Paul
• • • • •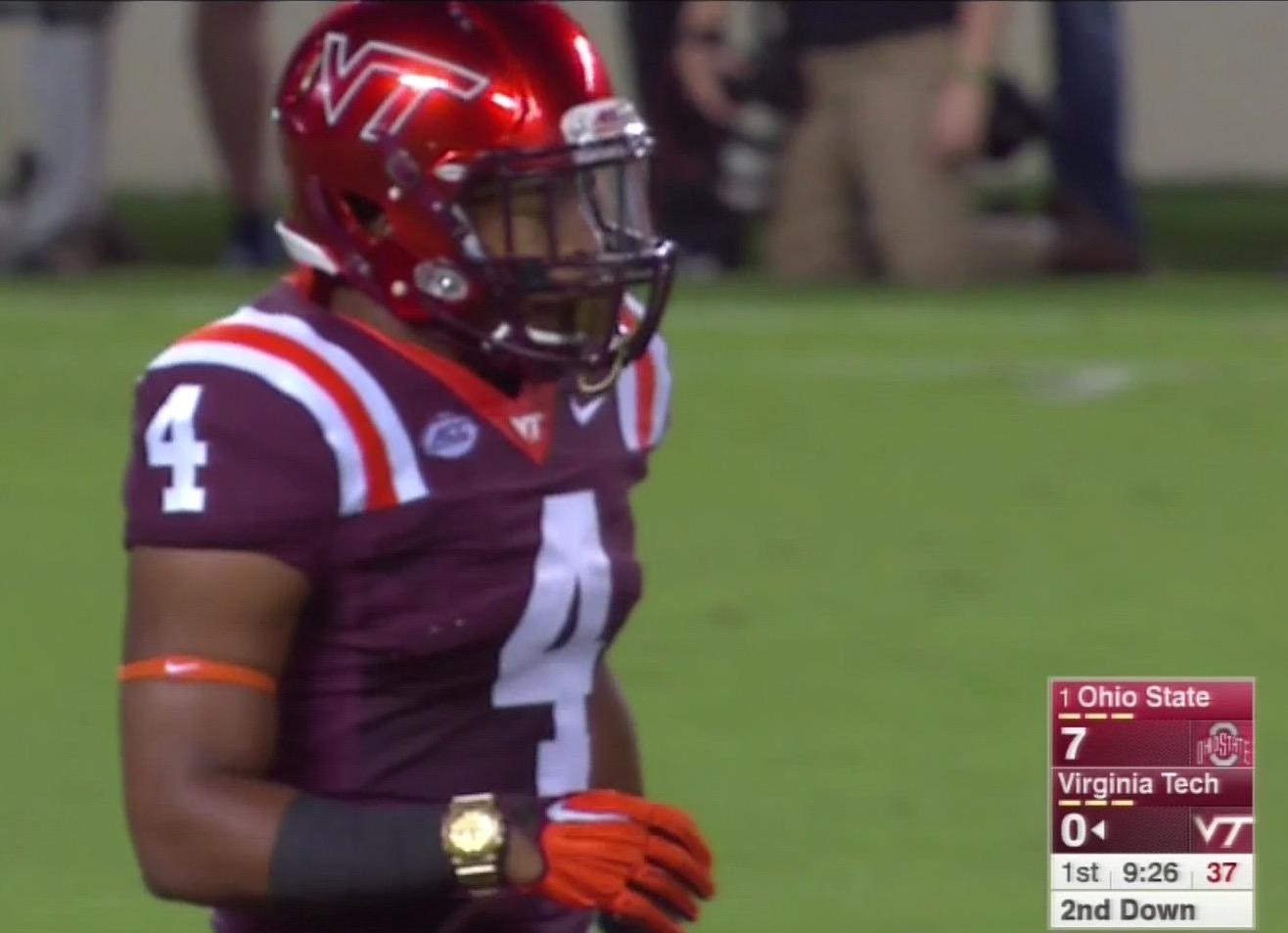 Wristwatch watch: Half the country flipped out last night after seeing Virginia Tech running back J.C. Coleman wearing a gold watch on the field during the Hokies' game against Ohio State. Turns out he's actually been wearing it for a long time — details here.
Coleman isn't the only NCAA player to wear a timepiece on the gridiron, as you can see here:
.@LindysBrews @UniWatch Taylor Young of the Baylor Bears wears (or wore) a watch as well pic.twitter.com/3lcn63nxlg

— Phil Hecken (@PhilHecken) September 8, 2015
@PhilHecken @LindysBrews @UniWatch DeAnthony Thomas 2013 Alamo Bowl pic.twitter.com/Xj1ib8obHy

— Adam (@AdamB8) September 8, 2015
In the NFL, longtime NFL punter Reggie Roby routinely wore a watch on the field for many years, and Washington safety LaRon Landry wore a watch during a 2009 game against the Saints (here's an additional view). And then there's punter/holder Steve Weatherford, who wore a watch and a wedding band (and, as is his wont, biker shorts) during a 2008 game.
That VaTech/OSU game featured a few other uni-notable moments. For starters, OSU wideout James Clark suffered a serious pant malfunction: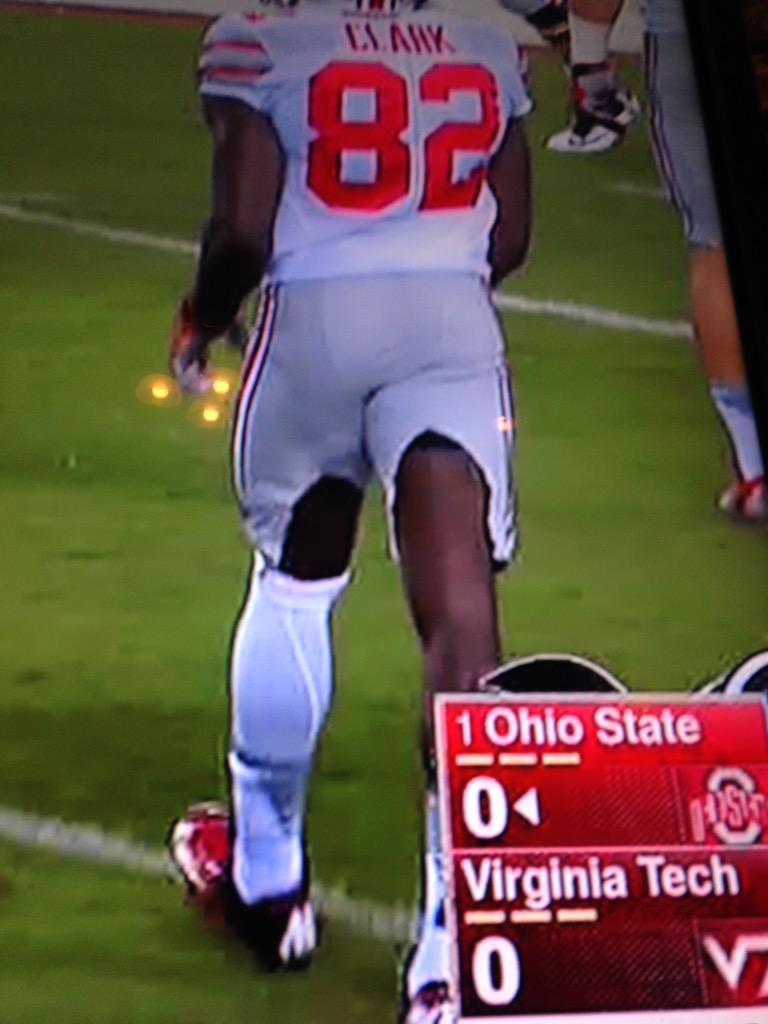 And Clark's teammate Braxton Miller appeared to be violating the NCAA's new crop-top rule:
•  •  •  •  •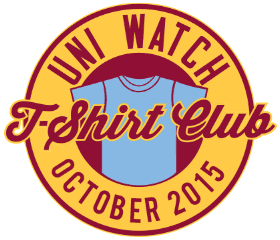 T-Shirt Club launch: The the Uni Watch T-Shirt Club's latest design is now available for purchase. As we discussed last week, it's the powder blue design, which looks really good now that we've added the gold outlining (click to enlarge):
An important note: If you go to the ordering page, you'll see that we're offering three different T-shirt brands, each of which has its own shade of powder blue. American Apparel is the lightest shade and Teespring Premium is the darkest, with Gildan in between. Here's a photo of the AmApp and Teespring fabrics (click to enlarge):
So compare the color shades, and also use the sizing chart for each brand, to choose the shirt that's best for you.
• • • • •
Mark your calendars: As Phil mentioned a few times last month, longtime Uni Watch pal Todd Radom has curated a sports-themed gallery show in Manhattan. The show's "opening" reception is this Thursday, Sept. 10 (even though the show actually opened a few weeks ago), from 6-8pm. Phil and I are both planning to be there, and it would be great if a bunch of you NYC-area readers came out to join us. Hope to see you there.
• • • • •
The Ticker
By Paul

Baseball News: Nats reliever Drew Storen put a payphone cover over the team's bullpen phone (from William Yurasko). "¦ "The Salem Red Sox of the Carolina League have a player named mike Myers," says Gregory Koch. "On Sunday they were playing at the Potomac Nationals and the scoreboard showed a very different Mike Myers." Later in the game they showed this and this. Interesting that the Potomac folks would do this for a visiting player. "¦ The Oakland Coliseum's retired number wall includes a 1968 photo of Catfish Hunter wearing black shoes (good spot by Richard Paloma). "¦ Cubs reliever C.J. Edwards, a September call-up, made his MLB debut yesterday, which is uni-notable because he wears a single-digit number (from Matt Larsen). "¦ Love how the Charlotte Hornets, an old minor league team, had a hornets' nest on their jersey. Here's another view (from Marc Viquez). "¦ Martin Milner, star of TV's Adam-12, died yesterday,which prompted Steven Robinson to send along this photo of Milner wearing an Adam-12 baseball uniform. "It's from a 1972 charity game at Dodger Stadium between the cast of the TV show and real LA cops," he explains. "¦ The Diamondbacks are doing a college cap night this Friday.

NFL/CFL News: The 49ers will wear their new (and awful) black alts for the season-opening game against the Vikings next Monday night. They'll also have black sideline apparel, oh boy (thanks, Brinke). "¦ The Giants have cut P Steve Weatherford, which is uni-notable because Weatherford was a longtime bike shorts stylist. Remains to be seen if he'll hook on with another team. "¦ "The Pro Football Hall of Fame's website has two online exhibits, one of which is a collection of documents from Dutch Sternaman, who co-founded the Decatur Staleys (now the Chicago Bears) with George Halas," says Matt Logan. "The collection includes telegrams, contracts, equipment orders, photos, tickets, and a whole lot more dealing with the Staleys, all from the early 1920s." "¦ Packers TE Richard Rodgers gave his No. 89 to teammate James Jones at no charge (from Chris Flinn). "¦ The Saskatchewan Roughriders broke out green and white throwbacks for Sunday's game against Winnipeg (from Wade Heidt). "¦ Have you noticed that the Browns haven't worn their orange jerseys or pants during the preseason? I'm hearing rumors — absolutely unconfirmed — that the orange uni elements aren't ready yet, just like the Eagles' green jerseys weren't ready last season. If anyone knows more, please get in touch. I'll protect your identity, of course.

College Football News: New uniforms for Pittsburg State. "¦ You can build your own Oklahoma State uniform on this team-builder page. "¦ Here's one observer's ranking of Indiana helmets. … Texas A&M has added a memorial decal for John David Crow (from Nicholas Roznovsky). … Clemson is the latest school to have added a decal for the Charleston massacre victims (from Cole Sadler). "¦ Navy is adding their conference logo to the back of the helmet (from Christopher Poole). … With Utah wearing red jerseys the other day, the team's drum line had red drums. "They will have a new drum wrap for nearly every game, matching the team's theme — BFBS, white, etc.," explains Landon Freter. … Good article on how the South Carolina equipment staff prepares for a game (from Scott Moody. … Arizona has added an "AV" helmet decal for Andrew Valdez, a local teen and Arizona fan who passed away from cystic fibrosis earlier this summer (from Kenny Abbey). "¦ Army players have their surnames on the front of their jerseys. "¦ Here's Akron's new "Roo" helmet. "¦ Here's a good look at Temple's new uniform. .. You can build your own Arizona State uniform on this interactive page. "¦ Louisiana-Monroe wore maroon pants for the season opener. "I believe this is their first time with maroon pants since adopting the Warhawks nickname prior to the 2006 season," says Michael Cossey. "¦ Syracuse's field had a typo the other night (from Rick DiRubbo). "¦ Louisiana-Lafayette had a new helmet for their season opener, and so did Virginia. "¦ Interesting 1974 photo of Oklahoma RB Joe Washington with a Mill-Mont mouthguard in his mouth and a traditional mouthguard dangling from his facemask. Also, note the captain's "C" (from Bill Kellick). "¦ Merit decals on the way for Michigan (thanks, Phil).

Hockey News: Icethetics posted mock-ups the new third jerseys for the Avs and Ducks about a month ago. Now those two designs have been confirmed, via a leak from the NHL's online shop. "¦ New uniforms for the Citadel. "¦ Here's an article from back when the Sharks first unveiled their color scheme and primary logo (from @wafflebored). "¦ Ladies and gents, your San Diego Gulls jerseys. "I'm a little disappointed they used the same template as the Ducks, but the blue almost makes up for it," says Mark Sencich. "¦ Check it out: a goalie wearing No. 0. That's Jack Norris of the WHL's L.A. Blades in 1964 (nice find by Will Scheibler). "¦ Also from Will: "I came across a photo of the 'half-court hockey demonstration' for the Memorial Dedication Ceremony of the Los Angeles Memorial Sports Arena in 1958. That led me to a bunch of additional photos from the ceremony." "¦ "A friend is getting married, and he and his fiancee love hockey," says Geoff Loughton. "Their wedding invitations are designed to look like hockey ticket stubs."

NBA News: New court design for the Raptors D-League affiliate (from Moe Khan). "¦ Here's a good explanation for why the Hawks' new uniforms suck so bad: The players had a hand in designing them (from Douglas Ford).

Grab Bag: New away soccer kit for Ireland (from Charlie Kranz). … The North Carolina city of Fayetteville may change its official city seal because it currently depicts a spot where slaves were bought and sold. "¦ Over 100 students at a girls' school in England were sent home after officials decided their uniform skirts were too short. Meanwhile, students at another UK school were put in isolation because their uniforms were "the wrong shade of black." "¦ There's a debate currently developing over whether F1 cockpits should be closed. Further info here. … U.S. Army enlistees want to wear black socks, instead of white, with the Army's new physical fitness uniform. … "To help launch the Purple Our World pancreatic cancer research and support charity, the Wests Tigers and St. George Dragons wore purple socks during their NRL game this weekend," says Graham Clayton. "¦ Good interactive piece on the childhood tennis courts where some of the world's top players learned to play. "¦ "All drivers in the F1 Gran Prix of Italia wore memorial decals for Justin Wilson, the driver who died from injuries sustained while driving in an Indy Car race a few weeks back," says Matthew Solly. "¦ Google and Lenovo both redesigned their logos recently, and both of them used the same lowercase "e" (thanks, Brinke). "¦ Rugby news from Graham Clayton, who writes: "The Cronulla-Sutherland Sharks wore a yellow and white 'hi-vis' jersey, instead of their usual sky blue, white and black jersey, for their final regular season game of the National Rugby League season against the Manly-Warringah Sea Eagles." "¦ I think we've linked to this before, but once more definitely won't hurt: Check out graphic designer Saul Bass's awesome 1969 pitch film for his then-new Bell Telephone logo (from Paul Lee).