[Editor's Note: Today we have a guest entry by Jory Fleischauer, who's going to fill us in on Sunday's throwback-themed Southern 500 race. "" PL]
By Jory Fleischauer
Darlington Raceway in northwestern South Carolina is NASCAR's Wrigley Field. Built in 1950, it is one of the most difficult ovals in the country — egg-shaped (due to a promise not to disturb a neighboring farmer's minnow pond) and high-banked. It is almost a rite of passage each year for a car to make contact with the outside wall.
Darlington is the site of the Southern 500, NASCAR's oldest 500-mile race, first run during Labor Day weekend in 1950, and has become a premier event during each NASCAR Sprint Cup season. Starting in 2004, the Southern 500 was moved from its traditional Labor Day date to Mother's Day weekend in early May, but this year it returns to its rightful spot on Labor Day weekend. As part of the festivities, officials are making the event retro-themed — a first for NASCAR. The initial plan was to have eight or ten teams running throwback paint schemes, but now it has exploded to more than 30 teams running retro-inspired cars. In addition, TV partner NBC and radio partner MRN are bringing back classic announcers, clothing, and graphics packages, and the track is bringing back classic concessions like fried green tomatoes and pimento cheese sandwiches, with Grand Funk Railroad performing pre-race and Tanya Tucker singing the national anthem.
Here's a driver-by-driver look at the throwback designs (for each of these, you can click to enlarge):
2. Brad Keselowski
Miller has enjoyed decades of success in NASCAR, and this weekend Keselowski will run a scheme based on 1983 Winston Cup champion Bobby Allison. Already this year Keselowski has donned another historic Miller scheme, running the Miller Genuine Draft colors made famous by Rusty Wallace in the early 1990s.
———————————————
3. Austin Dillon
Prior to being a successful car owner, Richard Childress was a well-known owner/driver in the then-Winston Cup series in the 1970s. Dillon's scheme is based on one of Childress's last schemes sponsored by CRC in 1980.
———————————————
4. Kevin Harvick
Harvick's car is inspired not by a historic scheme but rather by his sponsor's historical lineage. Budweiser elected to represent theirfirst can, which was introduced in the 1930s (although some fans have noticed a resemblance to another famous No. 4 car).
———————————————
5. Kasey Kahne
Prior to becoming the behemoth known as Hendrick Motorsports, Rick Hendrick's fledgling team was known as All-Star Racing. Kahne will represent Hendrick's very first paint scheme, run in 1984 by Geoffrey Bodine.
———————————————
6. Trevor Bayne
In 1998 Roush Racing unveiled one of the most visually dynamic paint schemes the sport had seen at that time for longtime driver Mark Martin. The base possessed a fade utilizing Vs , in reference to the sponsor. For Darlington, Bayne resurrects this scheme, replacing the Vs with As to reflect current sponsor Advocare.
———————————————
7. Alex Bowman
Team owner Tommy Baldwin's father, Tom Baldwin, was a well-known and successful modified racer. For Darlington, they decided to honor "Tiger" Tom by running one of his old paint schemes, complete with decals to make the car look like a modified.
———————————————
9. Sam Hornish Jr.
Roush Racing driver Mark Martin dominated the Busch Grand National Series, a tier below the then Winston Cup Series, in the 1990s with sponsor Winn-Dixie. This sponsor returns to the sport after a more then decade-long absence, emulating the scheme that went to Victory Lane a total of 39 times.
———————————————
10. Danica Patrick
Darlington is nicknamed "The Lady in Black", so GoDaddy thought it fitting for Danica's scheme to be primarily black to represent that moniker.
———————————————
11. Denny Hamlin
For the second time in his career, Hamlin will run a scheme honoring three-time Winston Cup champion Cale Yarborough's 1974 car. In 2012, Hamlin ran a scheme representing Cale's 1978 paint scheme.
———————————————
14. Tony Stewart
Stewart's paint scheme represents his sponsor, Bass Pro Shops, whose very first Bass Tracker boat package appeared in 1978. His car is painted in the same style as the original Bass Tracker boats, complete with retro logos.
———————————————
15. Clint Bowyer
NASCAR recently lost one of the greats of the sport in Buddy Baker, but plans were in motion prior to his death for Bowyer to represent Baker's 1974 scheme. In true retro fashion, the team elected to hand paint the entire car for this weekend. You can view a clip of the process here.
———————————————
16. Greg Biffle
Biffle's scheme for this weekend is a combination of history for both the sponsor and the car number. Ortho's first company sales cars used this exact shade of red, while the stylized No. 16 is the same as the one run by former Daytona 500 winner Tiny Lund in 1968.
———————————————
17. Ricky Stenhouse Jr.
Invoking one of the most iconic paint schemes of 105-time winner David Pearson, this scheme has been a fan favorite ever since the announcement that Stenhouse would be using it.
———————————————
21. Trevor Bayne
The Wood Brothers' current paint scheme is a direct homage to their look of years past, so instead they have taken one of their modern schemes and emblazoned it with 60 years' worth of photographs outlining the team's history across the sport, including their first Darlington start in 1961.
———————————————
22. Joey Logano
Logano and Penske Racing bring the 24 Hours of Le Mans to the Southern 500, with their paint scheme highlighting the same colors and general design as the one run by Mario Andretti in 1988.
———————————————
23. Jeb Burton
This scheme honors Jeb's father, Ward, who was the 2001 Southern 500 winner and 2002 Daytona 500 winner.
———————————————
25. Chase Elliott
Chase's father, 1989 Winston Cup champion Bill Elliott, wore this design on his Ford Thunderbird during the peak of his career in the late 1980s.
———————————————
26. JJ Yeley
Yeley invokes a classic car design trait from the 1950s with this retro-inspired ride.
———————————————
27. Paul Menard
Menards has a strong tie to motorsports, dating almost to the company's inception. This scheme was designed in part by Paul and references the design used by the company's marketing department in the early 1970s, as well as the early schemes carried by a variety of race cars.
———————————————
31. Ryan Newman
Caterpillar has chosen to utilize the logos and designs from their heavy machinery equipment of the 1970s on Newman's car.
———————————————
32. Josh Wise
One of the most famous finishes in NASCAR history occurred at Darlington in 2003 and involved this scheme, then run by Ricky Craven.
———————————————
33. Mike Bliss
The Skoal bandit graced NASCAR events for nearly 20 years, with this particular scheme representing the final years of the original bandit, Harry Gant.
———————————————
40. Landon Cassill
For the first race after the attacks on Sept. 11, 2001, virtually every team ran a patriotic paint scheme. This weekend Cassillwill drive a car based off of the Sept. 11 scheme of former driver Sterling Marlin.
———————————————
41. Kurt Busch
Prior to becoming Stewart-Haas Racing, the team was simply known as Haas CNC Racing. This weekend they're representing their first Winston Cup scheme from 2003.
———————————————
42. Kyle Larson
This scheme was first made famous by Tom Cruise in Days of Thunder and then brought to Victory Lane multiple times by Kyle Petty in the early 1990s. The reveal of this scheme has seemingly garnered the largest excitement from the legions of NASCAR fans, and especially from its former driver.
———————————————
43. Aric Almirola
STP and the famous No. 43 return to Darlington, with Almirola running the same design Richard Petty ran during the 1972 season.
———————————————
46. Michael Annett
Pilot/Flying J has chosen to highlight their logos and color scheme from the 1970s.
———————————————
48. Jimmie Johnson
While sponsor Lowe's has been in the sport since 1995, they chose to delve even deeper into their history by utilizing their logo and colors from the original Lowe's store in the 1940s.
———————————————
51. Justin Allgaier
While A.J. Foyt is most often remembered for running the No. 14, it was the No. 51 that he piloted between 1977 and 1984 in his selected Cup series starts.
———————————————
55. David Ragan
Ragan's scheme is probably the most personal of all of those running, as it is a replica of the same scheme his father, Ken Ragan, raced in the Cup series in the late 1980s.
———————————————
88. Dale Earnhardt Jr.
Valvoline has been in the sport long enough to have a plethora of classic schemes. For Darlington, Junior has chosen to honor the schemes run during the early 1980s in the Cup series.
———————————————
Not every driver is getting in the throwback spirit for the race. Retiring NASCAR champion Jeff Gordon elected to run a throwback to his very first paint scheme two weeks ago in Bristol. Even Dale Earnhardt Jr. has poked a bit of fun at those not participating.
Additional details, like Goodyear decaling their tires as if they were from the 1970s and many contingency sponsors utilizing old school logos, should make the event even more interesting. If you have not watched a NASCAR race in years (or if you've never watched one, for that matter), this is a good one to check out. Coverage starts on NBC at 7pm Eastern on Sunday.
•  •  •  •  •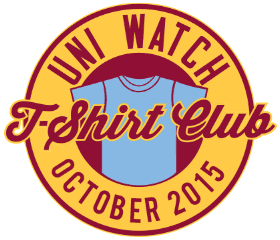 T-Shirt Club update: The maroon-based design was the overwhelming winner in our poll to choose a powder blue T-shirt concept the other day. But several of you suggested that the maroon design would be stronger with gold outlining. I liked this idea, because (a) gold is a Uni Watch color and (b) it would make the design less Phillies-like. So here we go (click to enlarge):
Definitely an improvement over the previous version — my thanks to all who suggested it.
•  •  •  •  •
The Ticker
By Paul

'Skins Watch: A Tulsa artist has weighed in on the Native American mascot debate by painting a bunch of famous white people onto football helmets (from Kevin Allen). "¦ "I had an interesting side conversation with a friend of mine who's a freelance cameraman for the Kansas City Chiefs in-house video," says Alan Bloomquist. "He said they will get fired immediately if they show anyone in any sort of 'war paint' or Native American imagery. They had one case where they had to get approval to show a kid wearing a Chiefs helmet with half his face painted red. Apparently national broadcasts are only discouraged from showing anything by the league, but in-house video is strictly banned from showing any fans dressed up in that way."
======

Baseball News: A St. Louis teen has created an amazing Rubik's Cube mural of Stan Musial (from Jonathan Daniel). "¦ Bat flipping is considered bad form here in America, but it's no big deal in Korea. "¦ Follow-up to yesterday's entry on infield design: U.S. Cellular field has a rounded corner, instead of a convex cutout, at second base (good one from Andy Bartsch). … In a related item, you can see how every infield looked in 2011 via these cool overhead shots (from Patrick O'Neill). "¦ Interesting article on uniform numbers in the Korean league (from @MyKBO). "¦ The York Revolution will wear Little League jerseys (from Bryon Brinson). "¦ Show Me State land art: a Royals/Cardinals corn maze (thanks, Mike).

NFL News: Tracking sensors will soon be embedded in NFL pads and uniforms. … Packers QB Aaron Rodgers and RB John Kuhn both dressed in military pilots' uniforms for the team's welcome-back luncheon the other day (from Dennis McMillan). … A Pats jersey with a "Super Bowl XLIX Champions" patch just showed up in the team's online pro shop. Not clear if they'll be wearing that patch for the season opener. "¦ Lions K Matt Prater put himself in the discussion for the shortest biker shorts ever last night.

College Football News: Last night's North/South Carolina game was color on color, and it looked great (screen shot by Kade Witten). … Speaking of South Carolina, they have a pretty cool new nose bumper design (from Joel Mathwig). "¦ And S.Carolina coach Steve Spurrier wear a visor with his own signature sewn into it. "¦ Meanwhile, UNC sure had a lot of rear-helmet decals (from Dave Garabedian). "¦ Hmmm, do Syracuse's season tickets tell us which jerseys the team will be wearing? (From Phil.) … Also from Phil: Michigan's AD has seen the new Nike/Jordan football unis that will be worn next year. This is pretty much the definition of dog bites man — it would be news (or maybe dereliction of duty) if the AD hadn't seen what the unis would be before inking a big apparel contract. … Oooh, check out these tickets from a 1971 Tennessee/Vanderbilt game. Very nice (from Wade Harder). … New helmet for North Greenville University (from Andrew Tranum). … Pretty brutal homecoming costumes for Cincinnati (from @giggitygreg). … We already knew Virginia Tech would be wearing a memorial decal for the recently murdered TV journalists, and now it turns out that their opponents on Labor Day, Ohio State, will also wear the decal (from Andrew Cosentino). "¦ Last night provided our first on-field look at Michigan's new white-over-white road uni. I like. "¦ Speaking of Michigan, they appared to be using NFL helmet placards for play-calling signals. Also, if you look at that photo you can see that Jim Harbaugh is wearing a different "M" than everyone else. That's because he requested a Bo Schembechler-era logo (from @SirPsychoT). "¦ New helmets for Tulane. "¦ Utah WR Tyrone Smith somehow ended up with two mouthpieces last night. "¦ Each Miami player will wear personalized cleats for the Sept. 19 game against Nebraska (from Rich Friedman). "¦ Hawaii DL Kennedy Tulimasealii had some serious bike shorts for last night's game against Colorado.

Hockey News: Not exactly a surprise to hear that the Islanders will have an Al Arbour memorial patch. No visuals yet, but maybe they'll reveal it on Sept. 21, when they're slated to unveil their new black/white alternates. … Speaking of which, Icethetics has our first look at what the crest on the new alts will look like. … And hey, now the whole jersey may have leaked. Not sure how legit that is. I wish the Isles weren't going to a black/white jersey (I'll get into the reasons for this in more detail later on), but if this is the design, it's better than I expected. I like the sleeve stripes, and the little orange stripes on the "Y" make a surprisingly large difference. "¦ And the hits keep on coming: A little birdie, who I happen to trust, says he's seen the helmet decal that will be worn with the Isles' alt uni. "It's 'BKLYN' in white block letters with the 'Y' done in the traditional Islanders logo hockey stick style, including the four orange stripes." I'm figuring that will probably be the team's new secondary logo. "¦ New uniforms for the North Dakota women's team. "¦ The four teams of the new National Women's Hockey League have unveiled their inaugural jerseys. Too bad about the American flag shoulder patches, but the Riveters and Whale designs are pretty good (thanks, Phil).

Soccer News: Here are a bunch of 1990s soccer jerseys reimagined using today's templates. "They look absolutely incredible!" says Bernd Wilms. "¦ MLS players will wear "Soccer Kicks Cancer" pregame T-shirts in September (thanks, Phil). "¦ A rundown of the 13 greatest kits of all time? Sure, why not. … Jacksonville Tea Men throwbacks on tap later this month for Armada FC (from Eric Scott). "¦ Twelve years' worth of San Jose Earthquakes jerseys in this GIF (from Tim Cross).

Grab Bag: An additional note about this weekend's NASCAR event at Darlington: Fans will be able to trade in Confederate flags for American flags. "¦ New basketball uniforms for Wisconsin (from @max_ethridge). … Cycling item regarding the Tour of Britain: According to a note on this page, "From 1960-1993 the Tour of Britain was known as The Milk Race. The Milk Marketing Board originally agreed to pay for "˜Drink more milk' to be embroidered on the riders' jerseys." "¦ New airline uniforms for Ryanair. "¦ Here's a look at the Texas Motor Speedway's pace car designs through the years (from Gabe Flores). "¦ Hot, humid conditions at the U.S. Open have led the players to pack many changes of clothing for each match (from Tommy Turner). "¦ Also from Tommy: Cycling caps are making a comeback. "¦ Jimmy Lonetti notes that PF Flyers recently introduced a new line of sneakers that are made in the USA. "¦ Interesting look at the old Saab logo. "¦ Texas Gov. Greg Abbott has called on Texans to wear blue today in support of law enforcement officials (thanks, Phil). "¦ "In 2017 Canada is celebrating its 150th birthday," says Charles Fisher.
"The Royal Canadian Mint held a competition for Canadians to submit designs for coins to be issued in 2017. They are now holding an online vote for the finalists." "¦ All Tulane teams will wear a "Katrina & Beyond" patch in 2015-16 (from Andrew Lopez). "¦ Petra Cetkovska was mixing Nike and Fila in her U.S. Open match yesterday — plus she had Asics sneakers (sneaker observation from Alex Melendez). "¦ Josh Claywell covered a black vs. black high school volleyball match last night.
•  •  •  •  •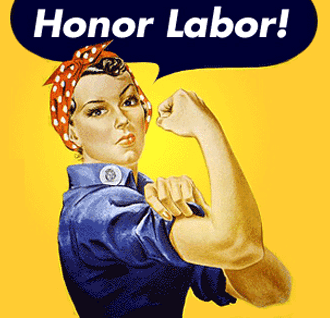 Holiday schedule: Phil is taking a well-deserved break this weekend, so I'll be on board for Saturday's and Sunday's posts. Content will almost certainly be light on those days (and ditto for Monday), unless a big uni-related story breaks. Sorry, that means no Sunday Morning Uni Watch for the first weekend of college football games, but Phil and his contributors will be on top of that starting next weekend.
If you're traveling this weekend, travel safe. If you're working, please accept my thanks for keeping the world spinning while the rest of us get to enjoy a long weekend. And if you're an NFL player, see if you can get through this holiday with all of your fingers intact.