Got a note a while back from reader Robert Brashear, who pointed out something interesting about Yankee Stadium. The infield dirt used to have a pair of triangular cutouts near the first and third base coaching boxes (for all of these photos, you can click to enlarge):
This year, however, the cutouts haven't been there:
Bob's observation reminded me of something regarding New York's other MLB team. During Shea Stadium's last several years, the infield had cutouts in the "upper-left" and "upper-right" corners, so to speak, for the first and third base umpires to stand in: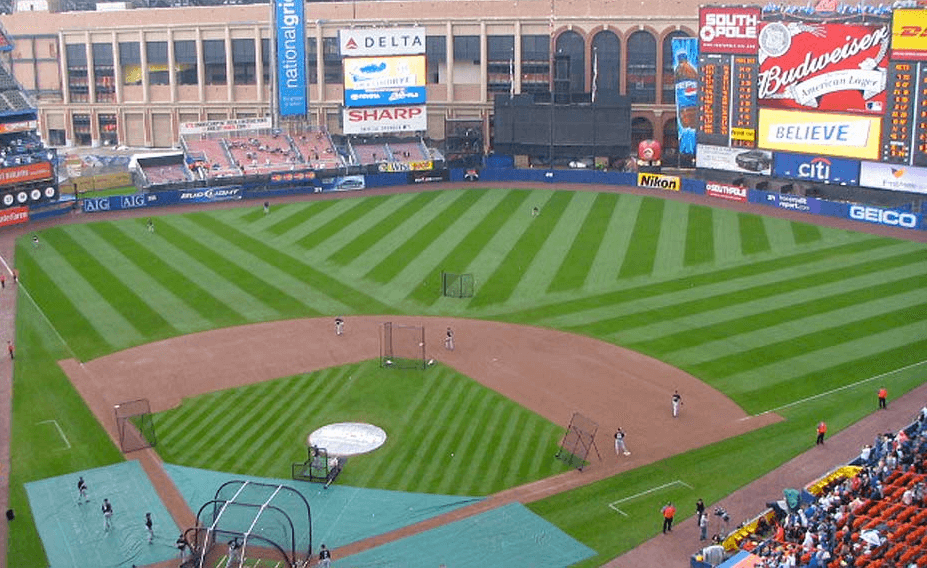 But those cutouts have never been included at the Mets' new stadium:
Of course, there are lots of other infield anomalies lurking out there: Chase field in Arizona has the dirt path from the mound to the plate; Comerica Park in Detroit has that same path plus a plate-shaped cutout around the plate area; and so on. Also, some fields have curved cutouts around the bases and others have square, and there are other small distinguishing details.
What other infield anomalies are lurking out there? Is there a visual compendium or database of MLB infield designs? If so, I'm not aware of it. That would be a good project for someone who's so inclined, hint-hint.
•  •  •  •  •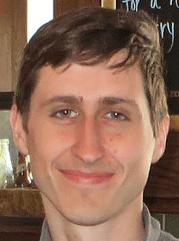 Mike's Question of the Week
By Mike Chamernik
Between Bernie Brewer, Barrelman, the real and fake Hank the Dog, and the five racing sausages (and mini-sausages!), the Brewers have like 14 mascots. As a Brewers fan, I love them all.
Mascots are a mixed bag, for sure. They're dopey, they distract from the game, they can, uh, hurt people. They embody a gimmick. But, they still have a certain charm. They're meant to make an already enjoyable sporting event even more fun, and they often succeed, either by performing impressive athletic feats or making people laugh.
The Cavs' mascot, Moondog, made an appearance at a wedding a few years back and it really looked like the most enjoyable time ever. The most bizarre mascot moment of my lifetime was in 2002, when Randall Simon hit an aforementioned racing sausage with a bat. Simon was even arrested for doing that. Robin Lopez has been terrorizing mascots around the NBA for the last few years, but he's hardly the first player to interact with them. Charles Barkley feuded with mascots, too.
What do you say "" yea or nay to mascots? If you like them, what are your favorite mascots, and why? What are some of your favorite mascot moments?
• • • • •
The Ticker
Compiled by Mike Chamernik

Baseball News: Basketball Hall of Famer and Brooklynite Chris Mullin threw out the first pitch at last night's Mets game. He wore St. John's cap and a No. 20 Mets jersey. Mullin is the head coach of the Johnnies and wore No. 20 when he played at the school (from Alan Kreit). … Gregory Koch asks a good question: "Before Jacob deGrom and Travis d'Arnaud paired up, has there ever been a battery where both pitcher and catcher had a last name beginning with a lowercase d?" I'm going to make a conservative guess and say no. … New logos coming for the Charleston RiverDogs. Here's the team's alternate hat — the "HC" stands for "Holy City" (from @willchitty4). … Here's a look at how minor league baseball's wackiest team nicknames and logos came to be (from Kevin Mueller). … Astros OF Carlos Gomez received some hot new spikes (from Chris Overholt). "¦ Orioles 1B Chris Davis had a tear in his pants last night (from Andrew Cosentino).

NFL News: With Robert Griffin III's status with the Redskins uncertain, his jerseys are on clearance throughout the DC area (from Phil). … Not uniform-related, but Deadspin dug up the very interesting backstory behind a surprise military reunion at a Rams game last weekend. "Shocking? Not in the slightest I'm sure," says Drew.

College & High School Football News: Lots of people sent this in: James Madison will wear a helmet memorial decal for the Virginia TV news team that was murdered. … Virginia Tech is going all maroon with orange helmets against Ohio State on Monday. Also, VT will wear white-topped helmets next Saturday (from Andrew Cosentino). … Kansas will wear all-blue on Saturday (from Phil). … Syracuse will wear blue-over-orange this weekend against Rhode Island and all-orange in Week 2 against Wake Forest (from Phil). … New uniforms for Elon (from Dan Wyar). … New uniforms for sports teams at Canada's Concordia University, including the football team. The school has a new logo too, and it's pretty good. More info here. … A Florida State fan created a Google Chrome extension that changes the current Seminoles logo back to the old one in his web browser (from Brinke). … We've seen lots of high school players wearing those padded anti-concussion guardian caps in practices, but an Ohio high school player recently wore one during a game. … Elena Elms sends in a collection of North Carolina game program covers. … Scott Kneeskern attended Gustavus Adolphus College in St. Peter, Minn. The last time he was there he snapped a few photos of what is in the school's trophy case. "¦ Colorado will reportedly be wearing this uniform combo for today's season opener (from Matthew Robins).

Hockey News: The Islanders will unveil a black-and-white third jersey later this month. The look will have the same color scheme as the Brooklyn Nets, the Isles' new co-tenants (from Phil). … Blue Jackets C Brandon Dubinsky is looking for a game-worn jersey of his that might have been purchased by or given to a fan at some point (from Alan Kreit). … The Sharks announced their promotional and 25th anniversary events schedule, including the dates when they'll wear their yet-to-be-unveiled heritage jerseys (from Phil).

Basketball News: The Clippers are considering adding a team mascot. … Looks like Gonzaga has new home uniforms (from John Richey). … Dakota Wesleyan will wear late-1970s throwbacks this season (from Beau Eriksson). "¦ Here's a new one: St. John Vianney High School in Missouri unveiled its new basketball uniforms by having the principal model them (from Patrick, who preferred that his last name not be used). "¦ New court design apparently in store for the Bulls.

Soccer News: Toronto Blue Jays OF Jose Bautista saw a fan wearing a Messi jersey and offered to swap jerseys with him. The fan agreed (from @Stumpy7780). "¦ New third kit for Italy. "¦ FC Barcelona will wear insignias on their shirt as five-time winners of the Champions League (from Griffin Smith).

Grab Bag: New logo for Verizon (from Tim Dunn). … As synonymous as rugby's All Blacks are with New Zealand's culture, the national team's silver fern will not be on the nation's new flag (from Phil). … New cross country uniforms for Westview Hills Middle School in Willowbrook, Ill. "I'm sure one look at the stripes and you'll guess who makes them," says Steve Johnston. … Students want the University of North Dakota, which recently dropped the Fighting Sioux nickname, to reconsider an idea that they the school would go nicknameless. Teams would be known only as "North Dakota" (from Matt Larsen). … "I've been doing some VHS to DVD transfers of old golf tapes and was watching the '86 Masters highlights," says Scott Throndson. "On Saturday/Sunday Seve Ballesteros wore a visor with two Nike patches on it. It struck me as odd, and I realized what must have happened was that he wore a Masters logo visor the first two days, and then Nike covered it up with 2 small patches." … Speaking of golfers' visors, John Senden lost the "m" on his the other day. "¦ There's a change.org petition to change the handicapped parking sign logo (from Jeffrey Sak).