Paul here. I don't usually show up on weekends or in August, but I'm providing this weekend's content because webmaster John Ekdahl, who had been handling the August weekends, just became the proud papa of a baby boy. Congrats to him and his wife, Amy, on the new addition to their family.
So: Some new NBA jersey patches are surfacing via video game highlight screen shots. First up are the Raptors, who are hosting this season's NBA All-Star Game and will be wearing a patch for that: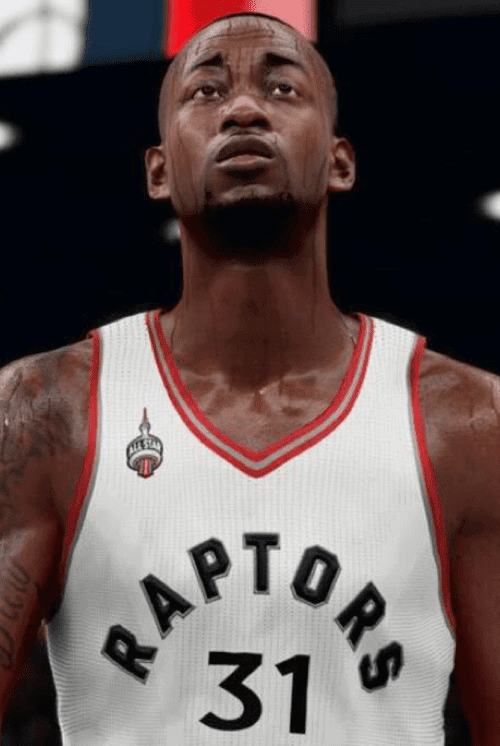 As you can see, the patch design matches the logo that was released three months ago. And of course this shot also gives us an early glimpse of how Toronto's new home uni will look on the court.
In addition, it appears that the Bulls will be wearing a 50th-season patch: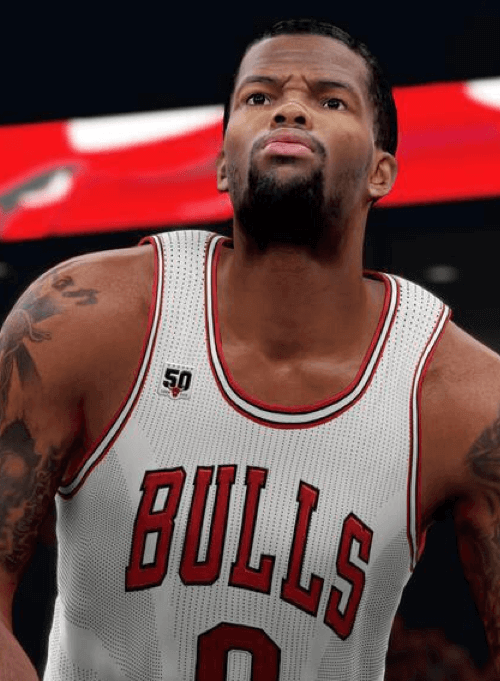 • • • • •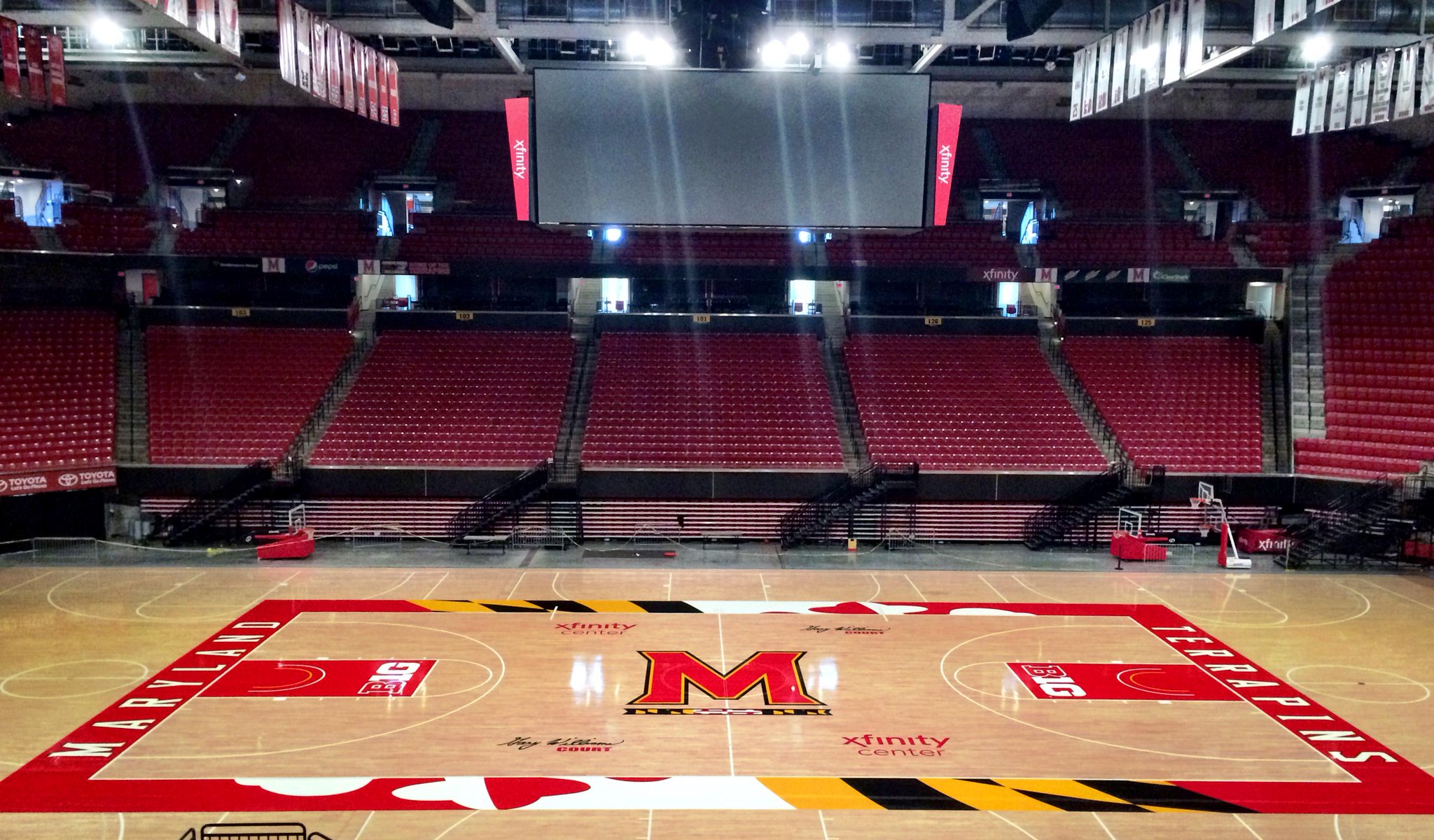 Click to enlarge
And speaking of basketball"¦: New court designs are beginning to trickle in as well, including the one for Maryland, shown above. Naturally, they're calling it a "pride" design, but whatever.
• • • • •
Meanwhile, over on the gridiron: The Panthers and Pats played a preseason game in Charlotte, and there was a surprising irregularity in the field design. Can you spot it? Take a look: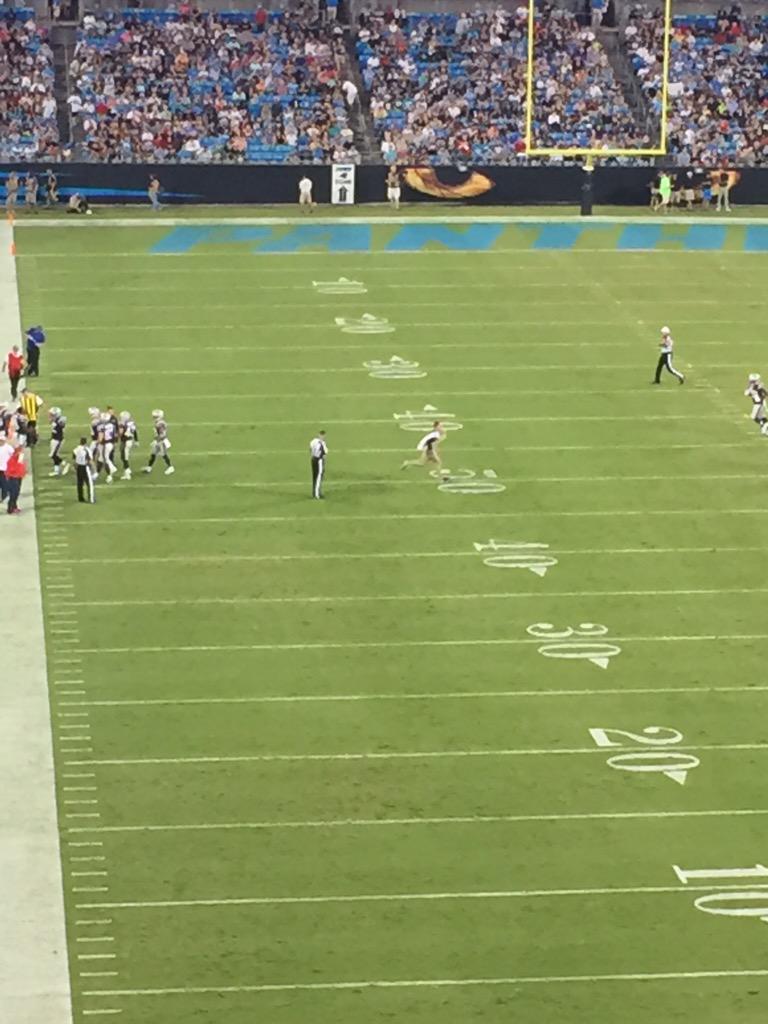 If you said, "Hey, the '50' yard marker was white instead of gold!," give yourself a gold (or maybe white) star. The reason for this is apparently that UNC and South Carolina will be kicking off the college football season on this same field on Thursday, while the Panthers won't be playing at home again until Sept. 20. Still, is it really that hard to repaint the numerals? After all, they're presumably going to repaint the end zones, so why would a few numbers present a problem? Personally, I don't like the look of the gold 50 markers, so I'm glad they went with white, but I'm still surprised.
(Thanks to Jonathon Hancin for the screen shot of the field.)
• • • • •
And as long as we're talking football"¦: As most of you probably know by now, my annual college football season preview was published a few days ago, but additional news continues to come in. For starters, yesterday Iowa provided a sneak peek of the blackout uni they'll be wearing on Nov. 14 against Minnesota:
Sneak peek at the Blackout unis being worn in @kinnickstadium on 11.14.15 | #Hawkeyes https://t.co/jRaveOY9hS

— Hawkeye Football (@HawkeyeFootball) August 28, 2015
Also from yesterday, Marshall unveiled a new road uniform (click to enlarge):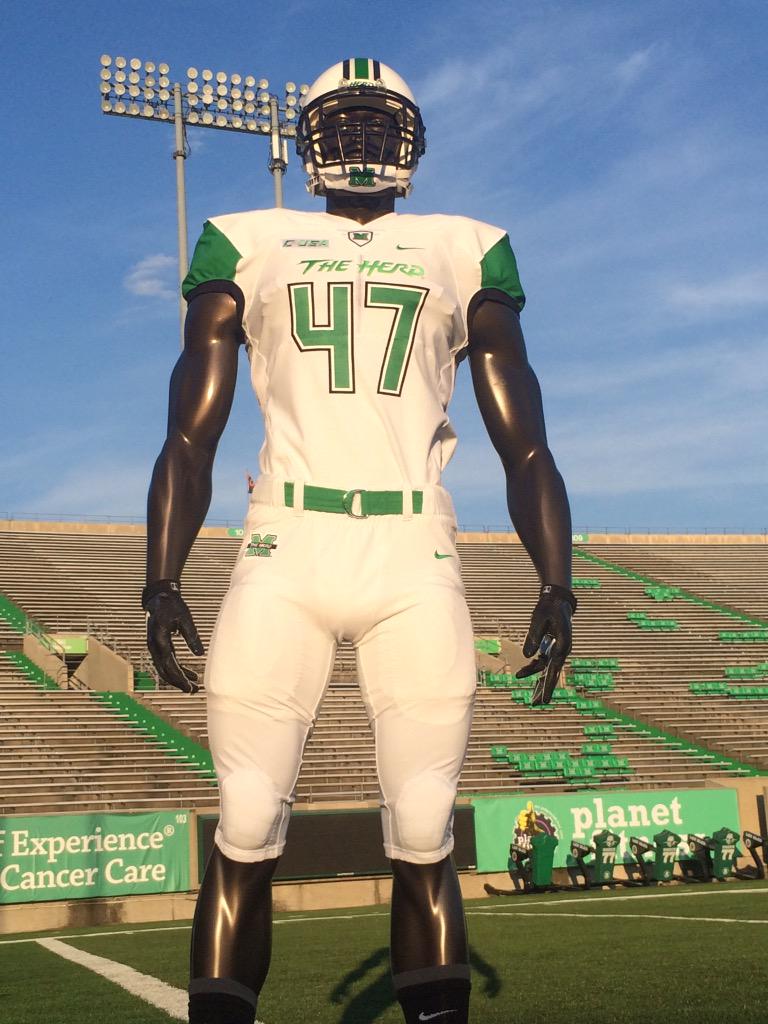 • • • • •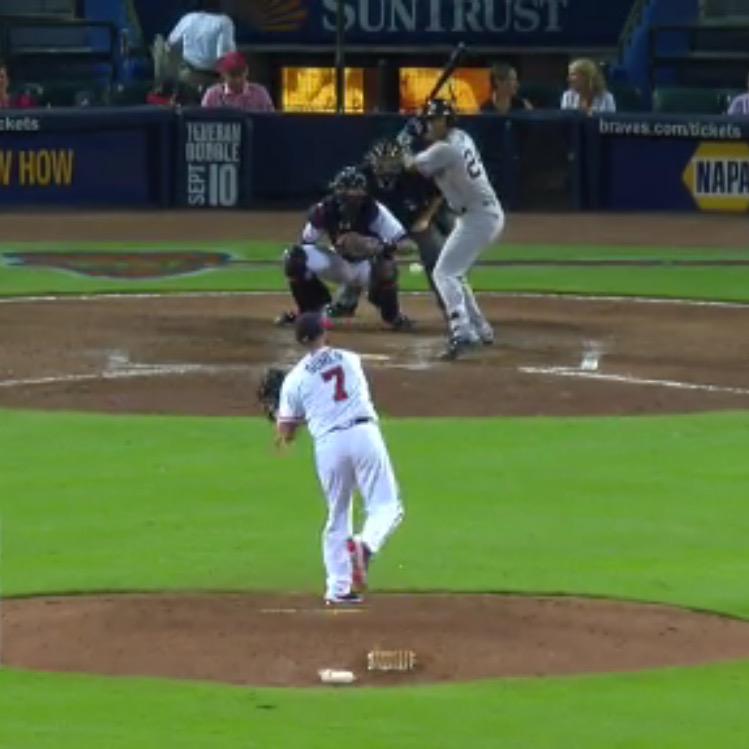 Let's throw in some baseball while we're at it: The Yankees blew out the Braves last night to the tune of 13-3, and things got so out of hand that Atlanta put outfielder Johnny Gomes on the mound, providing us with that rare phenomenon, the single-digitized pitcher.
(Thanks to Mike Nessen for the screen shot.)
•  •  •  •  •
Not a uniform, but still"¦: One of the most familiar sights in sports is that of the Goodyear Blimp. But that sight will soon be changing, because Goodyear is retiring its current blimp fleet and rolling out a new generation of blimps — although, technically speaking, they won't be blimps. Full details here.
• • • • •
That's it for today. See you back here tomorrow. "" Paul