By John Ekdahl
From The Tennessean, Tennessee State will unveil new alternate gray uniforms today.
Tennessee State will unveil its new gray alternative football uniforms at its Fan Day on Sunday in the team's indoor facility.

The event is scheduled for 2-5 p.m. Admission is free.

The Adidas gray uniforms have not yet been seen by the public. They have royal blue numbers trimmed in white and "Tennessee State" in white trimmed in red across the front.

New white uniforms also will be unveiled this season. Those have the state of Tennessee three-star logo on the sleeves.

The Tigers will wear the same blue uniforms they wore last season.
+ + + + + + + + + + + + + +
Look who got some love from the New Mexico Lobos.
Hey, @UniWatch & @PhilHecken, do you like our new football uniforms? pic.twitter.com/FTlz8Xq3ei

— New Mexico Lobos (@UNMLOBOS) August 22, 2015
+ + + + + + + + + + + + + +
In case you missed it, Washington Post columnist Clinton Yates takes a look at Paul's Best-Dressed Cities rankings with a focus on his local teams in D.C.
As someone who spends way too much time looking at uniforms, Lukas is correct about the Capitals' throwback. Why they haven't gone to a navy blue alternate, similar to their practice jerseys is baffling. But to call the Nationals look hopelessly generic doesn't make much sense. Would I like to see some sock stripes a la Seattle Mariners or San Francisco Giants? Sure. But there's an argument that the Nationals' look is classic, rather than simply boring. They're a bit unfairly judged because they're a new team with an old look, and they replaced the Expos, who have one of the best uniform histories in Major League Baseball.
Read the full column here.
+ + + + + + + + + + + + + +
It's not everyday you see a ballboy get his uniform dirty, but that's what happened in Oakland last night (or was it Friday?).
The full story is over at MLB.com.
+ + + + + + + + + + + + + +
New sideline tarps for UNC this season.
Sharp looking new sideline tarps for @TarHeelFootball this year. pic.twitter.com/4hXJjR9ot5

— Lee Pace (@LeePaceTweet) August 22, 2015
+ + + + + + + + + + + + + +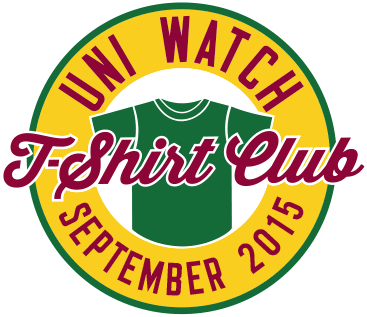 T-Shirt Club reminder "" only available until Monday: In case you missed it earlier this week, the Uni Watch T-Shirt Club's latest offering — the road grey shirt — is now available for ordering, but only through Monday night. Obviously, this one is pretty straightforward, but it's still plenty handsome. In fact, it's arguably the nicest design we've done so far (click to enlarge):
Again, this shirt is available here, and there's additional information about how this shirt fits into the larger T-Shirt Club program here. Thanks.