By John Ekdahl
From their press release:
Sacramento, Calif. "" Today, the Sacramento Kings announced the return of the uniforms worn by the team from 1985-1990, including during the inaugural season in Sacramento. Kings players will rock the infamous "baby blues" during all nine #FlashbackFriday home games this season. The Kings will also wear the retro jerseys for the final home game of the regular season, the last ever to be played in Sleep Train Arena.

In 1985, Sacramento became the new (now permanent) home of the Kings following their relocation from Kansas City. Home games were hosted at ARCO Arena I, and the team reached the NBA playoffs finishing the 1985-86 season ranked fifth in the Midwest Division and seventh in the Western Conference.

"The 1985-86 NBA season is one of the most memorable in Kings history," said Kings President Chris Granger. "Bringing back the "˜baby blues' enables the best and loudest fans in the NBA to celebrate memories of our storied franchise history. We look forward to honoring our proud past as we look forward to our proud future at Golden 1 Center in downtown Sacramento."

The retro jerseys will be featured at the following nine #FlashbackFriday home games, as well as the last home game of the season:

· Oct. 30 vs. Los Angeles Lakers
· Nov. 6 vs. Houston Rockets
· Nov. 13 vs. Brooklyn Nets
· Nov. 27 vs. Minnesota Timberwolves
· Feb. 19 vs. Denver Nuggets
· Feb. 26 vs. Los Angeles Clippers
· Mar. 11 vs. Orlando Magic
· Mar. 25 vs. Phoenix Suns
· Apr. 1 vs. Miami Heat
· Apr. 9 vs. Oklahoma City Thunder (last home game of the regular season)
More info available here.
+ + + + + + + + + + + + + +
The Yankees are retiring Jorge Posada's number today. Here's a look at the patch.
Jorge Posada will have his #20 retired by the @Yankees today! 5x All-Star – 5x World Champion! #Yankees #HipHopJorge pic.twitter.com/pYdjR12PQK

— Baseball by BSmile (@BSmile) August 22, 2015
+ + + + + + + + + + + + + +
The Denver Broncos will be wearing their alternate blue uniforms against the Packers and Raiders this year. More information here.
+ + + + + + + + + + + + + +
Apparently, the Grizzlies wanted to create a blacktop-style court.
According to @MainStMemphis – the Grizzlies wanted to have alternate court that looked like a concrete playground, NBA said no.

— Chris Vernon (@ChrisVernonShow) August 21, 2015
+ + + + + + + + + + + + + +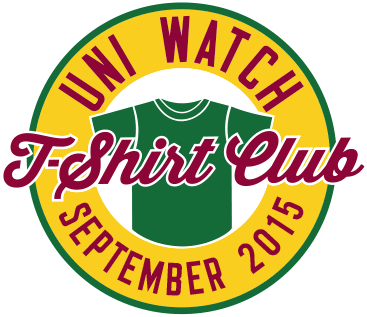 T-Shirt Club reminder "" only available until Monday: In case you missed it earlier this week, the Uni Watch T-Shirt Club's latest offering — the road grey shirt — is now available for ordering, but only through Monday night. Obviously, this one is pretty straightforward, but it's still plenty handsome. In fact, it's arguably the nicest design we've done so far (click to enlarge):
Again, this shirt is available here, and there's additional information about how this shirt fits into the larger T-Shirt Club program here. Thanks.