I can no longer bring myself to get worked up about lousy college football uniforms. The whole enterprise now has little to do with uniform design and is more akin to toy design, with the fairly obvious goal of allowing teen-age athletes (and, by proxy, the portion of their fan base that uses "sick" as a compliment) to indulge in some sort of juvenile comic book superhero fantasy. I don't even roll my eyes at this stuff anymore — I just put it in the Ticker and move on.
But I'm going to make an exception today for UCLA.
UCLA should always be one the best-looking teams in college football. They have an unbeatable color combo, a unique number font, and a shoulder stripe pattern so iconic that it's named for the school. How could you screw that up?
Like this:
That's the new UCLA home uni, which was released yesterday (further info, full of embarrassing marketing-speak, here). Yeesh — no more Clarendon numbers, those diagonal lines through the numerals, the horizontal lines through the shoulder stripes. What a mess. And that's not even counting Adidas's new tire tread fabric pattern (which, as reader Ryan Berg pointed out to me yesterday, makes it look a bit like UCLA is sponsored by Umbro):
This isn't the worst uniform in college football, but it might be the biggest failure in terms of wasted potential. It takes some serious work to make UCLA look miserable, but somehow they managed.
• • • • •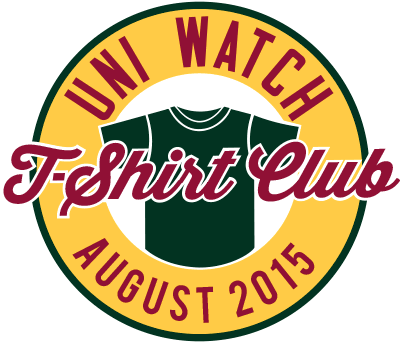 T-Shirt Club update: My thanks to everyone who participated in yesterday's NOB poll regarding the next Uni Watch T-Shirt Club design. "Alternate" was the overwhelming winner over "Softball Top" (last time I checked, the margin was something like 88% to 12%), so the shirt, which will launch next Tuesday, will look like this (click to enlarge):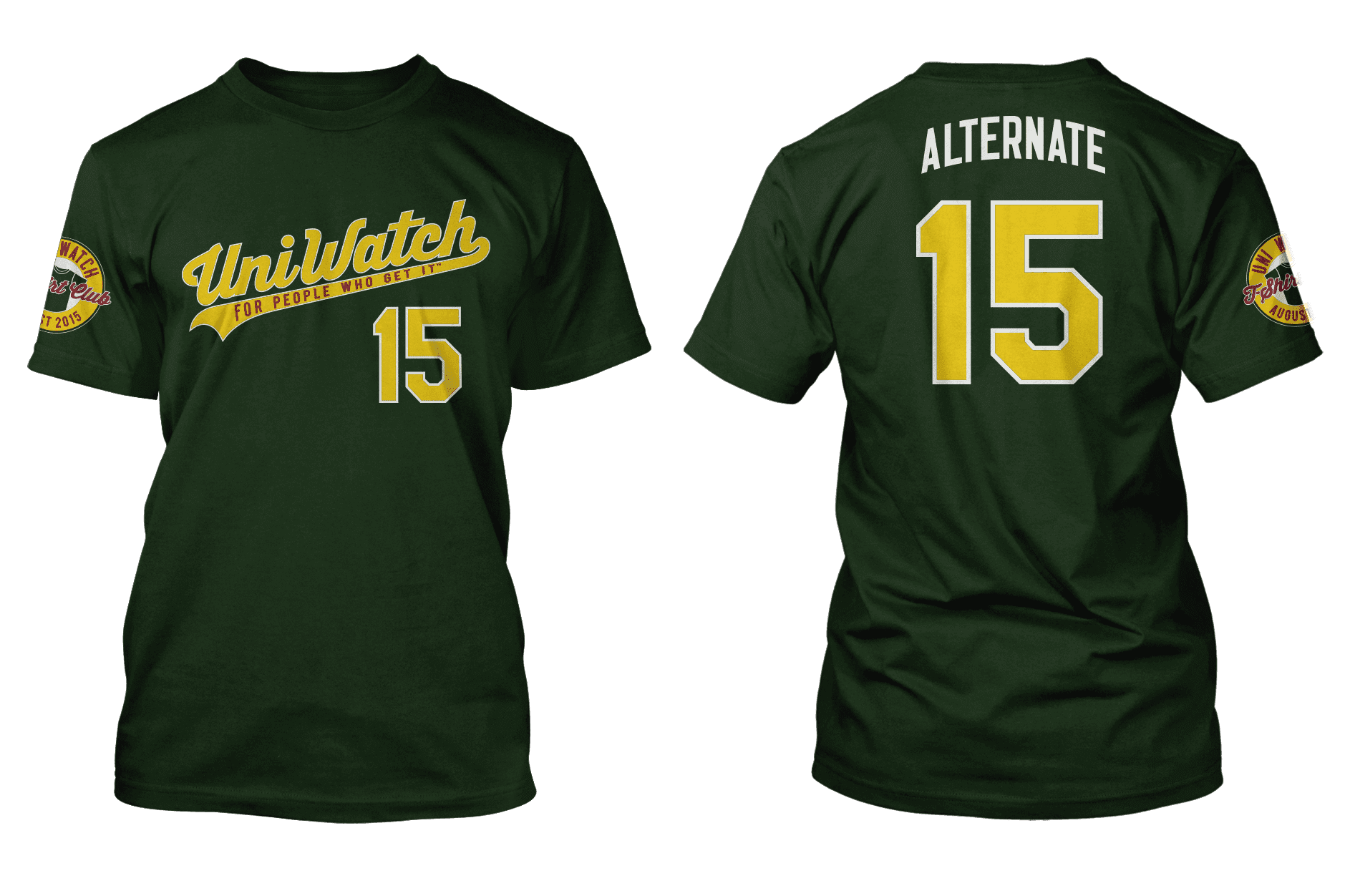 • • • • •
Raffle reminder: In case you missed it yesterday, I'm raffling off a pair of Mizuno MLB All-Star Game cleats, Size 10. To enter, send an email with your name and shipping info to the raffle address by 7pm Eastern next Tuesday, July 14 — the date of the All-Star Game. One entry per person. I'll announce the winner on Wednesday the 15th.
•  •  •  •  •

'Skins Watch: Another legal setback for the 'Skins, as a Federal judge has ordered the cancellation of the team's trademarks, although the team says it will appeal. "¦ I'll say this much for the 'Skins and other teams that use Native American imagery: They've got nothing on the town seal of Whitesboro, New York. Wow (from Chris Scavo). "¦ Former 'Skins QB Joe Theisman appeared on TV to talk about the team's name yesterday, and it was quite a bravura performance.

Baseball News: Yesterday's Ticker mentioned that this year's MLB All-Star Game jerseys would feature the players' signatures and number of ASG selections, but it wasn't clear where that would be appearing. Now Nick Schiavo has let us know that it'll be on thie shirttail. In other words, just another retailing gimmick. "¦ This isn't the first time that an ASG uni element will have the players' signatures, incidentally. From 1998 through 2000, the signatures were included on the players' caps. "¦ In additional All-Star news, Yankees OF Brett Gardner was named to the American League squad yesterday, and he had a great quote about his ASG BP jersey (thanks, Phil). "¦ Here's something I didn't know: When the White Sox held MLB's first throwback game 25 years ago this Saturday, they sold this souvenir T-shirt (from Ryan Gamble). "¦ A very early case of lost/misplaced uniforms: Way back in 1889, the New York Giants had to borrow old uniforms from the Indianapolis Hoosiers due to a storage trunk being left behind in Chicago (big thanks to Tom Shieber). … Probably the single most pleasing thing I saw yesterday was this super-spectacular shot of sotball players in Central Park from 1960. Looks like it was from a Broadway league, judging by the baserunner's "A Raisin in the Sun" jersey (thanks for making my day, Ben Fortney). … Star Wars jerseys tomorrow for the Harrisburg Senators (from Ran Canfield). … In Finland they play an obscure version of baseball called pesäpallo, which has some crazy-looking uniforms (from David Dyte). "¦ A couple of Blue Jays fans showed up in full uniform for yesterday's Jays/Chisox game in Chicago (thanks, Mike). "¦ You've heard of frankenjerseys? Here's a frankenstadium — the best of Wrigley and Comiskey (from Jamie Uthe). "¦ The Madison Mallards did a bobblehead giveaway with a nasty typo on the box.

NFL News: Terrelle Pryor, newly acquired by the Browns, has removed any doubt about which position he'll be playing via his uni number assignment. "¦ Phil's latest Sporting New piece is a ranking of NFC uniform sets. "¦ Checkout the mismatched fonts on Dan Pastorini's chest number and TV number (good spot by Matt Shevin).

College Football News: New gloves for Arkansas (thanks, Phil). … Also from Phil: New "oxidized metal" helmets for Michigan State. Remains to be seen when or if that'll be worn in a game. "¦ If you got to the 12-minute mark of this podcast, you'll hear a reasonably intelligent discussion of the role of uniforms in college football recruiting (from Jim Wagner).

NBA News: Twitter is so weird. Yesterday I tweeted out the link to this interesting but seemingly innocuous story about the Spurs unretiring Bruce Bowen's No. 12, with Bowen's blessing, so LaMarcus Aldridge can wear it, and it got well over 100 retweets, by far the most RTs of any of my tweets yesterday. By contrast, my tweet showing the new UCLA uni barely moved the needle. I don't tailor my tweeting to generate RTs, mind you — I post what makes sense to me, and people can react however they like — but it's interesting to see what people do and don't respond to (from Andrew Cosentino).

Soccer News: Lots of teams unveiled new kits yesterday, including Benfica, Atlético de Madrid, Sevilla FC, Leeds United, and FC Zenit Saint Petersburg (home and road).

Grab Bag: The Brooklyn Museum, which is located about a mile from my house, has a new exhibit about the rise of sneaker culture. Further info and a slideshow here, and there's a review of the exhibit here. "¦ The teams at Freeburg Community High School in Illinois are called the Midgets, which has led the Little People of America — self-described as a support group "for people of short stature" — to stage a protest (from Andrew Goetz). "¦ "The North Melbourne Kangaroos, who play in the Australian Rules Football League, have released the jersey they will wear to commemorate Brent 'Boomer' Harvey's 400th game," says Kerry Hudson. "He will become only the fourth player in the history of the league to reach this milestone." … New uni number assignments for the Edmonton Oilers (from Steven Schapansky).