Reader William Yurasko recently pointed me toward something very cool on YouTube: the full broadcast (shown above) of a 1967 softball game between a team of MLB all-stars and a team of celebrities. The game was held at Dodger Stadium with Vin Scully and Jerry Lewis handling the broadcast duties.
The MLB all-stars wore their regular road greys (which, given the 1967 time frame, were just about perfect in every conceivable way — fabric, tailoring, drape, stirrups, etc.), and the celebs wore white uniforms with a "Celebrities" chest mark and a star logo on the cap.
The full broadcast, which I heartily recommend watching, is full of good uni-related moments. Here are some of the highlights:
1. The game had a seriously goofy logo and was billed as "first annual," although I don't know if any subsequent installments were ever played:
2. Although the game was played at Dodger Stadium, the field was reconfigured for softball — shorter baselines, shorter pitching distance, and the infield dirt was painted green:
3. Interestingly, the celebrities were managed by a real MLB skipper, Leo Durocher, and the MLBers were managed by a celebrity, Milton Berle. Durocher wore FiNOB for some reason (all the other members of the celeb team had standard NOBs), while Berle had a Dodgers-style uniform with "Pros" on the front and a standard NOB, along with a "P" cap:
4. Most of the celebs' uniforms were pretty standard fare. The exception was Woody Allen (at the time a popular stand-up comic, with his film career just getting started), who wore No. 0:
5. Woody's NOB didn't include a first initial, even though the celeb team also included comedian Steve Allen (I didn't get a screen shot of his NOB, but it too didn't have a first initial):
6. Most of the celebs — some of whom were fairly obscure even in 1967 — are now either deceased or faded from public memory. Aside from Woody Allen, the only one who's still active and in the public eye is Robert Morse, who had a notable role on Mad Men:
7. No surprise to see that the celebrity who looked best in his uniform was James Garner, who almost always looked good in whatever he was wearing:
8. Other familiar faces and names — both, like Garner, now deceased — included Don Adams and Peter Falk:
9. The MLBers included Willie Mays, Maury Wills, Don Drysdale, Roberto Clemente, Frank Howard, Harmon Killebrew, Willie McCovey, Brooks Robinson, and other luminaries. From a uniform perspective, the most notable moment was probably the sight of Pete Rose wearing the Reds' drop-down NOB style (insert obligatory joke about Rose probably having put money on the game here):
10. Not uni-related but still very interesting: Although most of the MLBers played their usual positions, Roberto Clemente came in to pitch a few innings (underhand, of course)! This crummy screen shot was the best I could do, but you can see for yourself by going to the 37-minute mark of the video at the top of this entry:
11. I was intrigued to see that Maury Wills appeared to be wearing an ascot, or something like that, during his postgame interview:
One final thought: While the MLB team included several black players and at least one Latino (Clemente), the celeb roster was 100% white. If any subsequent editions of this game were held, maybe a celebrity version of Jackie Robinson got to break the color barrier. Anyone know?
•  •  •  •  •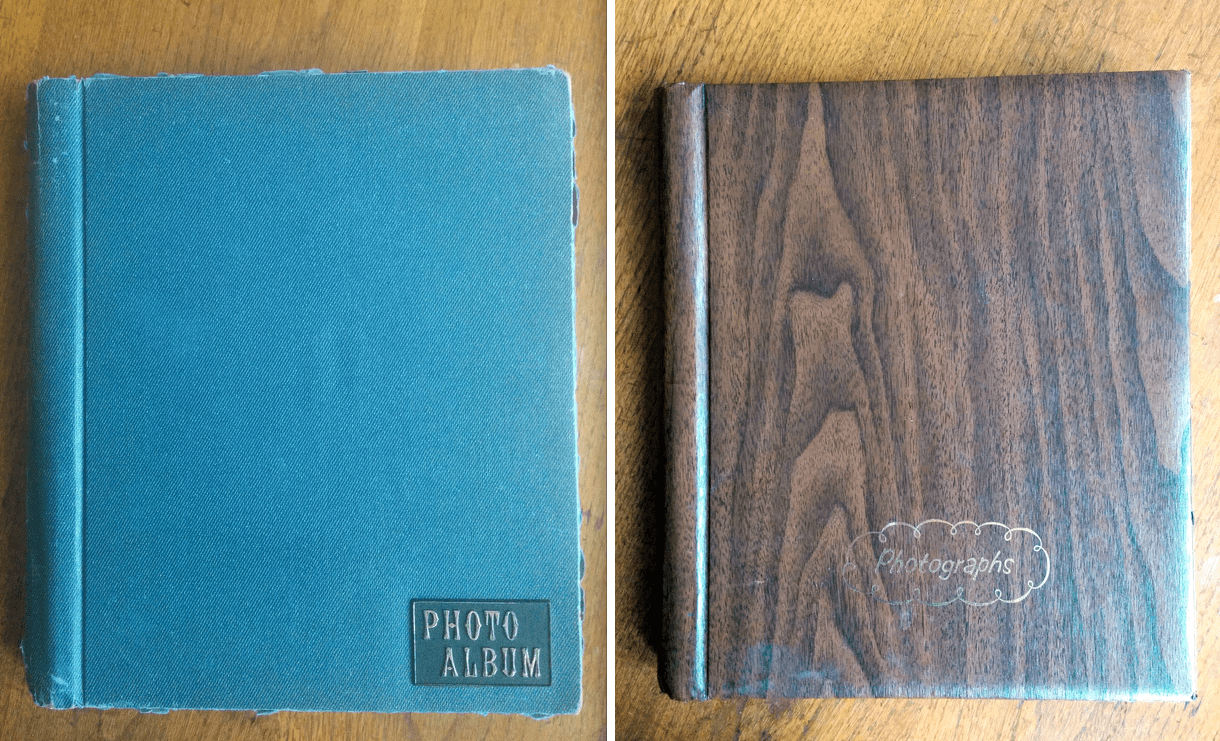 Click to enlarge
PermaRec update: A guy in Chicago recently rescued these two old photo albums from a self-storage auction. You can see some of the photos from inside the albums, and help find the family shown in those photos, over on Permanent Record.
• • • • •

Baseball News: This is pretty cool: an animated GIF of baseball cards that creates — well, see for yourself (big thanks to James Poisso). "¦ Mr. Rogers uniforms last night for the Altoona Curve (thanks, Phil). "¦ Whoa, check out this Esquire magazine patch. It comes from this uniform (from Douglas Ford). "¦ Aug. 6 is the 70th anniversary of the bombing of Hiroshima, and the Hiroshima Carp will mark the occasion with these "Peace" uniform. The 86, which will be worn by all players, refers to Aug. 6 (from Jeremy Brahm). "¦ Pirates TV studio hosts are getting into the act with the striped socks (from Justin Wagner).

Pro Football News: I know we've seen this before, but once more won't hurt: WFL-era teammates Larry Csonka and Jim Kiick with completely different NOB lettering specs (thanks, Phil). "¦ The CFL's Toronto Argonauts have a hashtag on their neck bumpers (from Dan Bly). "¦ Check out this old, and presumably not officially licensed, Miami Dolphins sticker.

College Football News: In the 1962 Gator Bowl, which featured Florida vs. Penn State, Florida wore helmets with the Confederate battle flag on the sides (from David Dupuis). "¦ Here's a rarity: color film from a 1939 Notre Dame vs. Iowa game (from Warren Junium). "¦ Someone thinks Kansas State will add "edgier" uniforms to aid in recruiting. Yeah, because schools with non-edgy uniforms, like Alabama, Auburn, and Notre Dame, have major recruiting problems. Yup.

Hockey News: Here are some thoughts about a possible Coyotes third jersey (thanks, Phil). "¦ "Last Thursday there was a ticker item about a youth hockey team that wore 1911-12 Montreal Canadiens throwback jerseys," writes Jeff Barak. "I do not believe those jerseys were ever actually used by the Canadiens and have written a story for my blog about why I doubt their existence."

NBA News: The court used for the 1986 NBA All-Star Game is still in use at a small gym in upstate New York. Further details here (thanks, Mike).

Soccer News: Tottenham Hotspur's new kit has leaked (from John Muir). "¦ Looks like USWNT player Megan Rapinoe wasn't wearing the neon socks. It appears that she just had neon leg-warmers and wore those over a different kind of sock (good spot by Brady Phelps).