Click to enlarge
Surprising development in Atlanta, where the Hawks are scheduled to unveil their uniforms today at 11am Eastern. Everything on this one had been on total lockdown, but then Hawks beat writer Chris Vivlamore, who covers the team for The Atlanta Journal-Constitution, posted photos of the new uniforms last night at about 10:45pm, along with photos of assorted merch.
That certainly removes a lot of the suspense from today's unveiling, eh? Which is fine with me, because I have an 11am doctor's appointment and will have to miss the unveiling anyway.
As for my take on the designs, I'll have my say over on ESPN — Link here.
For now, though, I'll just point out one small detail that I found interesting: On the home and road jerseys, I like how the crossbar on the first "A" extends off to the left and the crossbar on the last "A" extends off to the right, creating a nice bookend effect. But shouldn't the crossbar on the center "A" have extended to both sides, for the sake of symmetry?
• • • • •
Meanwhile, over in DC…: The Capitals unveiled a new alternate jersey yesterday afternoon. There was almost no advance notice on this one — the word on the unveiling had come down the day before, but that was the first I'd heard of it.
Anyway, as you can see above, it's basically an Edge-ized throwback to the team's inaugural road design, except the word "Washington" has changed from blue to white (which seems like an improvement). Here's a comparison of the new design and the original on which it's based (click to enlarge):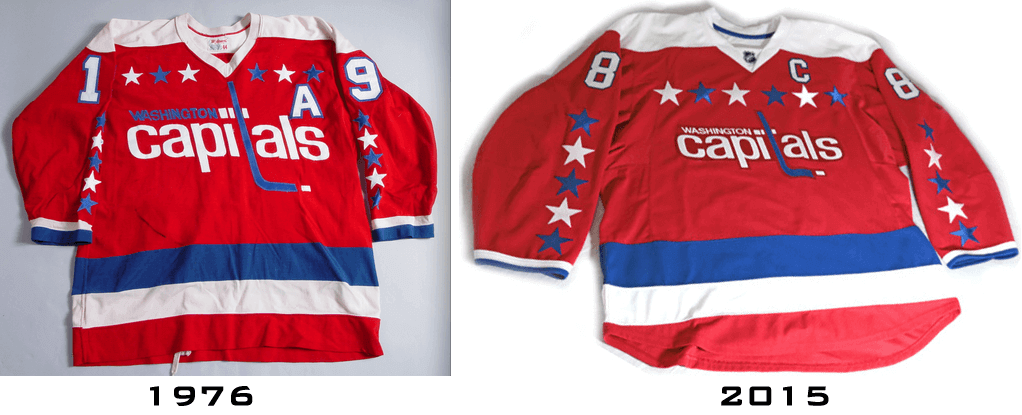 A few thoughts:
• The good news is that this design is certainly better than the team's regular red home jersey, which has all the unnecessary stripes and side panels. The bad news is that the Caps say this red throwback alternate will replace the white throwback alternate that the team has been wearing in recent years. The white one was even better than this new red one, so this design, nice as it is, is actually a downgrade.
• The mothballing of the white throwback is particularly surprising because the Caps wore that jersey, instead of their standard white road jersey, for road games in this past season's playoffs, which had led many observers (myself included) to think that the white alts were poised to become the new road primaries. Turns out the postseason was the last hurrah for that design. Too bad.
• This isn't surprising, but it's still disappointing: They're applying the lettering as a single patch. It'd look so much better if they sewed each letter on individually, like in the old days (click to enlarge):

• This is the part where I have to say that it'd be cool if they wore the new jersey with white pants for a game or two.
•  •  •  •  •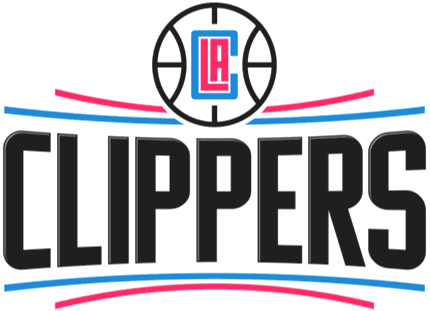 Design contest reminders: In case you missed it yesterday, I'm running an ESPN contest to redesign (or, if you prefer, re-redesign) the Clippers. The deadline is next Thursday, July 3, 7pm Eastern. Full details here.
Also: Phil is running a contest to redesign the Rays. Deadline for that one is next Tuesday, June 30. Full details here.
•  •  •  •  •

Baseball News: A Richmond Flying Squirrels fan collects the ice cream mini-helmet dishes that other fans leave behind at their seats, takes them home, cleans them, and then bring them back so the players can autograph them. "¦ Nats P Stephen Strasburg's bat knob decals show his uni number in three different fonts. Odd. "¦ Lindsay Resnick has started a new blog about historic baseball team names. "¦ Here's a new one: Pirates OF Andrew McCutchen and 3B Josh Harrison went high-cuffed with striped socks last night. Never seen that particular striping on a Pirates player before. Naturally, I like the striped hose, but it's a shame that socks have essentially become a non-standardized accessory, not really that different from a wristband, instead of a uniform component (screen shot by Coleman Mullins). "¦ Here's a Richmond RiverRats player wearing gold stirrups with black (or maybe navy) sannies. "¦ Phillies C Cameron Rupp's catcher's helmet had a throwback logo last night (from Chris H). "¦ The Orix Buffaloes have a new jersey that shows a map of the world (from Armin Rosen).


Pro, College, and High School Football News: No, the Jets are not getting a black helmet (nor are they making any other uniform changes this season). But if they did, it might look like this (from @ChiaEstevez). … Baylor has enough uni combos to wear a different one in every game for 10 years. Of course, that doesn't mean much because they'll likely get another makeover well before then (thanks, Phil). "¦ It's a little hard to see, but the NOB in this shot reads "1 Tim 4:12" — a Bible citation. That's Trinity Christian High School in California (from Eric Maddy). "¦ Good news at Iowa State, where it looks like the team's shoulder stripes are getting longer. Also looks like they're going with a new number font and new pants striping "¦ Here are Maryland's cleats for the upcoming season. "¦ Very disappointing to see that Penn High School in Indiana is selling the naming rights to its football field (from Scott Held).

NBA News: Reprinted from yesterday's comments: Here's more on that Wisconsin high school that has poached the Bucks' new logo before it could even appear in an NBA game. "¦ Kevin Durant has a new sneaker.

Soccer News: Here's a hint about the possible design for the 2015 MLS all-star kits (from Conrad Burry). "¦ Online searches for Peruvian national team jerseys are spiking. "¦ Really good article on the little rubber pellets found in the artificial turf used for the Women's World Cup. "¦ The rest of these are from Yusuke Toyoda: "Something I noticed at this year's Women's World Cup: female players exchanging jerseys after a game. It still doesn't happen much, partly because many teams can't afford extra jerseys." "¦ Great piece and some nifty animation on the evolution of Portland's Providence Park. "¦ Regarding Tuesday's ticker item about fitness sensors worn under Women's World Cup jerseys: The monitors for the US federation are supplied by Polar, and Canada has a similar deal with Catapult Sports. "¦ Here's an oral history of the United States' 1990 World Cup team, including anecdotes about how a couple of players exchanged shorts because their Italian counterparts had already swapped jerseys, and how several players lost the battle to wear their Puma gear because the US federation had an exclusive contract with Adidas.

Grab Bag: I really like this necktie diary, based on a guy wearing a bunch of his father's old ties. … The U.S. Army is adding zippered shoulder pockets to its uniforms (from John Muir). … NASCAR issued a statement supporting the removal of the Confederate battle flag from the grounds of the South Carolina state capitol and reiterated its ban on the use of the flag in any official capacity, although fans are still welcome to wave it during events (thanks, Phil). "¦ California is bringing back black license plates. "And this one's still available!" says Brinke. "¦ In an item that intermixes the themes of the two previous items, Virginia Gov. Terry McAuliffe has announced that the state will no longer issue Confederate flag license plates. North Carolina Gov. Pat McCrory wants to do likewise in his state, as do Tennessee Gov. Bill Haslam and Maryland Gov. Larry Hogan. Georgia Gov. Nathan Deal, however, is hedging. "¦ Meanwhile, the speaker of the Mississippi House of Representatives says it's time to remove the Confederate symbol from the state flag, and a growing stream of retailers, including Walmart, Amazon, Sears, and eBay, have said that they will no longer carry Confederate flag-based merchandise. "¦ Speaking of flags, here's a not-very-insightful critique of all 50 state flags (from Nathan Gruber). "¦ Golfer Jordan Spieth ended up with Under Armour through an unusual set of circumstances involving a former Washington football player (from Tommy Turner). "¦ 7-Eleven has won a trademark infringement suit against a Pennsylvania retailer with a very similar logo. "¦ "During a fiery South Sydney vs. Eastern Suburbs game in the 1970 Sydney rugby league competition, South Sydney player John O'Neill had his jersey ripped and torn after an altercation with an Eastern Suburbs player," says Graham Clayton. "¦ Also from Graham: "The Bendigo Thunder women's Australian rules football team recently had spare jumpers, team dressing gowns, and other clothing stolen from the club." "¦ New hockey uniforms for Illinois State (from Steven McVeigh). "¦ Kinda creepy but kinda cool: motorcycle helmets that look like shaved human heads.