Paul here, making a rare weekend appearance. Unfortunately, it's to share some sad news, as word broke last night that Jerry Dior, the graphic designer who created Major League Baseball's distinctive silhouetted batter logo in 1968, had passed away at the age of 82.
I first encountered Jerry in 2008, when he was fighting to be recognized as the logo's designer. MLB had never formally credited him, or anyone else, and they no longer had any records from the logo design project. Neither did Jerry himself, although lots of his colleagues from the time of the project vouched for him. He didn't want any money (nor was he entitled to any, as the logo was a standard work for hire); he just wanted acknowledgment. But another designer, James Sherman, was also claiming to have been the logo's designer.
I interviewed Jerry (who had already been the subject of a then-recent Wall Street Journal article) and also tracked down Sherman (whom the Journal hadn't been able to find). In the course of my interview with Sherman, he admitted that he wasn't the MLB logo's designer after all. That left Jerry's claim uncontested. MLB formally acknowledged him the following year. It was an extremely proud moment for Jerry and his family.
Jerry also let me interview him for a follow-up article regarding the familiar story that his logo was based on a photo of Harmon Killebrew. I interviewed Killebrew for that story as well, and the bottom line was that the logo was not based on Killebrew or on anyone else. Jerry specifically designed it to look like a generic player. The idea that it was based on Killebrew, it turns out, originated with Killebrew himself, who mistakenly believed he was the logo's inspiration and told many people the story over the years. (When Killebrew died in 2011, many obituaries and observers erroneously mentioned that he was the basis for the logo, and I had to set the record straight all over again.)
Jerry Dior was one of the nicest men I've ever known — an absolute peach and a consummate gentleman who was always a pleasure to talk to. In 2009 he came to one of our Uni Watch parties here in Brooklyn, and it was a thrill to have him there: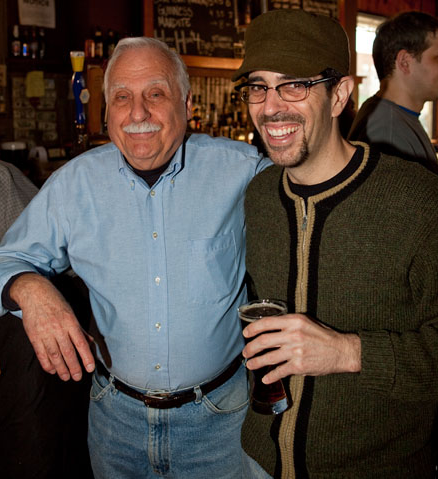 After nearly half a century, Jerry's logo still looks as fresh and contemporary as it did when he designed it. It's arguably one of the most influential logos of the 20th century, having served as the basis for the NBA logo (that mark's designer, Alan Siegel, has readily admitted as much) and for countless other copycat designs, from ultimate Frisbee leagues to beer pong tournaments. Each of those copies was, in its way, a tribute to Jerry Dior, who leaves behind a visual legacy that, I suspect, has not yet reached the midpoint of its lifespan. R.I.P.
(Big thanks to Phil for executing the black-armbanded version of Jerry's logo.)
. . . . . . . . . . . . .
Phil here — thanks for that wonderful lede, Paul. Now, on with the rest of today's Uni Watch:
Uni Tweaks Concepts
We have another new set of tweaks, er…concepts today. After discussion with a number of readers, it's probably more apropos to call most of the reader submissions "concepts" rather than tweaks. So that's that.
So if you've concept for any sport, or just a tweak or wholesale revision, send them my way.
Please do try to keep your descriptions to ~50 words (give or take) per image — if you have three uniform concepts in one image, then obviously, you can go a little over, but no novels, OK? OK!. You guys have usually been good with keeping the descriptions pretty short, and I thank you for that.
Like the colorizations, I'm going to run these as inline pics — click on each one to enlarge.
And so, lets begin:
~~~
First up today is Steve Lemak with a Tampa Bay Bucs concept:
Hi Paul & Phil,

Longtime fan and member since April 2011

Last year BEFORE the Bucs came out with a new uniform design, I created my own concept…

Saw some concepts on your site and wanted to share this one

All the best!

-Steve
. . .
And we close today with Irwin Awalludin with his take on the Browns (note – these were sent in on at 2:40 pm April 14; the Browns uniforms weren't unveiled until later that evening, though there had been leaks):
Hi Uni Watch!

I tried my hand at re-branding the browns…If you have the time, it would be an honor to have you critique my project for me. Your attention to detail is second to none, and learning more about your perspective on all things athletic branding would be much appreciated!

Thanks for your time!

– Irwan
But Irwan didn't just send in those two images — he has an entire project, so check it out!
. . .
And that's it for today. Back with more next time.
EPL Tracker
Each Saturday or Sunday, Alex Gerwitz will be tracking the kit combinations (shirt/shorts/socks) of the teams in the English Premier League from the previous weekend and the current weekend.
Here is the EPL tracker for Week 38 (click to enlarge):
And some words from Alex:
Here's my final EPL tracker of the season, and a bonus season recap graphic as well.
Also my team-by-team reports are all completed.
. . . . .
Big (HUGE) Thanks to Alex for the EPL tracking all season long! Looking forward to it next season.

Too Good…
for the Ticker
Got an e-mail from Kary Klismet, who sent a rather lengthy (but good) E-mail about yesterday's "Jersey Day" promotion by MLB.
It's a bit too long for the regular ticker, so here it goes:
. . .
Great news! Majestic's "Jersey Day," which debuted last year to great acclaim, is now an annual tradition! (That is, if being "celebrated" on two consecutive Fridays in late May can be considered "annual.") It's too bad I didn't get the below email until after I arrived at work and had, foolishly, chosen something other than a jersey as my workplace attire.

Regardless, it's only a matter of time before Jersey Day is a beloved national holiday, celebrated right alongside the likes of National Biscuit Day and Put a Pillow on Your Fridge Day. With any luck, one of these years Major League Baseball will unveil BFBS jerseys with pink camouflage lettering and stars and stripes numbers to commemorate the occasion.

On a different but related note, I found out about National Biscuit Day and Put a Pillow on Your Fridge Day through a website called checkiday.com, which lists what commemorative occasions are observed on each day of the calendar. I'm not sure if it qualifies as an entry for the Grab Bag section of the Ticker or the Catch of the Day, but it's good for a few laughs in any case, so I thought I'd pass it along.
Thanks, Kary. Great Stuff.
OK. Now, onto the ticker…
Uni Watch News Ticker:
Baseball News: The Toledo Mudhens will wear Jurassic Park inspired jerseys on June 6th. … Check out this beautiful shot of the Brooklyn Dodgers from Dugout Legends. Looks to be about 1956 (Furillo, Hodges, Amoros, Robinson, Snider, Reese, Gilliam, Maglie, Mgr. Alston); also note The Barber has the Mcauliffe font. … "A favorite commercial of mine as a kid but go to 18 second mark and you'll see the Phillies have two players wearing #28," notes Jeffrey Sak. … A wholesaler that imported more than 20,000 counterfeit Atlanta Braves baseball caps into the United States must pay nearly $700,000 in fines, a federal judge ruled (from Chris Bisbee). … Check out this "awesome" war themed poster (h/t Nicole Haase). … The Fort Wayne Tin Caps had a pretty cool "Lego night" jersey going yesterday (h/t MiLB Promotions). … According to Baseball America, the Richmond Flying Squirrels have the best logo in minor league baseball (thanks to Tommy Turner). … The Reno Aces need your help in choosing a jersey to wear (from MiLB Promos). … "My father sent this along," writes Alex Hider. "He works in the Scripps building in Cincinnati and got an email saying that work would be going on next week to decorate the building this way. No idea if this is a joke or not…I'm really hoping it's not." … Michael Rich stumbled upon an interview with David Kelly, the author of a series of children's books called "Ballpark Mysteries". He adds, "The cover art alone looks like it's worth the purchase price!" … Louisville has some new post season unis (thanks to Josh). Yeah, um…are those SLOH (School Logo On Hamstring)? Apparently Texas A&M also has some, um, interesting pants too, although those could be built in slider pads. … Here's yet another reason to love Joe Maddon: the Cubs dress code requires toe nail polish. … Have we ever noted that at least one Rockies player have a glove in the accursed color of death (if so, my apologies). … Stephen Curry of the Golden State Warriors was at last night's Giants game. Wearing his Giants gear (from Sean Robbins). … Here's a closeup of Justin Upton's camo gloves (via Brady Phelps).
NFL/Football News: "(Yester)day's ticker mentioned the Giants wearing yellow wristbands in NFC Championship and then flags on helmets in Super Bowl in 1990," writes Vince Guardado. "I remember 10 years earlier the Raiders wearing a piece of yellow tape on their helmets for the hostages in Iran that were just released prior to the game." … Baylor Coach Art Briles tweeted out this look at the new Baylor football uniform yesterday (h/t Tim O'Donnell). … Interesting story from the Green Bay Packers' website with a list of the worst Packers-related fires since the team was founded in 1919; many of the fires consumed much of the team's uniforms and equipment (from Bryan Martin Firvida). … According to Brett McMurphy, "Each SEC school will wear a light blue decal on helmet, recognizing prostate cancer in honor of outgoing commish Mike Slive." (thanks to Andrew Cosentino). … The NCAA has officially banned "overbuilt" face masks, which are face masks that cover a majority of the face and look like something that an executioner from way back when would wear. … Whoops (h/t Kevin Kielczewski).
NBA/Basketball News: "Found this at the local Wal*Mart last nite," says Marc Swanson. "'NBA Conference Champions,' not 'NBA Eastern Conference Champions.' Is this a common thing or just a stupid WM thing? The backside featured this same nomenclature on the Velcro clasp. Sorry, I don't recall what that logo is on the left side." … Marquette basketball clarified they only retire uniforms, but not numbers, which has caused a few occasions that offended their honored past players, according to Matt Sepersky. "Latest star recruit tweeted he was going to be wearing the number of a player who had his uniform retired, which caused a minor problem in Milwaukee."
Hockey News: "I belong to a goalie Facebook page and one of our members does custom goal pad designs," writes Tony Caliguiri. "I thought you might want to check it out." … More cross-sport "endorsements": No photos (yet) but Matt Larsen notes, "I'm watching the Cubs/Royals game on MLB.tv. Len Kapser, the Cubs' play-by-play man, just said Joe Maddon is going to try to have the team wear Blackhawks jerseys (or sweaters, my preferred term) during batting practice (Saturday). How's that going to work? Do they know how lose-fitting a hockey sweater is, especially without pads?" … Liam Neeson was at the Rangers/Lightning game last night, sporting a Rangers lapel pin.
Soccer News: Had enough of the FIFA scandal yet? Bob Ley has, and (sans beard now), he shows why he's freakin' awesome. … Nice breakdown in The Washington Post of how Nike's chase to become a soccer company and pay Brazil $200 million to sponsor their national team unis may come back to haunt them (from Bryan Martin Firvida).
Grab Bag: "I thought (Paul) might get a kick out of what this web site sells," says Marc Malfara. … Draft Kings has bought the presenting rights to Belmont (thanks, Paul). … This is neat: Leo Strawn, Jr. designed the kit for the USAFL's Cleveland Cannons and "the jumpers just arrived. They turned out pretty sweet, if I do say so myself." … Reader John Muir writes, "I hope this makes you feel better about how the empty space on the side of a municipal vehicle is used." … Matthew Moss notes a lot of the rejected nicknames in this article would make some interesting logos. … Humboldt High School in Iowa had some of those LoudMouth Golf pants for their state tourney (via Jay Wright). … "Black is the new Green": Charles T. Citrin writes, "Thought you might find the tagline of this advertisement for my school's store somewhat amusing. Not necessarily uni-related per se, but given the BFBS trend (which has slowly started to creep into my school's storied athletic department, as well) I figured it might be worth sharing anyways." … Evanston Township High School has introduced a redesigned school seal and Wildkit logo (from Steve Johnston).
And that's all for today — Thanks to Paul for penning that wonderful lede (I actually had one ready to go and Paul was going to add some thoughts about Jerry to add — but when I saw what he had written, I asked if he'd like to lede with it, as I thought it's important enough to warrant it). I met Jerry Dior once — at one of the 2009 Uni Watch gatherings in Brooklyn. Although we didn't speak long, he was a gracious and great guy, and I'm sure he ended up speaking to each and every Uni Watcher who was at Sheep Station that day. RIP, Jerry.
Everyone have a good Saturday — and I'll catch you all tomorrow.
Follow me on Twitter @PhilHecken
Peace.
.. … ..
"The comments that say "I like the design but the "˜PANDERING' thing bothers me" remind me of people who like the first two lines of CCR's "Fortunate Son" but find the rest of the song off-putting."
–terriblehuman