By Phil Hecken
Last evening the Seattle Mariners and the Boston Red Sox played a throwback game to honor the Negro Leagues. The Mariners played as the Seattle Steelheads, while the Red Sox played as the Boston Royal Giants. The teams said the year to which they were throwing back was 1946.
The uniforms were plain for both teams, although Seattle's had some side piping down the pants. Boston's uniforms were gray with navy trim, with blank blue caps. Seattle went with a creamish color for their uniforms with "Seattle" across the front in black block letters trimmed in gray. Their cap had a cream "S" and was black. Of course (and thankfully) both teams went NNOB.
Take a look (the first three are from Seattle Mariners photographers Ben Van Houten and Kaia D'Albora, and are tremendous hi res). Click all images to enlarge:
Nice right?
Interviews with players seemed indicate both teams were pleased to wear the throwbacks.
One thing was very disappointing. Some of the Red Sox wore their regular helmets for this game:
It's troubling because the Mariners had blank helmets prepared for the Red Sox, some chose not to use them. I was tipped wise to this well before the game by Kevin Martinez, who is VP of Marketing for the Mariners, who told me:
One thing you might notice is there are no logos on Boston's caps or helmets by design. Unfortunately, we learned last night that some Boston players may not wear the new helmet as they are more comfortable with their everyday helmet. I guess it has something to do with all the pine tar that's on their everyday helmet though I'm not sure. We will see what happens but know we have helmets in the dugout to match the turn back uniforms.
Of course there were several Red Sox who played along and wore gorgeous stirups, and some who did wear the blank helmet. The Mariners also had some guys high cuffin it.
It would be nice if everyone could wear the stirrups (and I've noticed that other teams, for their Negro League throwbacks do seem to all wear high cuffs with stirrups or socks), and I was surprised some of the Sox wanted to wear their regular helmets. Other than that, it was a great looking game.
You can see more photos here.
[Big thanks to Kevin Martinez and Nathan Rauschenberg of the Mariners. They had sent me a ton of photos from the game, but my Internet connection was spotty and slow, so I was only able to download the three I ran today]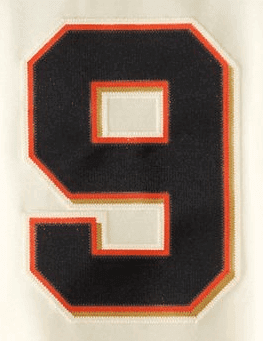 And now a few words from Paul: Hi, people. Nine years ago today I clicked "Publish" and posted the first entry on this website. At the time, the site was an experiment — I didn't know if there was enough uni-related news out there to sustain a daily blog format. And even if there was, I wasn't sure I wanted to produce and process all of that content on a daily basis. If anyone had told me that the site would still be going strong nine years later, or that we'd have published something almost every single day during those nine years, I would have laughed.
But here we are. To everyone who supports the site in any way, whether by guest-writing, submitting Ticker items, commenting, or just reading, please accept my thanks for your interest in my little project. And please join me in thanking the rest of the Uni Watch team — webmaster John Ekdahl, "Collector's Corner" columnist Brinke Guthrie, interns Mike Chamernik and Garrett McGrath, and of course weekend editor and bench coach Phil Hecken — whose crucial contributions and behind-the-scenes efforts make Uni Watch a better place.
We usually mark the site's birthday by having Purple Amnesty Day — the one day of the year when I accept orders for Uni Watch membership cards with purple-inclusive designs. But since the birthday fell on a Sunday this year, I've moved Purple Amnesty Day to tomorrow. There'll be some surprises, too — you'll see.
Colorize This!
Occasionally, I will be featuring wonderful, high-quality black and white photographs that are just begging to be colorized.
Our old colorizing friend George Chilvers is back with just a single colorization today. You'll never guess for which soprt.
Here's George (click to enlarge):
. . .
Hi Phil,

Let's take the Amazing Colourising Time Machine for a weekend spin, and we'll set the dial to 1929, and the place to Krakow in Poland where we can clarify a slight issue.

You see the caption to this picture says it is 1929 Poland v Hungary, Central European Cup. But there was no such game – on 4 August 1929 Poland played Czechoslovakia in that tournament in the Cracovia Stadion, the game ending 2-2.

So we can ask one of these gentlemen who they were playing. I speak Polish so I'll do the talking. You just admire the magnificent shirt badges.

George
Thanks George! Great stuff — as always!
Uni Tweaks Concepts
We have another new set of tweaks, er…concepts today. After discussion with a number of readers, it's probably more apropos to call most of the reader submissions "concepts" rather than tweaks. So that's that.
So if you've concept for any sport, or just a tweak or wholesale revision, send them my way.
Please do try to keep your descriptions to ~50 words (give or take) per image — if you have three uniform concepts in one image, then obviously, you can go a little over, but no novels, OK? OK!. You guys have usually been good with keeping the descriptions pretty short, and I thank you for that.
Like the colorizations, I'm going to run these as inline pics — click on each one to enlarge.
And so, lets begin:
~~~
First up today is Jason Baublitz with a Ravens concept:
Phil,

This is my concept for a new Baltimore Ravens uni. I wish the would switch to black jerseys for home and Purple for alternative. What part of a raven is purple anyway?

Jason Baublitz
. . .
And we close today with Alex Struck who has a slightly new look for Arizona's baseball team:
Hi Phil,

I have a Uni Concept for the Arizona Diamondbacks. Their current uniforms are pretty bland, and the "Dbacks" moniker is bush-league. So I created a Home, Road and Alternate uniform that is more in line with the Southwest's style and the Diamondback's history.
Using Copper and Turquoise in their color scheme invokes Arizona's history of copper and turquoise mining, and give a unique southwestern flare that has been missing from the Diamondback's uniforms since they went conservative and dropped their original look for "Sedona" Red.

Thank you,

Alex Struck
. . .
And that's it for today. Back with more next time.
EPL Tracker
Each Saturday or Sunday, Alex Gerwitz will be tracking the kit combinations (shirt/shorts/socks) of the teams in the English Premier League from the previous weekend and the current weekend.
Here is the EPL tracker for Weeks 36 & 37 (click to enlarge):
Alex adds: This week's tracker. Also, here's a link to my season ending team recaps, the first 7 are completed and the rest will be done as each team completes their final away game.
Uni Watch News Ticker:

Baseball News: Check out this old Ron Cey photo/uni. Says submitter Alex Allen, "My brother-in-law came across this photo while watching his son play AAU basketball at Mt. Tahoma High School in Tacoma, WA." …"Starting them wrong young," read the e-mail from Dustin Semore, who adds "Pajama pants AND a random colored digi-camo for a little leaguer. Difficult to see, but it looks like the numbers are ironed on, so the digi-camo is visible under the numbers. There's no piece of this uniform that is remotely pleasing to the eyes. Except that a youngster is playing baseball. He just has to learn how to properly dress for the occasion." … Tweeter Keith Leventhal notes the "Interesting move by the #MNTwins to give away hats in #Rays colors while playing the Rays." I think this had been discussed in the comments and the caps aren't necessarily in Rays colors. Hey Arr Scott, you know more? … Here's a look at the Durham Bulls in C3PO uniforms yesterday (via Tim Flynn). Here's a bit more on that. … The Rock Cats were also doing the Star Wars thing (via Christopher Hurtgen). Here's another look. … Vanderbilt broke out some gorgeous gray unis yesterday (h/t Tres Lawless). … The Savannah Sand Gnats wore Pink Jerseys for Pink in the Park (from Jeff Berger). … The Reds broke out their camo unis yesterday. Says Brinke, "Watching the Giants at Reds tonight, I pointed to the camo and she said, 'those look like someone threw up on him'."

NFL/Football News: "RIP Garo Yepremian" says Douglas Ford. "Check out the navy blue jersey Garo is wearing on the 4th card. Is that a pro -bowl jersey? If so, that is some whack font." … The Arizona Rattlers of the AFL used the Las Vegas Outlaws logo from the XFL during their game last night (thanks to Cody Bryant).

Soccer News: "My buddy Michael Hitchcock invested in English football club Alfreton Town back in January," writes Jonathan Collura. "They just changed the logo (which depicts town namesake King Alfred). The king was on the club's original badge back in 1959. They also have a fan vote for next season's kit (by U.S. manufacturer UN1TUS (the same company did his PFL kits)."

Grab Bag: Via twitter, James Gilbert writes, "Don't think this is a good idea." It didn't take long for ESPN to run this: Under Armour stops selling shirt bearing similarity to Iwo Jima Memorial (thanks, Paul). … This is neat. Clint Richardson is into Auburn Uniforms. "Think you'll like this," he writes. "Lately, I've been working on documenting every Auburn football, baseball, and basketball uniform. It's been in spurts with school and all, but I finally finished every Under Armour design – and combination for baseball – since they took over for the 2006 season. They're all my site, under their own tab, but here are the individual links: Football, Baseball, and Basketball." … Goodyear had Support the Troops tires with pink lug nuts (thanks to Clark Ruhland). … Check out this grooms cake of Wrigley Field! (nice find by Coleman Mullins). … The New England Revolution went with special military appreciation tops last night (from Mike Slavonic).
Let me be the first to wish Paul, and Uni Watch, a HAPPY NINTH ANNIVERSARY! It's amazing what you've done and how UW continues to be the place for those who Get Itâ"¢. Congrats, buddy! Here's to the next nine!
And that's all for today. Thanks to the M's guys, George, Alex, the colorizers and anyone else who tweeted or e-mailed. You guys have a great week.
Follow me on Twitter @PhilHecken.
Peace.
.. … ..
"Grey skies clear up if you let them."
–Marty Hick