Last Friday we learned how MLB will once again be distorting the meaning of Memorial Day later this month. That led many observers, myself included, to proceed to the next logical thought: How will MLB be desecrating the flag on Independence Day this year?
And now, thanks to one of my sources, we have our answer (click to enlarge):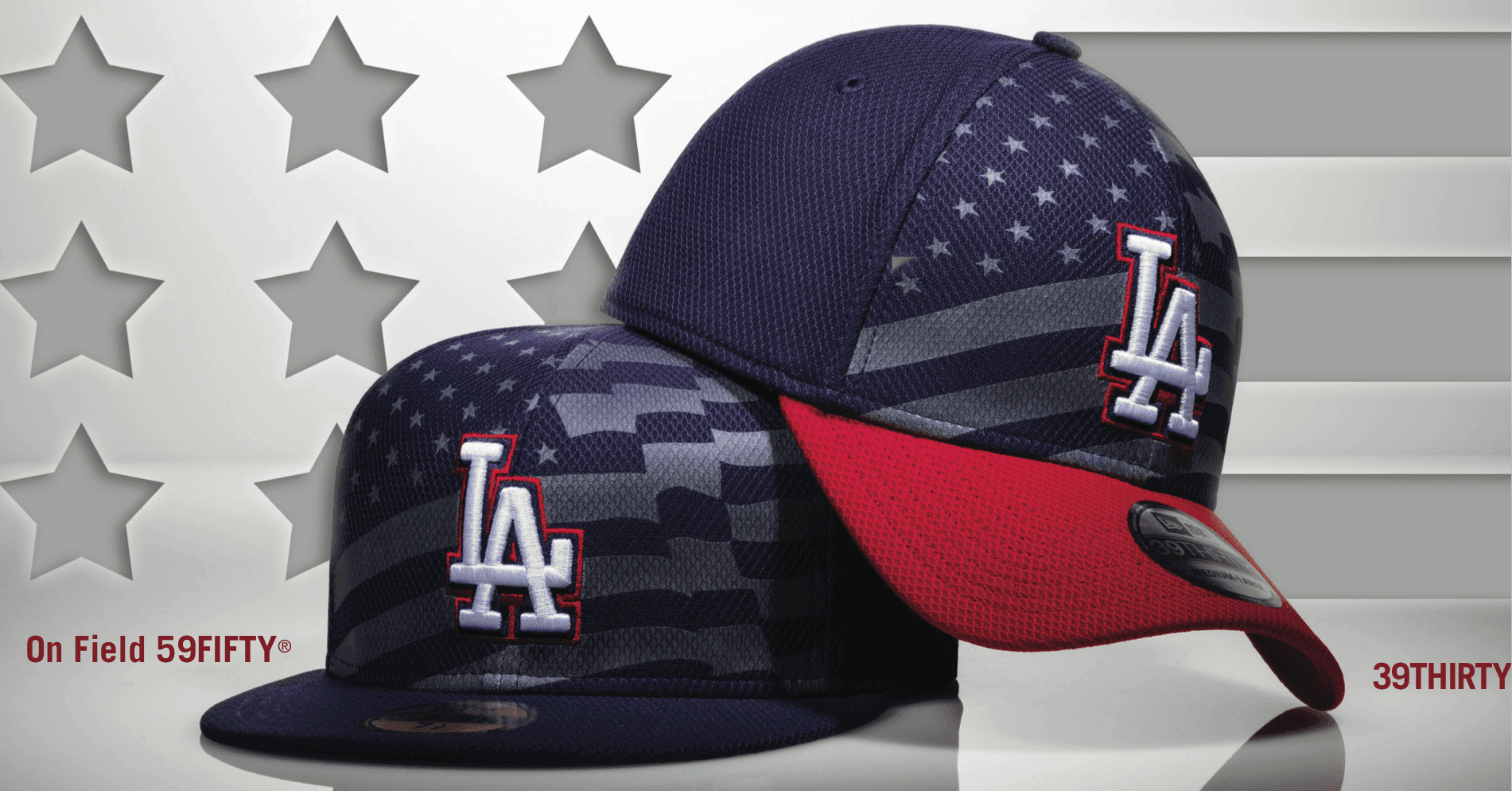 Wow. A few thoughts:
•  This is the kind of American flag cap you'd find at a gas station (right next to the cheap sunglasses and the air freshener thingies), but with a team logo slapped on the front. It's tempting to call it self-parody, but it feels two or three levels more absurd than that. Come on, people — have some dignity out there.
• My source doesn't have any of the other teams' designs yet — just the one for the Dodgers. Red, white, and blue are all part of the Dodgers' color scheme, so it isn't clear if the other caps will be rendered in team colors (in which case the flag motif will, in many cases, look really inappropriate) or if they're going to impose red/white/blue on every team (in which case several teams, especially the A's and Rockies, will look even worse than all the others).
• I don't really care about BP caps, but it's interesting to see that they're included them in this year's program. I don't think they've done that in the past, have they?
• The most notable thing about the template, at least in terms of its implications for future MLB cap designs, is the sublimated flag pattern. You can get a closer look at it here (click to enlarge):

Imagine other background patterns, featuring secondary logos, wallpaper effects, or whatever, being used on standard MLB caps. A frightening thought.
•  Although I don't yet know this for sure, I'm assuming that MLB will once again be donating profits from the sale of these caps to Welcome Back Veterans. That's nice, but Independence Day is not a military holiday — it's the anniversary of the Declaration of Independence's ratification. So if MLB once again ties the sale of Independence Day merch to a military charity, they will be (a) misrepresenting yet another holiday, (b) once again promoting the insidious notion that support for the military and patriotism are synonymous, which is patently false, and (c) continuing the endless drumbeat of celebrating the military over and over and over again, to the near-exclusion of all other sectors of society. All of this is unacceptable. (It's also worth noting that MLB could do all of this strictly via merchandising, without making the players wear gas station-style caps on the field.)
• More that a quarter of MLB players hail from outside the United States. In the past, I've said that it's unseemly to force so many foreign-born players to wear American flag-based imagery. But my concern with this new cap design is different: I'm worried that the foreign-born players might think all Americans are as foolish as the ones who approved this cap concept. So to all of the Dominicans, Cubans, Japanese, Mexicans, Canadians, Panamanians, Koreans, and other foreigners who'll have to wear this thing, please believe me when I say some of us have better taste than this — honest.
I'm quite fond of the American flag, incidentally — it's a gorgeous design, and over the years it has stood for many wonderful things (along with some truly awful things, but history is messy that way). It deserves better than to be cheapened by this type of cap design.
•  •  •  •  •

Accursed color reminder: Purple Amnesty Day is normally May 17, but that date falls on a Sunday this year, so I'm moving Purple Amnesty Day to Monday the 18th — one week from today. That will be the only day this year when you can order a purple-inclusive Uni Watch membership card. So if you're a fan of the Vikings, Rockies, Lakers, LSU, or any other purple-clad team, mark your calendar.
Also: There will be a new wrinkle to Purple Amnesty Day this year. I'm not going to divulge what it is until next Monday, but believe me when I say it will be gloriously hideous and hideously glorious. You'll see.
• • • • •
Kinda puts everything in perspective: On Saturday my friend Aimee and I went to the Museum of the City of New York, where we saw an exhibition on Paul Rand, the greatest graphic designer in American history and the man who almost single-handedly raised design to the same cultural and critical status as fine art. Over the course of a six-decade career, he created many of the 20th century's most famous and durable corporate logos (IBM, UPS, ABC, Westinghouse, NeXT) and pretty much rewrote the book on designing print ads, magazine covers, and book jackets. His influence on just about every aspect of contemporary design can't be overstated.
It's a tremendous show. As a longtime Rand fan, I was already familiar with most of the images and information on display, but it was still great to see all of it in one place. What really hit me as I made my way through the exhibit, however, was the consistent sense of intelligence and playfulness in most of Rand's work, and how both of those elements are sadly lacking in so much of the design we see in contemporary sports graphics. If you think Nike's or Under Armour's designers are talented and/or radical, do yourself a favor and check out some Paul Rand, who had more talent and radicalism in his pinkie toenail clippings than most sports designers will have in their entire careers.
I saw Rand speak once, at a conference in the early 1990s, shortly before he died. He was pretty cranky and irascible by that point, with little patience for things he thought were shallow or pointless, so I imagine he wouldn't think much of what passes for sports design today. To my knowledge, he never did any sports-related work himself, which is a pity.
The Paul Rand exhibit is up through Sept. 7. If you live in the NYC area or will be visiting here by then, go see it. You won't be sorry.
• • • • •

Baseball News: Yesterday was Mother's Day, so there was the usual tsunami of pinkwashing, including pink ribbons, pink armbands, pink bats, pink bat knob decals, pink undershirts, pink shoes, pink shoelaces, pink catcher's gear, pink umpire's gear, pink batting gloves, pink baseballs, pink eye black, and so on. Fortunately, I didn't have to look at any of those games because I was spending Mother's Day with my family. "¦ One notable aspect to all the pinkwashing: Royals P Ryan Madson is the first player (at least that I can recall) to be breathing Ethier in a pink undershirt (screen shot by Bradley Springer). "¦ Brewers mascot Bernie Brewer's mom looks just like Bernie, right down to the mustache. "¦ Hokkaido Nippon Ham Fighters unveiled their lavender alts for games in June and July (from Yusuke Toyoda). "¦ Here's an interview with the artist who did that great Cardinals scorecard cover (from Dwight Ternes). "¦ Pink jerseys yesterday for the Norfolk Tides. According to a small note at the bottom of this story, "With the different jerseys, a few [players] had different numbers. One of those was catcher Audry Perez, who is typically No. 24, but wore 20 on Sunday." Not sure why they'd do that, but Perez went 2-for-3, so there you go. "¦ Don't know what the connection was between the Dodgers and the Sands Hotel in Vegas, but it led to this cool promo poster (from Matt Wilson).

Hockey News: "The Canadian Museum of History has this page devoted to an old hockey equipment catalog," says Will Scheibler. "Of particular interest is this line of Maurice Richard 'Rocket' clothing. Here's a closer look at the top half of that page." "¦ Ron Roza was in Montreal and spotted this hockey goal urinal target. "¦ The NHL is promoting this year's Stanley Cup Finals by putting Tony the Tiger in a hockey jersey.

NBA News: Rihanna was spotted wearing a vintage Dennis Rodman Spurs jersey (thanks, Mike). "¦ A high school charity basketball event is using a logo cribbed from the 2000 NBA All-Star Game logo (from @loneranger158).

Soccer News: Shonan Bellmare announced the alt uniforms to they'll wear in July for Tanabata, the Japanese festival of stars (from Yusuke Toyoda). "¦ Also from Yusuke: Howler magazine produced four really cool animated videos about European soccer history, including how Juventus's black-and-white-striped jerseys came to be.

Grab Bag: Here's a slideshow of Australian Olympic Games uniforms dating back to 1956 (from Graham Clayton). "¦ Just in time for Mother's Day, Judy Adams sent me this amusing clothing care tag yesterday. "¦ PGA player Kevin Na wears a belt buckle with an American flag motif, but with his last name swapped in for the stars (from Douglas Ford). "¦ NASCAR note from David Firestone, who writes: "The Southern 500 is returning to Labor Day this season, and Darlington is having throwback tickets, throwback tires, and fauxback paint schemes — I can't wait!" "¦ Thousands of uniform shirts slated to be worn by volunteers at the upcoming Pan Am Games have to be replaced because their chest logos might come off in the wash. "¦ The Australian band 5 Seconds of Summer has to change its logo because it looks too much like the logo for a retail store. "¦ Someone is trying to capitalize on the Bruce Jenner situation by trademarking an athletic apparel line called TransJenner.