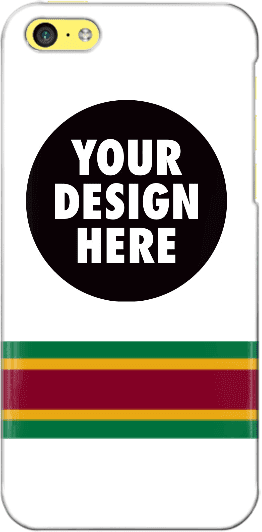 Last month I solicited design submissions for a Uni Watch cell phone case, with the winning designer slated to win a $100 cash prize. Today it's time to take a look at the best designs and let you vote to choose a winner.
First I want to acknowledge some good ideas that didn't quite make the cut: Adam Walter's design featured a green dot, like the ones on radio-equipped NFL helmets (might have worked better if the dot had been smaller); David Firestone came up with a Uni Watch funny car; Timothy Fesmire depicted part of a grey flannel baseball jersey, complete with buttons and a partial headspoon; Aaron Peak came up with a nice mesh fabric motif; Caleb Borchers tried to appeal my love of infinite regressions; Alex Giobbi plastered his design with assorted logos from Uni Watch history, creating a luggage-sticker effect; and our anonymous DIYer, true to his goalie-centric leanings, came up with a design based on a waffle-board blocker.
I like all of those, but I chose three finalists that I like even better. Here they are, in no particular order:
1. Blake Pass
Blake used the script from the Uni Watch T-Shirt Club and paired it with the stripe pattern from the blog — a good combo. The outlining on the script could use a bit of a touch-up, but otherwise this looks really good.
—————————
2. Matt Beahan
Many, many entrants came up with stirrup-themed designs (including Timothy Fesmire, Emma Bruno, Dick Holbrook, Blake Pass, and Anthony Giaccone), but Beahan's version, shown above, was the one I liked best. It could use some minor tweakage to make the front and back openings more distinct, but aside from that it's very strong. I particularly like that this one communicates the idea and identity of Uni Watch without needing to use the words "Uni Watch."
—————————
3. Chris Howell
Howell submitted three designs featuring slightly fuzzed-out stripe patterns (the other two are here and here), but this is the one I liked best. It kinda feels like a wallpaper pattern for a computer monitor, and I mean that in a good way.
—————————
Those are our three finalists. Please vote for one of them here:
As you can see, you also have the option to vote for one of the non-finalists. Here's how that will work: You can see all of the design submissions here. Each file is tagged with the name of its designer. If you like one of the non-finalists better than the three options I've chosen, send me an email with the file name of your choice (sort of the equivalent of a write-in ballot). If there's a groundswell of support for one of the non-finalists, I'll take that into consideration. But whether you vote for a finalist or a non-finalist, you can only vote for one design.
My thanks to all the designers, and to everyone who participates in the voting. This is shaping up as a fun project.
•  •  •  •  •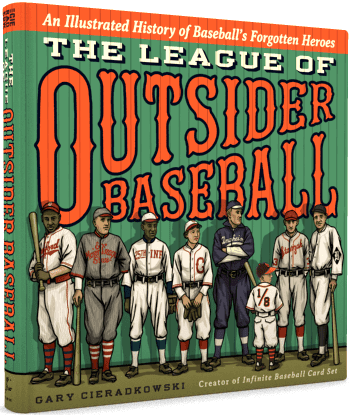 New sponsor shout-out: As you may have noticed in the right-hand sidebar, we're currently running an ad for Gary Cieradkowski's new book, The League of Outsider Baseball: An Illustrated History of Baseball's Forgotten Heroes. Gary may be familiar to many of you as the creator of the excellent Infinite Baseball Card Set, which I've long been a fan of.
Gary's book is devoted to the eccentric characters around the sport's fringes. Just check out these chapter titles: "Bush Leaguers," "Could-Have-Beens," "Bad Guys," "Odd Balls," and so on. There are dozens of player profiles, each one illustrated with Gary's beautiful artwork. In short, this one's a keeper, and I'm very happy to have it advertised on the site. Don't miss.
•  •  •  •  •

Baseball News: The Red Sox wore 1975 throwbacks last night. The good news: They included the Massachusetts bicentennial patch. The bad news: inconsistent hosiery design and non-throwback helmets. Also, you'd think this would've been a good game for the Rays to wear their 1970s-style fauxbacks, but they didn't. "¦ Speaking of retro Sox looks, the White Sox wore their beach blanket throwbacks last night for the first time this season. "¦ The Royals will wear "Los Reales" jerseys on July 25 (thanks, Phil). "¦ Oddibe McDowell wore No. 0 with the Rangers, as a shout-out to his first initial. But at Arizona State he went further than that: No. 0 and FiNOB! (Big thanks to David Berliner.) … A Dodgers fan got the team's logo tattooed onto the side of his head. … This review of Pedro Martinez's new memoir features the following: "[The book includes] the story of Pedro's first bus ride back from a road game with that Great Falls farm team [when Martinez was 18 years old]. When someone told the players to 'get dressed and go,' Martinez and his teammate Raul Mondesi 'went straight to the bus in our uniforms.' When the manager, a white guy from Chippewa Falls, Wisconsin, saw them there, 'he exploded.' 'You fucking dirty bastards,' he shouted. 'You don't do that in the States, this is not the Dominican Republic.' Martinez and Mondesi didn't realize that they were supposed to shower before the bus ride." … Odd trend for the Twins: We already knew they were giving away Rays-colored Twins caps when hosting the Rays next weekend, but now it turns out that they're also giving away Cardinals-colored Twins caps when hosting St. Louis next month. "While it's billed as a St. John's University/College of St. Benedict-themed event, the reality is that if you buy a ticket as part of that event, you'll get a Twins cap in Cardinals colors," says Mike Menner. … Worst of all possible worlds: purple pandering (blame Chuck O'Connor). … Here's a jersey worn by Stan Musial while playing for a U.S. Navy baseball team in 1945. As I've said before, and will keep saying, wearing throwbacks of military baseball team uniforms would be a much, much better tribute than the lazy default move of wearing camouflage. The throwbacks would be a de facto history lesson about the sacrifice that ballplayers used to make during times of war — much better than the jingoistic rah-rah pandering provided by camo. "¦ The Yankees used to require their minor leaguers to go high-cuffed, but they've scrapped that rule this season. Sadly, the players at Double-A Trenton are happier going low-cuffed. "¦ Check this out: The Mets could have been called the Bees, the Avengers, or the Burros (thanks, Phil). "¦ Speaking of the Mets, they wore NYPD caps during BP last night, honor a slain police officer (Phil again). "¦ The Giants wore their "Gigantes" jerseys last night. That makes seven different jerseys for the Giants so far in 2015, and the season is only a month old. "¦ The Brewers have also worn seven different jerseys this season, if you count that one game when they wore BP jerseys. "¦ Nice to see that Oregon can look as absurd on the diamond as they do on the gridiron. "¦ Cubs P James Russell's Ernie Banks memorial patch was AWOL last night.

NFL News: Reader Scott Mason was watching a Dolphins/Bengals playoff game from 1973 and spotted a Cincy player with some major paint chipped off of his helmet. … Falcons draft pick Vic Beasley is among the first LBs to wear a number in the 40s under the league's new uni-numbering rules. Additional info on Atlanta's rookie uni numbers here. "¦ Lots of new uni numbers for the Lions, Eagles, and Ravens, too. "¦ A sporting goods chain is offering "jersey insurance" for Eagles fans who buy an overpriced polyester shirt and then the player is cut or traded. Best insurance of all: Don't waste $$$ on overpriced polyester shirts in the first place. "¦ Dave Rappoccio made a comic about the 49ers' new BFBS alt uni. "¦ Hey, here's a groundbreaking idea: Let's rank all of the recently issued NFL uni designs (thanks, Phil). "¦ Cowboys second-rounder Randy Gregory has gotten a big tattoo of the team's star logo. … A runner in last Sunday's Pittsburgh Marathon was dressed up as former Steelers RB Jerome Bettis. "¦ The Bears did a photo shoot yesterday with T Jermon Bushrod, dressing him in a Monsters of the Midway throwback uni. Note the dark facemask, however — that throwback helmet usually gets a grey mask. It's not clear whether they're making a change or just didn't bother to swap out the mask for the photo shoot (from @ImMidwayMonster).

College and High School Football News: I'm sure many of you have seen this photo of a high school football game taking place while a building is on fire in the background. Here's a story about that incident. "¦ New uniforms for Wake Forest (from Duncan Wilson). "¦ Louisville is using Adidas footballs for the first time. "¦ LSU RB Leonard Fournette has previously worn a standard NOB. But Leonard's brother Lanard is joining the team this year, so Leonard's NOB now has the first two letters of his first name. No sign yet of Lanard's NOB (from Wesley Eustis).

Hockey News: Here's a ranking of every NHL team's home jersey. "¦ Joe Drennan has a nice collection of NHL team patches. "I started the collection around 1998-99, which I was in junior high, sort of as a reward for my hard work," he says. "First came the binder and one patch, then each month for two or three more patches would come in the mail. Willabee & Ward was the manufacturer. Each batch measures about 7.5″ tall and is encased in a plastic housing affixed to a cardstock backing with information and stats about the team." "¦ Sad day at the Nassau Coliseum, where the ice has been removed for the final time. Here's a time-lapse of it (thanks, Garrett). … A power outage in St. Paul turned the Wild's ice to slush 12 hours before Tuesday night's playoff game against the Blackhawks.

NBA News: What does Dirk Nowitzki of the Mavs do with all his old gear? Find the answer here (from Jonathan Daniel). "¦ Here's a look at which Trail Blazers uniform produced the best record this season. "¦ Looks like Clippers G Austin Rivers is the latest NBAer to fold down his waistband (from Mike Engle). "¦ Conrad Burry made some Cinco de Mayo-themed NBA concepts to mark the holiday yesterday.

College Hoops News: When Shaka Smart coached at VCU, his style of pressure defense was called "havoc" — a term that VCU trademarked at the state level. Smart was hired by Texas last month, and the Longhorns intiallly made a move to trademark the terms "Horns Havoc" and "House of Havoc," but now those moves have been withdrawn.

Soccer News: Indy Eleven will be going G.I. Joke on May 16 (from Evan Stinson). "¦ Very interesting article on split-team soccer scarves. "¦ New jerseys for Sao Paulo. … Real Madrid's new change kit for the 2015-16 season appears to have been leaked (from Kary Klismet). … Also from Kary: "Austria Vienna's mascot, 'Super Leo,' staged a stumbling, drunken pitch invasion during his team's match against SC Wiener Neustadt on Saturday."

Grab Bag: Here's a look at UK political party logos. "¦ New camouflage pattern coming in July for the U.S. Army. Imagine that — camo actually being worn by soldiers, instead of dress-up soldiers. "¦ In this era of digital design, here's something you don't often see: a graphic designer who specializes in hand-drawn logos. "¦ Apple is suing a Russian online store for using a logo similar to the Apple logo. "¦ The Vatican has released a new logo for the Holy Year of Mercy. … Small note buried on this page indicates that a Canadian high school rugby team played in borrowed jerseys while waiting for their new ones to arrive. … New logo for the Tennis Hall of Fame. … UNC has an equestrian club team. Their logo turns the "C" in the school's familiar logo into a horseshoe. "¦ "We had an election on Tuesday in Alberta for premier (the equivalent of governor)," says Mike Styczen. "There are five parties, and their colours are orange, red, green, light blue, and dark blue, so the TV anchors are even more constrained in their choice of neutral colors than the anchors in America. Which means lots of purple." … Here are some Uni Watch readers who wore their Cinco de Mayo T-shirts yesterday.
• • • • •
Play ball: Phil and I will be attending tonight's Mets/Orioles game as guests of Mets creative services director Mike Zulla, who's going to introduce us to his design team and talk logos with us. Should be interesting! Not sure if it'll all be off the record, but I'll give as full a report as I'm able in the next day or two.