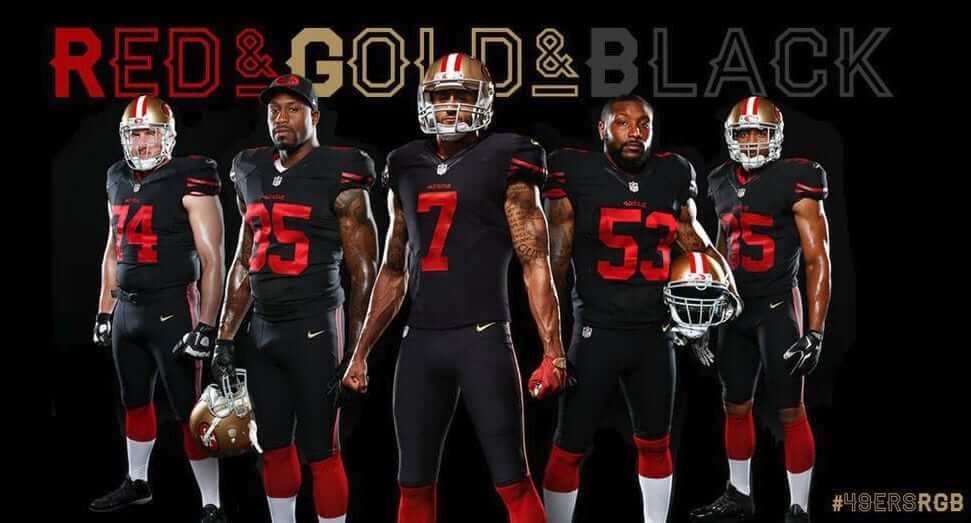 Click to enlarge
When I was six years old, I reached into a box of corn flakes and pulled out this giveaway card of 49ers running back Ken Willard. At that moment I became a Niners fan, and I've been one ever since.
Since then the 49ers and I have had some ups (all those Super Bowls in the '80s and '90s were nice) and some downs (people forget that the Niners went 2-14 two years in a row in the late '70s), but there's always been one thing I could count on: My team looked good out there, at least from a uniform standpoint. This isn't to say their uniforms were perfect — the pants striping was way too wide during the Montana era, I could have lived without all the black trim that was worn from 1996 through 2007, and the current sleeve stripes are a continuing embarrassment. But the red/gold color scheme has always been a winner, the helmet logo has proven to be extremely durable, and the team's overall look has been solid.
Until now.
The Niners' new alternate uniform, which was unveiled last night, is a disaster on almost every conceivable level. The best thing I can say about it is that it'll be worn for only two games. As for the worst things I can say about it, you can get my full take in this ESPN column.
• • • • •
ESPN update: My latest ESPN column (aside from today's piece about the Niners) has five key takeaways from the NBA's new sock deal with Stance. Check it out here.
•  •  •  •  •
Culinary Corner: Tomorrow is the first Saturday of May, which means it's time for the Kentucky Derby. And that means I'll be making the dish I always make for the Derby: a derby pie.
Technically speaking, you're not supposed to use the term "derby pie," because that's a registered trademark of some annoying people in Kentucky who insist that they own the name and love to send their lawyers after anyone who thinks otherwise. (They even sued their own chocolate chip supplier, Nestlé, for printing a "Tollhouse Derby Pie" recipe on the chip package.) So you'll often see wink-wink names like Triple Crown pie, race day pie, winner's circle pie, and so on. But screw all of that — derby pie belongs to the people. It's also really easy to make. Here's how to do it:
If you know how to make pie crust, make some dough and position it in a 9-inch pie pan; if you don't know how or just can't be bothered, get yourself a frozen 9-inch pie shell.
Set your oven to 350 degrees. While it's heating up, get a big mixing bowl and beat together four eggs, a cup of light corn syrup, 3/4 cup of light brown sugar. and 1/3 cup of melted butter. Then add 3 tablespoons of decent bourbon (or maybe a smidge more than that, if you're so inclined), a tablespoon of vanilla extract, a tablespoon of flour, 6 ounces of chocolate chips, and a cup of chopped walnuts.
Mix all of that together, pour it into the pie dough or frozen shell, and pop it into the oven for an hour. It'll puff up high like a soufflé, but it'll settle back down while it cools, which you should allow it to do for an hour or so.
It's standard to serve each slice with a dollop of whipped cream, although I frankly think that's unnecessary — the pie is rich enough on its own. Less traditional and even less necessary, but nonetheless delicious: this bourbon sauce, which is pretty much the bomb.
Trust me, there won't be any leftovers.
+ + + + +
Fight-night orphans seek home: Uni Watch reader Marty Buccafusco (who you may remember from this excellent DIY project) and I would both like to watch the Mayweather-Pacquiao fight tomorrow night, plus I have an out-of-town houseguest this weekend who'd also like to see it. But sports bars in NYC are charging at least $45 to see the bout, and in some cases a lot more, which is nuts, especially since the word I'm hearing is that most of these bars will likely be so packed as to be uncomfortable. (Plus sports bars are, you know, sports bars.) The three of us could order the fight at home, split the $100 cost three ways, and save money, but then it'd just be the three of us, without any of the social vibe that normally accompanies a big event.
So I'm taking an admittedly unusual step: If you're hosting a fight-night party in NYC (preferably in Brooklyn, but we'd consider other parts of the city as well), could the three of us come over? We'll bring beer and snacks, and of course we'll gladly pay our fair share of the pay-per-view fee. I can promise that at least one of us is pretty boxing-knowledgeable, another one of us has actually written and recorded a song called "Muhammad Ali," and all three of us are well-behaved. Basically, we'd just like to see the fight in the company of other fight fans without getting ripped off or being packed in like sardines at some godawful sports bar.
If this appeals to you, please give me a shout. Thanks for your consideration.
•  •  •  •  •
Navels aren't just for oranges: Had a revelation yesterday morning while making a batch of toast. Speaks for itself:
•  •  •  •  •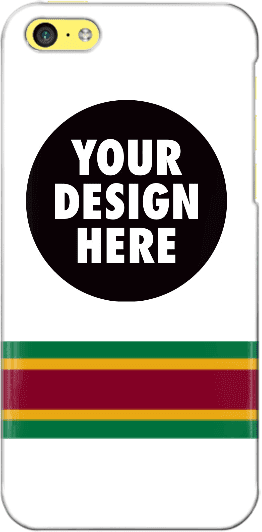 Design contest "" last call: Today's the final day to get in on the contest to design a Uni Watch smart phone case. The winner will get a $100 cash prize. Full details here.
As an aside, many of the designs that have been submitted so far feature a white background. As you can see, I used a white background for the mock-up shown at right, so maybe people were following my lead, but I want to stress that the base color does not have to be white. If you go to this page and click on "Layout," you'll find a link that will show all of the available background colors.
•  •  •  •  •

'Skins Watch: Colorado is the latest state whose legislature is considering a bill that would ban schools from using Native American team names and mascots unless local tribes grant permission. "¦ Lots of people in North Dakota still oppose UND's change from the "Fighting Sioux" team name. "¦ The Organization of American Historians is the latest group calling on the 'Skins to change their name. … The local high school in Watertown, Mass., is moving away from using Native American imagery, leading to a big debate over what the new team logo and name should be (from Jordan Mayblum).

Baseball News: Autism awareness jerseys this Sunday for the Binghamton Mets. "¦ Two North Dakota high schools will wear "Striking Out Cancer" jerseys next Tuesday. … UCLA's beautiful blue/gold color scheme doesn't look so beautiful when used for G.I. Joe pandering (from Jared Buccola). … The A's will be wearing 1965 Kansas City A's throwbacks on June 27. Interestingly, their opponents that day will be the Royals, so it'll be KC vs. KC. No word yet on what the Royals — who didn't yet exist in 1965 — will be wearing. "¦ Two bad tastes that taste worse together for Michigan State, which will be wearing BFBS and G.I. Joe letters/numbers tomorrow (thanks, Phil). "¦ Big time for black jerseys in the Bay Area, as the Giants' new black alts will debut tomorrow (thanks, Brinke).

NFL News: In keeping with the NFL's plan to celebrate the Super Bowl's golden anniversary, first-round picks in last night's draft had their NOBs rendered in gold lettering. The one exception was overall No. 2 pick Marcus Mariota, who didn't attend the draft in person but was given a Titans jersey with standard white NOB lettering. "¦ Football helmets based on Marvel superheroes? Sure, why not (thanks, Phil). "¦ "A Dancing With the Stars reunion/anniversary show on Tuesday featured former NFL stars decked out in horrible jerseys/costumes," says Richard Stover. "¦ I've often criticized the sports world for celebrating the military over and over and over to the near-exclusion of all other sectors of society. And now we may know why, at least in the case of the Jets: because they were paid to do so. "Makes me wonder if the Jets' situation is a one-off or if these payments are, sadly, commonplace," says Richard Stover.

College Football News: Some very low-quality photos of Colorado's new uniforms have leaked. The unveiling will be today. "¦ In a related item, here's a look at Colorado uniform history (thanks, Phil). … A pair of Wyoming recruits have settled a jersey number dispute. … New field design for Ball State. … Animal Planet has a show called Flipping Ships, which is about renovating boats. In tonight's episode they turn an old pontoon boat into a Clemson-themed boat for former Clemson football player and current Clemson radio broadcaster Will Forrester. You can watch a preview clip here.

Hockey News: With the Rangers and Capitals opening their playoff series last night, the Rangers' Twitter feed stopped using capital letters (from alan kreit, who avoided using capital letters in his email to me). "¦ A Halifax shop will stop selling hockey jerseys after an investigation found that a lot of its merch was counterfeit.

NBA News: Reprinted from yesterday's comments: Former NBA creative director Tom O'Grady checks in with his thoughts on four recently released NBA team logos (from James Steever). "¦ Why are the Warriors called "Golden State"? Answer here (thanks, Brinke). "¦ Love John Havlicek's backwards jersey in this sock ad (from Jerid Morris).

Soccer News: An amateur team in Austria has an ad for a massage business in a suggestive spot on the shorts (from Stefan Schubert). "¦ Very sutbtle stripe pattern on Chelsea's new third kit. "¦ A German lower league club will be sponsored by a local heavy metal band for one game (from Yusuke Toyoda). "¦ Also from Yusuke: West Ham United will be outfitted by Umbro next season.

Grab Bag: Texas A&M's board of regents has unanimously approved a new design for the school's official seal. "¦ There's a really interesting-looking exhibit currently on display in Manhattan about Jewish boxers and wrestlers. It's full of great Yiddish fight terms, like "knak" (a hard punch), "shtaysl" (an uppercut), and — my favorite — "der gubernator" (jabbing one's thumb into a foe's rib cage). "¦ Good piece on how boxing rings aren't treated with reverence like baseball diamonds or other sporting surfaces. "¦ Consumer Reports has ranked the safety of various bike helmets. "¦ A new restaurant that will be opening in a few weeks in Dallas is being bill as a male version of Hooters. Key quote: "Don't expect Chippendales, the iconic male striptease troupe, [the owner] said. Food service and bare chests don't mix in city health officials' eyes. But customers likely will see waiters in tight red T-shirts and a version of a boxer brief, he said. The uniforms are still being designed." "¦ The Wounded Warrior Project is suing a small nonprofit that has a similar logo. … Here's another one of those "Guess the corporate logo" quizzes. "¦ Johns Hopkins lacrosse helmets have "The greatest casualty is being forgotten" on the back (from Jared Buccola).