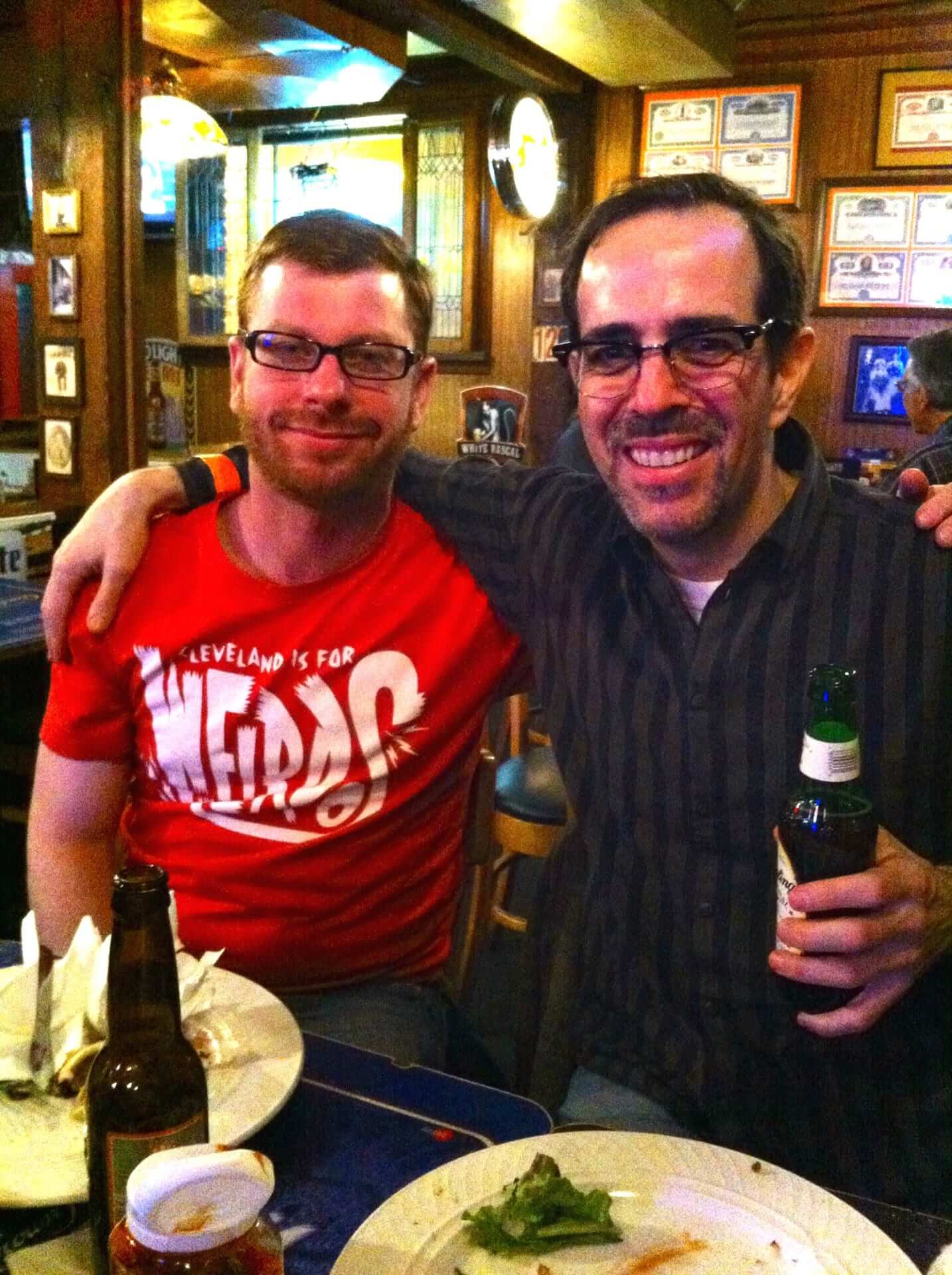 Click to enlarge
Remember long-ago Uni Watch intern Vince Grzegorek (above left)? These days he's the editor of the alt-weekly newspapers in Cleveland and Detroit, and it was great to reconnect with him and catch up on stuff when I was in Cleveland for yesterday's Browns uniform unveiling. You can see what I thought of the uniforms in this ESPN piece, which I wrote on the fly just a few minutes after the unveiling. As always with these insta-reaction pieces, we'll have a better sense of how these designs function when we can see them on the field, but for now it would be fair to say that I was underwhelmed.
If you haven't seen the new unis yet, lots official hi-res photos of the new uniforms are available here, plus I took a buncha photos of the players wearing the new unis and gathered them into this slideshow (if you can't see the slideshow, click here):
I'm surprised by how many Browns fans have tweeted at me to say that they like the new pants, which I think are easily the weakest component of the new package. Different strokes, I suppose. Also, an NFL exec told me after the unveiling that tbe "Browns" wordmark on the pants looks particularly cool when a bunch of players are lined up in a three-point stance and you see the wordmark repeated down the line. If that's true, they should've have shown that at the unveiling, either with the live models or in one of the several videos they played.
The unveiling event itself, which took place at the Cleveland Convention Center and attracted an announced crowd of 3,000, was pretty overblown, what with the DJ, the silly hashtags, and so on. But I did get to pet Swagger, the Browns' completely loveable mascot pooch, on several occasions. Highly thumpable, with a head that's about as big as my car, he's a whole lotta dog! At one point he slobbered all over my pant leg, but that's part of his charm. Good boy!
The most surreal moment of the evening came when a guy from the NFL's creative services department began chatting with me in the media room and we had this exchange:
NFL guy: Paul Lukas! You know we're tracking what you do.
Me: Well, that's fair, since it's my job to track what you do.
NFL guy: Yeah, but seriously, just so you know — we're tracking you.
Uh, okay. Like, should I sweep my house for bugs? Call Edward Snowden for advice? Something else? The guy was actually quite nice, and we ended up having a very constructive chat, but the whole Big Brother thing was odd.
That's it for now. Been a hectic coupla days and I'm eager to head back home. Should be back with Uni Watch mascots Tucker and Caitlin by this afternoon — can't wait.
•  •  •  •  •
ESPN reminder: In case you missed it yesterday, I had two ESPN pieces about the Bucks' new logos — an assessment of the new designs and an exclusive behind-the-scenes story on now the team's new look was developed. Enjoy.
• • • • •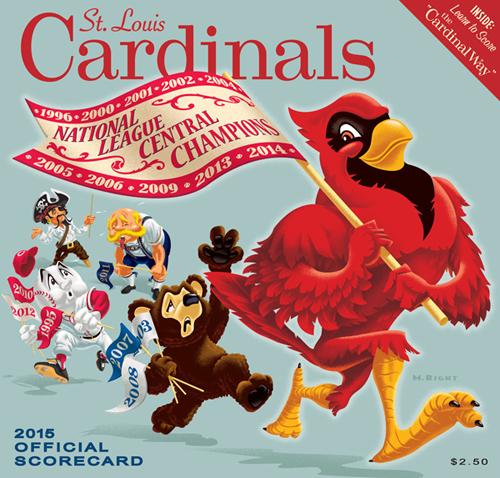 Click to enlarge
Scorecard cover of the year decade: The Cardinals have a sensational scorecard cover design this season (above). I love everything about it, from the strutting cardinal to the lederhosen-clad brewer, and everything in between. It's all very reminiscent of old-school sports cartoons by the likes of Willard Mullin and his ilk. Well done!
The artist's signature on the cover is "M. Right," who also did excellent Cards covers in 2008, 2012, 2013, and 2014 (and, I'm assuming, other years, but those are the ones I found with some quick Googling). I'd never heard of M. Right until now. If anyone knows more or can point me toward more of his/her work, please do.
(Big thanks to Mike Chamernik for this one.)
• • • • •

Baseball News: A fan created a custom jersey to salute Giants 1B Travis Ishikawa's walk-off homer (thanks, Brinke). "¦ Blue G.I. Joe jerseys for Bloomington Jefferson High School in Minnesota (good to hear from you, Ricko). "¦ If you look at this video of the Columbus Clippers pulling the hidden ball trick on the Indianapolis Indians, you'll see that the Indians' first base coach has a matte helmet while the players' are glossy (from Jonathan Daniel).

NFL News: Interesting cross-dressing move by motocross champ Ryan Dungey, who's been coming out during pre-race introductions wearing the jersey of whatever city/stadium the race is in. Teams whose jerseys he's recently worn include the Cowboys, Lions, Falcons, and Texans (good stuff from David West).

College Football News: Reprinted from yesterday's comments: Classic look apparently poised for a comeback at UNC (from Dan T.). "¦ Some folks think Army's new logo looks too much like Michigan State's (from Kary Klismet).

Hockey News: Hilariously over-the-top article on the Canadiens' pregame light show. Typical quotes: "It is pageantry with mise-en-scène, less bombast than pure theatrics" and "[There are] animated flames so vivid around the rink that if you closed your eyes, you could almost feel the heat" (which doesn't make sense, because if you closed your eyes you wouldn't see the flames any more). Beneath the hyperbole, however, is lots of good info — recommended reading.

NBA News: Here's a look at Trail Blazers uniform history (thanks, Phil). "¦ One observer thinks NBA teams need to stop including basketballs in their logos (from Jason Hillyer). "¦ LeBron James once again has the NBA's top-selling jersey. "¦ Check out this 1960s shot of Jerry West wearing a mask. Also interesting to note that Oscar Robertson and his teammate has their socks pushed down to their ankles, and don't overlook the zebra-striped ref (from Pat Costello).

Soccer News: After Blackpool ran out of jerseys, their goalie had to wear an autographed jersey that was supposed to be given to a sponsor. "¦ "Chelsea midfielder Cesc Fabregas suffered a broken nose recently and played last weekend wearing a mask (branded with initial and squad number, 'C4')," reports Jean Labbe. "He scored the winning goal in a 1-0 victory." "¦ Kit supplier Macron is suing Leeds United for unspecified reasons (from Yusuke Toyoda).

Grab Bag: Good story on how Yahoo loves the color I hate (thanks, Brinke). "¦ The North American Association of Uniform Manufacturers and Distributors has named its best-dressed public safety departments of the year. "¦ A graphic designer has used Hillary Clinton's campaign logo as the basis for a new font called Hillvetica, which you can use to create your own slogan (thanks, Phil and Brinke). "¦ At last weekend's lacrosse doubleheader, Georgetown handed out free T-shirts in exchange for shirts of other colleges (from Yusuke Toyoda). "¦ New jersey sponsor for Scottish rugby. "¦ New uniforms for Air India. "¦ Jeff Gordon will drive a Penn State-themed car at Pocono (from Chris Flinn). "¦ Gatorade is marking its 50th anniversary with throwback packaging and an anniversary logo (from Paul Lee).