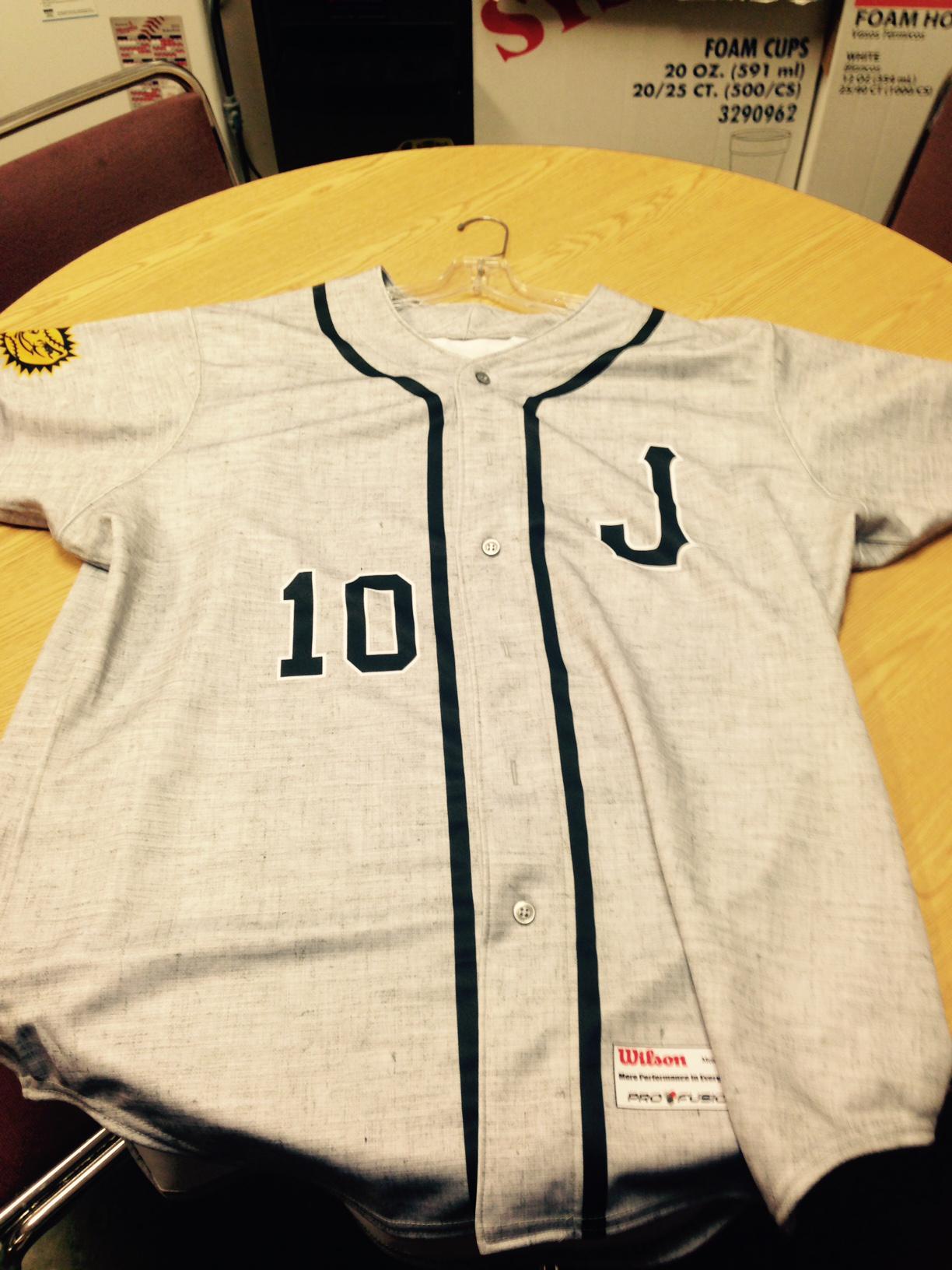 Click to enlarge
The Jacksonville Suns — the Marlins' Double-A affiliate — sent out this photo of their new road jersey yesterday. Looks like Wilson, the manufacturer, used a faux flannel fabric, similar to what we've previously seen from Under Armour. I wish Majestic would come up with something like this for MLB.
Speaking of which: The 17th annual Uni Watch MLB season-preview column was posted yesterday on ESPN. Many of you have told me this is always your favorite Uni Watch column of the year. Mine, too! Check it out here.
A few late-breaking items and things I missed:
• The White Sox have added a "9" memorial patch for Minnie Minoso.
• The Phillies and Red Sox will wear 1915-style caps on April 9. According to Dressed to the Nines, those caps will look like this and this.
• A little birdie tells me that the Giants' ring ceremony caps will look like so: "Similar to past styles — black hat, gold 'SF,' gold side patch. New to this year is the gold trophy with MLB logo on back." And it looks like the birdie was right, because it turns out a Giants blogger tweeted photos of the front logo, side patch, and trophy on the back last week, but I somehow missed the boat on that. I'm assuming there'll also be a gold-trimmed jersey, but no word on that yet.
•  The Brewers will retire No. 1 for Bud Selig on May 31 (which is, of course, incredibly lame, because numbers shouldn't be retired for people who never wore numbers to begin with).
Also: I had another ESPN piece yesterday — an interview with the guy who's selling that vintage Mets bullpen buggy. You can read that here. (And in a related item, my ESPN colleague Jerry Crasnick is calling for the return of the bullpen cart.)
And while we're at it: In case you missed it yesterday, my latest piece for the design website re:form is about the surprisingly complex world of bike rack design.
•  •  •  •  •
ESPN contest reminder: I'm currently accepting entries for an ESPN contest to name and design a team for a prospective NHL expansion franchise in Las Vegas. Details here.
• • • • •
@PhilHecken @UniWatch GASOL JERSEY: RIPPED https://t.co/mbjpCOHM7t

— Mike Nessen (@miken623) March 31, 2015
Come on, man, show some dignity out there: Bit of an on-court tantrum last night for Grizzlies center Marc Gasol, who showed his frustration over missing a jump shot by ripping a big tear in his jersey. I'm sure there's someone out there who views this move as an admirable display of "intensity" or some such, but to me it's just childish. (Interesting that the AP photographer working the game simply said the jersey "was torn" but didn't mention how it happened. Hmmmmm.)
Then again, if this catches on with fans who start treating their overpriced polyester shirts the way Gasol treated his, that might be worthwhile. So maybe some good will come of this yet.
•  •  •  •  •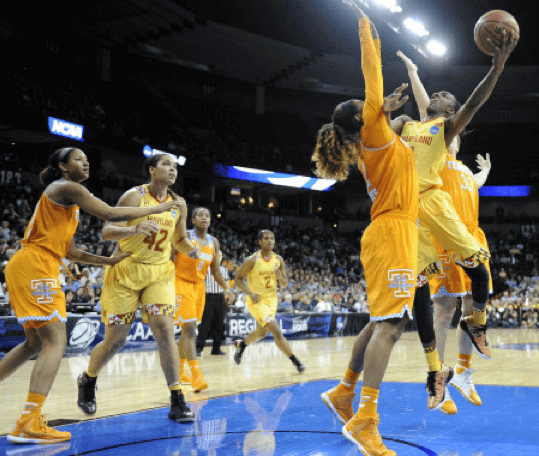 Tropicana vs. ReaLemon: Tough game for colorblind fans — and probably for everyone else as well — in last night's Women's Elite Eight game, as Maryland and Tennessee went yellow vs. orange, which made the court look like citrus punch. It's actually kind of pleasing in an abstract way but not very good from a functional perspective. You can check out some video here, and there are lots of additional photos here.
• • • • •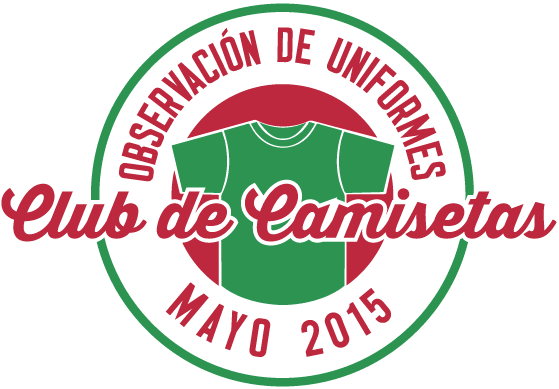 T-Shirt Club update: My original plan for the Uni Watch T-Shirt Club's May design was to do one of our "core" shirts — road grey, BFBS, or green alternate. But I knew we were already planning to do a Spanish-translation shirt at some point during the year (similar to the Brewers' "Cerveceros" jersey), and I began thinking we should do it for Cinco de Mayo, especially since the Uni Watch shades of green and maroon are so similar to the Mexican flag colors of green and red.
So that's what we're doing. Here are the shirts we'll be offering (click to enlarge):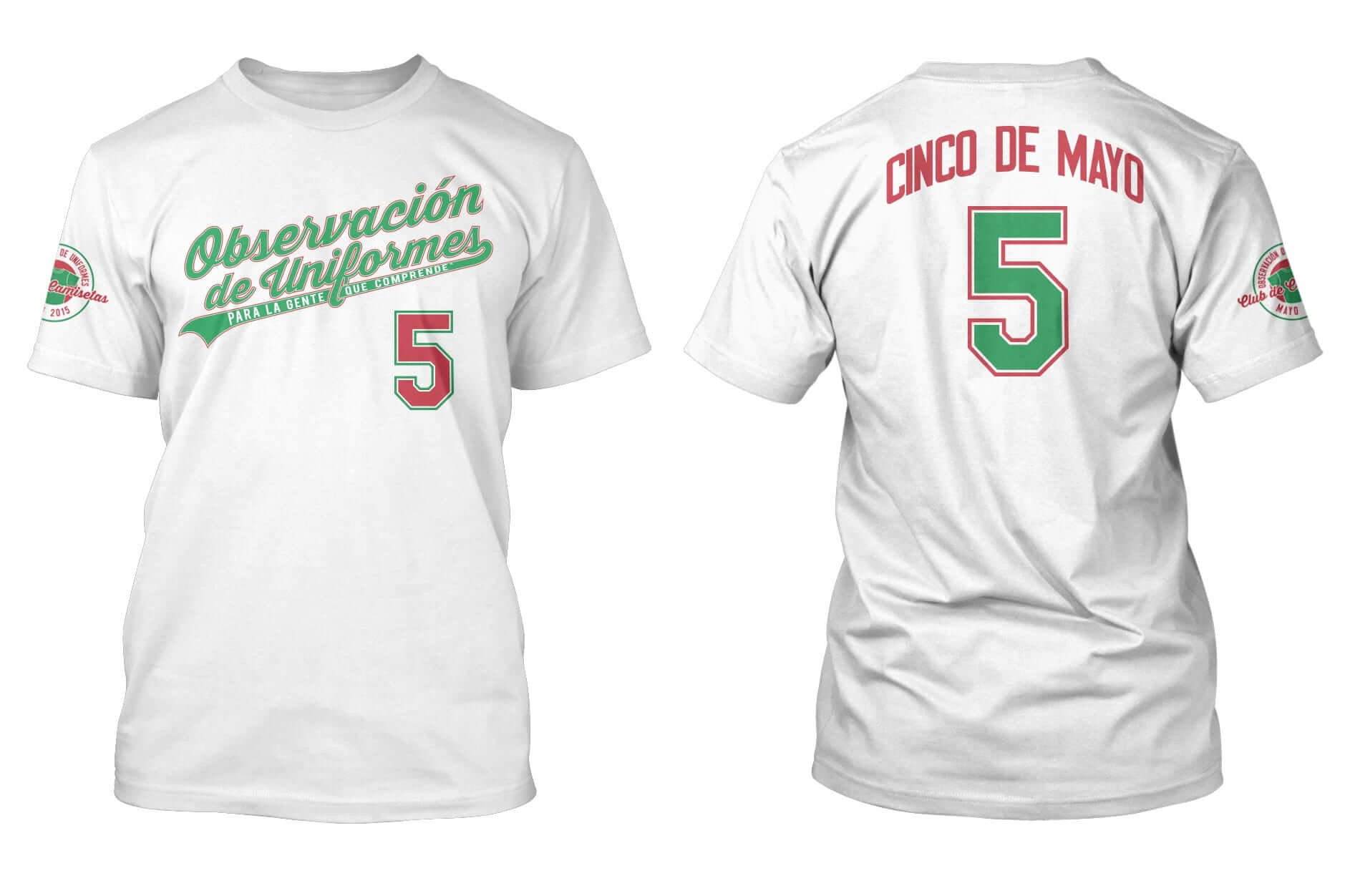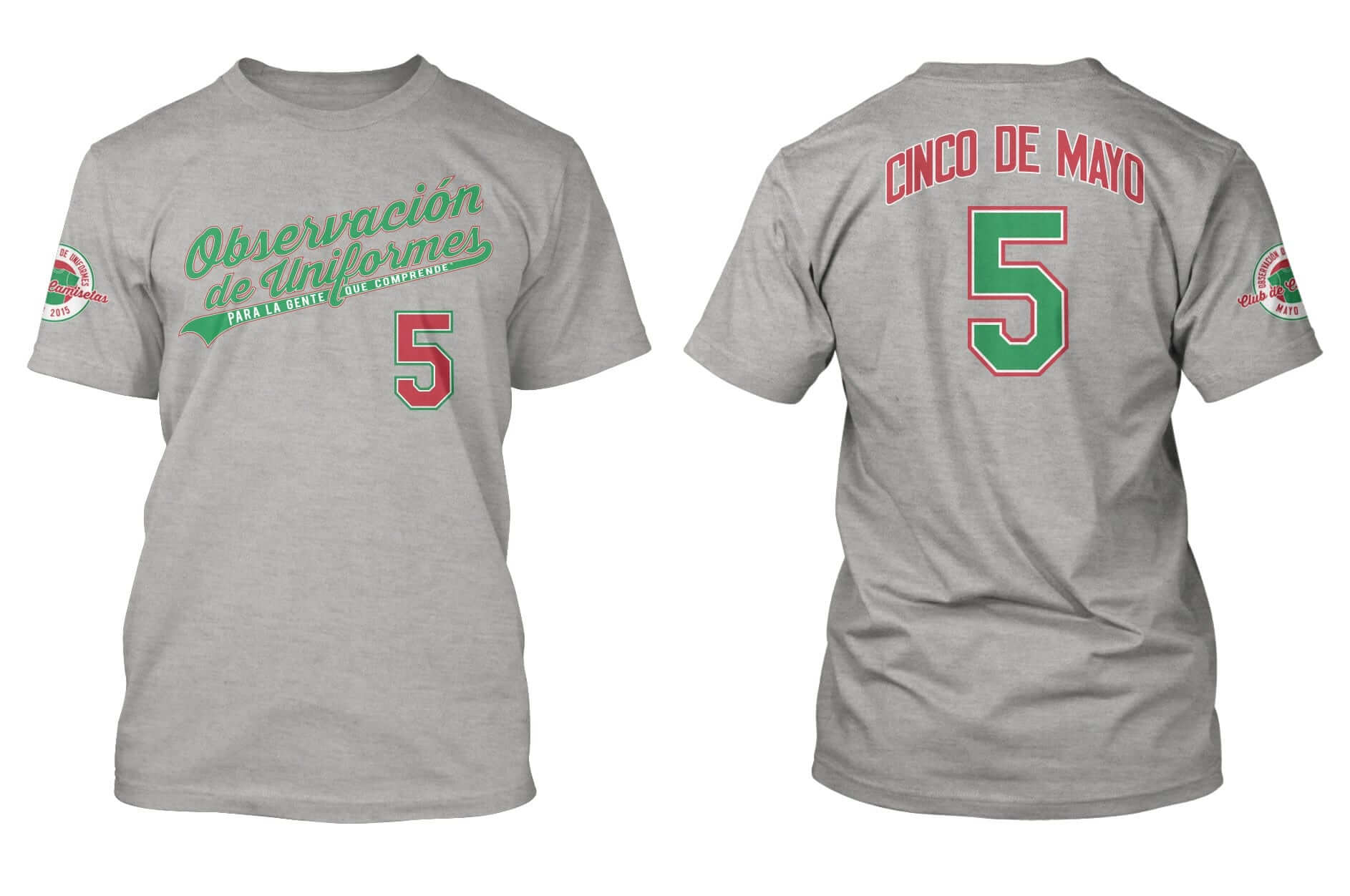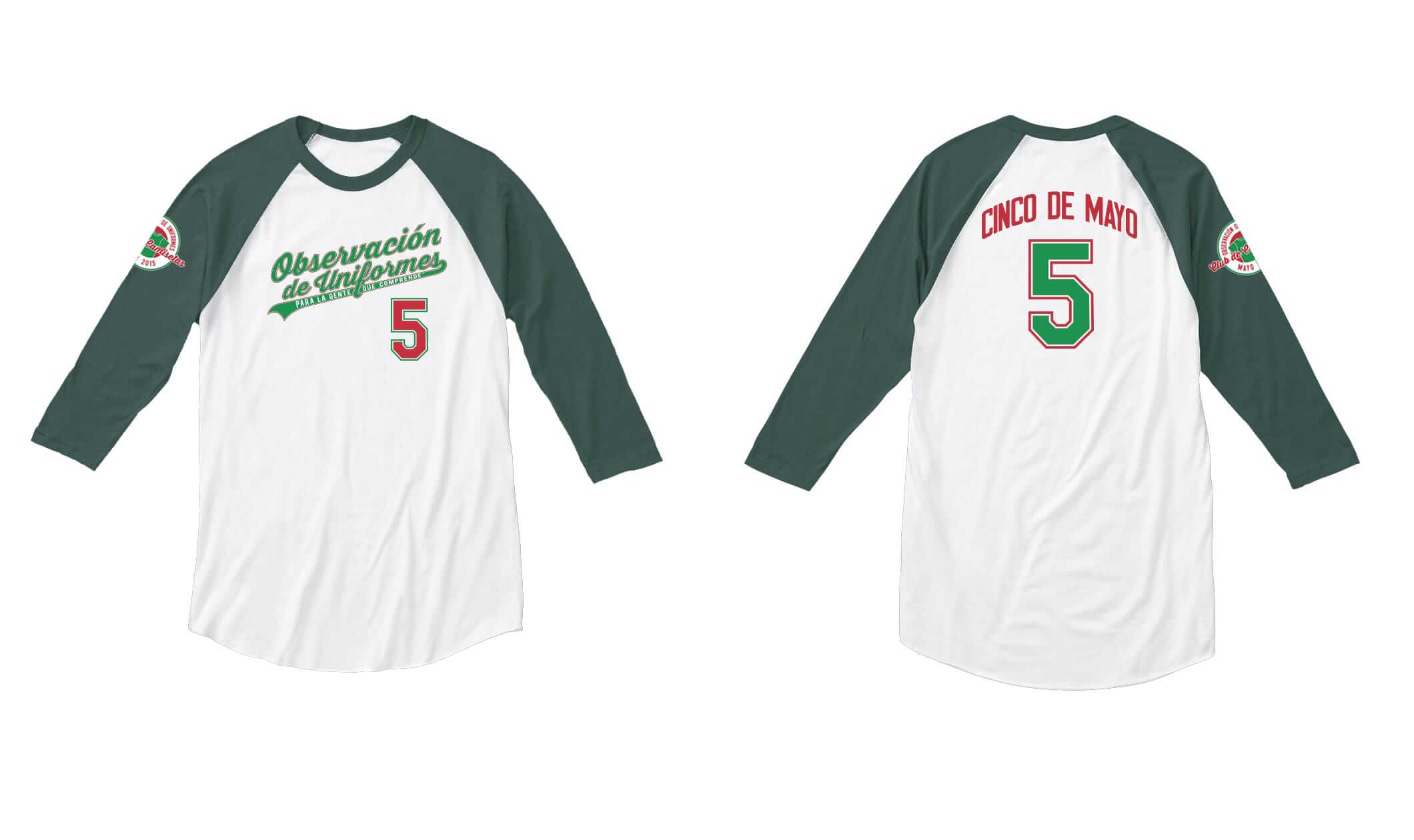 Some notes on the designs:
• As you can see, we translated "Uni Watch" (which is now "Observación de Uniformes") and "For People Who Get It" ("Para la gente que comprende") on the front of the shirt. On the sleeve patch, the month ("Mayo") and "T-Shirt Club" ("Club de Camisetas") have been translated as well.
• The uni number is 5, for Cinco de Mayo.
• The colors have been tweaked to match those of the Mexican flag.
• Just like last month, we're offering home white and road grey options (which will be priced in the usual $22 to $24 range), plus for the first time we're also offering a style with three-quarter-length raglan sleeves (probably a few dollars more, like $27ish). The sleeves don't quite match the green on the shirt design, which is a bit frustrating, but I wanted to put it out there and see how people responded to it.
• If you've been buying each design in order to qualify for the year-end prize, you only need to purchase one of the May shirts in order to maintain your eligibility.
• If you think it seems a bit early for me to be previewing the May design, you're right. We usually start selling the shirts on the third Tuesday of each month and preview them the week before that. But if we had stuck to that schedule, this design wouldn't have delivered in time for Cinco de Mayo. So I'm previewing the shirts now, they'll launch next Tuesday, and they should deliver in late April. We'll go back to our usual third-Tuesday routine for the June design.
I want to give a big shout-out to Uni Watch reader Omar Jalife for his assistance with the translations, and also to my Teespring co-conspirator, Bryan Molloy, who gamely tackled this month's design and made it work. Great job, Bry!
I think that's it. Feedback welcome, as always.
•  •  •  •  •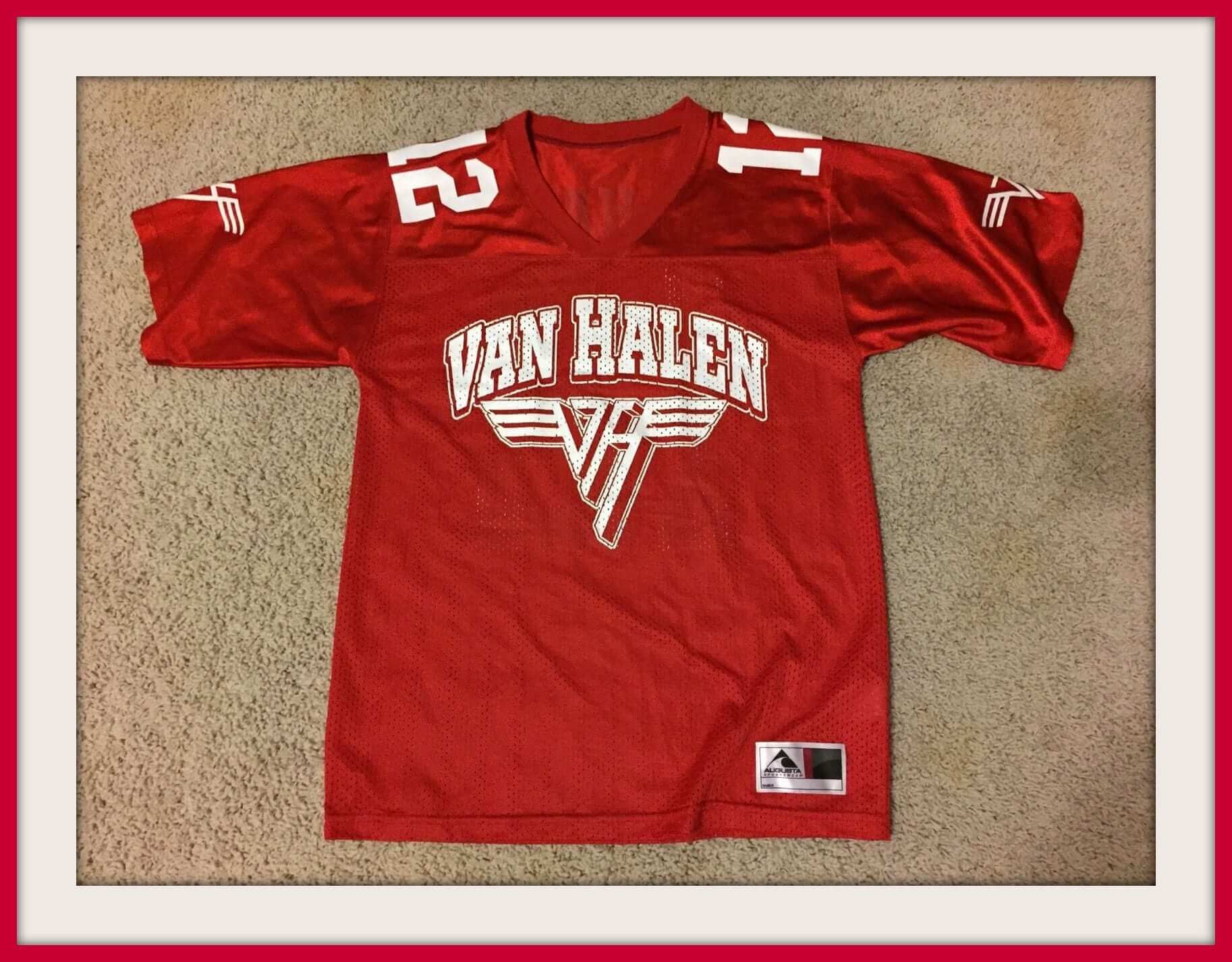 Collector's Corner
By Brinke Guthrie
Someone sent me this Van Halen football tour jersey — a good item to lead off this week's CC, because their live album is out today. (Yes, I'm a fan.)
Okay, here are the rest of this week's eBay picks:
• Here's a Monday Night Football pennant. That helmet logo looks a lot like the Officially Licensed Product logo from back in the day, eh?
• We've featured these great NHL posters before. Here's an ad with all of them on it.
• Wouldn't the patent drawing for an early football helmet make a nifty poster? You bet it would!
• Here's a nice-looking 1970s NHL Blackhawks skate plaque!
• This 1970s Dolphins helmet radio looks like it is in great shape. But he's not sure if it works. (Well, put a battery in it, dude. If you hear music, it works!)
• Helmet buggy alert! A NY Giants model, mint on the card. Would look great at Uni Watch HQ, right? And here's one for the St. Louis Cardinals.
• These LA Rams playing cards have "Copyright 1969" on them, but of course the Rams weren't doing the blue/yellow combo back then. Same deal with these Chargers cards.
• This 1970s Atlanta Braves ice cream helmet looks kinda funny without the white panel behind the "a," no?
• Just another tequila sunrise Starter jacket. Loved that look (well, except for the numbers on the pants leg, and the bullseye on the back).
Follow Brinke on Twitter: @brinkeguthrie
•  •  •  •  •

Baseball News: The Mets made two trades with uni-related implications yesterday. First, they acquired pitcher Alex Torres, the guy who wore that oversized protective cap last season with the Padres. It'll be interesting to see if he continues to wear the padded cap with his new team. Also, the Mets traded OF Matt den Dekker to the Nats. Will the Nats give him lowercase NOB lettering like the Mets did? … den Dekker, incidentally, was traded for LHP Jerry Blevins, who immediately invited Mets fans to design a new Twitter avatar for him. To his credit, he went with this one. … Very nice striped Carolina blue stirrups for Wichita East High School in Kansas (from Christopher Eshelman). "¦ With the Giants set to receive their championship rings in a few weeks, here's an article on World Series ring design. "¦ Good article advocating that youth leagues should mandate that pitchers wear head and chest protection (from Brandon Merchant). "¦ This is a little weird: On May 16 the Twins will be hosting the Rays and will be giving away a Twins cap in Rays colors (from Gary Olson). "¦ Nebraska's rally caps are in midseason form (from Jonathan Daniel). "¦ Jabba the Hut jerseys upcoming for the Altoona Curve. "¦ Cork Gaines notes that the Billy Martin button being given away by the A's on July 30 appears to include the little cross pin on his cap. … A Colorado Little League team's uniforms were stolen right off of the coach's porch. "¦ Matthew Prigge has written a blog post about a ticket from what would have been the first Brewers game ever played at County Stadium in 1953. "Of course, the Braves moved to town and the Brewers never got a chance to open up at the Stadium," he explains. … Two high school softball teams in Ohio went pink vs. pink the other day.

Pro and College Football News: What's with the orange jerseys that several Bucs players are wearing in this video? Are those practice jerseys, or something else? (From Julie Binder.) … Middle Tennessee State is apparently considering a matte helmet option (from Josh Claywell). "¦ Adidas's new deal with Miami doesn't go into effect until Sept. 1, but the 'Canes are already using Adidas footballs. "¦ At Pitt, coach Pat Narduzzi decides after each practice whether the offense or defense "won." The side of the ball that won gets to wear blue jerseys at the next practice.

Hockey News: The refs at the women's world hockey championships might have the worst officials' unis ever (from Scott McClure). "¦ I went in for my bi-monthly blood-donation appointment yesterday. As they were forcibly extracting my precious humors sticking the needle in my arm, I noticed that the donor in the chair to my right was wearing a New York Rangers shirt. "Nice shirt," I said, to which she replied, "This? I don't even like the Rangers. I just thought it would be okay if something went wrong and it ended up with blood all over it." … Behold the first pro hockey team in Texas, the 1941 Dallas Texans. Not sure what I love more — the sweaters, the dress shoes, or the guys leaning through the bus windows (from Pete Woychick).

College Hoops News: Good story about a fan with an amazing Illinois basketball memorabilia collection. … Gonzaga students are blaming the team's loss to Duke on the BFBS jerseys.

Soccer News: The USL's Harrisburg City Islanders wear the logo of their MLS affiliate, the Philadelphia Union, on their arm. "¦ "I couldn't find an article about this in English, but the Russian Football Federation may be punished for its fans displaying certain banners/flags at the game between Montenegro and Russia last week," says Alexander Cohen. "Here is a picture of Russian fans holding a banner that says, in Serbian, 'Montenegro, Serbia, Russia: one family.' They are also flying Russian Imperial and Serbian flags. And here's an article, in Russian, about how UEFA has a rule against showing the flags of countries/organizations that don't have 'recognized participation' in the match." "¦ Our recent look at white baseball shoes prompted this from J.M. Shemaria: "You must give a shout to Alan Hinton. He was an English winger in the 1970s and is generally known for wearing white boots in an era where that didn't happen. There's a good quote from him in this article about the rise of colored boots, and there's also this article about his shoes and his relationship with legendary manager Brian Clough." … A referee paid tribute to a Brazilian player by spelling out his name with the vanishing spray instead of marking the spot of a free kick (from Yusuke Toyoda).

Grab Bag: New logos and merch for our friends at SportsLogos.net. "¦ Former Scottish runner Liz McColgan says Nike stopped sponsoring her years ago because she was pregnant (from Craig Ackers). "¦ The Associated Press Style Guide, which sets the linguistic protocol for countless newspapers and websites across the country, has issued a bunch of new rules regarding sports terminology. "¦ A new law in the UK allows guarantees Sikhs the right to wear turbans in the workplace. "¦ Hot topic in Kalamazoo, Michigan: whether school dress codes should permit leggings. "¦ A new Florida rule requiring girls' lacrosse teams to wear protective headgear is proving to be unexpectedly controversial. "¦ Good article on how Alabama is the birthplace of the sweatshirt. "¦ "The Illinois Tollway will be creating 'Safe Phone Zones' at various oases in April," says Kyle Martinek. And in what surely qualifies as a huuuuuge surprise, these phone zones will be sponsored by Verizon Wireless. Douchebags. "¦ Good socks for Russian skip Evgeny Arkipov. "¦ Nike will release its 2015 Basketball Easter Collection on Thursday. I was going to say, "Insert the blasphemous joke of your choosing here," but it seems like Nike has already done that on everyone's behalf. … Does kinesio tape really work? Shmaybe. Ditto for compression clothing (both of those from Yusuke Toyoda). … A company best known for its women's yoga pants is seeing growth in its menswear category, in large part because its pants are designed to avoid constricting your balls (from Tommy Turner). … A traveler on his way to Abu Dhabi was detained by the authorities after a military uniform was found in his luggage. "¦ A judge has dismissed a trademark-infringement case brought by the New Jersey Turnpike Authority, which claimed that its logo was being poached by a Florida pizzeria.