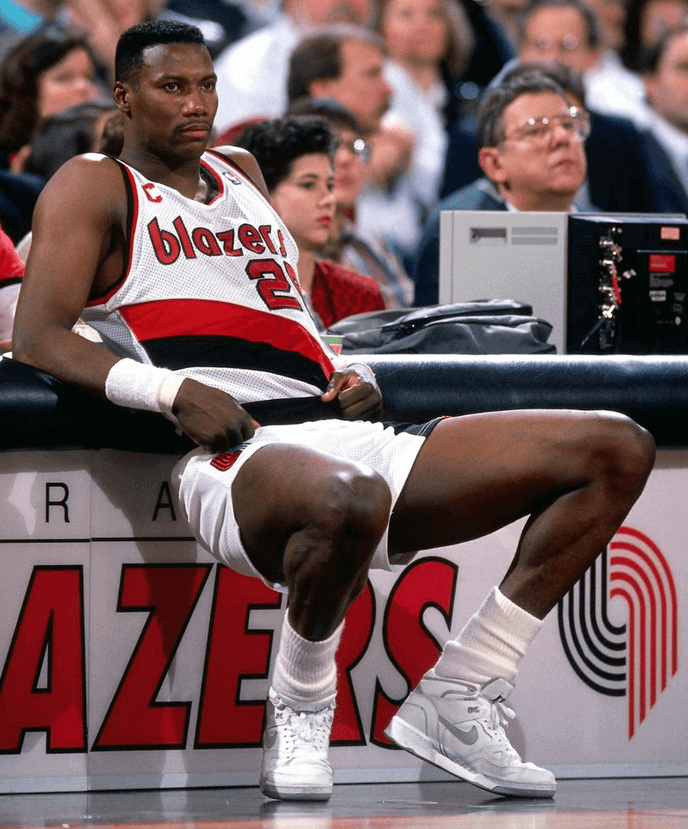 Yesterday I Ticker-linked to this photo of former Trail Blazers forward Jerome Kersey, who passed away on Wednesday, and noted that he was among the relatively few NBA players to wear a captain's "C."
That got me thinking: How many other NBAers have worn the "C"? I've cited several examples over the years but had never gathered them all in one place. What follows is, I'm sure, a very incomplete rundown of "C"-clad players I managed to come up with yesterday.
In no particular order:
1. Terry Porter. Another Blazer, but his "C" looked clunkier than Kerey's: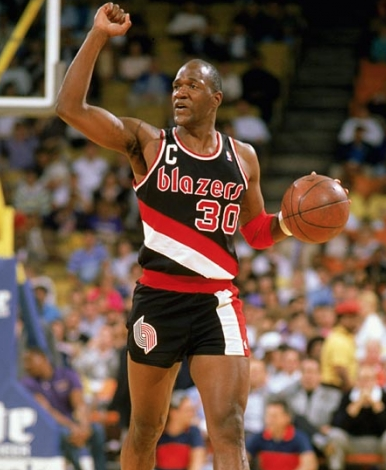 2. Jack Sikma. Sikma played in the era before the NBA logo appeared on jerseys, so his "C" didn't look as cluttered. He wore at least two different "C" styles — a generic-looking letter and one rendered in the team's font: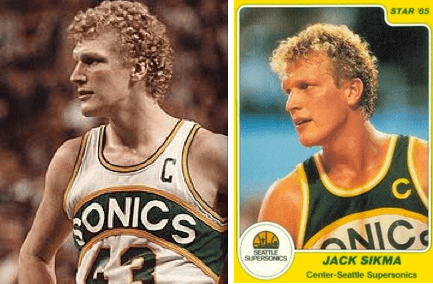 3. Downtown Freddie Brown. Another Sonics player here: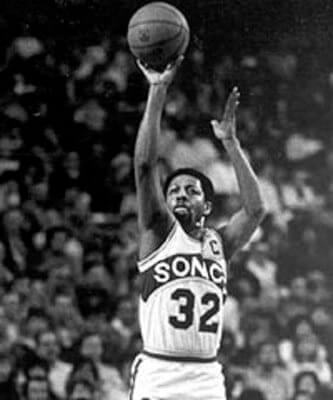 4, 5, and 6. Tim Hardaway, Mitch Richmond, and Chris Mullin. The "Run TMC" trio were co-captains for Golden State. Note that all three of these guys wore their "C" rather low, and that Hardaway's and Mullin's were definitely too close to their chest lettering: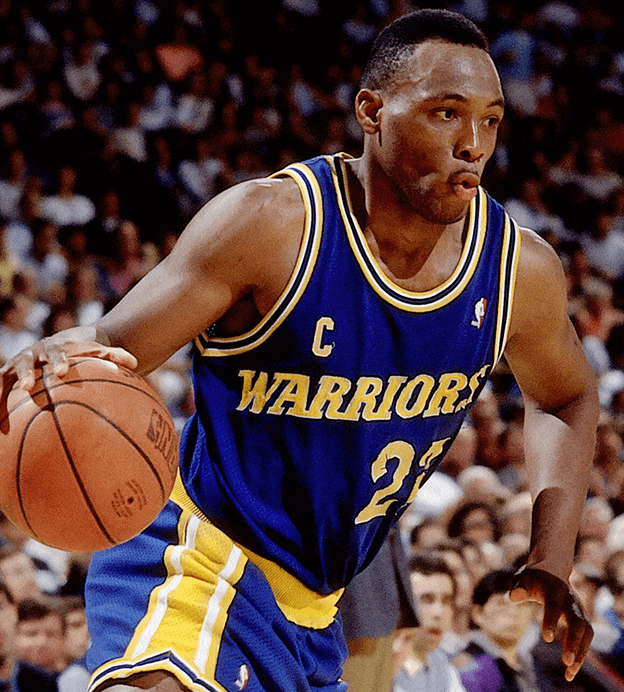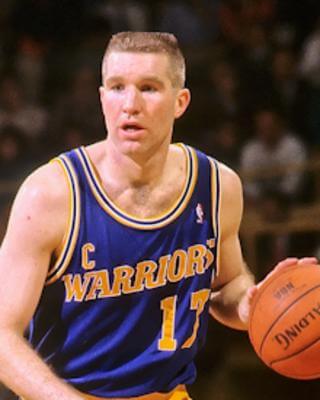 7. Tracy McGrady. He wore a very small "C" when he was with the Magic: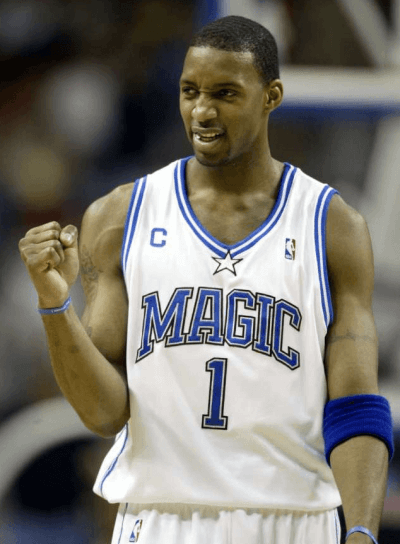 8, 9, and 10. Desmond Mason, Tim Thomas, and Erick Strickland. These three players were co-captains with the Bucks back in 2003-04, all wearing the "C":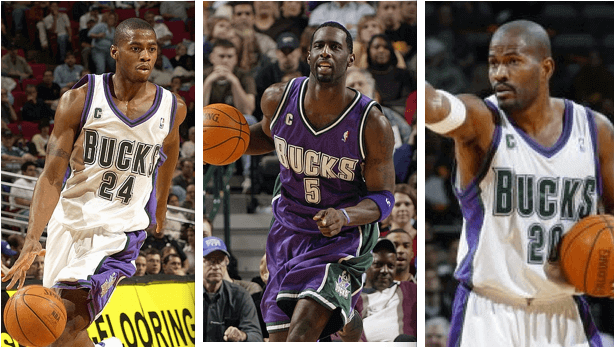 11. Sam Lacey. I'm glad he's on this list just so we can see the old Kansas City Kings jersey: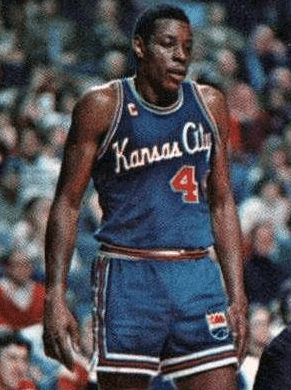 12. Antonio McDyess. He wore the "C" during part of his tenure with the Nuggets: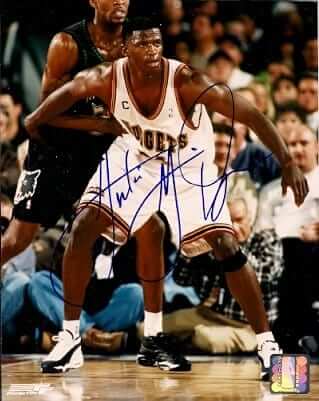 13. Nick Van Exel. Another Denver player who sported the captaincy designation: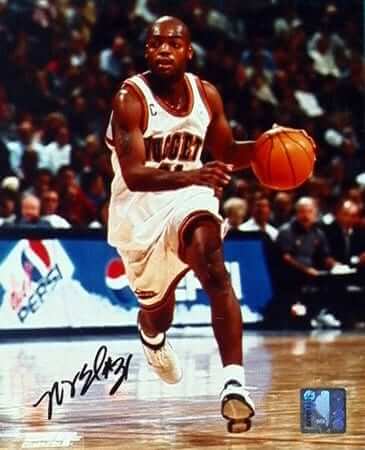 14. Shareef Abdur-Rahim. The man with many letters in his name had an additional letter on the front of his Hawks jersey: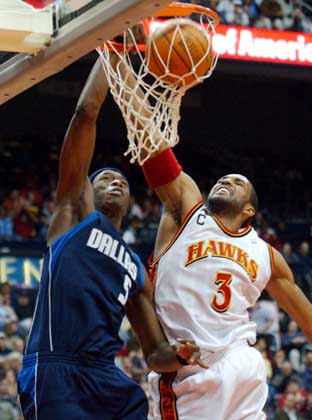 15. Christian Laettner. Hard to believe the Timberwolves' uniforms were once this generic-looking: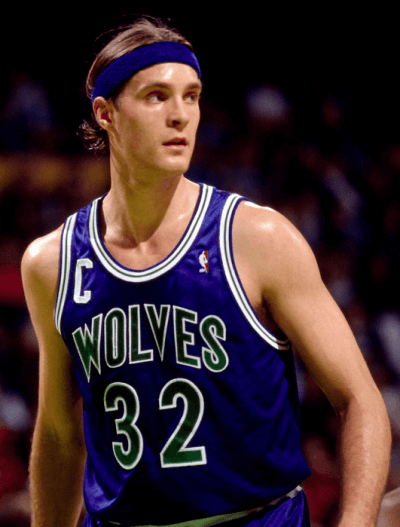 16. Reggie Miller. I believe Miller wore the "C" for only one season — 1993-94, which is when this shot was taken: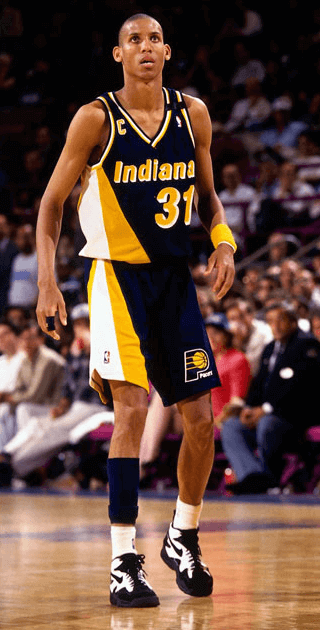 ———
That's all I got. Are there more? I'm fairly certain there are. If you know of any, post them in today's comments. Thanks.
Meanwhile, a few questions to ponder:
•  Do you like seeing a "C" on a basketball uni, or is it too much?
•  Except for Sikma and Brown — the two Sonics players — all of the players shown above wore the "C" on the right side. Now, granted, in most (but not all) cases that was because the NBA logo was occupying the left side. But now there's no more NBA logo on the front and, at least for the moment, no ads either. So: Which side is better for the "C"?
•  Would a sleeve be a good place for a "C"?
Discuss.
•  •  •  • •
• • • • •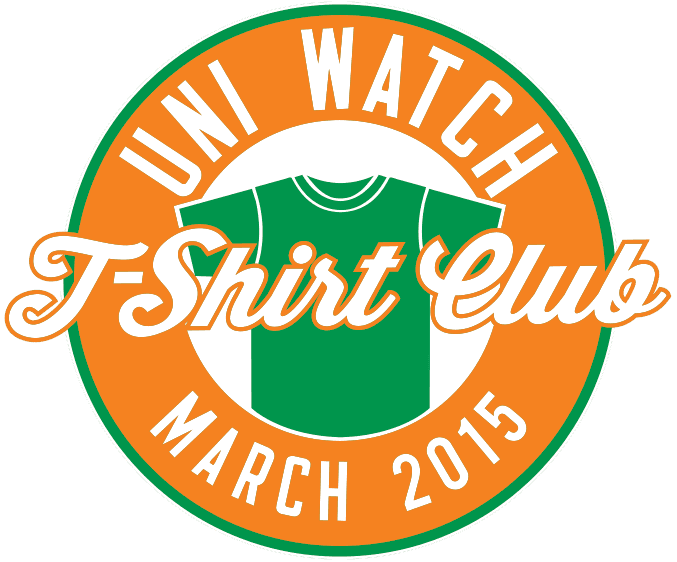 T-Shirt Club reminder: The Uni Watch T-Shirt Club's March design, inspired by St. Patrick's Day, remains available from now through next Monday. Full details here, or just go straight to the ordering page.
Raffle reminder: Today's the last day to enter the raffle for a chance to design your own custom baseball bat. Full details here.
• • • • •

'Skins Watch: A school district not far from Buffalo is considering changing the school's team name from "Redskins," but supporters of the name hung a "Save the Redskin Tradition" banner over a downtown intersection this week. A community forum on the matter is scheduled for March 3 (from Phil and Dave Drews). "¦ Remember that Pennsylvania high school whose student newspaper editor was suspended for refusing to print the word "Redskins"? The editor has now written about that experience.

Baseball News: Several fans have noted that the Indians' navy Wahoo caps currently being sold are significantly darker than last year's. The MLB Style Guide shows no change in the team's caps or in its official shade of blue, so I asked a team spokesman, who confirmed that the Wahoo caps are now darker, to match the shade of the block-C caps. … Not exactly a surprise to learn that the Cubs will be wearing an Ernie Banks memorial patch this season. No visuals yet, but this might be a hint. "¦ What's the best accessory to go with tequila sunrise jerseys? Tequila sunrise stirrups! … Stars/stripes pandering jersey this summer for the Lake County Captains. … The Tigers are adding a 50th-anniversary patch for their spring training stadium. … New cream jerseys and Jayhawk logo caps for Kansas. Plus stirrups and a flag patch on the back. … NC State is the latest team going with a really ugly G.I. Joe BP jersey. When I retweeted that post yesterday, Jay Dale responded, "Little League is going crazy with this style now." If that's true, it's really, really sad. "¦ Pretty bizarro helmet for LSU softball. "¦ Really like this Staten Island "pride" jersey that the Staten Island Yankees will be wearing later this year.

Pro and College Football News: With the Browns scheduled to unveil a new logo on Tuesday, their Twitter avatar is now a blank outline (thanks, Phil). "¦ A long-running antitrust case filed by American Needle against the NFL has been settled. … If you're a Seattle fan and are still depressed about the Supe, this Seahawks-themed Ferrari might cheer you up. When I tweeted that story yestserday, it garnered lots of amusing comments (from Gordon Blau). … Under Armour is launching a new line of cleats at the NFL Combine (from Eric Wright). … Here's an eBay seller who's offering football team-themed fighter pilot's helmets — NFL as well as NCAA (good find by David Firestone). "¦ Packers coach Mike McCarthy was wearing Acme Packers gear at the NFL Combine. "¦ Speaking of coaches at the Combine, check out Marvin Lewis's collar. … Ohio University is asking students and alums to submit logo designs for homecoming week.

Hockey News: Very nice Hall of Fame Weekend jerseys for the Alaska Aces (thanks, Phil). … Here's a look at throwbacks for each current NHL team (from Phil). … On Saturday the Danbury Whalers will honor the history of hockey in New Haven by wearing New Haven Knights throwbacks (from Dane Drutis). … Cornell is going pink in the rink (from Phil). … Here's another one of those reports on the story behind the Hartford Whalers logo (from Jonathan Daniel). "¦ "The Anaheim Ducks have changed their gloves," says Brian Rowland. "Prior to this season, they had black wrists with orange lettering. Starting this season, they changed to orange wrists with black lettering (horrible, in my opinion). And then on Wednesday night they switched over to black wrists with white lettering." "¦ Here's an article on how the Kings' equipment staff will prepare for this weekend's Stadium Series game (from Chris Bisbee).

Pro Basketball News: Blazers PG Steve Blake will stop wearing No. 25 in honor of former Blazer Jerome Kersey, who passed away earlier this week. "¦ I'm not sure what team this is, but they have ads on their butts. "¦ Amar'e Stoudemire joins the Mavs and suddenly Rajon Rondo wear goggles on the court. Coincidence?

College and High School Hoops News: Arizona retired Jason Terry's No. 31 last night. … "As an assistant varsity boys basketball coach at Charlotte Christian School — alma matter of NBA All-Star Stephan Curry — I would be remiss if I didn't share the sweet new uniforms that Stephan sent our way courtesy of Under Armour and his new signature line SC30," writes Zach Goodyear. "The kids all got two pairs of game shoes, a pair of travel shoes, and of course the new practice and game unis. We are blessed beyond belief, amazed but not surprised at Stephan's ascension to the top of the NBA, and absolutely in love with our new gear. The practice jersey is being worn by Trey Phills, a senior guard headed to play at Yale next fall and the son of former NBA player Bobby Phills." "¦ More women's teams wearing pink: Florida State, Kentucky, Texas A&M, Wake Forest, UNC, Florida, Virginia Tech, Boston College, and Georgia Tech. "¦ Calvin Godfrey of Memphis was missing his conference patch last night. "¦ There are a lot of things wrong in this photo, but the biggest one is that Minot High in North Dakota wore pink camouflage — yeech (from Jody Michael).

Soccer News: Have Manchester United's new jerseys been leaked? Maybe (from Phil). … Here's Canada's kit for the upcoming Women's World Cup.

Grab Bag: A Massachusetts man has pleaded guilty to defrauding the U.S. government by creating a phony prison guard uniform company. … The Libertarian Party is holding a logo design contest (from Gregory Koch). … Aussie rules football news from Leo Strawn Jr., who writes: "AFL's Collingwood Magpies have released their 2015 Anzac Day jumper for the annual rivalry match with Essendon in April. The top of the jumper gets a bit crowded with the extra graphics, but the poppy is a nice addition." … Russian activists/artists Pussy Riot are wearing Russian riot police uniforms in the video for their first English-language song, "I Can't Breathe," which is dedicated to chokehold victim Eric Garner. … Big kerfuffle over pro snooker player Rory McLeod. McLeod, who happens to be Muslim, is sponsored by ISIS Business Solutions, and wears their logo on his apparel. But lots of folks thought he was endorsing, you know, that other ISIS (from George Chilvers). … The Vancouver Women's Field Hockey Association, after lots of deep thought and serious consideration, has decided that it's okay for players to wear shorts instead of skirts (thanks, Phil). … Police in Cheektowaga, near Buffalo, are having trouble identifying the logo on the jackets worn by a pair of tablet thieves. "¦ This shot of astronauts' and cosmonauts' suits would make a cool poster (from Brian Dautch). "¦ All Tennessee women's teams except for basketball will soon stop being the Lady Vols and just be the Volunteers, a shift that's caused some controversy (from Chris Weber).
• • • • •

What Paul did last night: The guy sitting next to me in the photo above is Uni Watch reader Noah Hougland, who won the raffle to be my guest at the offices of Skidmore, Owings & Merrill, the architecture firm where I gave a presentation yesterday. Afterward, a bunch of the Skidmore folks took us out to dinner, and a great time was had by one and all.
This type of raffle is always a crapshoot — will the person be fun to hang out with? Will he be really quiet? As it turns out, Noah's a really interesting guy and fit right in with everyone. Even better, his wife is an architect, so he had plenty to discuss with the Skidmore folks.
The presentation went well, too. Big thanks to Sam, Drew, Emily, Amy, Severin, and everyone else at Skidmore for having me in — it was a great experience.