Been many moons since our last round of wire service photos. All of these come from the great BSmile, so big thanks to him. Without further ado:
• Gotta love this shot of Spanky McFarland and Our Gang — aka the Little Rascals — wearing baseball uniforms. It's a little hard to see, but the patches on the jerseys say "Our Gang."
• Really like the uniforms on this 1930s women's all-star basketball team. Fourth from the left is Babe Didrickson, the greatest female athlete of the last century.
• You don't often see baseball players photographed while putting on their stirrups, but that's the case in this 1937 shot of Dizzy Dean. Love how the stripes are all distorted.
• Here's Joe DiMaggio receiving his 1938 Yankees uniform, complete with the sleeve patch promoting the upcoming 1939 New York World's Fair (which the Giants and Dodgers also wore that year). Gotta say, I've never been a fan of how Joe D. wore his pants, and this photo really shows how he went lower-cuffed than was typical for that era. Meanwhile, as a bonus, here's a rare color shot of that uniform. Note the belt loop at 12 o'clock and the resulting off-center belt buckle, both of which were common for that time.
• Never knew that Dodgers great Roy Campanella once appeared on Lassie. I believe the "C" caps are for the show's fictional town of Calverton, although I guess they also symbolize Campy's surname.
• As you know, I'm generally opposed to stars/stripes uniform designs, but I'd make an exception for this excellent cheerleader's uni. Nicely done.
• Are you familiar with the 1950 baseball comedy movie Kill The Umpire? I wasn't, but check out all the pro ballplayers — including Duke Snider — who appeared in the film. (If you want to learn more, here's the trailer, along with additional info from Wikipedia and IMDB.)
• Okay, so this 1969 Chrysler ad isn't really a wire service photo. Still, it's a fun piece by the great sports cartoonist Willard Mullin, whose work we've discussed on Uni Watch many times.
• We've also discussed early-1900s MLB teams that had black trainers, many of whom wore team jerseys. Here's a great shot of one of them: William Buckner, shown with the pitching staff of the 1913 White Sox.
• Even back in 1935, Casey Stengel was already the class clown. Those awesome striped undersleeves weren't part of the Dodgers' official uniform during that period, but they sure looked great on Casey.
• Little-known fact: Baseball Hall of Famer Robin Roberts was captain of the Michigan State basketball team in the late 1940s.
• Was this history's first "Old-Timer" uniform? Could be. That's all-time great Cy Young holding court at his baseball school.
• Wish we could get a better view of the buttons that these nuns are wearing in this shot with Pirates player Don Hoak (who looks like he had some serious forearms).
• If I'm not mistaken, this 1926 women's basketball uniform was made out of wool. It was a fairly lightweight grade, no doubt, but still — just imagine wearing wool on the court.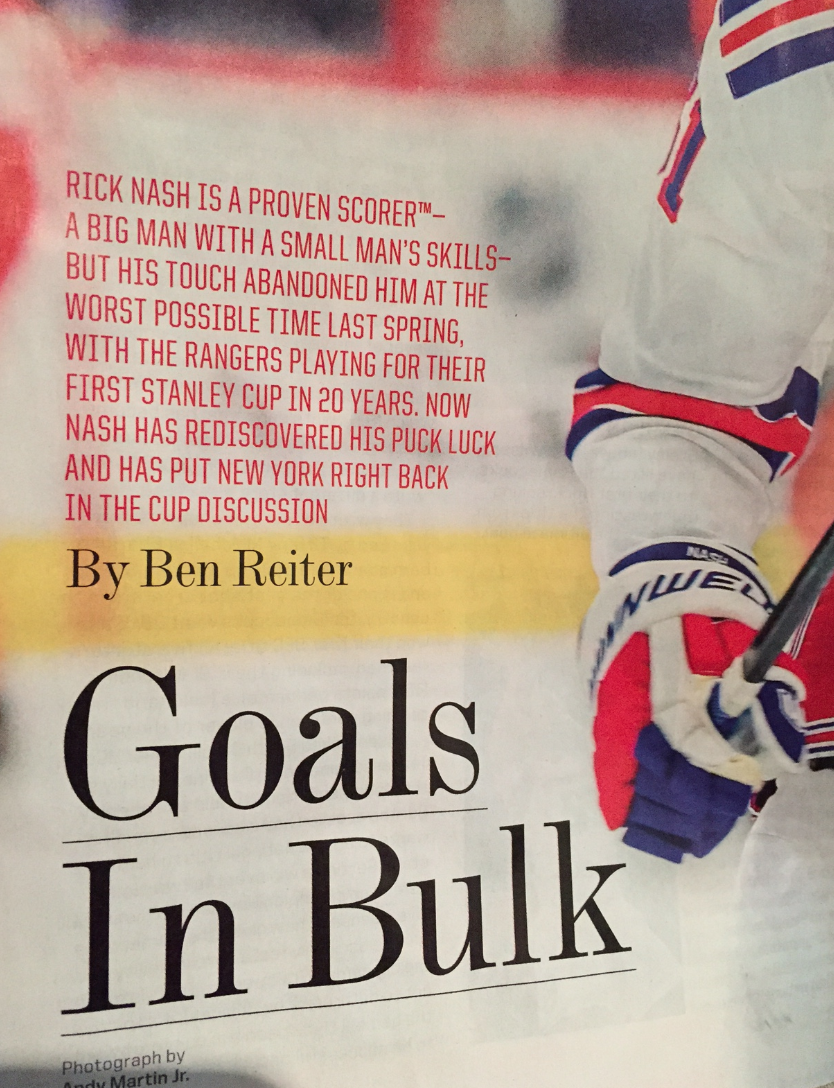 • • • • •
Click to enlarge
Intellectual property breakthrough!: I like to say that Uni Watch is for people who Get Itâ"¢, and I include the "TM" symbol as a joke. Is Sports Illustrated making a similar joke in the lead-in to this article on Rick Nash, or did "Proven Scorer" become a trademarked term when I wasn't looking?
There's another possible answer: Maybe SI just went ahead and sacked their proofreaders along with their photographers.
(My thanks to Caldwell Bailey for bringing this one to my attention.)
• • • • •
T-Shirt Club update:
I haven't yet received my February shirt from the Uni Watch T-Shirt Club, but they're apparently starting to arrive in the mail:
My sweet new @uniwatch t-shirt was in the mail slot today. Looking divine. pic.twitter.com/vPEsRL9hND

— Michael DeAloia (@techczarcle) February 5, 2015
@UniWatch @PhilHecken look what arrived today #shirtofthemonth pic.twitter.com/tLjT8B2NkE

— Tim (@deadendnights) February 5, 2015
If you want to send an "action photo" of yourself wearing your tee, feel free. Meanwhile, looking ahead, I'll reveal the March design at some point next week, and it will go on sale the week after that.

• • • • •
'Skins Watch: Dan Snyder and Co. spent $180,000 on lobbying for the team's name in 2014 (thanks, Phil). "¦ The Oklahoma City school district is deciding whether to sell off old uniforms with the now-discontinued "Redskins" mascot. "¦ Wisconsin point guard Bronson Koenig, who's a member of the Ho Chunk tribe, is opposed to the use of Native mascots and also thinks the 'Skins name should be changed, proving yet again that only white people care about this issue (thanks, Phil). "¦ Also from Phil: The 'Skins are still appealing the U.S. Patent and Trademark Office's cancellation of the team's trademark protection, but a California congressman is looking to make that moot by introducing legislation that would prohibit trademark protection for anything related to the term "redskins."

Baseball News: The Giants will unveil their new home alternate jersey today. Phil will have full coverage tomorrow. "¦ New logo for the Memphis Redbirds, plus a new uniform that will debut in April (thanks, Phil). "¦ According to Baseball-Reference.com, Hank Aaron never wore No. 4, but it looks like that's what he was wearing in this photo. Or maybe the second "4" was hidden behind a fold in his jersey (from Adam Treiber). "¦ Star Wars jerseys/caps upcoming for the Buffalo Bisons. "¦ You know how Topps will somehow Photoshop a player into a new uniform? Looks like MLB The Show has done that with their PlayStation Canada box cover photo. "¦ The Fresno Grizzlies will unveil new uniforms today (thanks, Phil). "¦ In a related item, there's a uni-related rivalry between the Grizzlies and the Sacramento River Cats (from Jeff Funke). "¦ UAB softball's new batting helmets are inspired by the school's football helmets. "¦ Stan Musial's memorabilia shop in St. Louis is closing. "¦ New bat knob decals for UCal-Santa Barbara (from Ryan Denton). … Truly hideous "Saved by the Bell" jerseys upcoming this summer for the Brooklyn Cyclones (thanks, Phil). "¦ New uniforms for the Hanshin Tigers, plus a yellow jersey for the Ultra Festival. They've also created a separate site to mark their 80th anniversary, with lots of very cool old photos and artwork (all this from Jeremy Brahm). "¦ Lots to like in this shot of the 1956 Reds, including Big Klu's cut-off sleeves in the back row (Phil again). … Love this Moose Lodge baseball uni, complete with a "Loyal Order of Moose" sleeve patch! (Great find by Jonathan Daniel.)

NFL News: Here's a bunch of charts and tables that break down NFL fines and suspensions since 2002. "¦ Good story about the agency that worked with Tom Brady to develop his personal logo. "¦ The Jets' locker room is getting a facelift (thanks, Brinke). "¦ The NFL's newfound awareness of domestic violence may mean a lot of blue-ish/teal branding. "Should we prepare for Tealtober?" asks Ron Amadeo. "Please, god, no." Trevor Williams agrees: "This is the beginning of a story we've all seen before with Pinktober, Livestrong, and even the incredibly important but eventually co-opted AIDS ribbon. What begins as a push for change becomes an invisible force telling us that we must buy specific items and wear certain logos so we can feel better about ourselves. And if we go along, we do so not because we care but because we don't want to feel left out." "¦ Thanks to Pats CB Malcolm Butler's Supe-saving interception, a bunch of his jerseys are being rushed to retailers. "¦ Here's more about the Seahawks attempt to trademark, well, everything. "¦ The Dolphins are adding 32 "living rooms" to their stadium. … Oh baby, check out this 1935 shot of Papa Bear coaching his players in the snow. Not sure what I like better — the striped socks of the zipper-hoodied sweatshirts (big thanks, Phil).

College and High School Football News: Grantland has an article asking, "Where would you play college football if uniforms were all that mattered?" I don't understand the question's premise, because I thought the uniforms already were all that mattered, but whatever — suffice it to say that I don't agree with the writer's conclusions, but that's the whole point of that type of article. "¦ New chrome helmet for NC Central (thanks, Phil). "¦ Before Joe Mauer was an MLB player, he was a high school QB — and was involved in at least one color-on-color game (from Matt Larsen).

Hockey News: Here's more on the NHL's move toward player- and puck-tracking technology. "¦ "Not only did the NHL create wretched All-Star unis, but now they're trying to auction off jerseys that were never actually worn by the players," says Chris Cruz. Key quote from that page: "Jerseys were prepared in black and white for each player prior to the 2015 NHL Fantasy Draft. Once Team Toews (white) and Team Foligno (black) made their All-Star Game selections, the one set of All-Star Game jerseys that were on stage and not needed by the players selected in the opposite color were authenticated and prepared for this auction." … With the film version of 50 Shades of Grey set to open in a week, I've been wondering which team would be stupid enough to do a uniform tie-in. And the answer is the Bakersfield Condors (thanks, Phil). "¦ Coyotes captain Shane Doan traded a jersey for one of NASCAR driver Kyle Busch's racing jackets.

NBA News: The Trail Blazers wore their red alts last night to support "Go Red for Women," a women's heart health initiative (thanks, Phil). "¦ Conrad Burry, who's had more inside scoops than anyone in recent months, has a source who's given some rough hints regarding next season's new unis for the Clippers.

College Hoops News: Pink unis on tap this Sunday for the Hofstra women's team and tomorrow for Central Arkansas (thanks, Phil). … With Miami now under the Adidas umbrella, someone came up with some new basketball uni concepts, and I really like them. But it's hard to imagine Adidas going with a two-stripe design, eh? … The Auburn women's team wore orange at home last night. … This is interesting: Joe Bailey's daughter's CYO game last night was color vs. color. "Her team is the home team in red," he says. "Their uniforms are reversible and are white on the inside. With the opposing team wearing black, normally my daughter's team would just switch, but for some reason they stayed red." I've never heard of reversible jerseys before! Anyone else? "¦ Whoa — LaSalle's new unis are, uh, really something (from David Brzybowski and David Cattai).

Soccer News: Lots of new MLS jerseys have leaked. "¦ New Balance is making a big push into the soccer market. Among other things, they've created new uniforms for the first-division Japanese teams Sagan Tosu and Montedio Yamagata (from Tommy Turner Thomas Fiers, respectively). "¦ Sporting KC will unveil a new primary jersey on March 4. "¦ Here's a teaser for the new Columbus Crew jersey, which will be unveiled on March 3. "¦ Here's the clearest look yet at the leaked U.S. national team away kit. "¦ Kansas State is starting a women's soccer team and is letting fans vote on the team's crest (from Thomas Kleffner).

Grab Bag: Faaascinating article on how you can tell a lot about a Jewish male from the type of yarmulke he wears. "¦ Here's the logo for the upcoming World Weightlifting Championships. According to a quote issued by the host committee, "We wanted to make sure the logo was a patriotic theme of red, white and blue and that it also incorporated stars to represent the State of Texas" (from Kevin Mueller). "¦ The Canadian network TSN is running an investigative series on the counterfeit jersey industry (from Mike Guterman). "¦ The Taranaki Bulls — that's a New Zealand rugby team — are letting fans choose the team's new logo. "¦ Mark Doescher thinks the Oklahoma Dept. of Transportation's new logo looks like a mash-up of the Pepsi logo and the Death Star, and he's not wrong. "¦ The police department in St. Petersburg, Fla., is changing its uniforms from green to blue. "¦ The Cincinnati Bell logo is being added to a downtown Cincy office building. "¦ Rugby news from Eric Bangeman, who writes: "Les Bleus will be Les Rouges this weekend, as France will wear red jerseys for the first time ever when they take on Scotland in the opening weekend of the Six Nations (rugby union). Scotland is the home team and will be wearing its customary dark blue kit. France has always worn white as its clash color until now. Vivé la merchandise!" "¦ What if ad agencies were football teams? (From Phil.) "¦ Really like these prewar Japanese beer posters, although maybe not quite as much as the person who wrote the headline on that piece (thanks, Brinke). "¦ Ohio State wrestlers are wearing a "KK" memorial patch for Kosta Karageorge, who was actually better known for being on the wrestling team than for his time on the football team. "¦ UNC, responding to a activist/protest movement on campus, is now requiring that all companies providing school-licensed apparel adhere to minimum worker-safety standards. … New third jersey for the Calgary Roughnecks lacrosse team (thanks, Phil).