For all of today's photos, click to enlarge
Back in October I got to attend two days' worth of taping for Puppy Bowl XI, which will air this Sunday. Everything I saw and photographed was embargoed until yesterday, but now I'm finally allowed to share it with you. I had planned on doing a big feature on everything I saw (I took a lot of notes), but I don't have enough time for that, so instead I'm going to go over a few of the more interesting details.

1. The puppy introductions. Each puppy is supposed to come out of a smoke-filled tunnel (just like NFL players do) and trot out onto the field. When the show airs, the intros will be shown in slow motion. Unfortunately, puppies don't always cooperate — they sit still when they're supposed to trot, or they trot the wrong way, or whatever. So there was a trainer named Victoria Schade on the opposite side of the set who enticed the puppies with treats, toys, and encouraging chatter. Here's a photo of Victoria beckoning to a puppy who's about to emerge from the tunnel, followed by videos of two of the puppies' entrances:
2. The MVP announcement. At the conclusion of the game, the ref — a really nice guy named Dan Schachner (who still wears old-school white knickers, not the black slacks currently seen throughout the football world) — announces the award for the Most Valuable Pup. They shot footage of him making the announcement with several different puppies, I think because they hadn't yet decided which one was going to win. In these videos, you can hear the director asking Dan to give it a bit more gusto (sorry about the first video clip starting out sideways, but it corrects within a few seconds):
At the end of the second clip, you can hear the director saying, "Let's switch the shirt, please." That's because they had to put the "MVP K-9" jersey onto another dog and do the whole routine over again:
3. The national anthem. There's a bit at the beginning of the game where they play the national anthem and everyone looks up at an American flag image on the scoreboard:
The director wanted to show lots of the puppies' faces as they looked upward — presumably toward the flag, although you wouldn't be able to see the flag, just the puppies' upward-turned faces while the anthem was playing. The thing is, it's harder than you'd think to get puppies to look up for several seconds at a time. So Victoria, the trainer, was brought onto the set to entice them to gaze skyward. She held some treats up high and made a bunch of supposedly puppy-pleasing (or at least puppy-attention-getting) sounds, but most of the pooches looked everywhere but up. Sorry about the vertical video format, but it was really the only way. They look great in full-screen mode:
As for the actual Puppy Bowl "game action," I was only around for a little bit of that. It's fun, but it's a lot less exciting without the music and play-by-play narration that they overdub later on. Here's a small sample (you can hear the director noting that they have "a sleeper in the end zone," which means someone has to go rouse a sleepy puppy):
I also got to see some of the kitten halftime show (which I've written about in previous years) and saw the crew try to deal with some remarkably uncooperative hamsters, but that can wait for another day. Anyway, enjoy the Puppy Bowl on Sunday — and the Super Bowl too, although that's clearly of lesser importance.
•  •  •  •  •
Uni Watch on the radio: I discussed the Warriors' and Rockets' Chinese New Year uniforms on yesterday's installment of the public radio program The World. Here's the audio:
• • • • •
Too good for the Ticker: Dustin Semore was doing radio last night for some high school basketball games in Alabama and was intrigued by the warm-up outfits worn by the Brilliant High School girls' team. They wear hoodies (click to enlarge):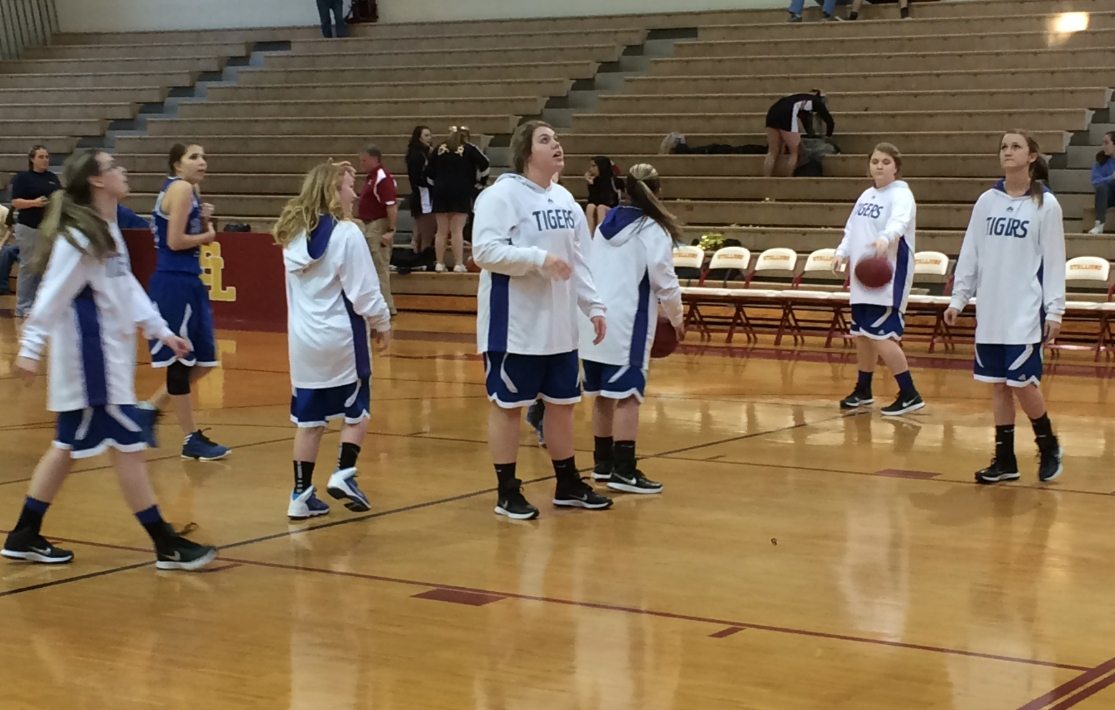 But that's nothing compared to the Brilliant High School boys' team. Check out their warm-ups (click to enlarge):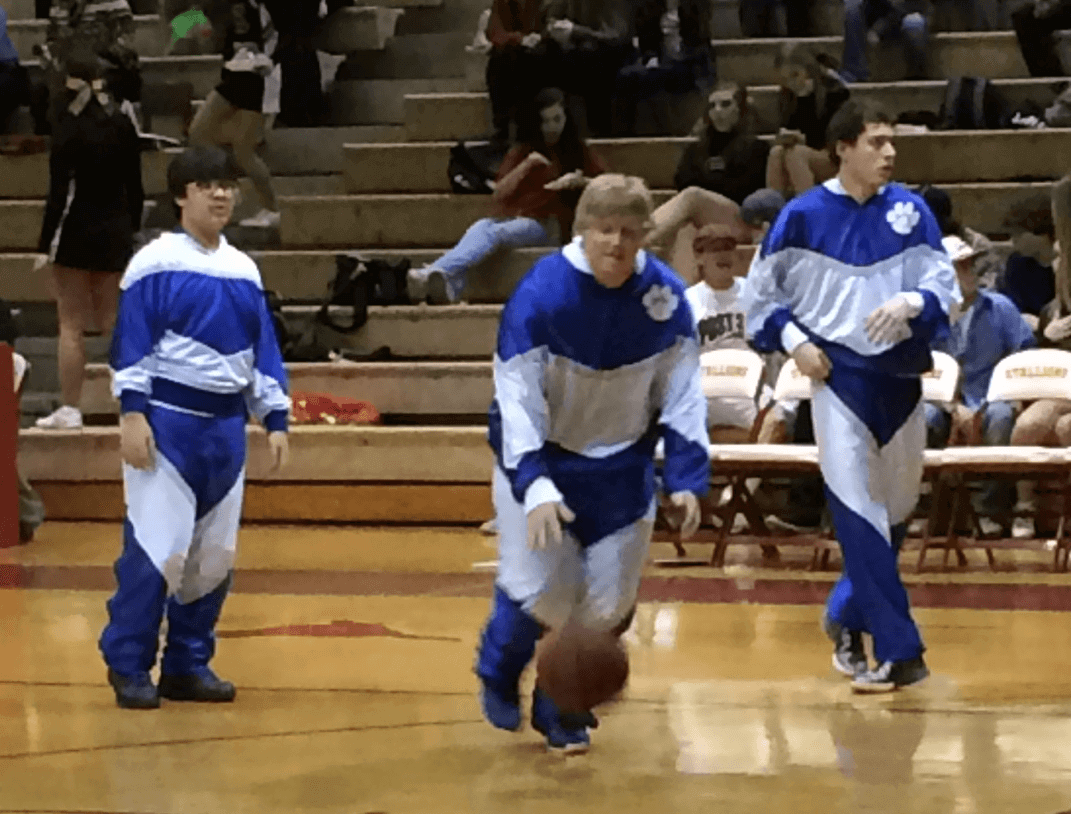 I've been told that Brilliant High is a tiny school with a very limited budget, so it's entirely possible that they're using old warm-ups from many years ago. But man — those boys' designs are really something.
•  •  •  •  •

'Skins Watch: A new ad argues that changing the 'Skins name won't harm Washington football (thanks, Phil). "¦ Really interesting article about how indigenous people in the Pacific Northwest love the Seahawks. "¦ Protesters at the Super Bowl will attempt to highlight connections between the 'Skins name and domestic violence (thanks, Phil).

Baseball News: Based on these illos from Chris Flinn's son's Sesame Street coloring book, Bert is a pajamist but Ernie Gets Itâ"¢ (and Elmo isn't wearing a cup — or pants, for that matter). … Ichiro Suzuki, now with the Marlins, is going back to wearing FiNOB. He went NNOB with the Yankees, natch. "¦ Good piece on those old "Say No to Drugs" wristbands. Let's skip all the obvious Strawberry and Raines jokes, thanks (from John Pritchard). "¦ Some sort of G.I. Joe nonsense apparently in the works for the Royals. "¦ New softball uniforms for Mississippi and LIU Post. "¦ Looks like these horizontally oriented bobbleheads are all the rage now. "¦ Lots of cool old unis shown in this article about Cal State Fullerton's baseball program (from Josh Claywell).

NFL News: Here's a video clip on the official Super Bowl artist. … Here's a roundup of NFL trademark issues (from Jay Sullivan). … Jerry Kulig was watching some highlights from Super Bowl V and noticed that at one point the scoreboard had "Boys" and at another point had "Cowboys." … Pretty bad fake Cowboys and Eagles uniforms in this AT&T commercial (from Tim Dunn). "¦ The Super Bowl field will apparently look like this. Boy does that blank spot in the Pats' end zone look bad. "¦ One iron-clad rule of Super Bowl week: There's always a big bust of counterfeit gear (from Chris Bisbee). "¦ Check out Bob Hope in his "Hope-mobile" during the halftime show from Super Bowl XXII (great find by Mako Mameli). "¦ Here's a video report on the evolution of NFL gloves (from Caleb Borchers).

College Football News: Here's a rare sight: Florida going mono-orange back in the late 1980s. That's Emmit Smith, incidentally (nice find by Tyler Cronin).

Hockey News: The NHL is expected to use uniform advertising in next year's World Cup of Hockey. Whatever — as long as they keep it out of the NHL itself. #NoUniAds (from Jason Hoyt). "¦ Arizona State has added a memorial helmet decal for an ASU student's deceased cousin (from Kenn Tomasch). "¦ Groundhog Day uniforms for the Hershey Bears (thanks, Phil). "¦ Great story about a Reno Renegades player who was reunited with his game-worn jersey from 19 years ago. "Of course, this raises the question: Do I need to start contacting all of the players who wore all of my Rochester Red Wings game-worn jerseys?" says Paul Bielewicz. "¦ I think we've noted this on previous occasions, but Sabres D Tyler Myers's jersey was missing the NHL logo yesterday (from Mike McKinnon). "¦ Adrian Acosta notes that the Rangers' alternate uni, which features cream accents, used to be paired with cream-trimmed gloves, but these days they're going with white-trimmed gloves that don't match the cream in the jerseys. "¦ "On Feb. 2, 1954, the Red Wings played a game on the grounds of the Marquette Branch Prison against the prisoners there," says Will Scheibler. "Here's a video about the game and an article with a good photo of the prison team. According to this article, the prisoners weren't allow to use sticks to play hockey until the year the Red Wings came."

NBA News: The Pacers' 1990s throwbacks, originally slated to debut in last night's game against the Knicks, will instead debut on Feb. 4 and will then be worn five additional times this season. The full schedule is here (thanks, Phil).

College Hoops News: New uniforms for UNCW. "¦ Very nice new throwbacks for Kansas, but ugh, the first line of that press release: "A year ago, Adidas and Kansas men's basketball stepped up their swag game"¦" Uh, right (thanks, Phil). "¦ Michigan State wore script "State" jerseys last night (thanks, Phil). "¦ "No picture, but I was watching the Eastern Kentucky/Murray State game and they were explaining why No. 10 for a EKU doesn't have a name on the back of his jersey," says Michael Kinney. "They made some joke about how he's not on scholarship. Then they said the real reason was that his jersey got lost on the team's recent trip to Miami. That's completely understandable, but that game was played on Dec. 19. They couldn't get him a new uniform in six weeks?"

Soccer News: New uniforms for El Tri (thanks, Phil). "¦ This appears to be the new MLS number font (from Matt Lesser). "¦ Former Wales player Robbie Savage once wore 72 jerseys at once (from Graham Clayton). "¦ Mark Gonzalez of Chile went FiNOB in yesterday's USA/Chile friendly (from Rex Henry).

Grab Bag: Small note buried on this page indicates that USC will be retiring the jerseys of former volleyball players Tom Duke and Bryan Ivie prior to tomorrow's game against Cal State Northridge. … Really like the coastline-ish swoop and the sedimentary-ish layers of the snow on this car, which I passed on the street the other day. "¦ In case you somehow weren't aware of this already, neon/highlighter colors are the hot thing. "¦ In a related item, here's what the world's been waiting for: neon golf balls and golf clubs (from John Okray and Phil, respectively). "¦ I'm not sure why pro golfer Morgan Hoffman was wearing a giant foam Phx Suns hat at the Phoenix Open yesterday, but it sure looked weird (John Okray again).