For all of today's photos, click to enlarge
This illustration of Darryl Strawberry was done by LeRoy Neiman I've never been much of a Neiman fan, but the Strawberry image is part of a series of sketches that appear in the new issue of Victory Journal, the magazine published by longtime Uni Watch comrades No Mas, and I really like them. Here, check out these depictions of Vida Blue and Broadway Joe:
I love how spare and primitive these images are — much better than Neiman's signature large-scale paintings, which I've always found to be too busy, too fussy. Wanna see more? These next spreads show, in order, former heavyweight champ Sonny Liston skipping rope and hitting the heavy bag; Grand Prix driver Ayrton Senna; 1972 World Chess Championship contenders Bobby Fischer and Boris Spassky; and boxing promoter Don King and Pistol Pete Maravich:
The Neiman portfolio is one of several excellent features in this new issue of Victory Journal. In case you're not familiar with it, Victory is an oversized publication — 11″ x 17″ — and the production values are pretty stunning. If there's a better publication for sports visuals right now, I'm not aware of it. When they bleed a photo across like the gutter to create a two-page spread, as they did with these shots of the Dolphins' cheerleaders and a New Orleans high school football team, the colors and details really pop:
There's also a big feature on bullfighting, which includes a unexpected uni-related photo — this shot of a picador adjusting his leg armor:
There's more — a lot more — but I don't want to give away the whole store. Suffice it to say that it's very impressive, and it'd make a great stocking stuffer to boot. You can purchase a copy here.
•  •  •  •  •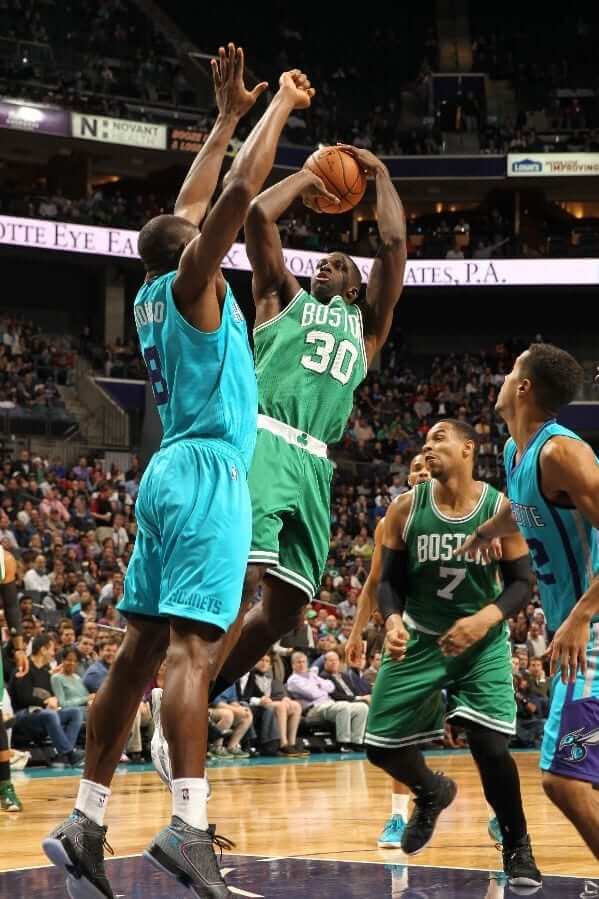 Can't wait to hear what The Jeff has to say about this one: Bizarre scene last night in Charlotte, as the Hornets wore their teal alts and the Celtics wore their road greens, creating a color-vs.-color matchup that might charitably be considered to have had less than the optimal amount of contrast. Granted, it wasn't as bad as last season's Knicks/Hawks fiasco, but still. (Lots of additional photos here.)
But to give credit where it's due, whoever was behind this move has succeeded in getting me to write a sentence I never thought would come out of my keyboard: They would've been better off if the Celtics had worn their sleeved gray alts.
•  •  •  •  •
ESPN daily double: In case you missed it yesterday, I had two ESPN pieces: one on mono-colored uniforms in the NFL and an FAQ-style explainer/backgrounder on the "I Can't Breathe" T-shirts. Enjoy.
And speaking of the "I Can't Breathe" phenomenon, last night it spread further, with the Trail Blazers the Georgetown college hoops team getting on board (both without Comic Sans!):
#TrailBlazers, incl. Damian Lillard & LaMarcus Aldridge wear #ICantBreathe t-shirts. pic.twitter.com/zgrmMvyuvM (via @bracehemmelgarn @cjzero)

— Phil Hecken (@PhilHecken) December 11, 2014
Hoyas wearing "I can't breathe" t-shirts pic.twitter.com/FH7ZR205xd

— Ben Standig (@BenStandig) December 10, 2014
•  •  •  •  •
NFL Superhero Project
By Thomas Correia
After 14 weeks, it occurred to me that I never redesigned the NFL logo to fit this project. I've finally done that, using the 1990s Marvel Comics logo as inspiration — you'll see it in this week's design.
Speaking of which: Tonight's game is between the Cardinals and Rams, and I'm happy to bring in one of the comics world's most popular and funny anti-heroes and an equally popular villain from the Marvel films (click to enlarge):
For the Cardinals, I figured I needed a hero with a red mask and some heavy black around the eyes. Got to be Spider-Man, right? Wrong — this is Deadpool, baby! Aside from the colors, the clincher for me is the point at the top back of his mask, which is always drawn in comics and mimics the same spot on Arizona's team logo. Since Marvel's "Merc With A Mouth" does occasionally get decapitated, it seemed fitting to have his head appear ripped off here as well.
For the Rams, it's all about the horns. Trying to find a hero with curved horns is a tough task, but a villain is much easier. Marvel's Loki has the most distinctive golden horns in all of comics, and I managed to include the eye, teeth, and back of St. Louis's ram head logo. This should make for a nice pairing next time the Rams face the Vikings (Thor) in the NFL.
The final NFL Superhero matchup takes place next week, between the Titans and the Jaguars. Who will be the heroes that represent these last two teams? Post your guesses in today's comments.
•  •  •  •  •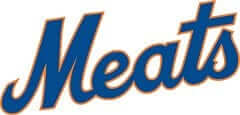 Theoretical stocking stuffers: Wouldn't it be great, hypothetically speaking, if shirts like these were available this holiday season? If you like discussing hypothetical situations, get in touch and we'll have a deep philosophical dialogue.
• • • • •
Coolest two minutes you'll spend today: The video I'm about to show you defies description, but it includes team logos, patches, boxing gloves, a football, a soccer ball, tube socks, and several other sports-related visual elements. And for bonus points, it's set in a delicatessen. Trust me when I say it is totally worth the two minutes it takes to watch it:
• • • • •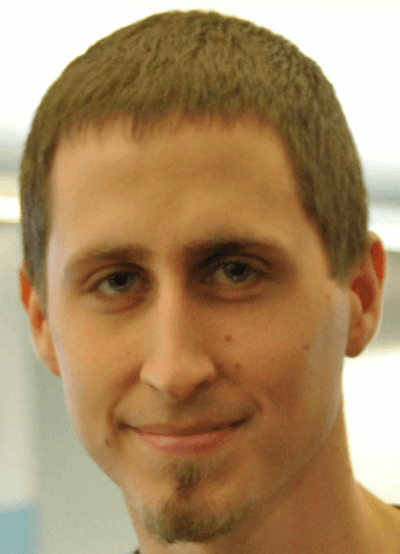 Mike's Question of the Week
By Mike Chamernik
Which stadiums and arenas that you've visited have you found to be overwhelming? In other words, which venues have really impressed you, either by exceeding expectations or catching you off guard with their awesomeness? What stood out about these places?
Also, which venues have underwhelmed and disappointed you, and why?
• • • • •
Uni Watch News Ticker
By Mike Chamernik

Baseball News: The Braves released some artist renderings of their new ballpark. "There is a lack of attention to detail here," says Michael Rich. "For one, the traffic on the highway is traveling in the wrong direction (first image). Second, it's blurry, but the home team appears to be losing on the scoreboard (third image). As someone discovered and posted in the comments, the artist picked a real scoreboard from a game the Braves won in 2011 — in Nationals Park. Also, not only did they pick a road scoreboard, they picked the final Braves win of the 2011 season, which saw the Braves execute a historic September collapse to miss the playoffs on the final day of the season."

NFL News: The Bengals will wear white jerseys with black pants on Sunday. … In October of 1989, Browns CB Hanford Dixon had his pants slip down while making a tackle, revealing some pink compression shorts. "The very first Pinktober," says Matt Barnett. … The 'Skins wore some reflective numbers in 1938 (from Jeff Flynn). … Buffalo Bills cheerleaders were paid less than mimimum wage but were still required to spend $650 on their own uniforms. … A Bucco Bruce helmet made an appearance in the latest episode of New Girl. … In reference to yesterday's Ticker, it seems that having the visiting team's wordmark in the end zone wasn't just a one-time thing. In the 1983-84 AFC Championship Game, the Seahawks had their logo in an end zone at the LA Coliseum, and in 1986-87, the Broncos had their wordmark at Cleveland Stadium (from Matt Larsen and Kevin Ortiz, respectively). … Ndamukong Suh had two pairs of gloves with him for the Lions' most recent game. "I know players put their gloves on their facemask all the time, but this was my first time seeing a player doing so while already wearing a different set entirely," says James Thomas. … Colin Kaepernick designed caps for New Era (from Tommy Turner). … Here's a great shot of the 1939 NFL Championship Game between the Packers and Giants — look at that official with "NFL" on his back! And here's what the game's program looked like. Excellent stuff. Green Bay won the game 27-0 (from Bruce Menard).

College Football News: Here's what the College Football Playoff National Championship ring will look like (from Phil). … George Monroe spotted an Ohio State fan's car. … Here's the patch West Virginia and Texas A&M will wear in the Liberty Bowl. … A character on the show The Middle attends Notre Dame, so he wore a jacket with both an ND logo and logo creep on it (from Matt Williams).

Basketball News: The Hawks used the 76ers' Ben Franklin alternate logo on their scoreboard (from Phil). … BYU wore throwbacks last night. … Here's how the "I Can't Breathe" shirts caught on in the NBA. … Kevin Durant, Kobe Bryant and LeBron James will wear these shoes on Christmas. … T-Wolves forward Jeff Adrien wore a fingerless glove on the court last night (from Graham McCullough). … The Warriors unveiled renderings of their proposed new arena (from Brinke). … Yahoo still uses Bobcats orange in Hornets graphics (from Paul Lee).

Grab Bag: The Anaheim Ducks have created a farewell logo — and possible jersey patch? — for Teemu Selanne (from Chuck Eldridge). … Caddyshack-themed hats are now on sale (from Andy Horne). … "Some interesting jerseys have been unveiled for the NRL Auckland Nines rugby league comp," says Kerry Hudson. "Many of the designs are quite "˜loud' compared to the teams' normal jerseys. Also, two sleeveless designs, one of which features a charity's logo on the front." … New logo for Impact Wrestling, also known as TNA Wrestling.