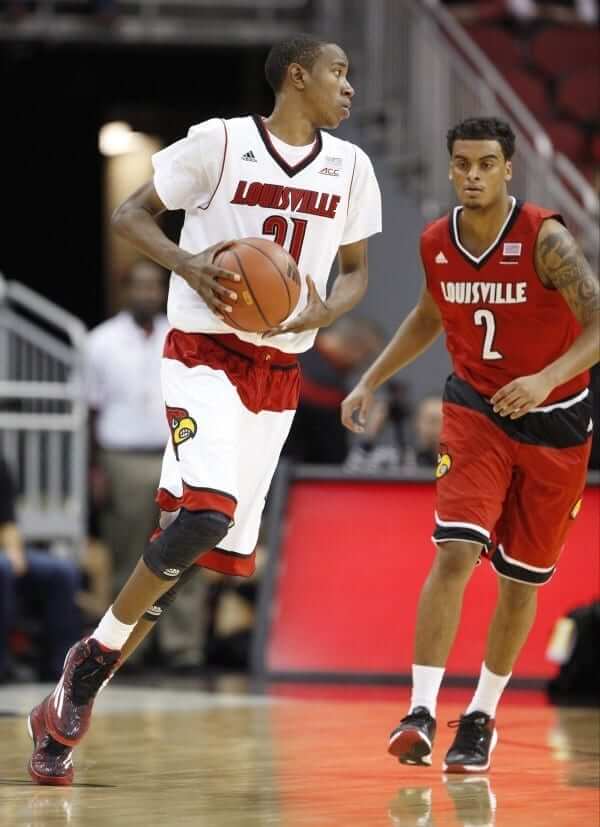 The most unusual new college basketball uniform set for the coming season will be worn in Louisville, where the Cardinals have been given a highly unusual shorts design (the home and road versions of which are both conveniently shown in this photo from a recent intrasquad scrimmage; additional photos here). Rather amazingly, Adidas hasn't dressed anyone else in this template — at least not yet. Anyone want to set the over/under for how long that lasts?
But Louisville won't be wearing those uniforms when they tip off their season this Friday. That's because they'll be opening the season at the Armed Forces Classic at Coast Guard Air Station Borinquen in Puerto Rico, which of course means their uniforms will feature the official animal of Puerto Rico: the coquí frog. Kidding! They'll actually be wearing Coast Guard-themed uniforms.
Those designs, and many more, are featured in my annual college hoops season preview, which is up now on ESPN. "" Paul
•  •  •  •  •

Baseball News: Remember that Majestic catalog that ran in yesterday's Ticker, with what appeared to be some new BP jersey designs? An inside source tells me, "That catalog is for their team sales division (i.e., for rec leagues, Little League, etc) and is not the Majestic MLB catalog. I know the "Authentic Collection" logo appears there, but those look like dumbed-down versions of the real BP jerseys that they sell to amateur teams." So there you go — at ease. … New Mets free agent signee Michael Cuddyer has provided our first look at the team's new white (no longer cream) pinstriped jersey. … As you're probably aware, a team of MLB players is currently playing a goodwill series in Japan. The MLBers are wearing their regular uniforms. I figured the Japanese squad would wear their WBC unis, but instead they're going with these beauties — with striped socks! Man, why can't our guys dress like that? (From Johnathan Kaszynski.) "¦ Here's a 1984 Pizza Hut commercial showing White Sox players Carlton Fisk and Rich Dotson, with the "6/46" memorial patch for coaches Charlie Lau and Loren Babe clearly visible (nice find by Bo Baize).

NFL News: The Dolphins will be wearing mono-aqua tomorrow night. … Wesley Eustis reports that a fan at Sunday's Niners/Saints game was told to remove the American flag that he'd draped over the railing of his seats. I'm assuming it's because his flag wasn't made by either of the league's official corporate flag manufacturers (which are, of course, Nike and Bose). "¦ Colorado state senators celebrated their new majority by wearing Peyton Manning jerseys (thanks, Phil). "¦ Here's a weird one: NBC hides little Wikipedia articles in its Sunday Night Football graphics (from Yusuke Toyoda).

College Football News: A recent episode of Big Ten Treasure Hunters featured this 1930s Wisconsin uniform (from Chris Flinn). "¦ Friday is the anniversary of the tragic Marshall plane crash that killed all 75 people aboard, which explains why the Herd will be wearing this helmet on Saturday (from Brice Wallace). … Holy Toledo! That's what the Rockets wore last night. I really like it (thanks, Phil). … New helmet for Oklahoma State. … Let no cause go unrepresented: Minnesota will be wearing epilepsy awareness neck bumpers on Saturday. "¦ Arizona State will wear solid white this weekend.

Hockey News: An NHL spokesperson provided some additional info on those poppy decals that some teams were recently wearing for Remembrance Day: "The NHL permitted all Canadian-based NHL clubs to place a poppy decal on the back-left area of their helmets for the Remembrance Day holiday. Clubs had the opportunity to wear the decal for all games from Nov. 8 through Nov. 11. Participation was optional and not a league requirement or mandate." … Reprinted from yesterday's comments: Here are the sketches for the year's Hall of Fame inductee plaques (from Rob S). … Blues goalie Brian Elliott wore a new mask design last night for Veterans Day. "¦ If you want to see Bill Hay of the 1964 Blackhawks put on his equipment and uniform, this video is for you (from Bo Baize. "¦ Paul, who didn't give his last name, notes that the Coyotes have very inconsistent helmet decal placement, perhaps because of the different helmet models.

NBA News: The Raptors went G.I. Joevember last night, forcing the Magic to wear white on the road. … Josh Nolan notes that LeBron James began Monday night's Cavs/Pelicans game wearing white sneakers but them switched to gray in the second half. "¦ The ugly sweater thing has spread to the NBA, wheeee!

College Hoops News: "The St. Paul Pioneer Press is holding a 'Munch Madness' tournament to vote on the best neighborhood for food, complete with a Final Four-esque logo," reports Daniel Schneeman. … This is awesome: a story about former Purdue coach Gene Keady's combover. "As familiar and recognizable as any uni or logo," says Jeff Ash.

Soccer News: NYCFC's inaugural uniforms, as expected, are being made by Adidas. The unveiling will take place tomorrow morning in Manhattan.

Grab Bag: "Tennessee is pushing the 'Power T' for all sports now, not just football, and they're also using it as the main logo for the school," says Adam Ingle. "They're also dropping 'Lady Vols' from all female sports except women's basketball. This is due in part to Nike taking over for Adidas in 2015." Some of the initial reaction to all this has been negative. "¦ Here's a really good quiz on whether certain retail chains do or don't include apostrophes in their names (from Richard Stover).