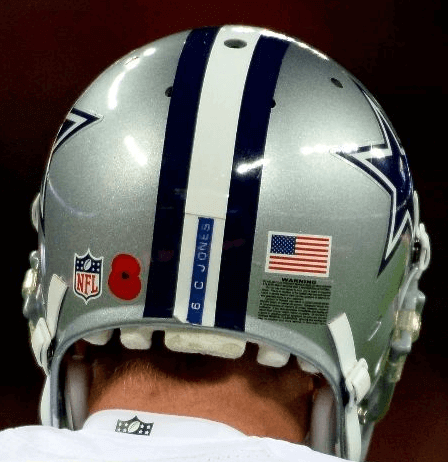 Very interesting developments at yesterday's Jags/Cowboys game in London, as both teams adopted the British custom of wearing poppies for Remembrance Sunday — not just on their helmets, but also on their jerseys (which, as you can see in that last shot, created a bit of a clusterfuck for Jacksonville — good thing they don't wear captaincy patches). Here's some background on the poppy initiative from the Cowboys' website.
Now, I'm all in favor of being a gracious guest and respecting your host's customs, but I'm rather surprised the league went this route. I thought the NFL games in London were about imprinting our culture on the Brits, not the other way around. I also thought G.I. Joevember was about rough-and-ready militarism, not namby-pamby symbols of peace. What, all of a sudden camouflage isn't good enough?! Not only that, but the poppy-emblazoned jerseys are being auctioned off to benefit a British military charity — what kind of message does that send to American service personnel? And it's particularly interesting that the Cowboys and Jags are the two teams that ended up going poppy-clad — isn't observing another country's holiday precisely the kind of squishy multi-culturalism and sovereignty-sapping one-world-order-ism that should have people in Dallas and northern Florida reaching for their stash of ammo (which they keep, of course, right behind their stash of gold coins)? Like, is this the NFL or the United fucking Nations?
Fortunately, there were plenty of teams yesterday playing on American soil and honoring the military-sports industrial complex troops by wearing good ol' camouflage. I won't show all of them here because there was nothing new, but you know the drill: camo gloves, towels, and captaincy patches, military branch helmet decals, and so on. It's worth noting, however, that Cardinals return man Ted Ginn Jr. became the latest player to wear camouflage tights. Stick your pansy-ass UK poppy in that!
In other developments from around the league yesterday:
• In that Cowboys/Jags game, remnants of the Falcons' logo were visible in one of the end zones.
• The Saints wore mono-black.
• The Chiefs/Bills game in Buffalo, besides being a beautiful uniform matchup, reminded me of the old pre-wacky Pro Bowls: blue jerseys against red pants. Very nice.
• Dolphins cornerback Cortland Finnegan removed his shoe on the sideline, revealing a surprising sock design.
• Giants safety Stevie Brown was wearing a mouthguard with the U. of Michigan logo.
• A clown in the crowd at the Superdome was wearing a Saints captaincy patch with four stars.
• It's a little hard to see, but Aaron Rodgers' G.I. Joevember sideline ski cap had a little tag with his name and number, plus a little version of the team's "Holstein Heisman" logo.
• NBC color analyst Cris Collinsworth, who was working the Packers/Bears game last night, wore a Rab jacket. But someone must have flipped out over the visible logo, because it was later taped over.
• Fun fact: Not a single home team wore white yesterday.
(My thanks to all contributors, including Mike Johnson, Matt Larsen, Chris Perrenot, Jerry Peterson, Jeff Shirley, and of course Phil.)
• • • • •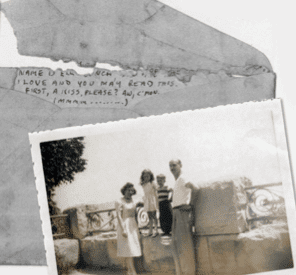 PermaRec double-dip: Two new PermaRec entries to tell you about. First up: When a California woman purchased a box of old letters and photos at a flea market (including the ones shown at right), she found herself going down an intriguing rabbit hole of family history. Get the full scoop over on Permanent Record.
Also: The Seattle Museum of Art recently acquired a needlework piece created nearly 200 years ago by a 10-year-old "liberated African" named Charlotte Turner. But who was Charlotte Turner, and what happened to her? Learn more in this PermaRec post.
• • • • •

Baseball News: Here's our first look at the Twins' new home jersey. Not bad, but that wordmark feels soooooo dated. "¦ Who's that on a motorcycle at County Stadium? None other than Robin Yount (from Douglas Ford). … Also from Douglas: Someone dressed up as an Expos robot for Halloween. "So bad, it's good!" he says. … Oooh, check out this 1945 World Series bat-shaped fountain pen/pencil set (from Denver Gregg).

NFL News: Check out the logo on this Colts cap. Never seen that before. … In case you haven't heard, there's an odd controversy about an old jersey that was supposedly game-worn by former Raiders defensive lineman and current TV analyst Howie Long. The jersey apparently has "metal pebbles" sewn into the numbers, although Long says this is all news to him. "¦ You can get this official Wilson football radio for a song (thanks, Brinke). "¦ The NFL's promo for this Thursday's Bills/Dolphins game has soooo many uni errors. "You'd expect better from a commercial sponsored by the NFL," says Jeff Shirley. "¦ I suspect that the NFL's one-helmet rule is the only thing keeping the Seahawks from wearing this. Someone was selling that on eBay (from David Firestone). "¦ This is pretty awesome: The Wall Street Journal did a team-by-team breakdown of the jerseys being worn by fans at yesterday's Cowboys/Jags game in London, revealing that UK fans are stuck in the 1980s (big thanks to Tom Adjemian.

College Football News: Colorado State RB Jasen Oden Jr. has a comma on his JrOB. Interestingly, they don't include the comma on his roster page (from Michael Putlack). … Several readers have asked me about the mini-trend of players wearing baggy-sleeved base layers. I confess that I'm baffled by this one — I thought everyone was obsessed with skintight attire. Anyone know more? "¦ This is odd: a Virginia Tech T-shirt with the outline of the state of Vermont. "I think the 'VT' initials confused somebody," says Marc Burgess. "¦ LSU's live tiger mascot has refused to travel to the stadium this season. Maybe he's smart enough to realize what his handlers don't — that a live tiger never belonged at a football game in the first place.

Hockey News: This video from the Sharks' first game in 1991 mentions that Neil Wilkinson's jersey was missing, so he had to wear No. 45, instead of his usual No. 5 (from Jay Danbom). "¦ This is interesting: The Senators are actively encouraging a more soccer-style crowd culture at their arena.

NBA News: Good point by Paul Lee, who notes that last season's NBA Noche Latina jerseys didn't have the NBA logo on the front. Did we even say anything about that at the time? It now looks like a warm-up for the logo's front-to-back move this season. … The Pistons wore their sleeved "Motor City" jerseys last night.

Soccer News: "Since this was Remembrance Sunday in the UK and this year marked the 100th anniversary of the start of World War I, there were poppies on soccer jerseys as always, but with special markings like this and this and this," says Yusuke Toyoda. "Managers wore the more traditional pins, while Millwall went camo and James McClean of Wigan explained his decision to not wear the poppy." "¦ Also from Yusuke: "A five-year-old Queens Park Rangers fan took an errant shot to the face from Manchester City's Yaya Touré and received signed jerseys from both teams for her trouble." "¦ One more from Yusuke: "Diego Costa of Chelsea ripped his shirt attempting a bicycle kick and ended changing to (and scoring in) a long-sleeved shirt."

Grab Bag: Bernard Hopkins had an unusual color scheme on his gloves, trunks, and shoes for Saturday night's light heavyweight title unification bout against Sergey Kovalev. "¦ "AFL's Brisbane Lions (Aussie Rules football) released their 2015 clash strip with two elements that are a nod to the Fitzroy Lions (one of the two clubs that merged years ago to form the current club)," says Leo Strawn Jr. "One of those elements is the Fitzroy lion; the other is the homage to the Fitzroy lace-up guernseys worn well over 100 years ago." "¦ "Really nice rugby union uni matchup over the weekend, as England played New Zealand — a classic white-vs.-black matchup," says Eric Bangeman. "Of interest is the change of the New Zealand logo and numbers from white to gray." "¦ Another rugby item from Eric: "Ireland wore their brand-new alternate kit with the horrid '3' logo on the front against South Africa." "¦ Good piece on a type font used in the Star Wars series (thanks, Brinke).
• • • • •

What Paul did last night: Last night Phil and I were among 16 people who gathered at the Lakeside ice facility in Prospect Park and took part in first organized curling activities in New York City since the 1880s. It was the first session of a five-week clinic that will be a mix of instruction and competition.
There were a few growing pains, both for the players and the instructors, but for the most part it all went really well. Rather amazingly, they even provided us with beer afterward, "because that's an integral part of curling" — a nice touch that made for a very sociable postgame scene.
Unfortunately, Phil and I were so busy participating that we didn't take any photos, but a reporter from a local NYC-centric website was on hand, and she told me her story should be posted at some point today, so I'll provide a link to it tomorrow.