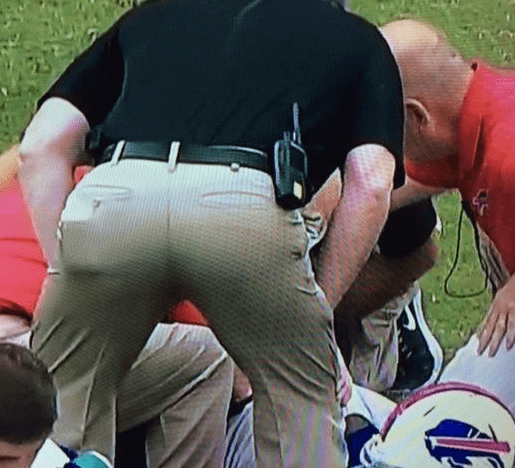 My favorite uni-related moment from yesterday's NFL action, hands down, came during the Bills/Texans game, when a Buffalo trainer turned his posterior to the camera and revealed that he had missed a belt loop (click photo at right to enlarge). When I tweeted that photo yesterday afternoon, one of the many responses was, "Slow uni news day." And yeah, as it turned out, yesterday was a pretty uni-unventful day around the league. But even during a busy day, I would have been totally geeked out over this one.
In other NFL observations from yesterday:
• The Bears wore their "Monsters of the Midway" throwbacks.
• The Saints wore solid black.
• So did the Ravens.
• The Dolphins and Raiders faced off in London. As has been the case for the past few years, neither team wore an "International Series" patch. (In case you don't recall what that patch looked like, look here and here.)
• Only two teams wore white at home yesterday: the Cowboys (of course) and the Chargers.
• Most players with long dreadlocks just let the dreads flow, but Vikings wide receiver Cordarrelle Patterson was wearing a snood-ish accessory yesterday.
• 49ers wideout Michael Crabtree appears to have been wearing a whole lot of socks — or maybe just a lot of white tape.
• Speaking of the Niners, can anyone figure out Colin Kaepernick had printed on his mouthguard?
• Have I mentioned lately that retail jerseys just make fans behave like idiots?
• Pretty sure we've covered this before, but once more won't hurt: Falcons defensive lineman Kroy Biermann has been wearing red contact lenses to cut down on glare.
• The numerals on Ravens linebacker C.J. Mosley's uni number were either not the same size or badly distorted.
(My thanks to all contributors, including Andy Altemus, Matt Larsen, Small Papi, Chris Perrenot, and of course Phil.)
• • • • •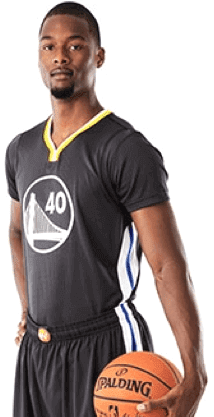 Ewwwwww: What do you get if you combine the NBA's most sleeve-happy team with BFBS? Here, see for yourself.
What a train wreck. I've been pretty supportive of most of Golden State's moves in recent years — they've definitely been the most visually interesting NBA franchise of late — but it's hard to find anything good to say about this. How much does it suck, and how annoyingly is it being presented? Let us count the ways:
• There's no team name or city name (or state nickname, or whatever) on the jersey. This, combined with the sleeves and the plain black-and-white color scheme, makes it look even more like a practice jersey that the NBA's other sleeved designs.
• The yellow and blue trim doesn't work at all.
• They've given this shade of black a new name that I'm not going to dignify by invoking. Please. It's fucking black, and that's what we're going to call it.
• The uniforms were unveiled at a "social influencers" event, which sounds like the kind of douchebag-o-rama that might be fun to crash just for the pleasure of "accidentally" spilling drinks on everyone. Unless you had something better to do, like, say, whacking yourself in the head a few times with a ball peen hammer.
• Some morons at the NBA and/or Adidas came up with the idea that this uniform is "armor." You know, because basketball is "combat" engaged in by "gladiators" who need "armor" as they "fight" to "death." Earth to morons: You can't keep telling us that each uniform iteration is eleventeen percent lighter than the last one and then try to tell us that this ultra-light wisp of a garment is "armor." (Note to self: Figure the over/under on the first Kevlar uniform is about eight months from now.)
Honestly, sometimes these people are so goddamn stupid, it's just depressing. And angering. And amusing. But mostly depressing.
•  •  •  •  •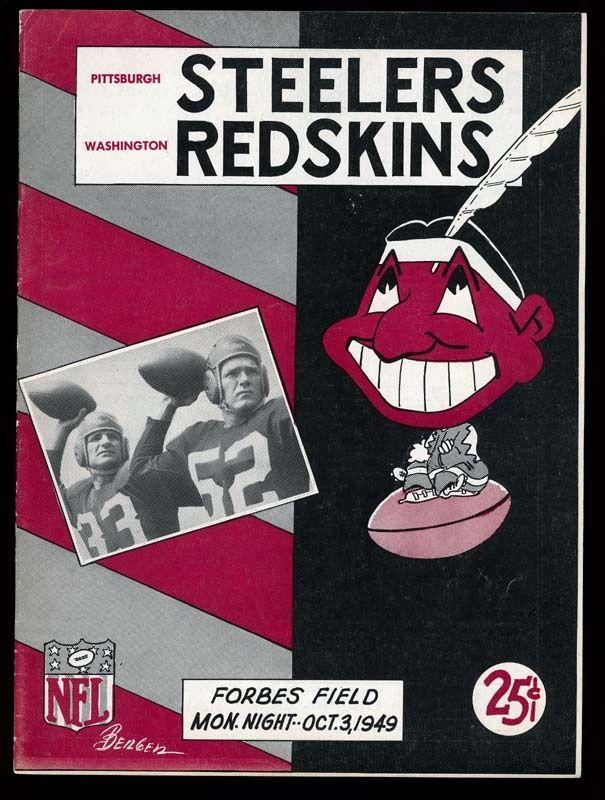 Too Good for the Ticker: I suppose I could have held onto this until Friday's edition of 'Skins Watch, but it seems too remarkable to hold onto. As you can see on the program cover shown above (taken from this eBay listing), Chief Wahoo was used as a mascot for the 'Skins on at least one occasion in 1949. Well, I guess those Injuns all look alike, right?
Also of note: the primitive NFL logo and the Monday-night game time.
But here's the weird thing: According to SportsLogos.net, the Indians didn't start using that version of Wahoo until 1951. So how did it end up on a football program cover in 1949? Anyone know more?
(Doubplusthanks to Leo Strawn Jr. for this one.)
• • • • •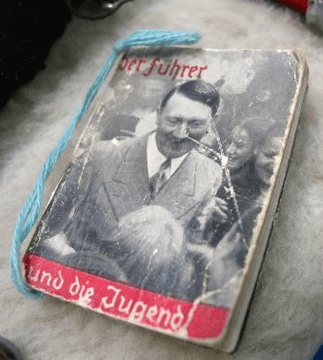 PermaRec update: An abandoned trunk found in a vacant house turned out to be full of Nazi memorabilia, including the Hitler booklet shown at right. Get the full story on Permanent Record.
Also, yesterday was a special day on the PermaRec calendar. Details here.
A way better bargain than one of Derek Jeter's socks: Uni Watch 15th-anniversary patches are back in stock, and the anniversary stickers are available as well. Snap 'em up!
• • • • •

Baseball News: Anyone know why the entire Reds infield went high-cuffed yesterday? (Photo by Patrick O'Neill, who was at the game.) "¦ Dodgers players Juan Uribe and Hanley Ramirez got to be the manager and bench coach, respectively, for yesterday's regular season finale, so they had a bit of fun by wearing bench coach Tim Wallach and manager Don Mattingly's jerseys. Even better, Uribe later switched to a Tom Lasorda jersey. Kudos to all involved for injecting some fun into the game (from Allen Yelent). "¦ "A new ballpark is being built in Columbia, South Carolina, for a minor league baseball team to open play in 2016," says Joe Mathwig. "There is currently a contest to name the team, with an option to describe a possible logo as well." "¦ While looking for something else, I came upon this old photo of Cardinals pitcher John Denny, whose black armband appears to have been falling off.

NFL News: A classic Green Bay sporting goods shop is closing. Key quote from the shop's owner: "My brother, Dick, remembers dad and Vince (Lombardi) sitting at the kitchen table designing the uniforms" (from Jeff Ash).

College Football News: A youth football team called the Oklahoma Ducks is patterning itself after the Oregon Ducks, uniforms and all (from Paul Deaver). "¦ Austin Miller has written a good story on how Ole Miss's powder blue helmet came to be. "¦ Hmmm, is Maryland teasing a new helmet? "¦ Speaking of that last link, I find it interesting that Maryland is using the hashtag "#ByAnyMeans," given that term's provenance. Who knew Sartre and Malcolm X were Terps fans? "¦ A little birdie tells me Oregon will wear black helmets with pink wings, pink/black cleats, black pants, black jerseys, and pink gloves this Thursday. Can't, uh, wait.

College Hoops News: New sweatbacks — plus a HNOB — for Georgia Tech (from Britton Thomas). "¦ The University of Kentucky has police cars with a "cat scratch" livery design that recalls the old Pitino-era basketball shorts (from Jim Joseph).

Grab Bag: DayGlo uniforms yesterday for the Kentucky women's soccer team (from Chad Back). … "NHRA driver Kyle Wurtzel just made his professional debut," says David Firestone. "For some reason he had both a Full Throtle Drag Racing Series patch and a Mello Yello Drag Racing Series patch. Full Throttle was the sponsor from 2008-2012; Mello Yello took over in 2013." "¦ Interesting to see how the European Ryder Cup sweaters have one UCLA stripe (from Sean Mitchell). "¦ Here's a rare video treat: Celebrity Bowling (from Steve Dodell). "¦ Odd scene on a CNN show that was discussing Bill Simmons's recent suspension, as the host and a guest wore the exact same outfit.
• • • • •

What Paul did last night: When I finished high school in 1982, my big brother Roy gave me a graduation present: a dozen blues LPs, which fed my growing interest in that genre of music. Two of the LPs were on a California-based label called Arhoolie.
Over the subsequent 32 years I've acquired a lot of Arhoolie albums — blues, mostly, but also some Cajun and norteño. All have been consistently wonderful. Along the way I became aware that the label's founder, a cat named Chris Strachwitz, had been instrumental in providing the first recorded exposure for a bunch of important blues artists, and that he had become an important figure in the worlds of folklore and ethnomusicology. I always figured he was some kind of west coast hippie, not unlike the filmmaker Les Blank, whose short documentary films often included performance footage of Arhoolie artists.
Shows what I know. Turns out Strachwitz was actually born in a place that was then part of Germany and is now part of Poland. His family emigrated to America to escape World War II when he was 14. The story of how this European dude fell in love with traditional American roots music is pretty fascinating, and it's told in a new documentary called This Ain't No Mouse Music, which is all about Strachwitz and Arhoolie.
Given that my brother was the one who introduced me to Arhoolie Records, it seemed fitting that I should see the movie with him, so I invited him to join me at a screening yesterday. The filmmakers were there in person for a post-screening Q&A session, and so was Chris Strachwitz himself, now 83 years old but still passionate about America's musical traditions.
The film was great. It's at the IFC Center in Manhattan through this Thursday, and you can see screening dates in other cities here. Here's the trailer: