South Park's season premiere was last night, and the topic at hand was the Washington football team. The plot was pretty brilliant, but you can read about that elsewhere, and you can watch some highlights here. (If anyone knows how to embed that clip, I'm all ears. Doesn't seem to have an embed option.) For now, we'll just stick to the uni-notable aspects, of which there were quite a few:
1. The teaser clip for the episode, which aired back on Sunday, showed Dan Snyder flanked by a coach (presumably Jay Gruden) and a player who was obviously supposed to be Robert Griffin III. But with Griffin now on the shelf with an injury, they swapped him out for Kirk Cousins and even got their respective sleeve styles right — impressive! But while Griffin's jersey had the correct number font (well, more or less), Cousins's jersey did not. Also, Griffin had a gold belt (which is accurate), while Cousins had a burgundy belt (which is wrong). Also-also, Snyder's necktie changed from striped to 'Skins logo-patterned: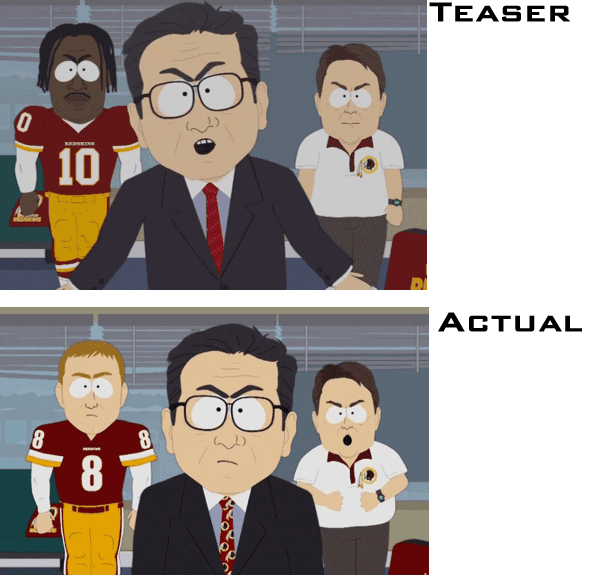 2. 'Skins players throughout the episode were shown wearing white shoes, which is wrong — the team wears black: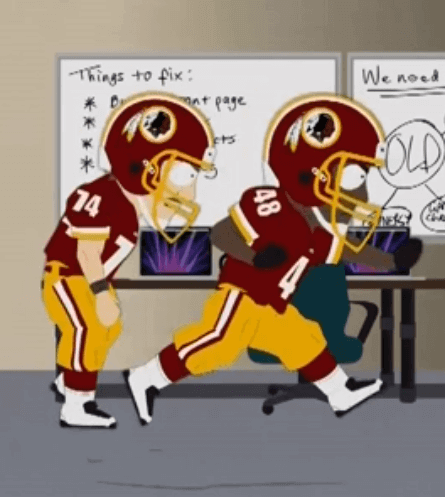 3. Another glitch — blank nose bumpers (plus, as you can see, again with the incorrect number font):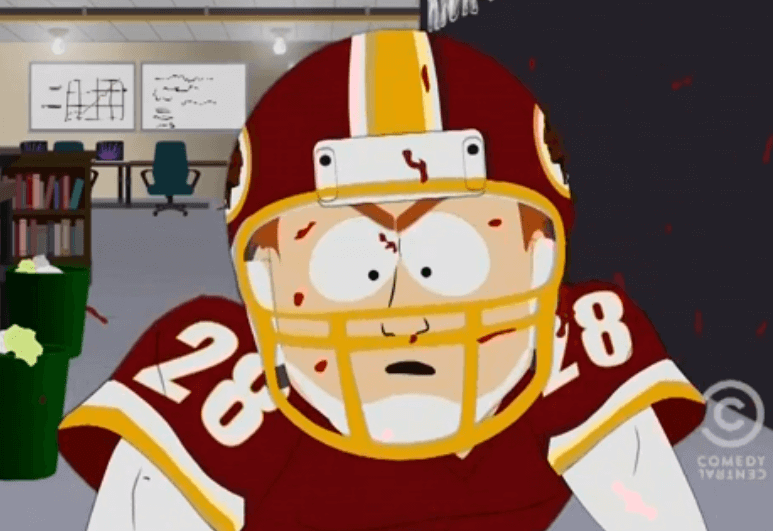 4. On the plus side, they did a nice job of capturing the Cowboys' multiple shades of silver (but once again, blank nose bumpers and the wrong number font, plus the colored belt is wrong):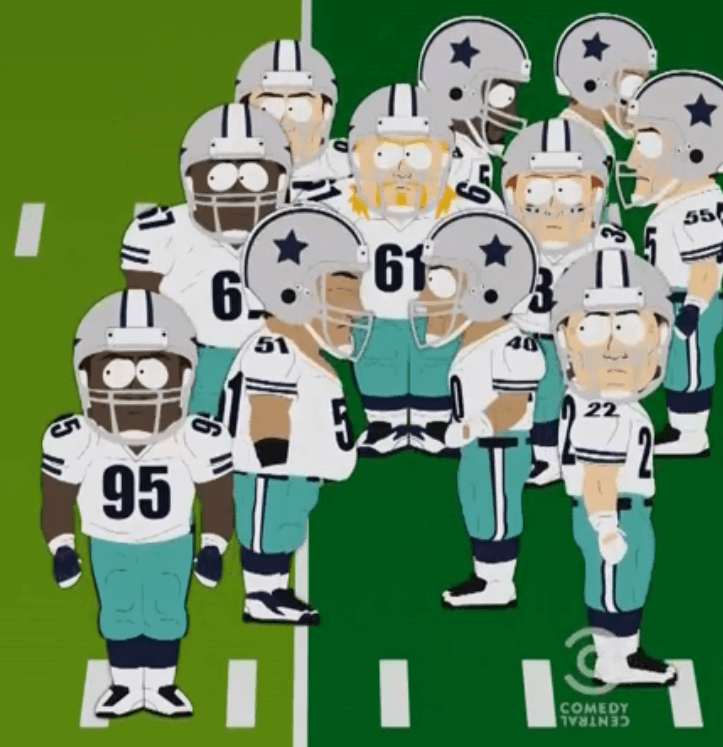 5. All the players were NNOB. I understand why they didn't want to use real players' names, but couldn't they just have used "Smith" and "Jones," or even just used illegible characters? The absense of NOBs made the jerseys look wrong, especially because they didn't make the numerals bigger or shift them upward to compensate for the missing nameplates (click to enlarge):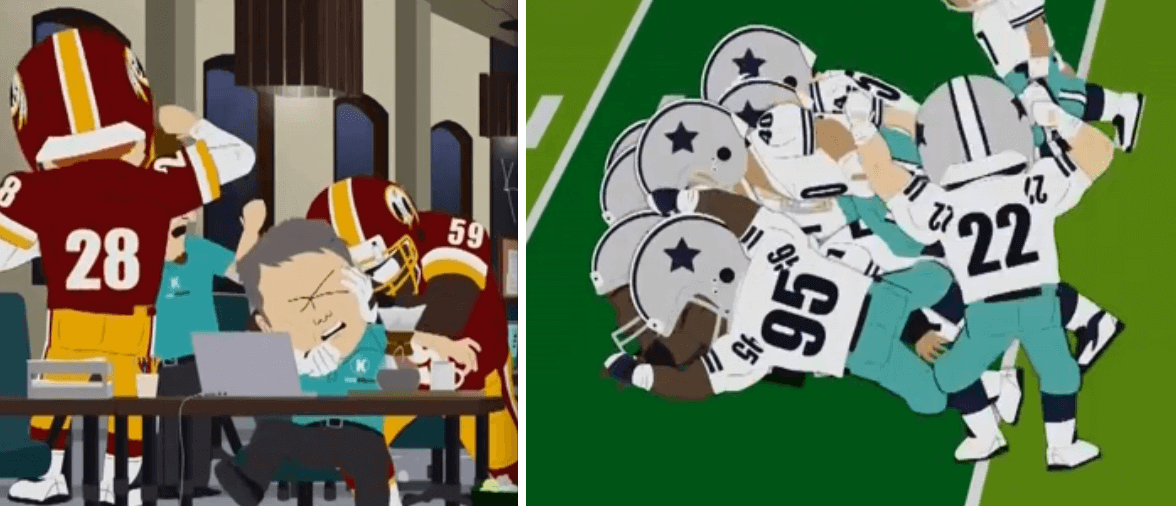 6. They came up with a cheapo version of the NFL logo, which was sometimes presented in chrome and sometimes in color: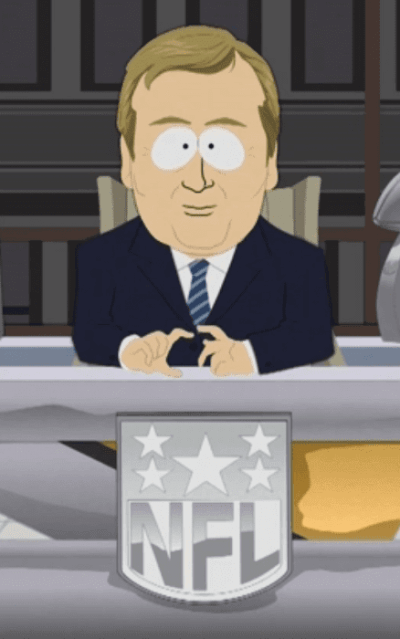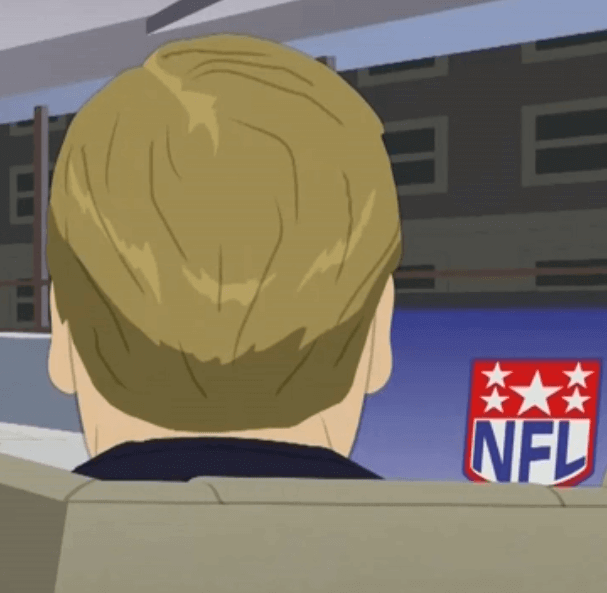 7. Finally, they took a few liberties with the 'Skins logo. Here's the tamer version: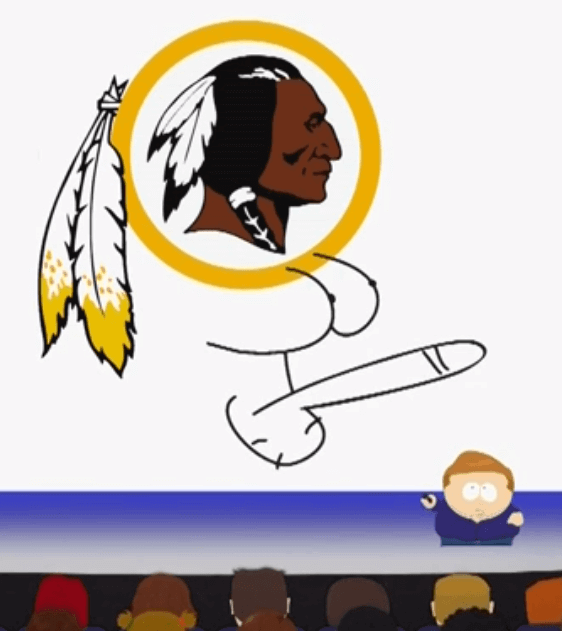 If there were other uni-related issues I missed, feel free to speak up.
The most surprising thing about the episode, at least to me, is that it was relentlessly anti-'Skins, anti-Snyder, and anti-NFL (and, oddly, anti-Kickstarter) but didn't take any potshots at the groups protesting the team's name. I had expected them to be skewered along with everyone else.
• • • • •
NFL Superhero Project
By Thomas Correia
It was great to see all the guesses and comments last Thursday as to which comic book superheroes would represent tonight's Thursday Night Football match-up between the Giants and Washington. You might be surprised by the choices I made [click to enlarge]:
Yes, I am aware that Superman does not have the Giant-Man ability to grow as tall as Godzilla, but he is considered a "giant" among all-time comic book characters. The blue and red colors and use of the 1950 New York Football Giants logo were meant to evoke the Man of Steel among the converted Metropolis skyline. You may easily notice the Daily Planet building, and it was my six-year-old son suggested that I add LexCorp Tower as well (second building from the right).
As for Washington: Many people last week suggested assorted American Indian heroes that I could use, some of which I considered using (Warpath and Apache Chief, e.g.). The suggestion to use the Vision, due to his actual red skin, was almost on point. But I instead chose to avoid any association to American Indians and leaned toward the skin of a different color. Sure, you could call the Hulk "Greenskin," but he might have a problem with that name, and we certainly don't want to agitate him. I realize the colors don't match the team, but that connection isn't always easy to make in this project. I had also thought about using Red Hulk but decided to stick with the original character. The feathers were replaced by a piece of ripped purple cloth and I was even able to sneak in the radioactive logo behind Hulk's head.
Next week: Vikings vs. Packers. Which characters do you think will be used for these teams?
• • • • •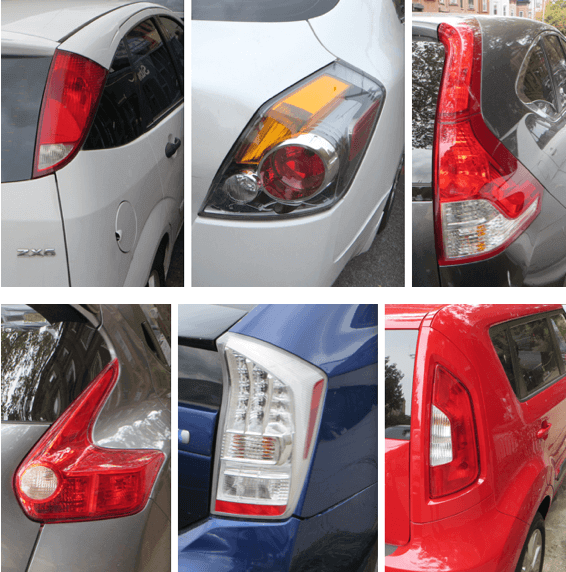 Chasing Tail: What you see above are six passenger-side taillights from cars parked on my block. Look at the variety — the different shapes, the different heights, the different ratios of red to white to amber. And yet all of these meet the federal rules and requirements for taillight design. I'm blown away by all the different ways of solving this design problem while staying within the regulatory guidelines.
I've been thinking a lot about this lately — not just in terms of taillights but also headlights and other aspects of car lighting design — so I've written an article about it for the design website Re:Form. I own a car, but I've never been a "car guy," so I didn't approach this from the usual car journalist's perspective of equating lights with branding. Instead, I just talked about how car lights signify to me, and along the way I interviewed some people in the auto industry, including Ford's design director. Want to know which inconspicuous aspect of car lighting I've recently become obsessed with? Want to find out which car's taillight reminds me so much of a Jolly Rancher that I actually want to lick it? Check out the article here. Thanks.
• • • • •
Anniversary patch update: The Uni Watch 15th-anniversary patch, which had been temporarily sold out, is now back in stock. So if you had been thinking about ordering one, there's no time like the present.
And while we're at it: The 15th-anniversary logo is also available as a high-quality vinyl sticker. Full details here.
• • • • •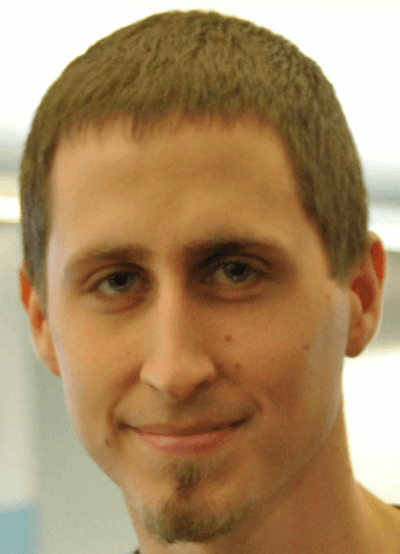 Mike's Question of the Week
By Mike Chamernik
Are there any sports that you're not particularly interested in but you still like the aesthetics? I've never been a NASCAR guy but I've always liked the paint schemes and sponsor logos and numbers on the cars. I can name a fair number of racers just by what their car looks like, not by how they actually perform on the track.
As always, post your responses in today's comments.
• • • • •
Uni Watch News Ticker
By Mike Chamernik

Baseball News: After Washington's win Tuesday, the scoreboard at Nationals Park said the Mets were from Atlanta (from Tommy Turner). … Bryce Harper wore a Derek Jeter wristband the other night. … Speaking of Harper, he thinks that his hair gel is to blame for his helmet always flying off. … The logo for the if-needed tiebreaker game is in the same style as this year's other postseason logos. It might seem needless, but logos for the tiebreaker have existed for a little while now (from C. Trent Rosecrans). … The Pirates clinched a playoff spot Tuesday night in Atlanta. They celebrated by spraying champagne and pouring Bud Light from Falcons-emblazoned cans (good spot by Alan Borock).

NFL News: The Ravens will wear their black alternate jerseys for Sunday's game against Carolina. According to that story, they haven't yet decided whether to go with white pants or black pants. Which would you folks prefer? (From Phil.)

College Football News: Dartmouth has an alternate helmet (from Phil). … Lost Lettermen compiled a list of the 10 worst Adidas uniforms (from Jordan Rabinowitz). … A Cincinnati professor threatened to fail students who wear Ohio State gear (from Brinke). … Ole Miss will wear helmets with No. 38 on them to honor Chucky Mullins, who was injured and left quadriplegic in a game 25 years ago (from Michael Martin). "¦ If you like classic old college football pics, you'll love yesterday's Shorpy photo (from Charles Rogers). "¦ New uniforms for RPI. "They looked worse at a distance than in that picture," says Joe Makowiec. "The radio announcers commented on them. The numbers on the old home uniforms were much more readable."

NBA News: According to Mark Cuban, Reunion Tower will be on the Mavs new alternates; the jersey shown yesterday was just a mock-up (from Phil). … Related, here's an interview with Geoff Case, the designer of the new Mavs jerseys. Case even discussed some of the similarities with the Nuggets rainbow skyline jerseys (from Phil). … The Mavs have had an aesthetically-pleasing uniform history, for the most part (from Phil). … The Nets will wear the All-Star Game patch on their jerseys this year (from Phil). … The Thunder's D-League team will be called the Blue, and boy does their new logo stink. … The Warriors say the proposed design for their new arena, widely described as looking like a toilet, will be "refined."

College Hoops News: New unis for UConn? It looks to be the case (from Phil). … New blue unis for Kentucky. … Georgetown showed off its gray uniforms (from Phil). … UTEP will have orange uniforms. "¦ Here's an interview with Kansas's equipment manager (from Coleman Mullins).

Grab Bag: A Vancouver newspaper apologized after identifying Canucks D Jordan Subban as "dark guy in the middle" in a photo caption. "¦ Colorado has a new logo that says it is "The State of Craft Beer" (from Barry Brite). … Qatar forfeited an Asian Games women's basketball matchup after they were not allowed to wear hijabs, or Islamic headscarves (from Phil). … Here's a rundown of clothing worn in the Ryder Cup over the last decade (from Brian Graham). … Additionally, here's a gallery of Ryder Cup uniforms from throughout the ages. … Here's a cool hand-drawn map of San Francisco (from Brinke). … The Oregonian is seeking to find the best high school football helmets in the state. … Leo Strawn Jr. found a cool old CFL ticket stub.