[Editor's Note: Today we have guest entry from Chad Fette, who's going to educate us on a sport that's never been covered before here on Uni Watch. Enjoy. "" PL]
By Chad Fette
When the classification of the sport you compete in is determined solely by the uniform you wear, it needs to be featured on Uni Watch. Competitive powerlifting is that sport.
Powerlifting is traditionally a sport focused on three weightlifting movements: the bench press, the deadlift, and the squat. The goal is to lift as much weight as possible one time in each category. That process is much more complicated that you might think, and in large part it is due to the uniform-related issues.
One of the first decisions that must be made when entering into the sport of powerlifting is whether one wants to compete "raw" or "geared/equipped." This choice is based on which type of uniform you chose to wear while performing your lifts. If you are going to compete raw, it means you perform your lifts with very minimal uniform support. Raw lifters typically compete in an amateur wrestling singlet and are only allowed to wear knee wraps, wrist wraps, and a weightlifting belt to enhance safety. These are all regulated by the competition's sanctioning body (there are multiple federations and sanctioning bodies, much like in boxing, which can make for murky rules and inconsistent standards).
Geared lifters are more interesting. There is too much nuance of the gear to list in one post, but geared lifters wear a bench shirt, squat suit, and/or briefs. These three primary uniform components can be used singularly or in combination, and with the addition of belts, wraps (both knee and wrist) and shoes, can significantly increase how much weight a person can lift. How much of an increase? Consider this: The raw bench world record is 722 pounds; the corresponding geared record is 1,102 pounds.
All of the geared equipment is designed to store energy in the negative portion of the lift and use that stored energy in the initial phase of the positive portion of the lift. Let's use a bench presser wearing a bench shirt as an example: As the weight is taken out of the rack and the lifter holds the bar in position with arms locked before descent, the shirt has minimal tension and is doing very little (except being very uncomfortable). As the lifter brings the bar down, the shirt begins to stretch and becomes very taught. Once the bar touches the lifter's chest, the shirt is stretched to its maximum capacity. The lifter then aggressively begins to push the weight away from his body, capitalizing on the stored stretch at the bottom of the lift, and drives the weight up through lockout and completion of the lift.
The shirt is engineered to create this effect. Some shirts are worn as typical shirts, needing to be pulled on overhead, while others have an open back, similar to putting a blazer on backwards. The shirts are constructed from multiple materials, but popular ones are made of denim or canvas. They are triple- and quadruple-stitched at all seams and can be single- or multi-ply, which refers to the layers of materials in the shirt. The more layers, the more energy the shirt is capable of storing and the more the lifter is able to press.
To many, that sounds great — put on a shirt, bench more weight. But there are caveats. For starters, everything about them hurts. . Just putting them on can take up three people. You need to cover your arms and torso in baby powder, as every follicle on your body that emits sweat becomes a sticking point. Once they're on, you are locked in that position until you've finished your workout. And the shirts can be dangerous — just because the shirt gives you the ability to handle more weight doesn't necessarily mean you should handle that much weight. Also, people who wear these shirts in competitions can miss lifts because the weight they are attempting is not heavy enough to "break" the shirt. That means the shirt gets so tight toward the bottom of the lift that the bar physically cannot touch the lifter's chest, which is a missed lift. And then there are the blowouts — among the scariest things in lifting. A blowout occurs when the shirt fails. The weight is too much and a seam gives out. When you have hundreds of pounds over you, the tear happens so quickly that it can literally sound like a gunshot, with the weight free-falling onto the lifter. Spotters at these events are trained to handle this situation, but sometimes it doesn't matter.
There is also a great debate within the powerlifting community between the raw and geared lifters. Raw lifters think using gear is cheating, and that a geared lifter's numbers are therefore artificial. Geared lifters think raw lifters are jealous and just not capable of handling those kinds of weights (lifting geared is whole different training regimen and does take special skills). This debate will likely get more heated as technology and skills improve, which will lead to bigger and bigger numbers and a greater gap between the two categories.
•  •  •  •  •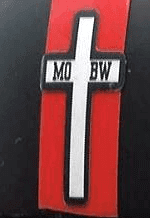 ESPN reminder and ASU update: Paul here. In case you missed it yesterday, my latest ESPN column is about the use of religious imagery on uniforms. Check it out here.
Even if you read the column yesterday, you may have missed an update that we added at about 1pm, which is that there's a new development regarding the cross decal on the Arkansas State helmet. After the Liberty Institute — a religious advocacy group — complained about the school removing the cross, the school has issued a new policy, as follows: Individual players will now be permitted to voluntarily wear the cross if they choose, as long as they pay for the decal themselves and apply it to their own helmets. You can read the university's full statement on the matter here. (My thanks to Arkansas State journalism instructor Larz G. Roberts for providing that letter.)
Also:
• As I noted yesterday here on the blog and also in that ESPN column, Tennessee wore a black cross in 1965. But it turns out that the Vols also wore a cross on one other occasion: After Tennessee alum Reggie White passed away in December of 2004, Tennessee added a small cross memorial for the 2005 Cotton Bowl. (Kudos to Jared L. for that one.)
• Reader Robert Shears pointed out an additional example of an athlete wearing religious imagery: Canadiens goalie Carey Price has worn a cross on his mask's backplate.
•  Another goalie with a cross on his backplate: Cam Ward. (Courtesy of Mike Engle.)
• Alvaro Muñiz notes that Red Sox slugger David Ortiz wore a Catholic saints bracelet in 2008.
• And Tony David Potter pointed out that Trinity University has had a Sikh basketball player named Darsh Singh who plays while wearing a turban.
Great stuff, people. I'm really fascinated by this topic — my thanks for all the contributions.
• • • • •
Click to enlarge
By popular demand: You asked, I delivered. The Uni Watch 15th-anniversary logo is now available on a high-quality vinyl sticker, suitable for plastering on your laptop, your file cabinet, your car bumper, your brother's forehead, or whatever. The circular stickers measure 2.75″ across (or 3″ if you include the little extension for the magnifying glass handle) and are priced like so: $2 for one, and an extra dollar for each additional one.
To order, send a check, money order, or well-concealed cash, along with a self-addressed stamped envelope, to Paul Lukas, 671 DeGraw St., Brooklyn, NY 11217.
Big thanks to Ron Roza and his crew at Sticker You for doing such a nice job with these.
• • • • •

'Skins Watch: Bruce Anderson is in a fairly unique position: He's a member of the Coquille Tribe and he played for the 'Skins in 1970. He thinks the team name perpetuates negative stereotypes. … The editor of a Pennsylvania high school newspaper and the award-winning journalism teacher who serves as the paper's faculty advisor were both suspended for refusing to print the name of the school's teams, which is Redskins.

Baseball News: Buried within this story is the news that the Doubla-A Chattanooga Lookouts "will soon get to work on a uniform makeover" (from Michael Vines). "¦ Looks like the addition of the MLB postseason sleeve patch will mean the removal of the Orioles' 60th-anniversary patch (from Wes Reichart). … Several readers noted that the Gatorade ad for Derek Jeter that everyone's talking about shows Jeter holding a cap with a white sweatband, which isn't New Era's current style for 5950s. Must be an old photo. … Interesting piece about Bud Black wearing someone else's glove on his 1991 Donruss card (from Chris Cruz).

NFL News: Some spectacular illustrations among these early-1960s Dallas Texans program covers. So much FUN in those illos — something sorely lacking in most of today's sports graphics (big thanks to Bruce Menard). "¦ A Thursday-morning SportsCenter report on Cardinals RB Jonathan Dwyer featured a photo with the advertising patch on his practice jersey blacked out. Then they went to a different graphic that included the same photo with the ad patch left untouched (good work by Matt Spencer). … McDonald's Happy Meals now come with NFL figurines. "Looks like the Bengals are the only team to get proper helmet graphics," says Steve Jacobson. … CNN apparently can't tell one sport's Cardinals from another's (thanks, Phil). … If you liked Ray Rice so much that you bought his overpriced polyester shirt and then came down with a case of buyer's remorse after you learned that he's not such a great human being, the Ravens will let you trade it for someone else's overpriced polyester shirt this weekend.

College Football News: Here's an interview with a guy who collects Minnesota Gophers jerseys. "¦ New Mexico has some new jerseys, although I'm told neither of them will be worn this weekend. "¦ Here are this weekend's uni combos for UNC, Louisiana Tech, Vanderbilt, Mississippi State, Washington, and West Virginia. … Tennessee might or might not wear gray this season, and definitely won't wear gray against Florida on Oct. 4 (thanks, Phil). … This is pretty cool: Duke's throwback game will also feature a throwback scoreboard! "¦ BYU will retire Jim McMahon's jersey on Oct. 2 (thanks, Phil). … As promised, Florida State has adjust its helmet shell and facemask colors (Phil again). … It's not like Boise State really needs another helmet, but I have to admit that their latest one looks pretty good. … LeBron James apparently wanted to dress up in an Akron football uniform. But Akron is outfitted by Adidas, while James has a deal with you-know-who, so you can guess what happened. Douchebags. … Kansas State coach Bill Snyder was apparently using his jacket from last season's bowl game last night (from Mark Emge). … Oooh, check out the gorgeous sweater worn by Indiana trainer J.D. Ferguson in 1931 (big thanks to Jay Sullivan). … Wisconsin is bringing back the black-striped helmets this weekend (Phil, of course).

Hockey News: New mask design for Devils goalie Cory Schneider. Here's a video clip where he explains the design (from Kevin Clark). … The Tampa Bay Times, which recently took its name off of the Lightning's arena, may not even exist three months from now. … "In recent years, Dartmouth teams and athletes have been using the 'Lone Pine' logo more often," says Tris Wykes. "Here it is on goalie James Kruger's new leg pads." … New masks for Blues goalies Jake Allen and Brian Elliott (from Ed Bauza). "¦ The Capitals have been quietly collecting the hats thrown onto the ice for hat tricks for the past six years and have now used them to create a new hat trick display — nice (from Mike McLaughlin).

Soccer News: Montreal Impact midfielder Jérémy Gagnon-Laparé has an unusual abbreviated NOB (from Sean Kautzman). … Tuesday's match between Liverpool and Ludogorets was red vs. green, creating a nightmare for colorblind fans (from Yusuke Toyoda). … Also from Yusuke: Several Nike-outfitted European teams have some seriously garish new uniforms. … "AC Fiorentina (Florence, Italy) is currently playing without a shirt sponsor," notes Billy Duss. "I think it makes the front look a little empty." … "The badge of Mönchengladbach's Patrick Herrmann faced in the wrong direction during his post-match interview on Thursday," says Tim Ruschkowski. "¦ And From that same match: Villarreal normally has an Xtep maker's mark on the upper-right chest area, but they used yellow tape to cover it up. Why? "Shoe company Brax, a Borussia sponsor, is currently suing Xtep over the similarity between Xtep's stylized 'X' logo and the 'X' in the Brax wordmark," explains Bernd Wilms. "Villarreal avoided wearing the Xtep logo so as not to allow for the lawsuit to move into German jurisdiction."

Grab Bag: New college hoops unis for Oklahoma (thanks, Phil). "¦ As sponsors continue to distance themselves from the NFL, Skott Daltonic points out that this might have implications for the larger issue of advertising on uniforms. Basically, companies might think twice about having an ad patch on a team's jersey if they think one of the players might end up as a criminal. … The Colombian women's cycling team with the faux-nudie uniforms has decided to keep wearing them (thanks, Phil). … Aussie footballers wear shorts, but a 1980s player named Michael Reeves wore padded pants more like American football pants to prevent bruising on his legs (from Graham Clayton). … Reprinted from yesterday's comments: Here's a gallery of high school football helmets from Michigan (from Jason Axel). "¦ Good article on the Museum of Brands (thanks, Phil). … Longtime reader Gordon Donovan is a professional photographer and has taken some spectacular photos of rusting and decaying ships moored off of Staten Island. Powerful stuff. "¦ Sheer genius: Beer cans designed like Pantone swatches (big thanks to my pal Friederike Paetzold). … Eric Frein — the guy who recently ambushed a pair of Pennsylvania state troopers, killing one and wounding the other — had served jail time back in 2006 for stealing World War II uniforms from a reenactment event. "¦ Consistency problems: The famous Stone Pony rock club in Asbury Park, N.J., has three different pony logos on its exterior (from John Calabrese).