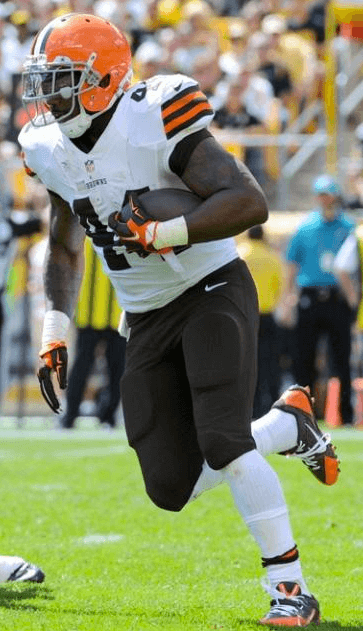 First, before we get started on football stuff: I have a new ESPN column today, about the uni-related issues currently swirling around Derek Jeter and the Yankees — look here.
Now then: The NFL season got underway in earnest yesterday. Among the uni-notable highlights:
• After going with blank nose bumpers in the preseason season, the Broncos added a 3-D wordmark to their bumpers. (The Chiefs, who also had blank bumpers during the preseason, stayed blank yesterday.)
• I noticed that Raiders rookie quarterback Derek Carr was wearing what appeared to be a patterned pad on his chinstrap. Additional views here and here.
• Interesting game in Tampa, as the Bucs wore white at home and the Panthers wore their blue alts on the road.
• Speaking of the Bucs: Remember those "shadows" that appeared on their helmets during training camp and the preseason? They were gone yesterday.
• And speaking of the Panthers, DeAngelo Williams dyed his dreadlocks pink to honor his mother, a breast cancer victim.
• The Browns, playing on the road in Pittsburgh, wore their brown pants.
• 49ers rookie defensive back L.J. McCray is going with RNOB. (If you're wondering why it's "II" instead of "Jr.," you use "II" if you have the same name as your grandfather, or great-grandfather, etc. — same name, non-consecutive generations.)
• Speaking of the Niners, two of their defensive linemen — Justin Smith and Ray McDonald — suffered identical tears on their left sleeves. Bizarre!
• The season's first footwear fine will be assessed to Niners wide receiver Michael Crabtree, who wore blue shoes. Further info here.
• One more thing about that Niners/Cowboys game: Although the game was played in Dallas, a surprisingly high percentage of fans were wearing Niners jerseys.
• For the Bills/Bears game in Chicago, the Jumbotron graphics at Soldier Field consistently showed the Bills' red helmet, which hasn't been worn since 2010.
• More teams wearing white at home: the Texans, Dolphins, Jets, Ravens, and, as expected, Eagles (whose green jerseys won't be available until Week 6, a continuing embarrassment that neither the team nor Nike has satisfactorily explained).
• I haven't mentioned the new headsets that the officials are wearing. The most remarkable thing about them, at least from my perspective, is that they're not branded/sponsored/douchey/etc.
• CBS helpfully kept a guy wearing a "Miami Fuckin' Florida" T-shirt on the screen for a good 15 seconds.
(My thanks to all contributors, including Ron Amadeo, Bernie Langer, Lendel Martin, Chris Perrenot, Jamie Uthe, and of course Phil.)
•  •  •  •  •
Anniversary merch update: Uni Watch 15th-anniversary patches have now sold out, whoop-whoop! Granted, I only had 80 of them made, and I gave away about a dozen of those, so we're not talking about an avalanche of sales here, but I'm still pleased with the response. My thanks to all who purchased them, and bonus thanks to the many of you who went out of your way to tell me how much you liked the finished product after you received it. If any of you have sewn your patches onto a jersey or jacket or whatever, send a photo, won't you please?
Anyway: I've just ordered some more of the patches, which should be available in a few weeks. If you had meant to buy one (or more than one!) and would like to be notified when the new shipment is ready for ordering, shoot me a note and I'll let you know. (And while you're waiting, you can get a 15th-anniversary T-shirt or coaster. Or this popular T-shirt. Or whatever.)
• • • • •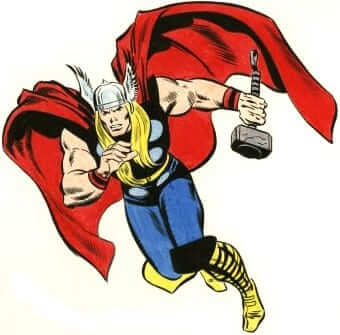 Nike and Volvo: Partners in superhero bullshit? I was talking the other day with my friend Phil Patton, a design critic who, among other things, writes a lot about cars. He mentioned to me that Volvo's press release for the latest edition of its XC90 SUV includes the following passage:
The headlights are adorned with a striking horizontal T — for the Nordic Thor's Hammer, in a nod to Volvo's Scandinavian roots — that will feature prominently on all future Volvo models.
Yeah, because if there's one thing I want when I'm dropping 40 grand on a car, it's the fucking hammer of Thor. And if I somehow failed to read that press release, I'm sure the sales guy at the dealership will sound like a perfectly sane human being when pointing out the Thor/headlight connection to me.
The nonsense factor notwithstanding, I was struck by how this sounds exactly like the kind of bullshit "storylines" Nike likes to build into its uniform designs, right down to the superhero element. Has Volvo been poaching pages from Nike's playbook? Is there a swoosh hidden somewhere in this car?
Then again, I don't generally pay much attention to auto makers' press releases (or articles about same), so for all I know this "Our headlights pay tribute to our Scandinavian heritage, as symbolized by a comic book superhero who just happens to have been the subject of several recent Hollywood blockbusters but we're not trying to capitalize on that or anything" hokum could be standard practice. Is it?
•  •  •  •  •

Baseball News: As expected, the Cubs' "2008 throwbacks" turned out to be their current home uni without the Wrigley Field centennial patch. … Can't recall if we've looked at this page before, but here's a really good analysis of the Orioles' cartoon bird logo. … Good spot by Sean Kane, who notes that the Derek Jeter illustration on the cover of last week's issue of The New Yorker showed the MLB logo in red, white, and blue, which is wrong. … Hmmm, is this what the Orioles will be wearing to mark the 200th anniversary of "The Star Spangled Banner" on Sept. 14? "If so, to my knowledge it will be the first time that the Orioles have worn 'Baltimore' on a home uniform," says Wes Reichart.

NFL News: Some uni number changes for the Ravens. "Rookie safety Terrence Brooks went from No. 33 to No. 31," says Andrew Cosentino. "Brooks wore No. 31 at Florida State, but Omar Brown had that number; Brown did not make the roster and has since been cut, so now Brooks has claimed the number. Meanwhile, rookie WR Michael Campanaro went from No. 6 to No. 15. This is to meet the NFL's number regulations (10-19 or 80-89 for WRs)." "¦ David Dinsmore III points out that Madden 15 for iPhone uses the old, pre-Nike makeover Seahawks logo. "¦ Here's a rundown on the origins of all 32 NFL team names (thanks, Phil). "¦ The Browns player in that Snickers commercial featuring Johnny Manziel has the now-obsolete Al Lerner sleeve memorial (good spot by Joe Bailey). "¦ A reader who prefers to remain anonymous says: "Heinz Field has 'Pittsburgh' in one end zone and the traditional hashmark design in the other. Once the Pitt Panthers' season ends, the hashmarks will be replaced by 'Steelers.' Why don't they just use 'Pittsburgh' in both end zones in gold (a team color of both teams) all season? Miami does this and it makes more sense aesthetically than the contrast between a painted design on one end and no design on the other, or the contrast between capitals and lowercase featured later in the season. This always bugged me." "¦ Stefan Schubert, writing all the way from Austria, checks in with this: "The Frankfurt Galaxy, one of the few really successful teams of the NFL's European adventure, has been badly missed since the NFL pulled the plug on the NFL Europe. So a semi-pro team named the Frankfurt Universe was founded to fill the gap. The team started a the bottom of the German system and now plays in GFL2, the second-highest level in Germany. They have now bought the naming rights for 'Galaxy' and just announced the changes. The club will still be the Universe, but the football team will be the Galaxy. Here's the old Galaxy logo and here's the new one."

College Football News: Love this Michigan helmet-themed truck cab (from Kyle Speicher). "¦ Army is putting player names on the right chest area, just like on a real Army uniform. "¦ Looks like Virginia Tech may have a new helmet this Saturday (from Andrew Cosentino). "¦ As I had tweeted on Friday, and Phil had repeated here on the site on Saturday, Ohio State has begun selling advertising on its goalpost nets. "But at the game Saturday, only the north end zone had Safelite's advertisement, while the south end zone net did not!" reports Ryan Irwin. "¦ Why was there a New Orleans Saints logo on the USC bench during Saturday's game against Stanford? (Good spot by Mike Slavonic.) "¦ Anyone know the story behing the cap being worn by this Oregon player on Saturday? "I know it was a warm day there the players were sitting in front of the misters, so I'm assuming it's some type of a cap to help keep them cool," says Jimmy Hoover.

NBA News: By now you've probably heard that Hawks co-owner Bruce Levenson will be selling his share of team due to this controversial email. We're not going to discuss any of the racial stuff here, because it has nothing to do with uniforms. This passage, however, caught my eye: "Not enough of our fans wear Hawks jerseys to games. I have just begun to push for ideas like discount food lines for folks wearing jerseys, special entrances, etc." The idea that a fan who pays for a ticket like everyone else should be treated like a second-class citizen simply because he chooses to dress like a normal human being (or doesn't want to waste money on an overpriced polyester shirt) is total bullshit. Good riddance to this guy.

Grab Bag: Aussie football update from Leo Strawn Jr., who writes: "Port Adelaide did manage to get their prison bar jumpers finished in time for their match with Richmond, and Fremantle traveled up to Sydney for their finals match, making for a beautiful colour-on-colour match this weekend." "¦ New uniforms for Australian Rugby Sevens (thanks, Phil). "¦ You've heard of color vs. color? How about white vs. white! That's McAllen High and Permian High, both from Texas (from William Banowsky). "¦ Speaking of Texas high school football teams, Highland Parks wears captaincy designations — or something involving the letter "C" — on the right sleeve. Not sure I've ever seen that placement for a football team (from Jimmy Hoover).